Easy and decadent-tasting Nutella tiramisu jars feature coffee-soaked ladyfingers, creamy mascarpone and Greek yogurt, and Nutella! Nutellamisu is a no-bake dessert everyone will love. Plus, it's easy to make ahead of time, so it's perfect for dinner parties.
This Nutella tiramisu tastes a lot like traditional tiramisu, but with the added bonus of hazelnut flavor! Plus, I swapped out some of the mascarpone cheese for Greek yogurt for lighter, slightly tangy cream layers.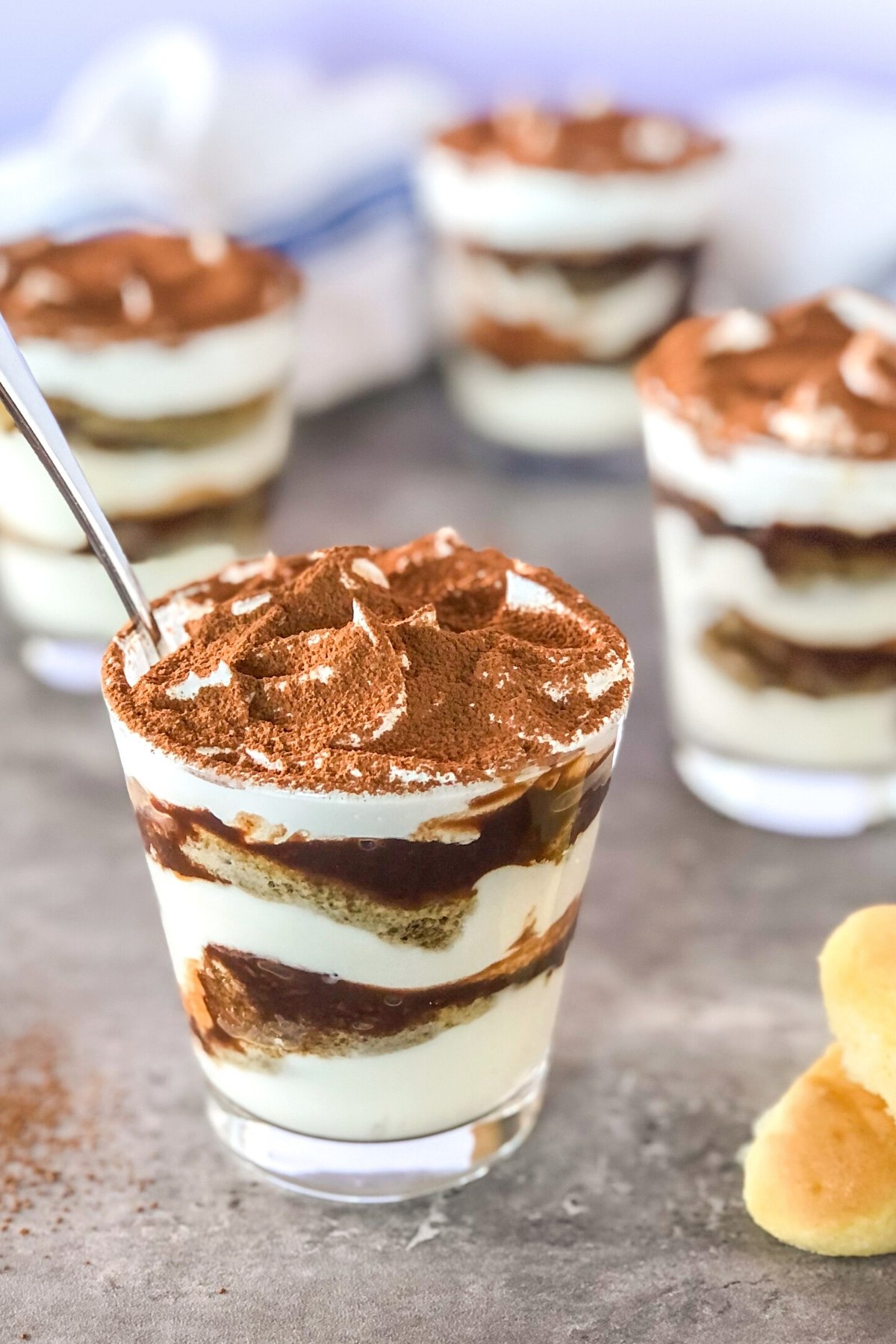 **Please note, some links on this page are affiliate links. If a purchase is made through an affiliate link, I may receive a commission at no cost to you. As an Amazon Associate, I earn from qualifying purchases. See my full disclosure policy here. Thanks for your support!
Tiramisu Parfaits with Nutella
There's just something elegant about individual dessert parfaits, especially with beautiful layered desserts like tiramisu. I loved how my Biscoff tiramisu cups turned out, so I wanted to make a version with sweet and creamy chocolate hazelnut spread!
This recipe features classic tiramisu ingredients like mascarpone cheese, ladyfinger cookies, and coffee, with a few unique twists. Plus, you don't have to worry about whether or not the tiramisu sets enough for you to slice, because there's no slicing involved.
There's nothing better than a low-stress dessert, especially when you're planning a dinner party!
These dessert jars are really quick to assemble, too. They only take 20 minutes of active prep time, then just cover and let them sit in the refrigerator so the ladyfingers can soak up the coffee and Nutella mixture. Easy as that!
(For another delish dessert parfait, you might want to try these lemon curd parfaits, too.)
Recipe Ingredients
Here's what you'll need:
mascarpone cheese: This mild Italian cheese makes up half of the creamy layer. Perfect for that classic tiramisu flavor!
Greek yogurt: Plain Greek yogurt makes up the other half of the cream layer. It adds a slight tanginess that's delicious.
maple syrup: This sweetens the mascarpone yogurt layer. Use pure maple syrup, not pancake syrup! Honey should work as a substitute.
vanilla extract
ladyfinger cookies: These soft cookies are perfect for soaking up coffee, and create a delicious sponge layer for the tiramisu. See further down in the post for substitutes if you can't find these!
coffee: You can brew your own coffee, or use pre-packaged coffee from the store. Up to you if you want to use caffeinated or decaf.
Nutella: For a delicious twist on tiramisu! It adds a light hazelnut flavor that complements the coffee and cream layers really well.
And for topping: whipped cream and cocoa powder. A little espresso powder mixed in with the cocoa powder would add a deeper coffee flavor, if that's what you're into!
Have leftover mascarpone? Try this honey strawberry mascarpone dip or these iced lemon mascarpone cookies.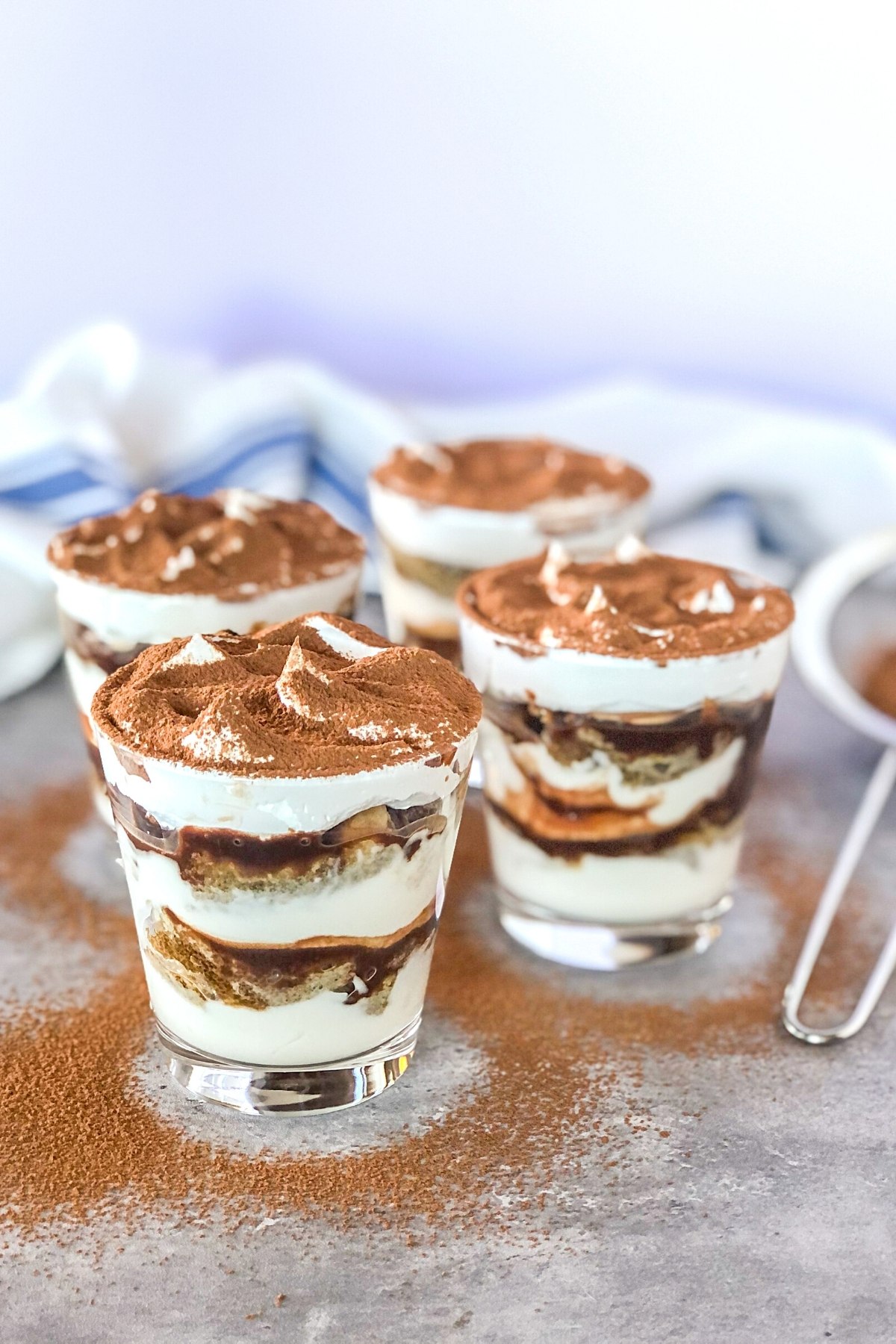 How to Make Nutellamisu Dessert Cups
First things first: brew some coffee (if not using pre-packaged coffee). Next, it's time to make the cream layer.
1: Make the Greek Yogurt & Mascarpone Layer
Soften the mascarpone cheese by mashing it with a spoon in a bowl for a couple minutes. Then, add in Greek yogurt, maple syrup, and vanilla extract, and mix together until smooth. Set aside for now.
2: Make the Coffee and Nutella Mixture
Next, pour brewed coffee in a bowl. Remove 1/4 cup and place into a separate bowl. Warm this coffee in the microwave for 10-15 seconds (unless already hot), then stir in Nutella until the mixture is smooth. Set aside for now.
And now, for the fun part: assembly!
3: Assemble the Nutella Tiramisu Cups
Spoon about 2 tablespoons of the mascarpone yogurt mixture into each parfait glass. Next, cut or tear 2-3 ladyfingers in two pieces. Quickly dip them in the bowl of plain coffee, then place them on top of the cream layer.
Then, drizzle one tablespoon of the Nutella coffee mixture on top of the ladyfingers. Repeat the process again, starting with the cream layer, for each parfait glass. (You should have 2 layers of each type per glass).
4: Sift Cocoa Powder on Top
Lastly, add whipped cream and sift cocoa powder on top. You can use a piping bag to add the whipped cream layer, or just spoon it on. Either way works!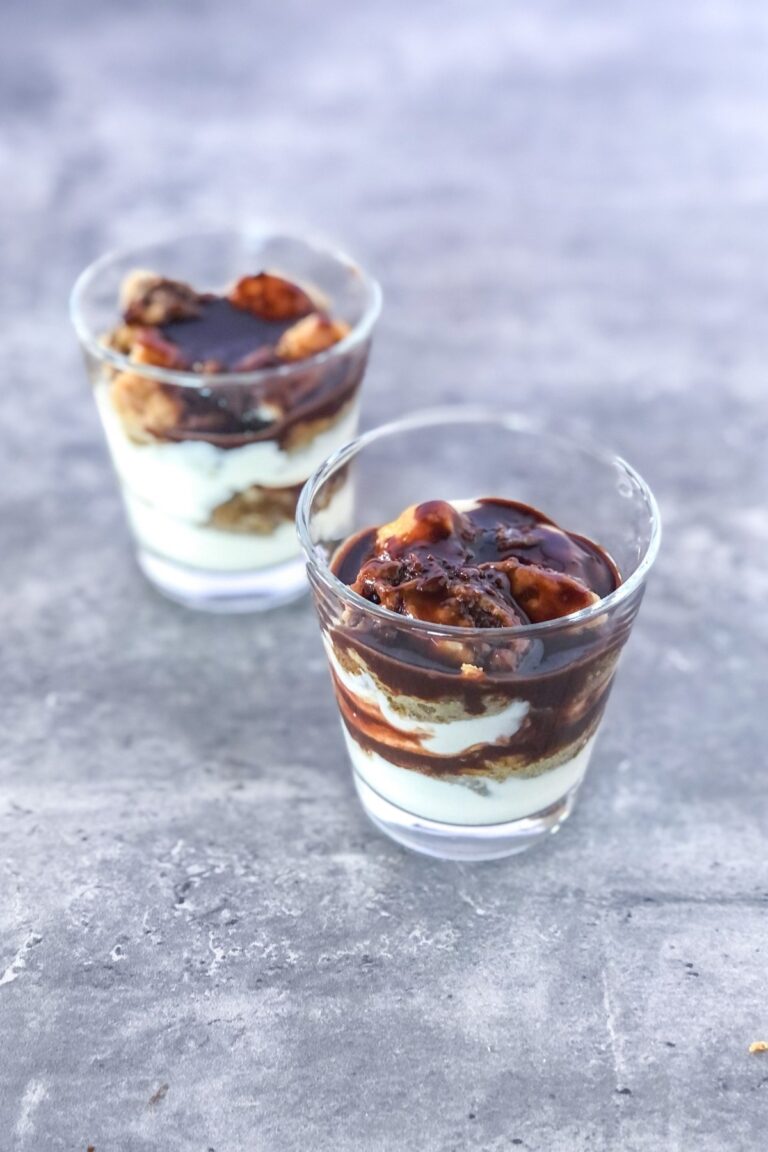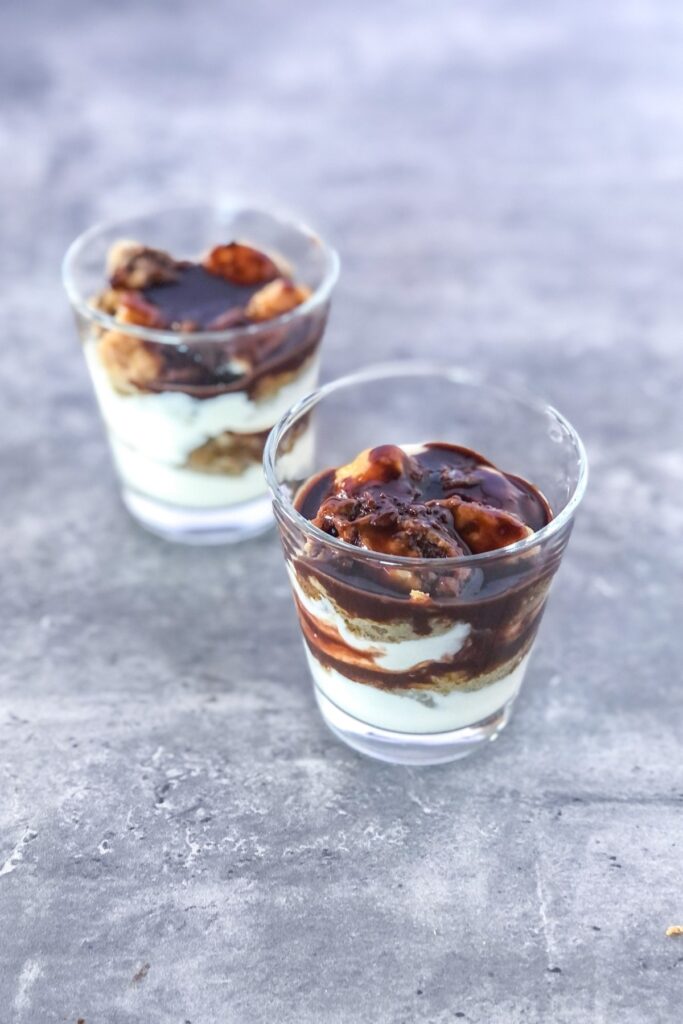 Cover the jars and place them in the refrigerator to chill for at least one hour, so the ladyfingers have a chance to soak up the liquid. Then, serve!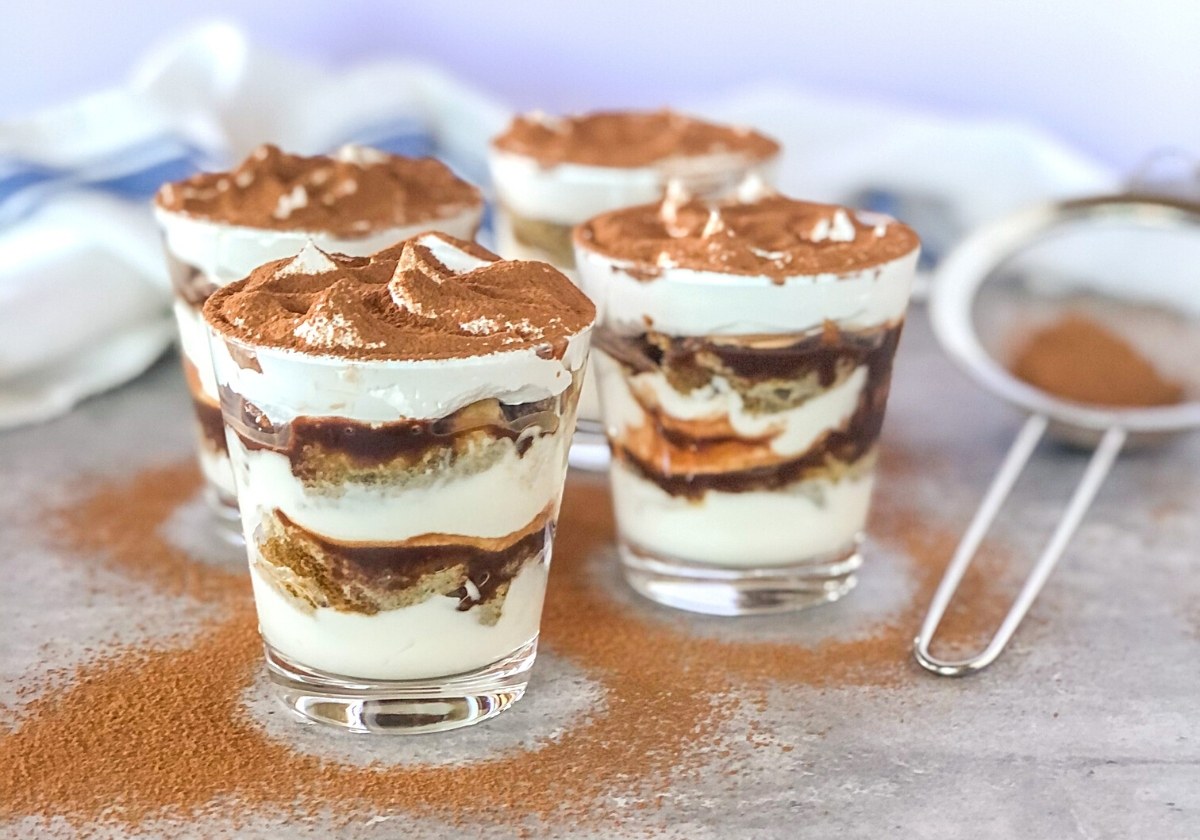 Helpful Tips
Be sure to fully soften/stir the mascarpone cheese until it's smooth (no lumps) before mixing it with the Greek yogurt.
Dunk the ladyfinger cookies in the coffee quickly. There's no need to soak them – that may add too much liquid to the tiramisu here.
For a cleaner parfait look, use a piping bag or Ziploc bag with the corner cut off to pipe the whipped cream on top.
What size parfait glass should I use?
I used 4-oz dessert jars here, and the recipe filled 8 jars. Here are similar 5-oz parfait glasses (they are slightly larger, so they won't be quite as full if you make 8 parfaits). If you need to use plastic/disposable cups, try these 4-oz plastic dessert cups.
How long does Nutella tiramisu last in the fridge?
This Nutella tiramisu works fabulously as a make-ahead dessert, because it needs to sit in the fridge anyway (so the coffee gets fully absorbed by the ladyfingers). It's best enjoyed within 2 to 48 hours, but it should last in the refrigerator for up to 3 days.
Substitutes for Ladyfingers in Tiramisu
Can't find ladyfingers anywhere? Here are some ideas for what to use instead:
sponge cake
madeleine cookies
biscotti
pound cake
Biscoff cookies (like in these Biscoff tiramisu cups)
panettone
other biscuit-like cookies
Or, you can bake your own homemade ladyfingers!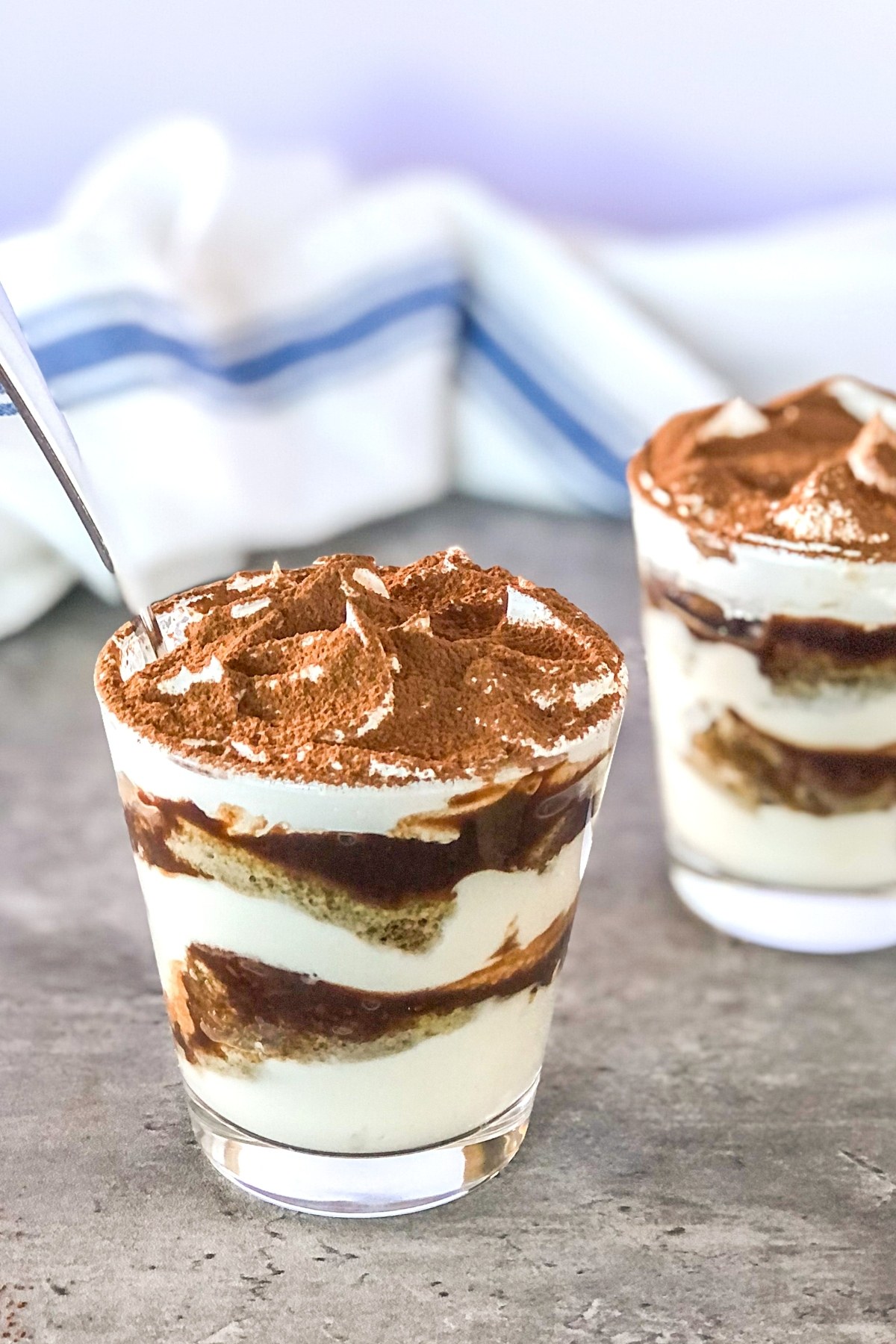 Recipe Variations
Want to switch up the recipe a bit? Here's some inspiration:
use all mascarpone cheese (no Greek yogurt) for a more decadent tiramisu
use all Greek yogurt (no mascarpone cheese) for a lighter tiramisu
add chopped fruit like banana or strawberries
mix a teaspoon of espresso powder into the cocoa powder before sifting on top (for a deeper coffee flavor)
This is a perfect no bake dessert for coffee lovers and Nutella lovers alike!
If you make these Nutellamisu jars, I'd love if you shared your thoughts with a rating and comment below.
More Nutella desserts to try: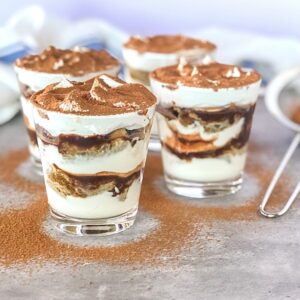 Nutella Tiramisu Jars (Nutellamisu)
Nutella tiramisu jars feature coffee-soaked ladyfingers, creamy mascarpone & Greek yogurt, and Nutella! An easy no bake dessert.
Ingredients
1

cup

mascarpone cheese

(about 8 oz)

1

cup

plain Greek yogurt

1

tsp

vanilla extract

2

cups

brewed coffee, divided

½

cup

Nutella hazelnut spread

32

ladyfinger cookies

(more if desired)
For topping:
2

cups

whipped cream

¼

cup

cocoa powder
Instructions
Brew/prepare coffee according to the package directions. Set aside ¼ cup in a small bowl, then pour the rest into another bowl.

Place mascarpone cheese in a separate medium bowl. Mash it with a spoon to soften it, until smooth with no lumps. Add in Greek yogurt, maple syrup, and vanilla extract. Stir until smooth. Spoon or pipe about 2 tablespoons of the mixture into each parfait jar. (Use more if making larger parfaits).

Tear 2 ladyfinger cookies in half. Quickly dip them in the larger bowl of coffee until just submerged, then layer them over the mascarpone/yogurt mixture. Repeat with each jar.

Warm the ¼ cup of coffee that you set aside earlier in the microwave for 10-15 seconds (unless already hot). Stir in Nutella until the mixture is smooth. Drizzle about 1 tablespoon of mixture over the ladyfingers. Repeat with each jar.

Continue layering in this manner: add another layer of the mascarpone/yogurt mixture, then another layer of coffee-dipped ladyfinger cookies and the Nutella mixture.

Top each glass with a layer of whipped cream if desired. Sift cocoa powder on top.

Cover the parfait glasses. Chill in the refrigerator for at least 2 hours before serving**.
Notes
*If you choose not top these with whipped cream, you may want to add 2 additional tablespoons of maple syrup OR 2 tablespoons of powdered sugar to the mascarpone and yogurt mixture (for added sweetness).
**Storage Tips: Store these tiramisu cups in the refrigerator until you're ready to serve. They're best enjoyed within 2 to 48 hours, but it should last in the refrigerator for up to 3 days.