Delicious (and surprisingly easy!) almond cupcakes with a quick honey cherry filling in the center. These are made with a combination of all-purpose flour and homemade almond meal (or almond flour) for a fabulous almond flavor.
These look quite elegant, but they're simple to make – there's no electric mixer involved! They're perfect for events like bridal showers, baby showers, and retirement parties. The pairing of soft almond-flavored cake and honey-tossed sweet cherries is a dream!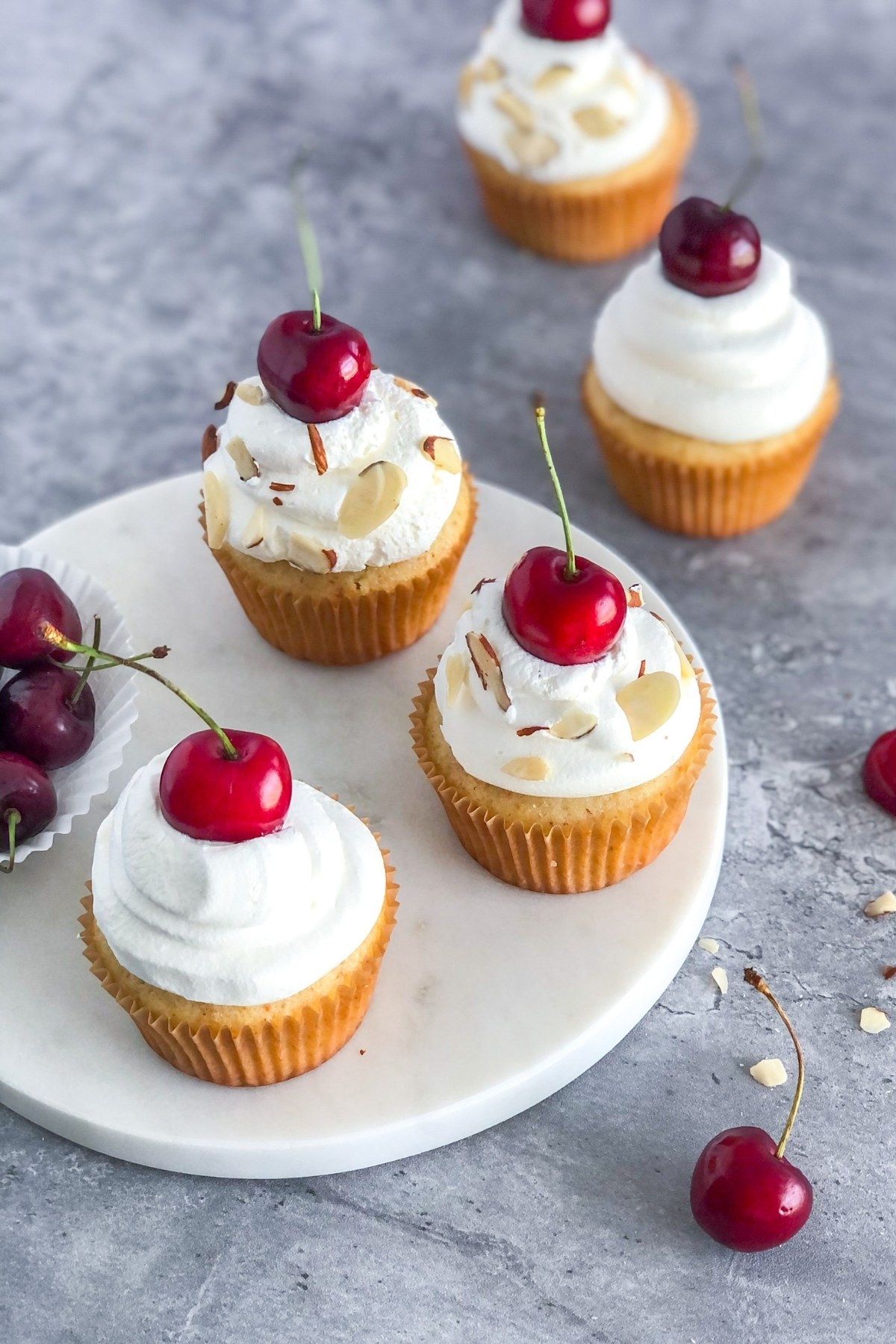 **Please note, some links on this page are affiliate links. If a purchase is made through an affiliate link, I may receive a commission at no cost to you. As an Amazon Associate, I earn from qualifying purchases. See my full disclosure policy here. Thanks for your support!
Cherry Filled Cupcakes with Almond Flour
Every summer, I look forward to buying a big bag of fresh sweet cherries and just eating them like candy. (They are called 'nature's candy' for a reason!). This year, I was inspired to bake something with them, too. 🙂
Don't worry: you can still make these with frozen cherries if cherries aren't in season.
I love how well the almond and cherry flavors compliment each other here. But if you're not a cherry fan, or if you don't have them on hand, you could swap out the cherries for another fruit (like strawberries), or use something like raspberry jam in the centers instead.
I topped my cupcakes with whipped cream, but I'm sure any sort of buttercream or frosting would be tasty!
Recipe Ingredients
Here's what you'll need to make these almond cupcakes:
For the cupcake batter:
all-purpose flour
almond flour/meal: Almond meal is simple to make in a food processor or strong blender, but you can also buy pre-made almond flour to save a little time. You'll need unsalted raw almonds (with the skin still on). If you only have roasted almonds, that should work too – the almond flavor will just be slightly more intense. You can also use blanched almonds (i.e. without the skins on) for a finer almond flour.
baking powder: For rise and structure.
salt
unsalted butter
sugar: I used regular white granulated sugar, but you can use superfine sugar (also known as caster sugar) for an even lighter texture.
eggs
plain Greek yogurt: This thickens up the batter a bit while adding a slight hint of tangy flavor.
milk
vanilla extract
almond extract: For an extra boost of almond flavor!
For the filling:
cherries: You'll need fresh or frozen cherries for the filling. I used fresh dark sweet cherries, but Rainier cherries or Bing cherries (which are both types of sweet cherries) would work, too. If using frozen cherries, thaw them overnight in fridge and drain the liquid.
honey: The chopped cherries get tossed in honey for a quick and easy cherry filling. (If you prefer a saucier cherry filling, you can cook the cherries in a saucepan over medium-low heat with honey, maple syrup, OR white sugar until thickened. You may need to add a bit of cornstarch to thicken it more if it's too liquidy.)
And for topping: whipped cream (or frosting/buttercream of choice), fresh cherries, and slivered almonds.
You might also love these blueberry white chocolate muffins!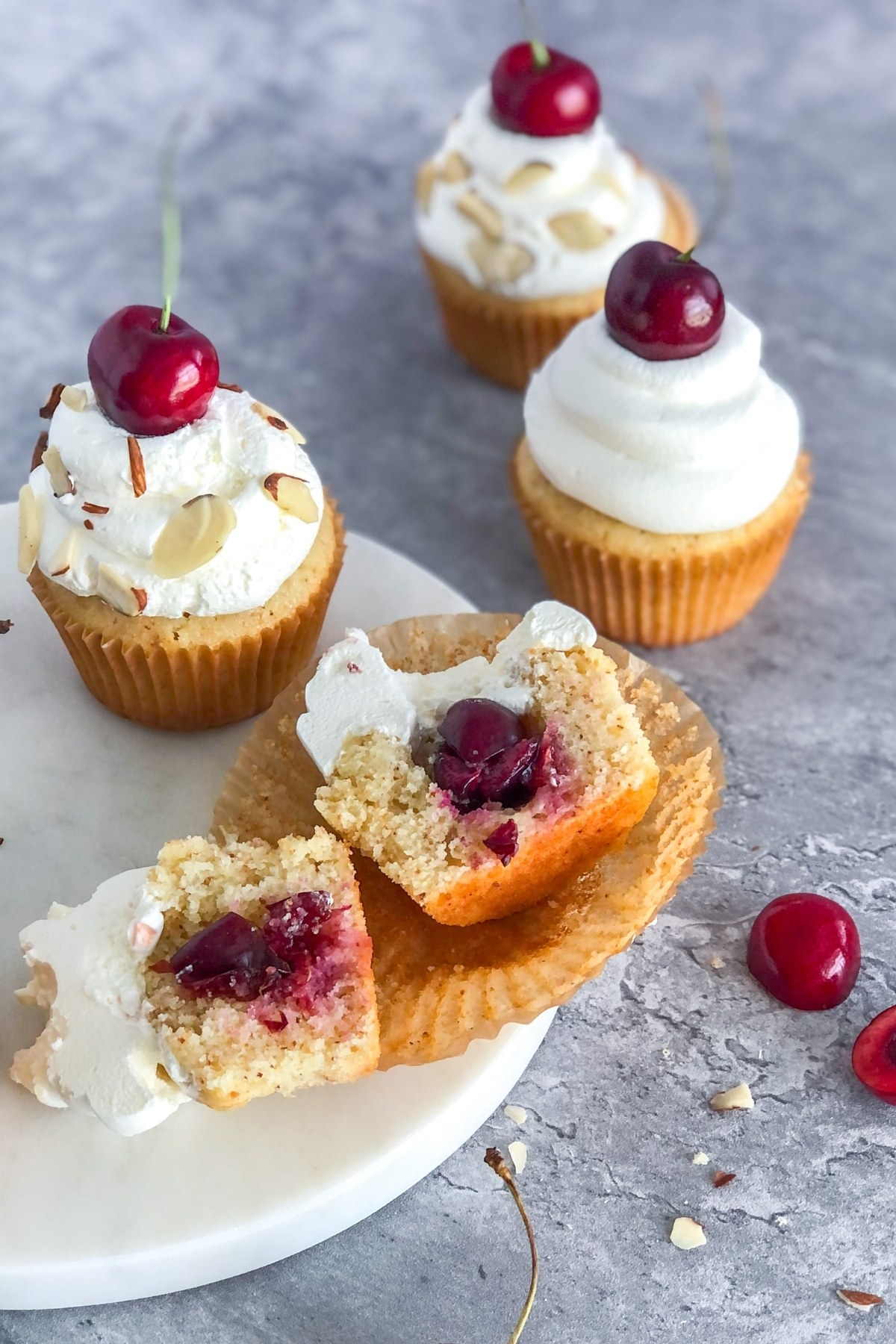 How to Make Almond Cherry Cupcakes
First off, if you don't have pre-made almond flour, start by making almond meal. Place raw almonds in a food processor and process until they're a fine texture.
Next, make your batter. Whisk together the dry ingredients in a bowl (including the almond flour/meal), then combine the wet ingredients in a separate bowl. Sift your dry mixture into the wet mixture (this removes clumps) and gently whisk until smooth.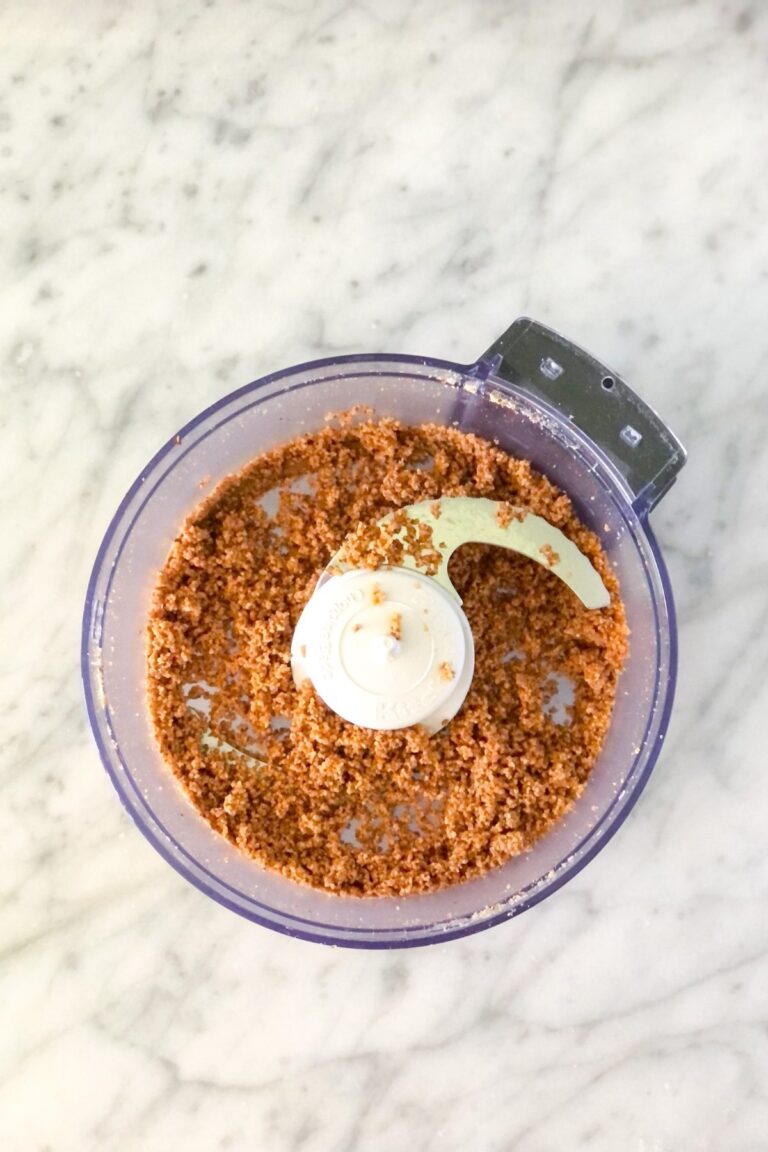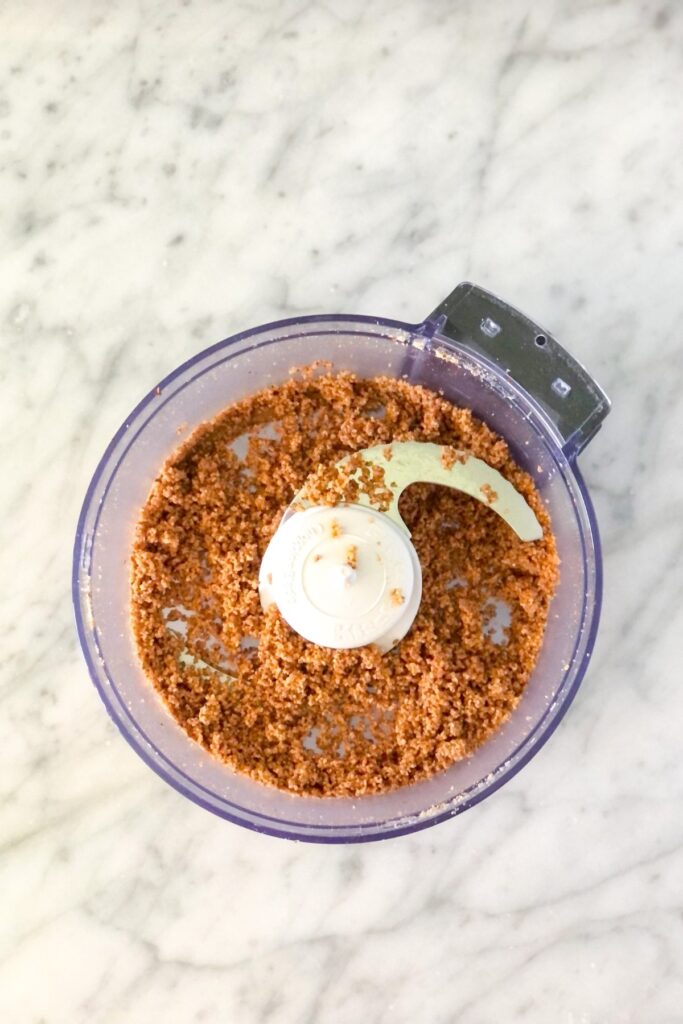 Next, spoon equal amounts of batter into a lined muffin tin. (Tip: use a large cookie scoop for this to make your cupcakes even). Then, bake!
Meanwhile, pit and slice your cherries into quarters. (This is easier/faster with a cherry pitter). Pour honey over them and stir well.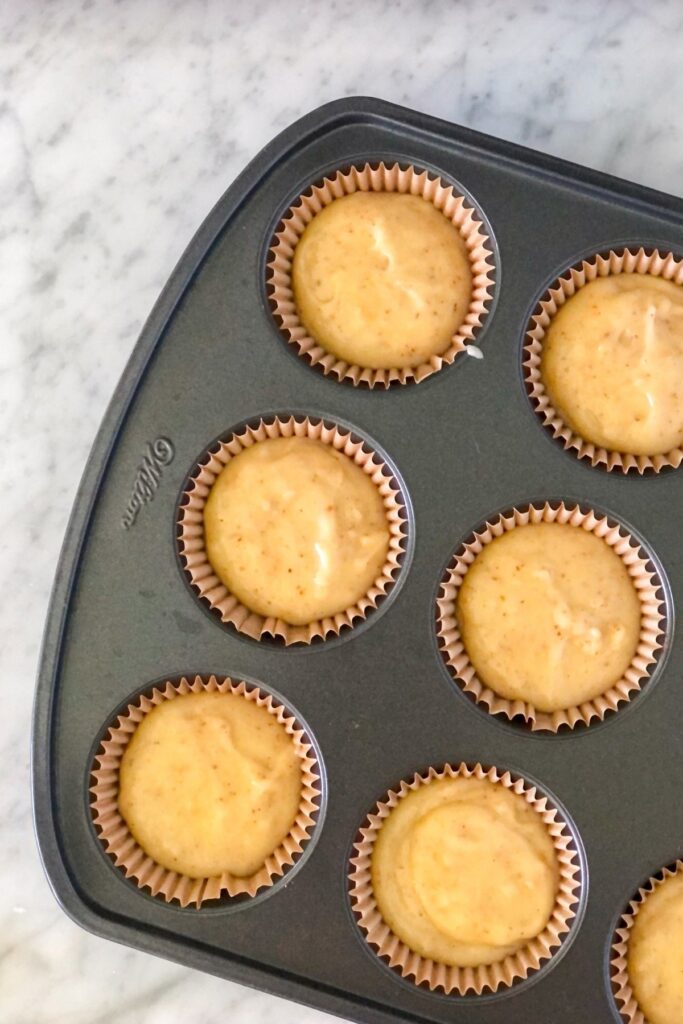 Once the cupcakes are baked, let them cool until you can handle them. Using a small spoon, knife, or cupcake corer, cut a hole about an inch in diameter into each cupcake and scoop it out. (Be sure not to cut all the way through the cupcake, or the filling will spill out!).
Spoon equal amounts of cherry filling into each cupcake.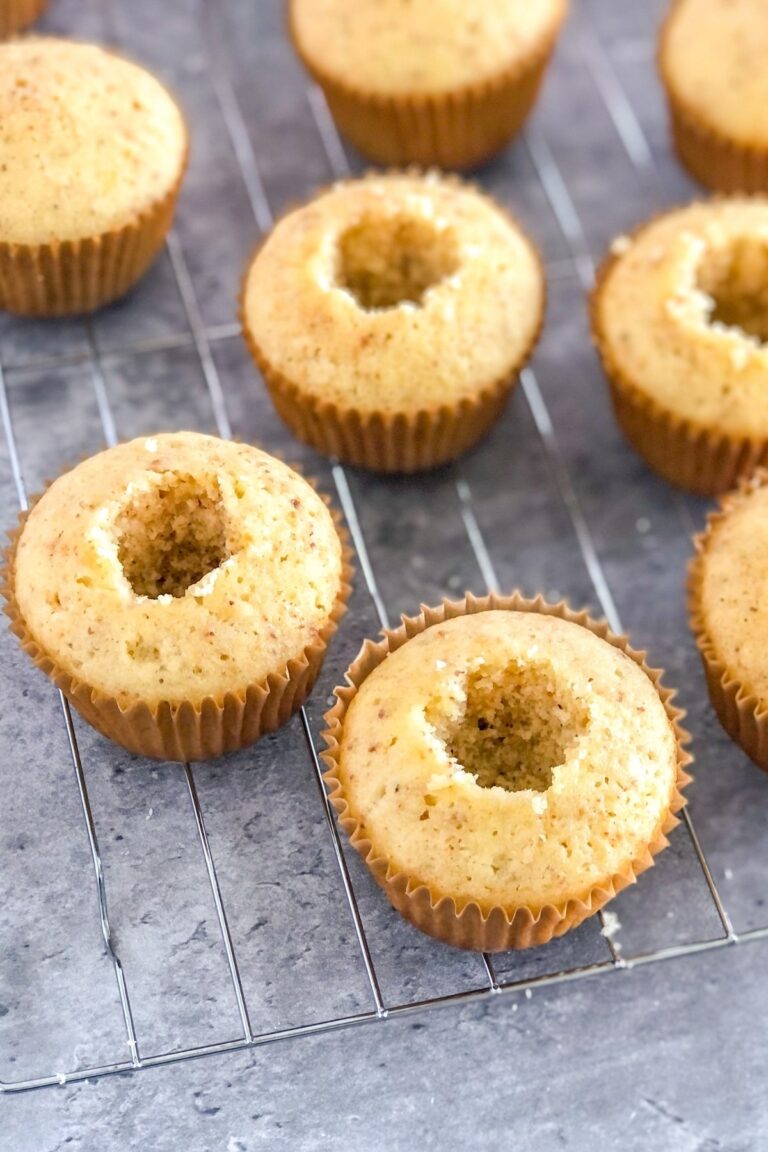 Lastly, top and decorate your cupcakes any way you like!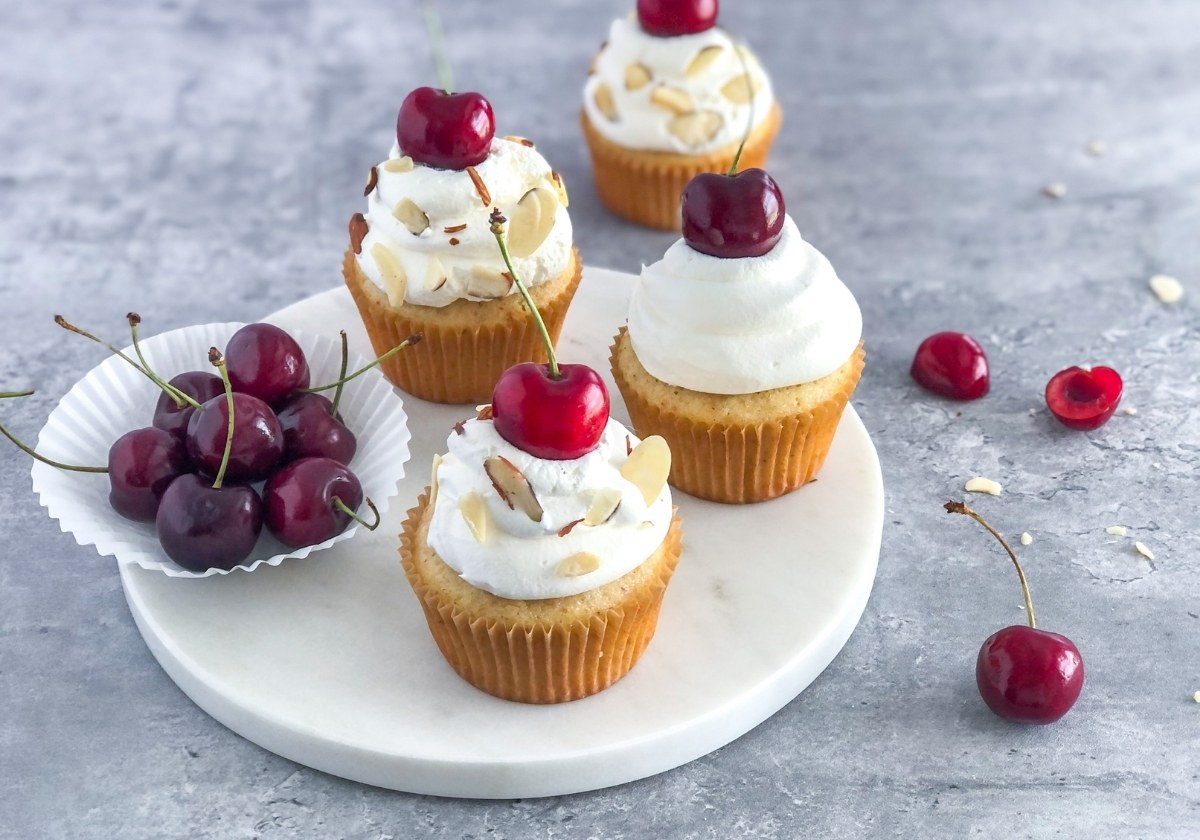 How to Store Almond Cherry Cupcakes
The cupcakes should be stored in an airtight container at room temperature for up to 2-3 days. (They will dry out if stored in the refrigerator.) For this reason, don't add the filling or frosting until you're ready to serve.
You can also individually wrap and freeze these (unfilled, unfrosted) cupcakes for up to 3 months.
Can I make these ahead of time?
These almond meal cupcakes have the best texture the day they're made, but you can definitely make them a day or two ahead of time!
Be sure to wait until just before you serve to add the filling and frosting, because those need to be refrigerated.
The cherry filling can also be made one day in advance. Store in the fridge in a covered bowl or airtight container.
Can I use frozen cherries?
Yes! While frozen cherries may not be quite as flavorful or have the same texture as fresh cherries, using them can save you time if they're already pitted.
You'll just need to place them in an airtight container or covered bowl and thaw them in the refrigerator overnight. Be sure to drain the liquid before you use them.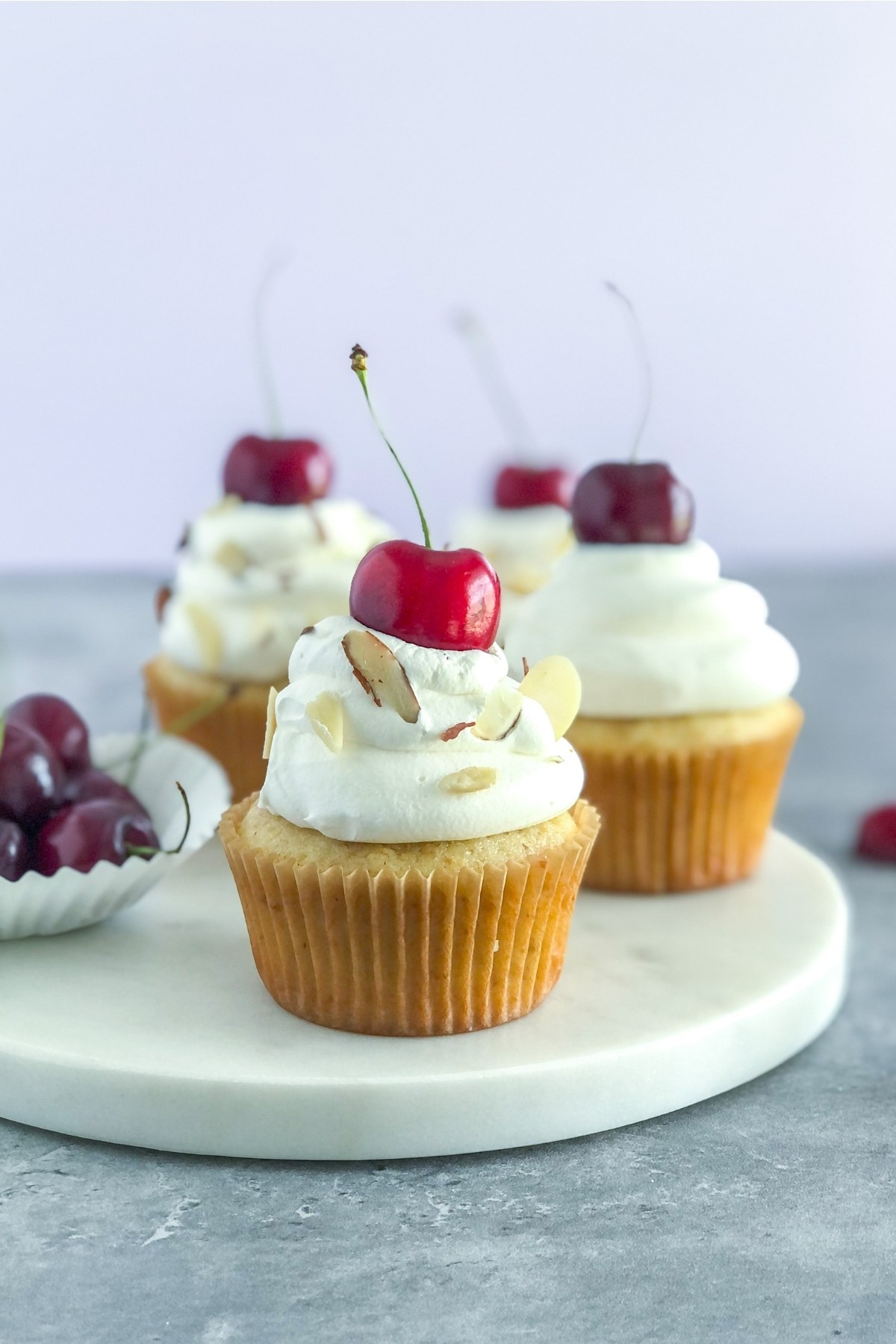 How to Make Almond Meal at Home
So, there is a slight difference between almond flour and almond meal. Almond flour is made from blanched almonds with the skins removed, so it has a finer, more powdery texture.
Almond meal, on the other hand, is made from raw almonds with the skin still on, so it's slightly more coarse in texture. I used homemade almond meal in this recipe, but either can be used.
To make almond meal, simply place almonds in a food processor and blitz until they reach a fine consistency.
Topping Ideas
Aside from the classic cherry on top and sliced almonds, here are some ideas for decorating your cupcakes:
freeze-dried fruit (like strawberries or raspberries)
marshmallow meringue frosting
sprinkles
crushed Nilla wafers
white chocolate shavings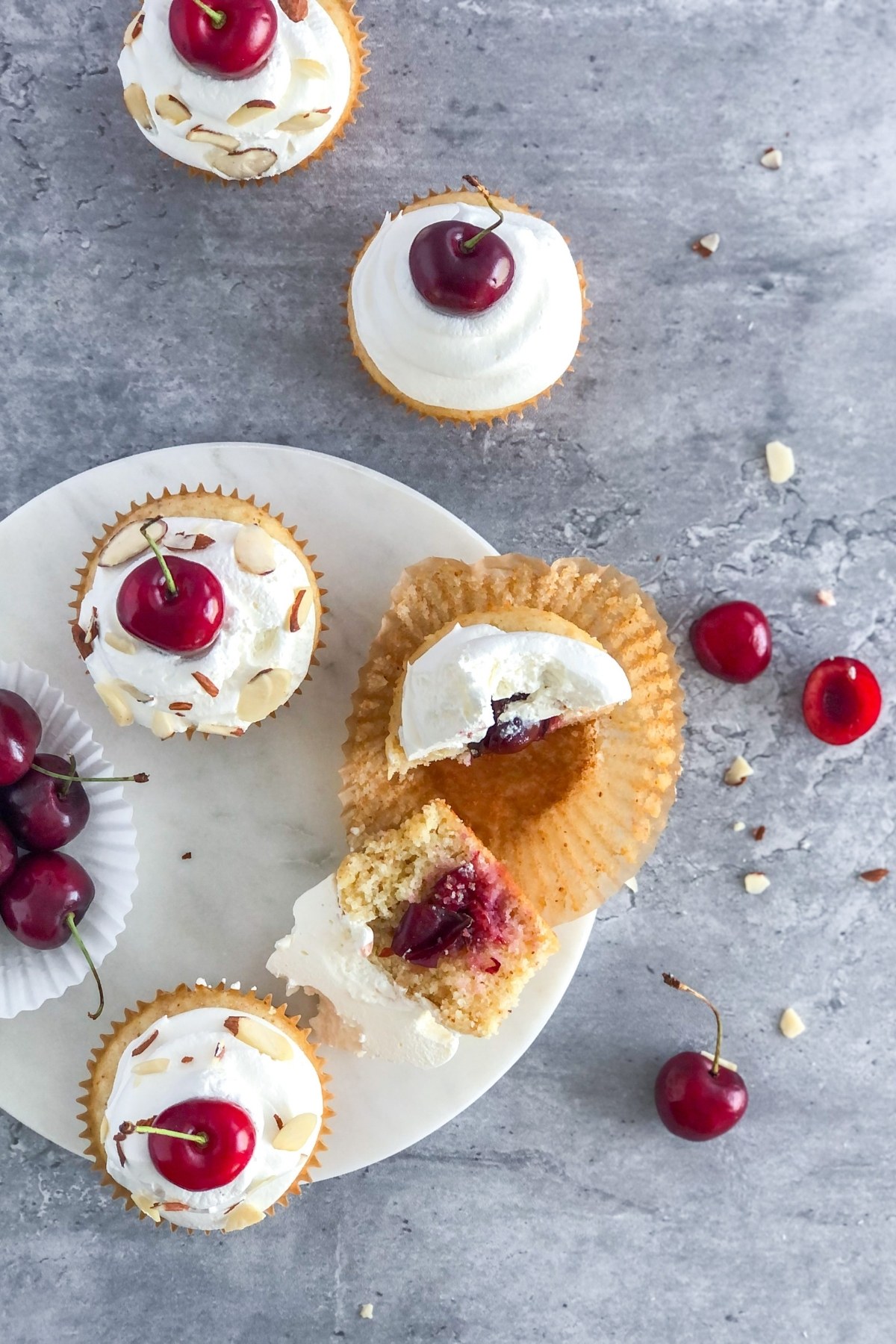 I can always get behind an easy dessert that looks elegant! These lovelies will be a hit at any event. 🙂
If you make these cherry almond cupcakes, I'd love if you shared your thoughts with a rating and comment below!
More desserts with fruit to try: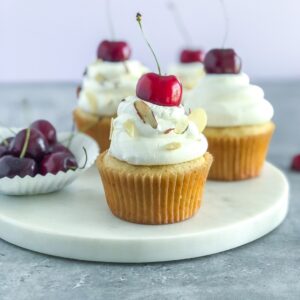 Easy Cherry Almond Cupcakes
Delicious (and easy) cherry almond cupcakes with a quick, honey-tossed cherry filling in the center. No electric mixer needed!
Ingredients
For Cupcakes:
1¼

cup

all-purpose flour

¼

cup

almond meal*

(or almond flour)

1½

tsp

baking powder

¼

tsp

salt

8

Tbsp

unsalted butter, melted

1

cup

white granulated sugar

2

eggs

(at room temperature)

¼

cup

plain Greek yogurt

¼

cup

milk

(I used 1%)

1

tsp

vanilla extract

½

tsp

almond extract**
For Cherry Filling:
1

cup

fresh cherries, pitted and coarsely chopped

(or frozen – thawed and drained)

2

Tbsp

honey
For Topping:
whipped cream

(optional)

fresh cherries

(optional)

sliced almonds

(optional)
Instructions
Preheat oven to 350° Fahrenheit. Line a muffin pan with 12 cupcake liners. Set aside.

In a medium bowl, whisk together flour, almond meal, baking powder, and salt. Set aside.

In a large bowl, whisk together melted butter and sugar. Add in eggs, Greek yogurt, milk, vanilla extract, and almond extract. Whisk until combined.

Using a sieve, sift the dry mixture into the wet mixture. (This is important to remove any clumps). Gently whisk until smooth.

Divide the batter into the 12-cup lined muffin pan, filling each cup about 3/4 of the way full. (Tip: use a large cookie scoop for easier measuring).

Bake for about 18-22 minutes, or until a toothpick inserted into the center comes out clean. Place cupcakes on a wire rack to cool.

Meanwhile, make the cherry filling. Place pitted, coarsely chopped cherries in a bowl. Drizzle with honey and toss with a spoon to coat. (If making cupcakes ahead of time, stop at this step and read the storage tips in the Notes section).

Once the cupcakes are cool, use a small spoon or knife to core a hole out of each cupcake, about 1 inch in diameter, reaching about 2/3 of the way down the cupcake. (Don't go too deep, or the filling will seep out). Spoon cherry filling into each cupcake's center.

Lastly, top with whipped cream or frosting and decorate as desired. Then, serve!
Notes
*To make homemade almond meal: Place raw, unsalted almonds in a food processor or high-powered blender. Process until they reach a fine texture. Start with 1/2 cup of almonds, then measure out 1/4 cup almond meal once processed. (If using salted almonds, leave out the added salt in the recipe). The almond meal/flour can be replaced with an equal amount of all-purpose flour, but the cupcakes won't have as much of an almond flavor.
**For a lighter almond flavor, leave out the almond extract.
Storage Tips: Store unfilled, unfrosted cupcakes in an airtight container at room temperature for up to 3 days. Store pre-made cherry filling in the fridge for up to 1 day. (Wait to add the cherry filling and whipped cream/frosting until just before ready to serve.)