Almond butter is just as tasty as peanut butter – and just as versatile (if not more so)! If you're a fan like I am, you'll love these easy dessert recipes with almond butter.
From healthy almond butter truffles to almond butter cookie bars, these tasty treats are all packed with delicious nutty flavor.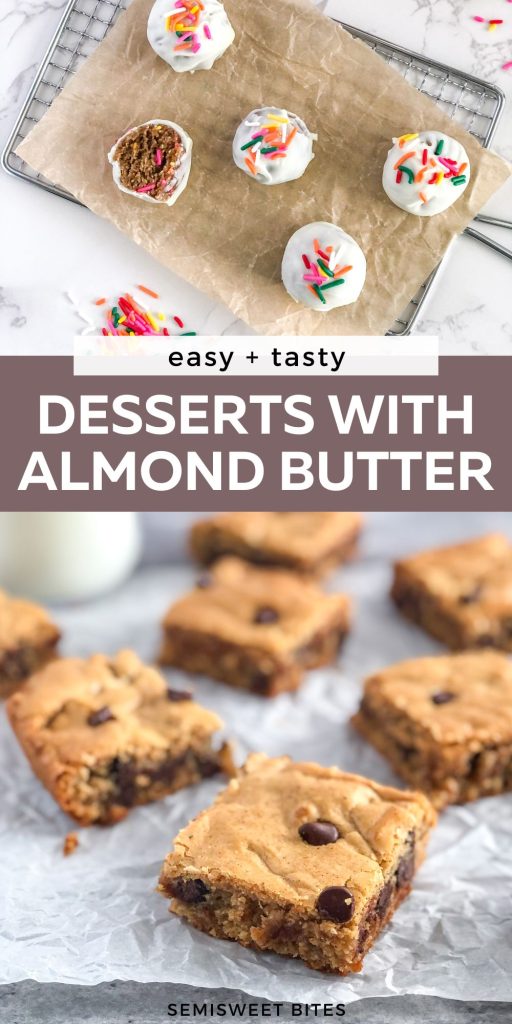 What is almond butter?
Almond butter is type of nut butter made from almonds. Often, the only ingredient is almonds, but some brands add other ingredients such as salt, honey, or other additives.
It's a creamy spread – similar to peanut butter – that can be spread on toast, stirred into oatmeal or yogurt, or used in baked goods. It comes in many varieties, and can be purchased either creamy or chunky.
Like almonds, almond butter is packed with protein and healthy fats, plus vitamins and minerals (including calcium, magnesium, and potassium, among others).
How is almond butter made?
To make almond butter, almonds are ground into a paste-like consistency. Sometimes, the almonds are raw, but they're often roasted before being ground.
Easy Almond Butter Desserts
Almond butter is a fabulous alternative to peanut butter, but it deserves the spotlight in its own right! With a milder flavor but just as much creaminess, it's a perfect addition to tons of baked goods and no-bake treats.
Plus, you can often make desserts healthier (without sacrificing texture) by swapping out some butter or oil for almond butter.
Here are some of my favorite dessert recipes with almond butter that you need to try!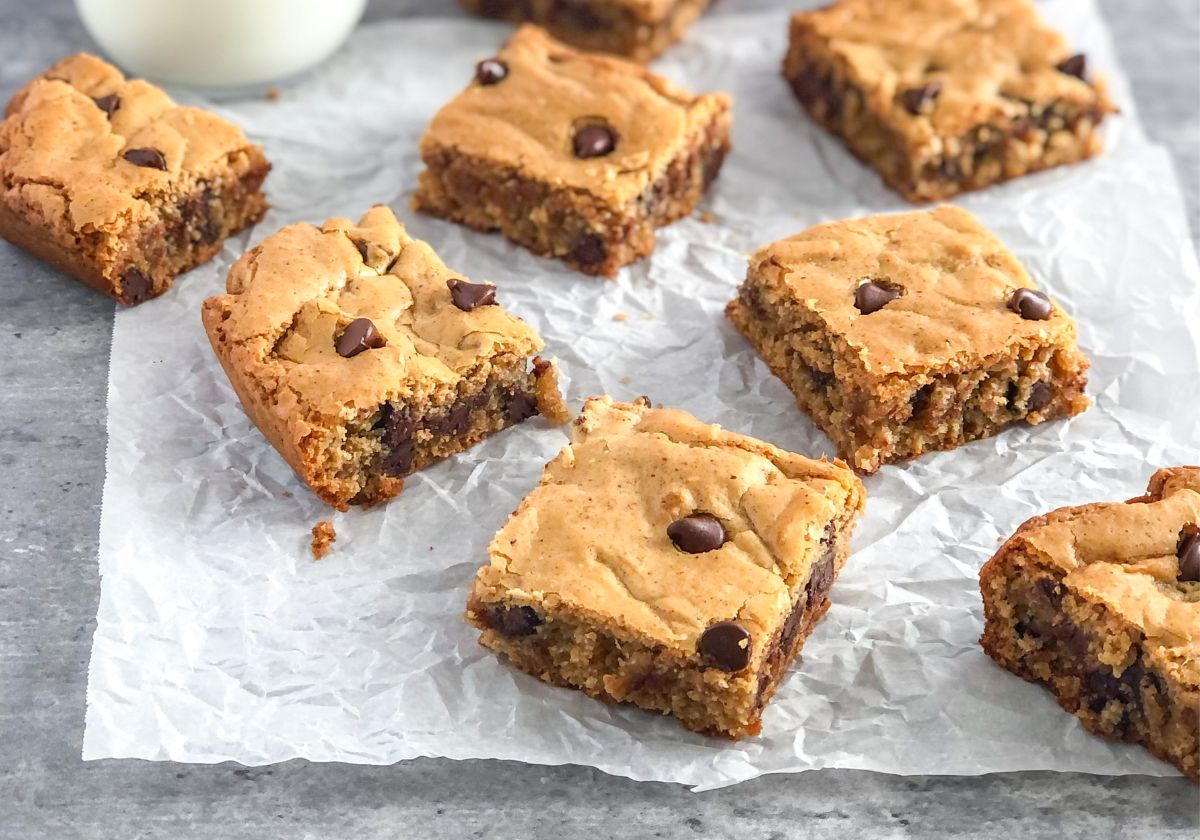 Gooey almond butter cookie bars with chocolate chips are fudgy in the center, with deliciously chewy edges. They're perfect for chocolate chip cookie fans and blondie lovers alike!
The chocolate gets all melty and pairs so well with the light nutty flavor from the almond butter. One of my favorite desserts ever – and so easy to make (no electric mixer needed)!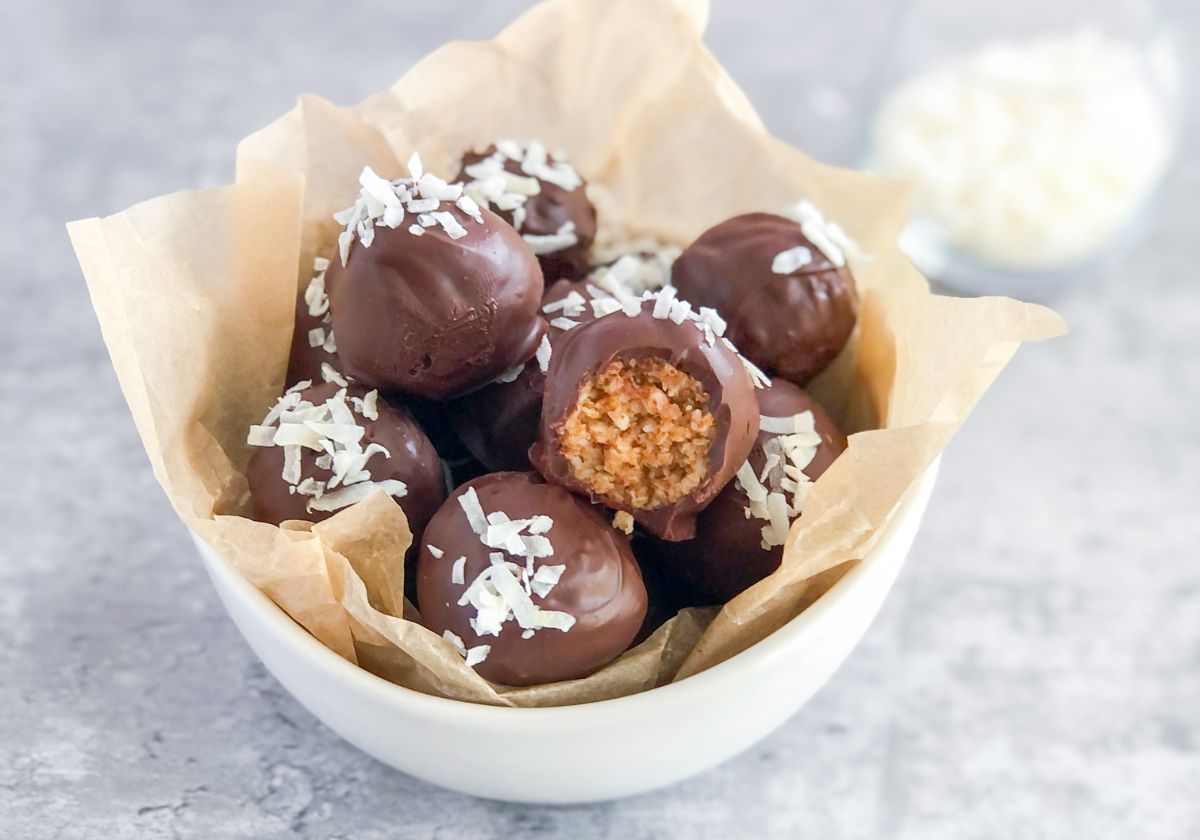 These healthier dessert bites taste like Almond Joy candy bars – but are much better for you! They're made with shredded coconut and almond butter, sweetened with maple syrup, and coated in smooth dark chocolate.
Make a batch and keep them on hand for the week – you'll thank yourself later! Plus, they don't require any baking. Simple and delicious!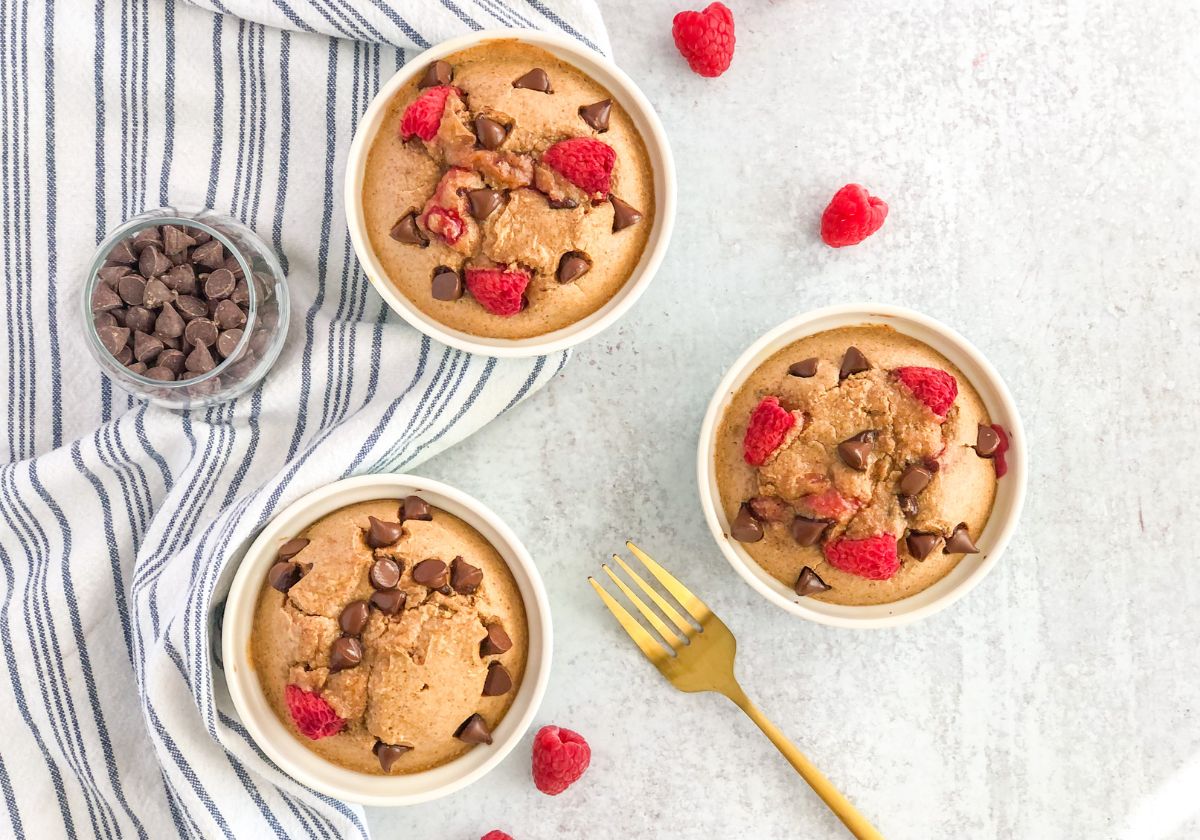 Say hello to a breakfast, snack, or healthy dessert that tastes like cake – but is actually healthy! These baked oats are mainly made with blended oats (homemade oat flour), almond butter, milk, and eggs, and are sweetened with maple syrup.
I love these individual baked oats with chocolate chips and raspberries, but you can toss in any toppings or mix-ins you want!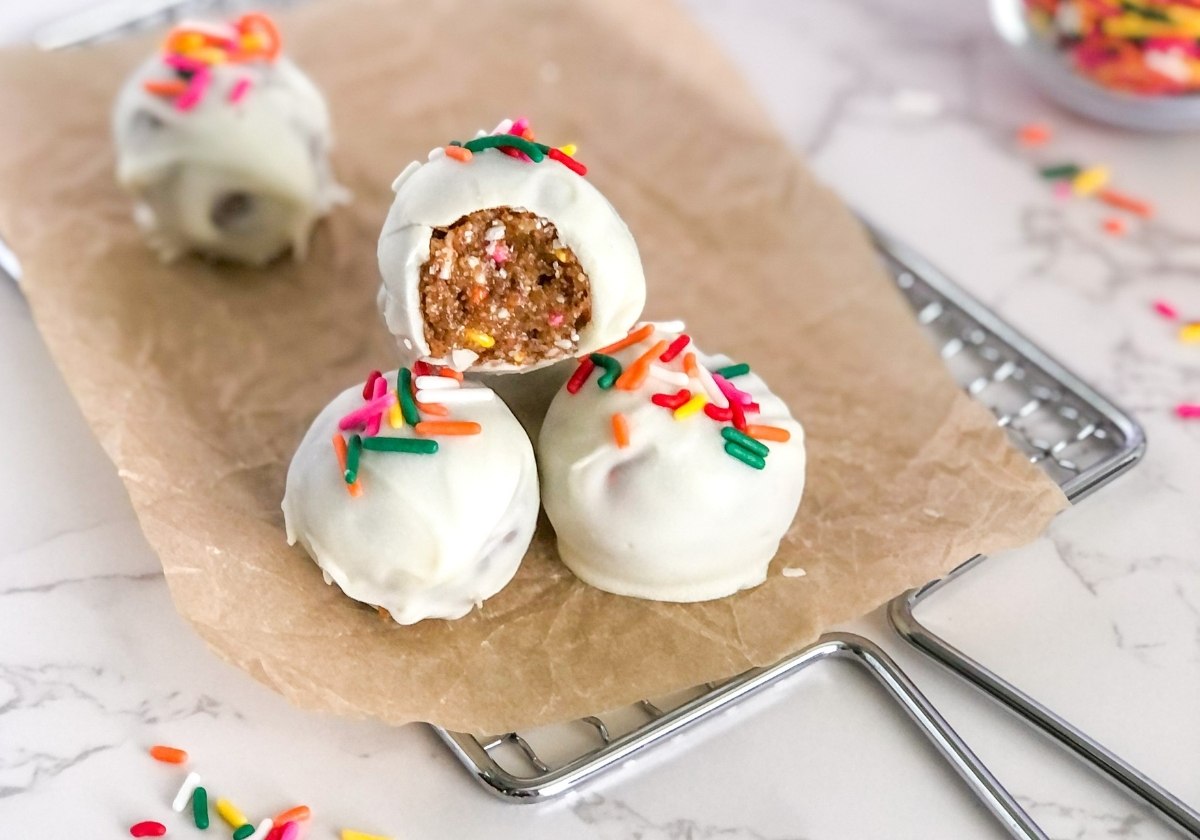 Festive birthday cake truffles are packed with sprinkles for a fun and tasty mini dessert that's perfect for any occasion! They're made with a soft almond butter and oat flour filling (so they're naturally gluten free), then coated in sweet white chocolate.
Bonus: they're quick and easy to make, they're sweetened with maple syrup, and there's no baking involved. Plus, you can decorate them however you like!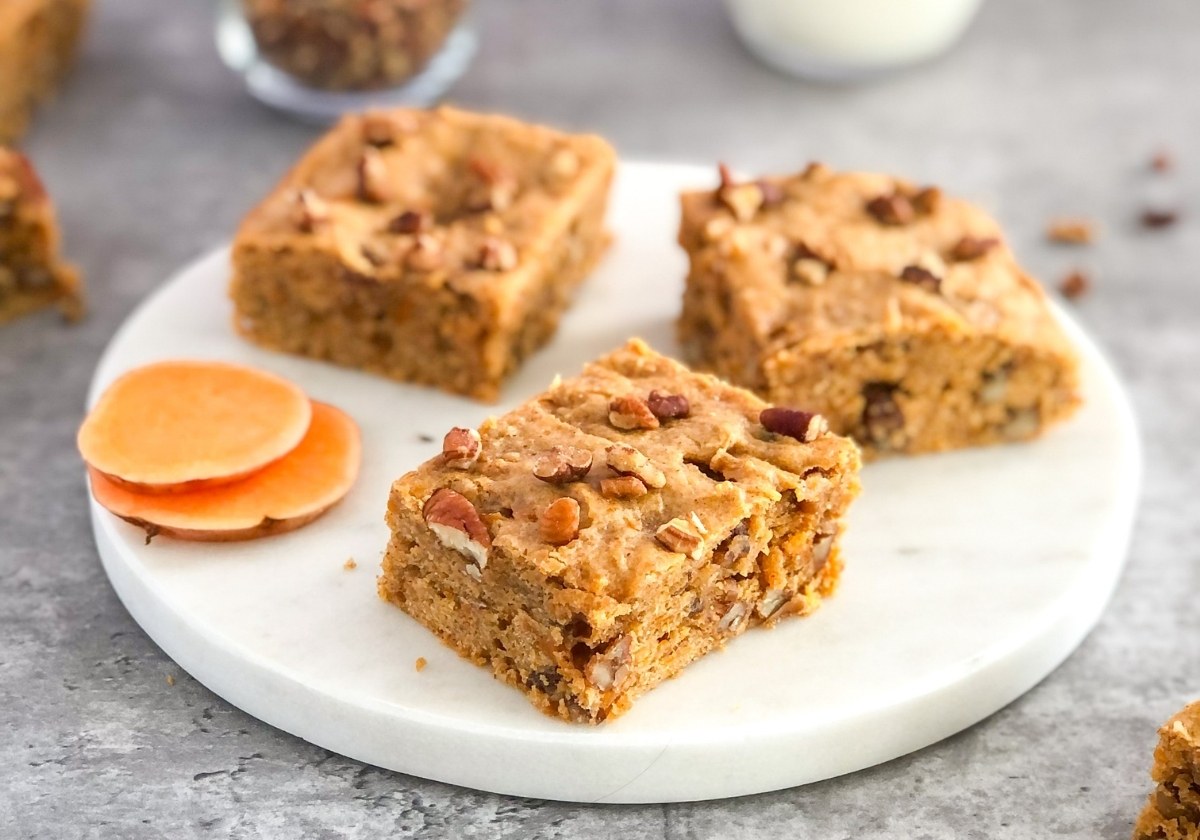 You won't want to miss this tasty fall treat! These blondie bars are elevated with mashed sweet potato (which can be made quickly in the microwave!), almond butter, and pecans for a nutty flavor that pairs wonderfully with brown sugar.
Enjoy them on their own, or with a drizzle of maple syrup or simple vanilla icing. Either way: delicious!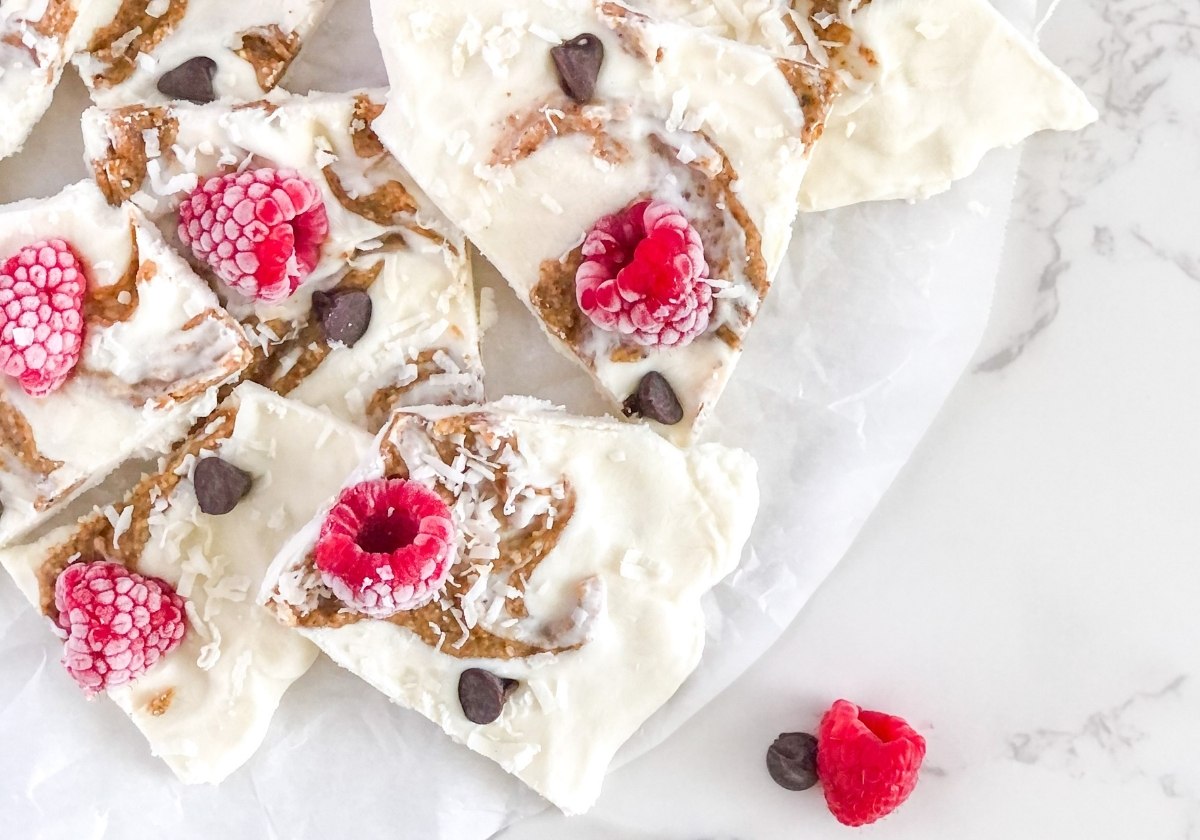 This frozen Greek yogurt bark is healthy and low in sugar, plus it features a creamy almond butter swirl, shredded coconut, and sweet-tart raspberries. Did I mention it only takes 5 minutes of prep time to make it? Then, all you have to do is put it in the freezer!
Plus, this recipe is super easy to customize. Feel free to add any toppings you want – you can even add a swirl of jam with the almond butter (or peanut butter) for a PB&J-style bark!
Should almond butter be refrigerated?
Yes, most kinds of almond butter should be refrigerated – especially natural almond butter. This will prolong its shelf life and help keep it from going rancid.
Does it expire?
Yes, almond butter does expire. Unopened, it should last for up to a year (sometimes longer), if kept in the refrigerator. (Be sure to check the 'best by' date on your jar).
After opening, a jar of almond butter should last for 3-5 months if kept in the refrigerator.
What does almond butter taste good with?
Naturally, almond butter tastes good with practically anything that peanut butter pairs well with, such as:
fruit
jams/jellies
honey & maple syrup
chocolate
cinnamon
caramel
You can even use almond butter in savory dishes. For example, use it to make an almond sauce (similar to peanut sauce) for noodles!
More Recipe Inspiration
Here's some more inspiration for delicious recipes with almond butter:
Fo you have a favorite recipe with almond butter? Let me know in the comments!