The perfect summer dessert for entertaining: strawberry Nutella pizza! A creamy mascarpone and Greek yogurt sauce is spread over pizza dough, topped with sliced strawberries, and drizzled with silky smooth Nutella and melted chocolate. It's the dessert pizza of your dreams!
It's so easy to make (especially with pre-made pizza dough), and the flavors compliment each other so darn well.
And if you want to switch it up and use a different fruit, go for it! This pizza is really versatile and would be delicious with lots of different toppings. (I'll share more ideas below.)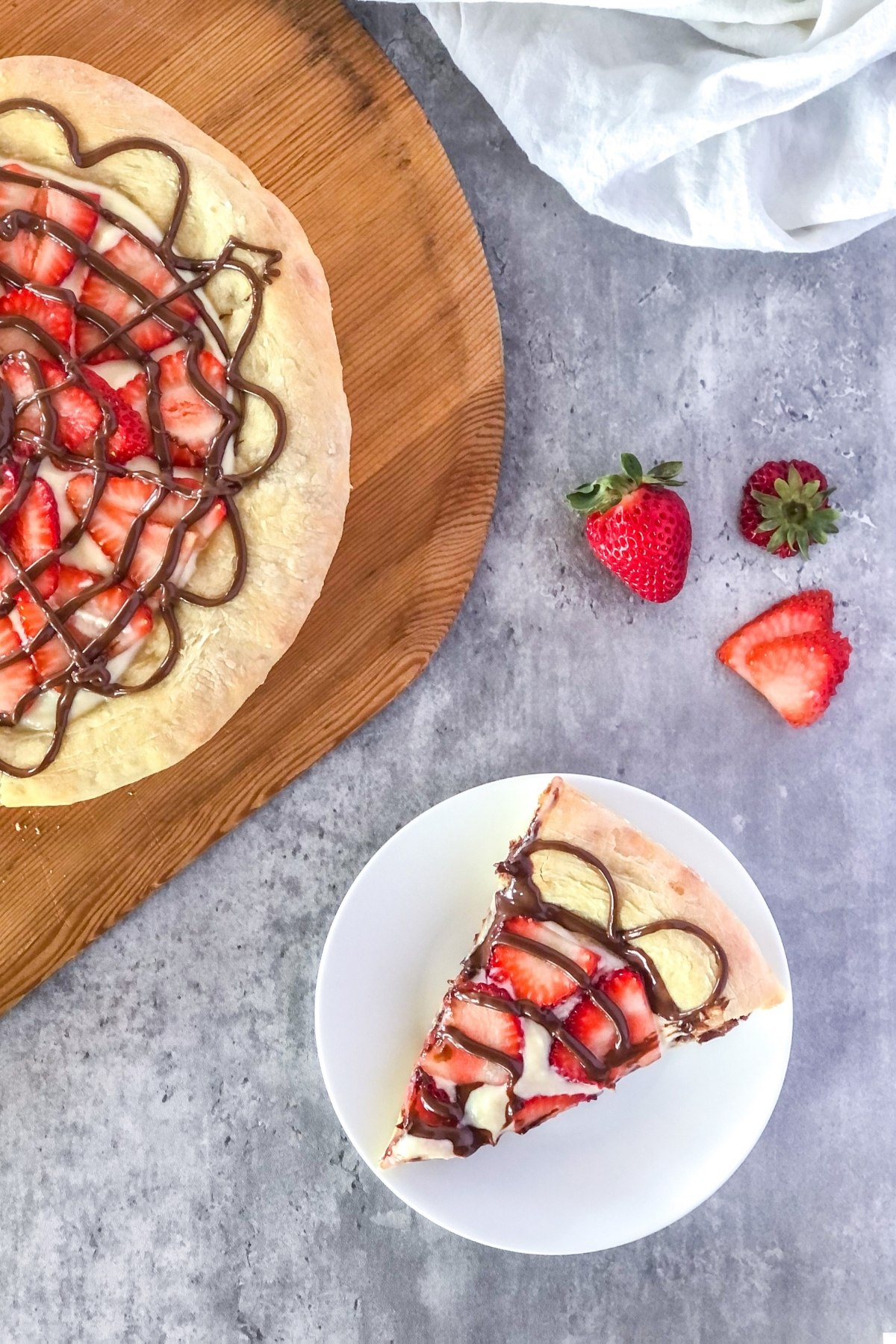 Strawberry Dessert Pizza
If you've ever had chocolate-covered strawberries, you know how amazing the flavors go together. Toss some Nutella hazelnut spread into the mix, and it's even better. Throw it all over lightly sweet, creamy mascarpone and yogurt layered on pillowy pizza dough, and you've got pure bliss.
This dessert pizza recipe was inspired by my chocolate Nutella strawberry bites. I love the pre-made pizza dough from Trader Joe's for making homemade margherita pizza (the more fresh mozzarella, the better – YUM.) But I wanted to make something a little different this time, with sweet flavors instead of savory.
I'm happy to say: it was a success! This turned out delicious, and it's simple to make. Perfect for feeding a crowd or entertaining.
Recipe Ingredients
Here's what you'll need to make this Nutella pizza with strawberries:
pizza dough: You can use homemade dough, or buy it pre-made. It should be available at most grocery stores. Be sure to buy plain dough without any seasonings. (If you want to make your own pizza dough, this no yeast pizza dough looks pretty easy!).
turbinado sugar (optional): To sprinkle over the pizza dough before baking. This is optional for extra sweetness.
mascarpone cheese: For an ultra creamy sauce! I love the subtle flavor of mascarpone, and the fact that it's easier to work with than cream cheese.
Greek yogurt: The mascarpone gets mixed with plain Greek yogurt to round out the sauce. It makes the sauce lightly tangy, and a perfect consistency for spreading on your pizza crust.
maple syrup: This sweetens the mascarpone yogurt sauce. You can use honey instead, if you prefer.
vanilla extract: To add a light vanilla flavor to the sauce.
strawberries: Sliced strawberries are placed on the "sauce" for a burst of berry flavor! Strawberries are perfectly ripe when they're bright red, without any bruising. Avoid buying dark red strawberries, as they're likely overripe. You can definitely use other berries or fruit, too!
Nutella hazelnut spread: This Nutella pizza wouldn't be complete without that sweet hazelnut spread! You can use your favorite brand.
chocolate chips: Dark or semisweet chocolate chips get melted and mixed with Nutella for a smooth, drizzly topping.
Have extra strawberries? Try this honey strawberry mascarpone dip or these strawberry white chocolate cheesecake bars!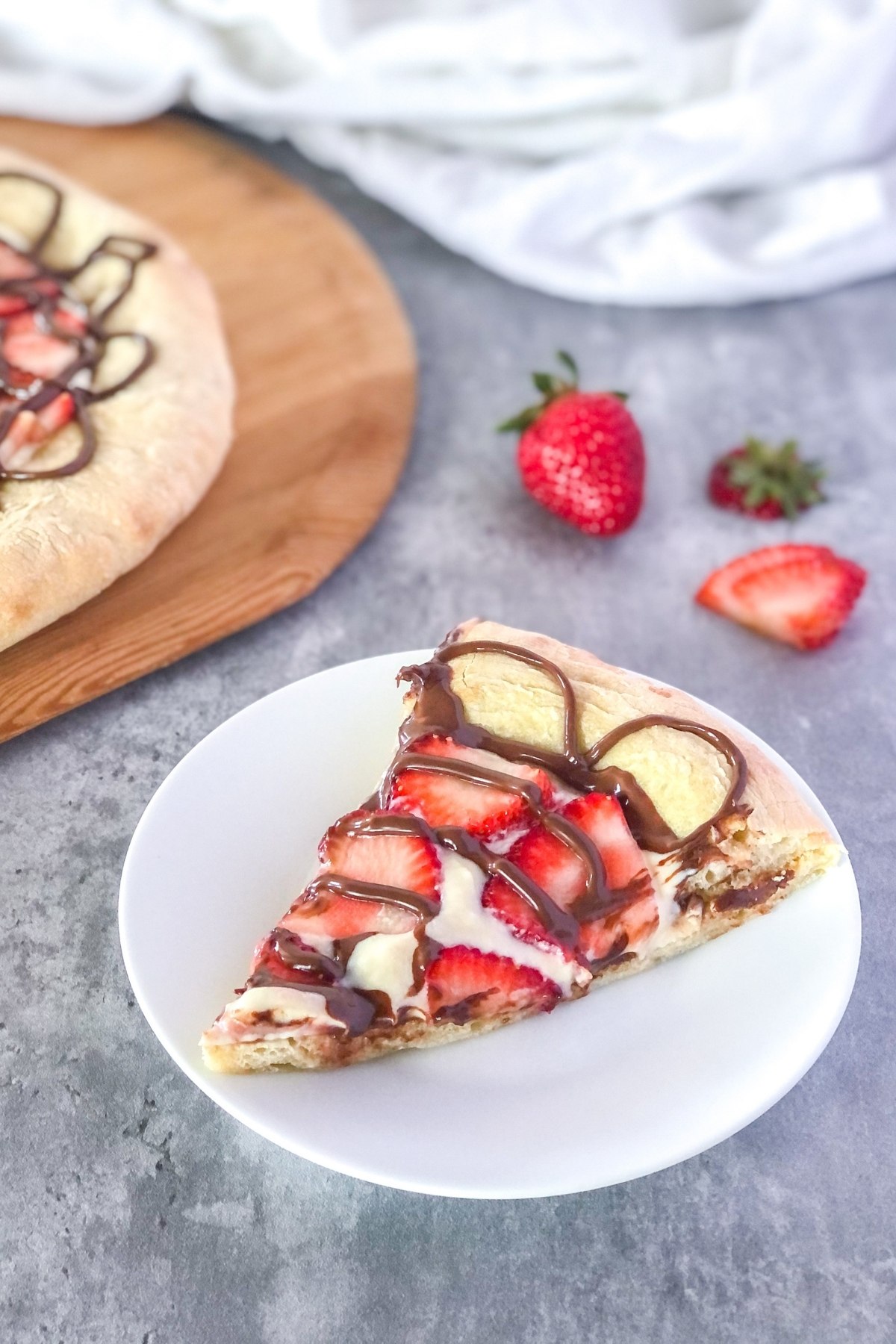 How to Make Nutella Pizza with Strawberries
First, sprinkle a small amount of flour over a sheet pan lined with parchment paper (unless you have a pizza stone, which would be best here!). Using your hands, stretch your pizza dough to about 12 inches in diameter. (I made mine about 10 inches in the photo, and the crust ended up a little thicker than I wanted!).
Place the stretched dough on the pizza stone or lined sheet pan. Sprinkle turbinado sugar over the stretched pizza dough (if desired). Then, bake it according to the package instructions. (See tips further down in this post).
While the crust cools, place mascarpone cheese in a small bowl. Mash it with a spoon until it's soft and smooth. Next, add the Greek yogurt, maple syrup, and vanilla extract and mix until smooth and uniform.
Spread the sauce over the baked pizza crust, leaving an outer crust ring (for picking up the pizza, of course!).
Next, arrange sliced strawberries on top as desired. Add any other fruit you want here, too.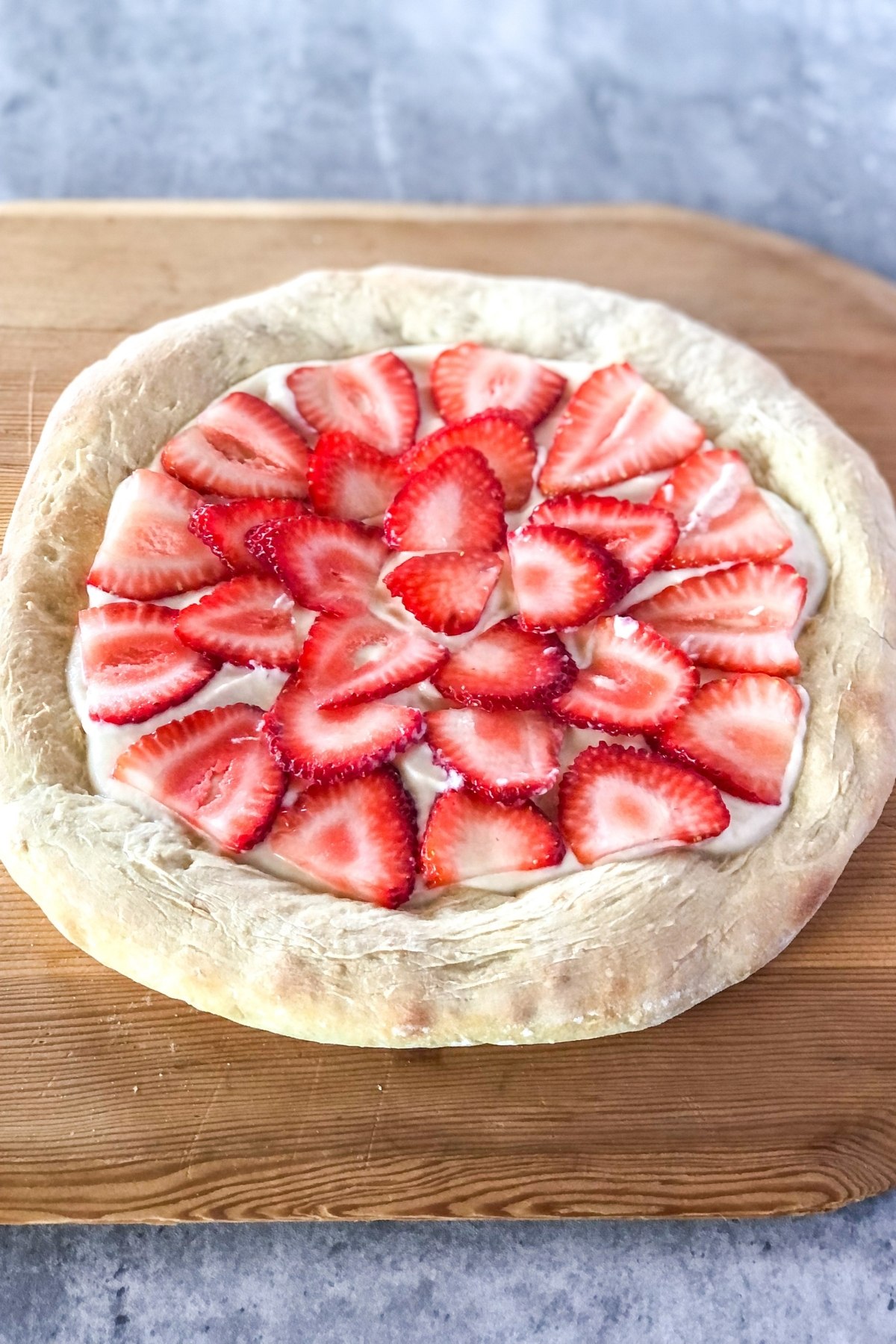 Then, prepare the Nutella chocolate drizzle. Melt chocolate chips in the microwave in 30-second intervals at 50% power, stirring between each interval, until smooth. (I recommend using a glass or porcelain bowl for best results).
Stir the Nutella into the warm melted chocolate. Then, spoon the mixture into a piping bag or a zippable plastic bag with a tiny bit of the corner cut off. Drizzle the mixture over the pizza.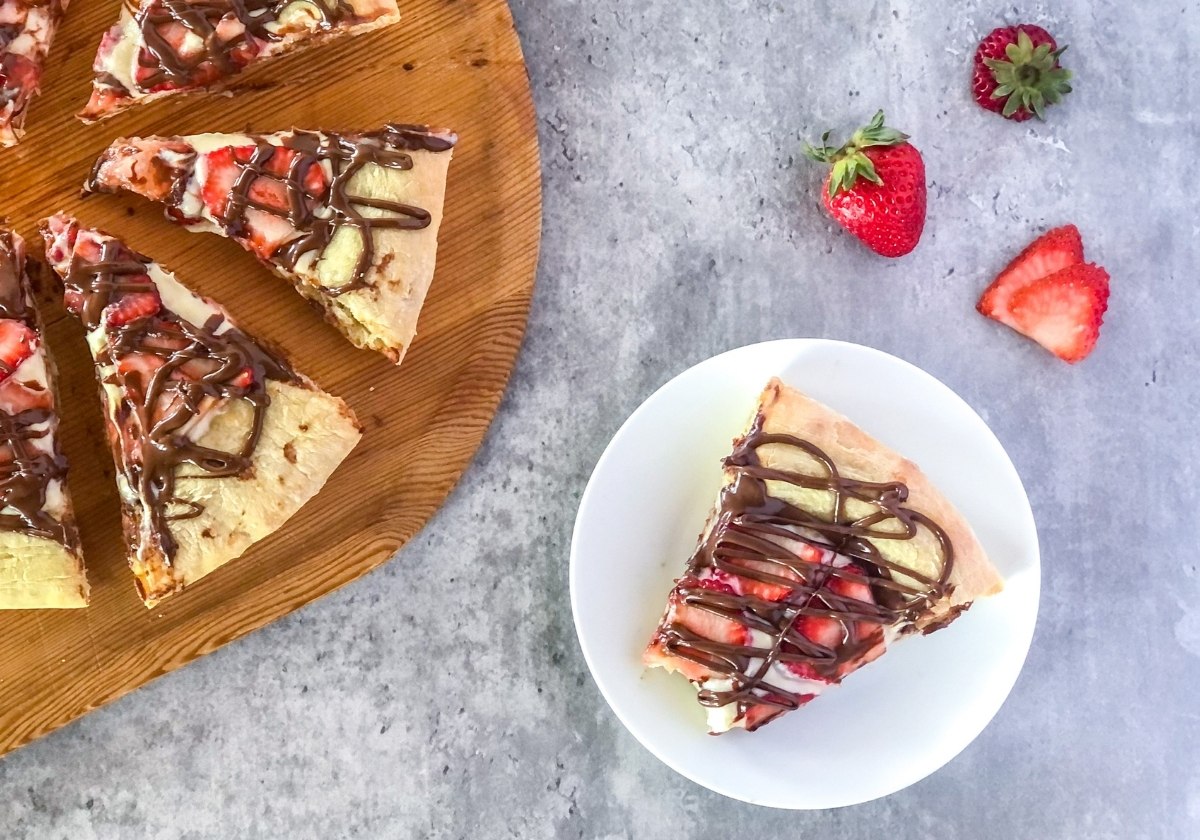 Lastly, sprinkle on any additional toppings (like shredded coconut or chopped nuts), slice, and serve!
Can I use pre-made pizza dough?
Yes! It saves a lot of time, and it's just as tasty. I love the plain pizza dough from Trader Joe's.
Tips for Baking Pizza Dough
Here are a few tips for baking your dough:
let the dough sit at room temperature for at least an hour before you stretch it (this makes the dough less likely to spring back into its previous shape when you stretch it)
stretch the dough carefully with your hands, in a circular motion (so it's evenly stretched), making sure it doesn't tear
avoid rolling the dough, as that can cause the dough to be denser
bake the crust on a pizza stone (instead of a baking sheet) for crispier, less doughy crust
if you don't have a pizza stone, use a parchment paper-lined sheet pan (dusted lightly with flour)
make sure your oven is fully preheated – pizza dough needs a very hot often to bake properly
Can you heat Nutella?
On the Nutella container, it advises against microwaving Nutella. I'm guessing this has something to do with its texture. Even so, I know a lot of people have successfully microwaved Nutella.
Personally, I prefer the method I use here: melting chocolate in the microwave, and then stirring Nutella in so it's warmed and softened. It gives us a perfect consistency for piping/drizzling, without it being too liquidy.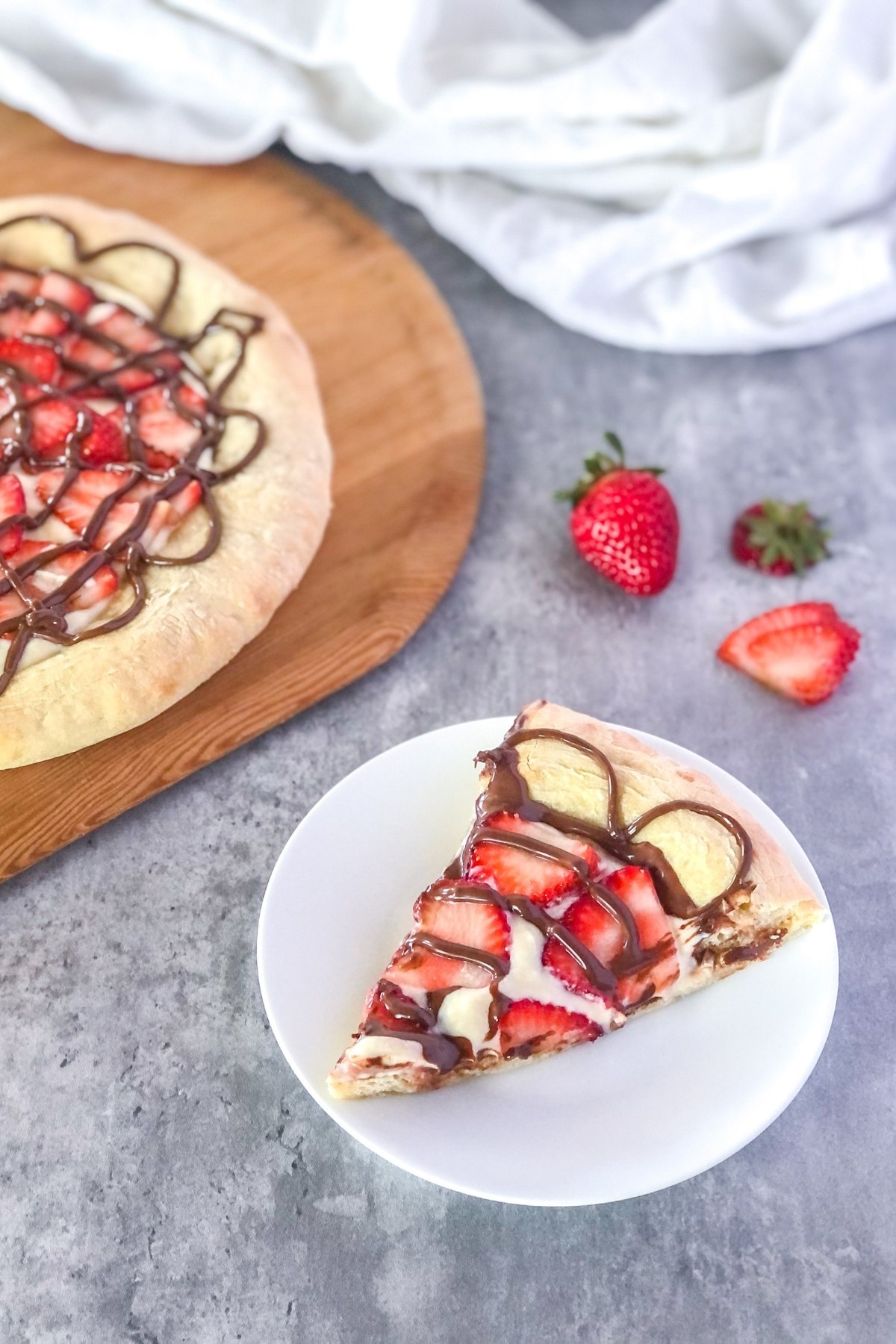 Mascarpone Pizza Toppings
You can add any number of toppings to this dessert pizza! Keep it simple or go wild: it's up to you. Here are some ideas for inspiration:
chopped nuts (toasted hazelnuts, almonds, walnuts, etc.)
other fruit: blueberries, bananas, peaches, raspberries, blackberries, sliced apples, etc.
shredded coconut
chocolate chips or shavings
crushed pretzels
crushed Oreo cookies
peanut butter drizzle
I'm still dreaming about this chocolate, Nutella, strawberry, and mascarpone combo. I hope you have fun making this pizza – I know I did! 🙂
If you do make this strawberry Nutella pizza, I'd love if you shared your thoughts with a rating and comment below.
More Nutella dessert recipes: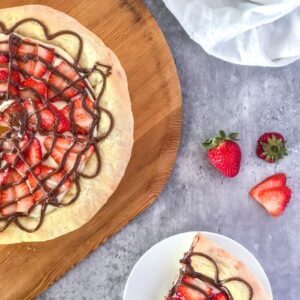 Nutella Pizza with Mascarpone
Say hello to the dessert pizza of your dreams: strawberry Nutella pizza with a creamy mascarpone and Greek yogurt sauce. Easy and delicious!
Ingredients
16

oz

pizza dough*

(rested at least 1 hour at room temperature)

2

Tbsp

turbinado sugar

(optional)
For the sauce:
4

oz

mascarpone cheese

¼

cup

plain Greek yogurt

½

tsp

vanilla extract

1

Tbsp

maple syrup
For the toppings:
⅓

cup

semisweet chocolate chips

¼

cup

Nutella hazelnut spread

8

oz

strawberries, sliced
Instructions
Using your hands, stretch the pizza dough to 12 inches in diameter. Place it on a pizza stone or parchment paper-lined sheet pan. Sprinkle the unbaked crust with turbinado sugar if desired.

Bake pizza dough according to package instructions (or recipe instructions, if homemade). (I baked mine at 475° Fahrenheit for about 10 minutes). Set aside to cool.

Meanwhile, place mascarpone cheese in a bowl. Mash it with a spoon until smooth. Add Greek yogurt, maple syrup, and vanilla extract. Mix until fully combined.

Spread the mascarpone yogurt sauce over the baked crust, leaving the outside crust bare. Arrange sliced strawberries over the sauce.

In a microwave-safe bowl, microwave chocolate chips in 30-second intervals at 50% power, stirring between each interval, until smooth. Stir in Nutella until combined.

Place the chocolate Nutella mixture in a piping bag or zippable plastic bag with a little bit of the corner cut off. Pipe the mixture over the pizza as desired.

Add any additional toppings you want, then slice and serve!
Notes
*

homemade or store-bought/pre-made pizza dough