Need some mini dessert ideas for your next party or event? These easy mini desserts are perfect for any occasion! They're delicious and simple to make, ranging from mini no bake cheesecakes to homemade chocolate truffles and beyond.
You don't need any special equipment to make most of these bite-sized desserts, either!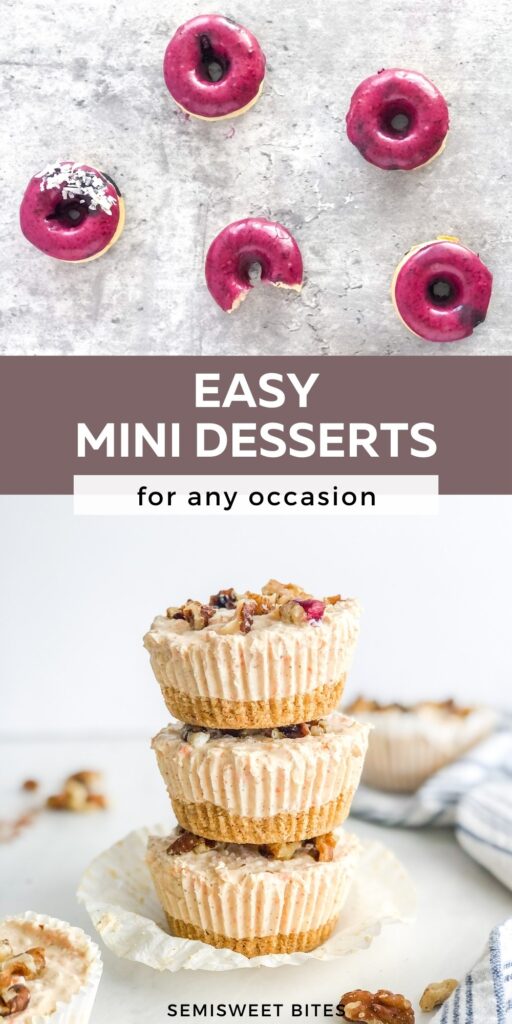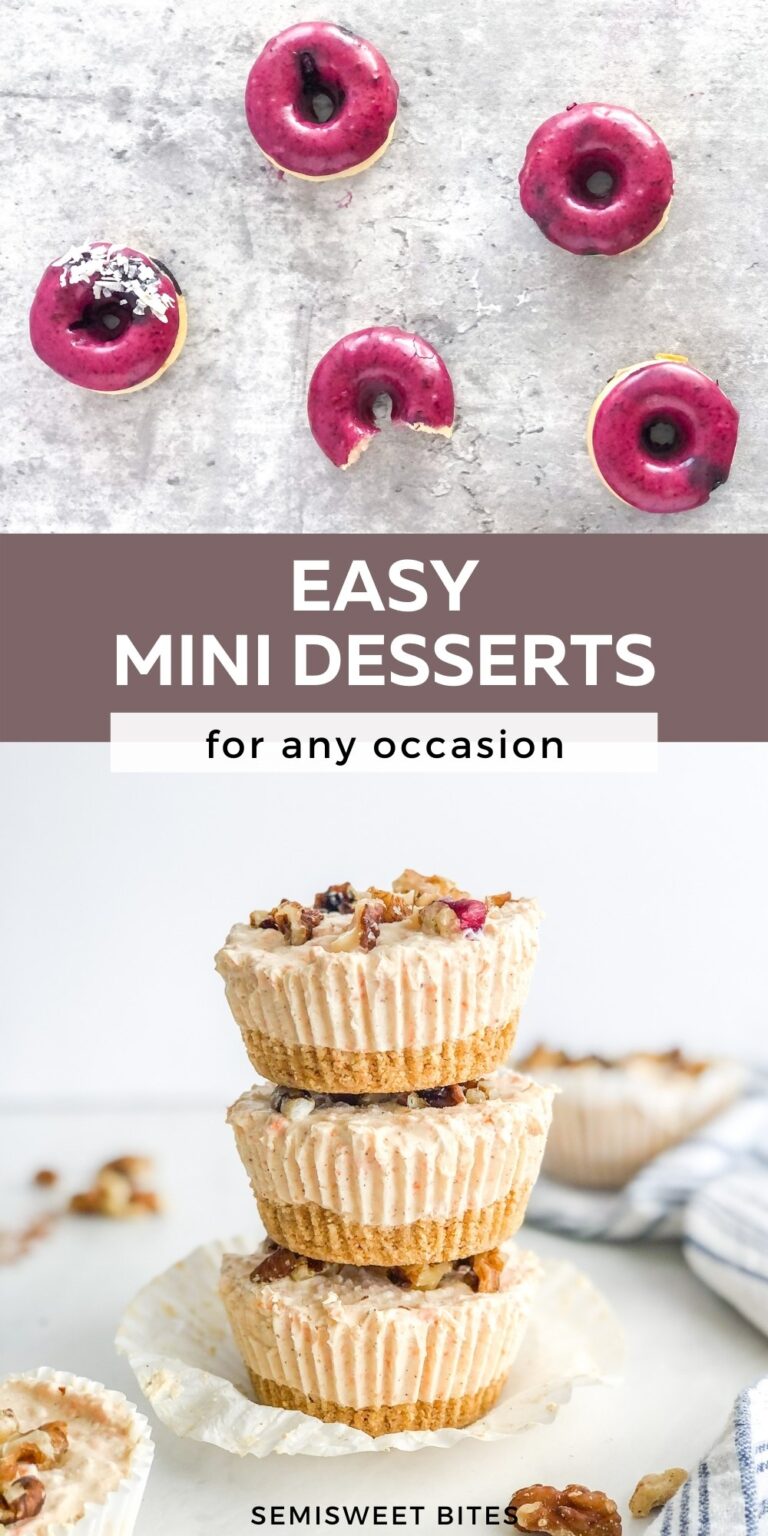 Delicious Mini Dessert Recipes
Mini desserts have a special place in my heart. Not only are they adorable, but they also make perfect sweet finger foods for feeding a crowd. They're really fun to decorate, too!
Whether you're a chocolate lover or you're partial to desserts with fruit, there's something in this list for everyone.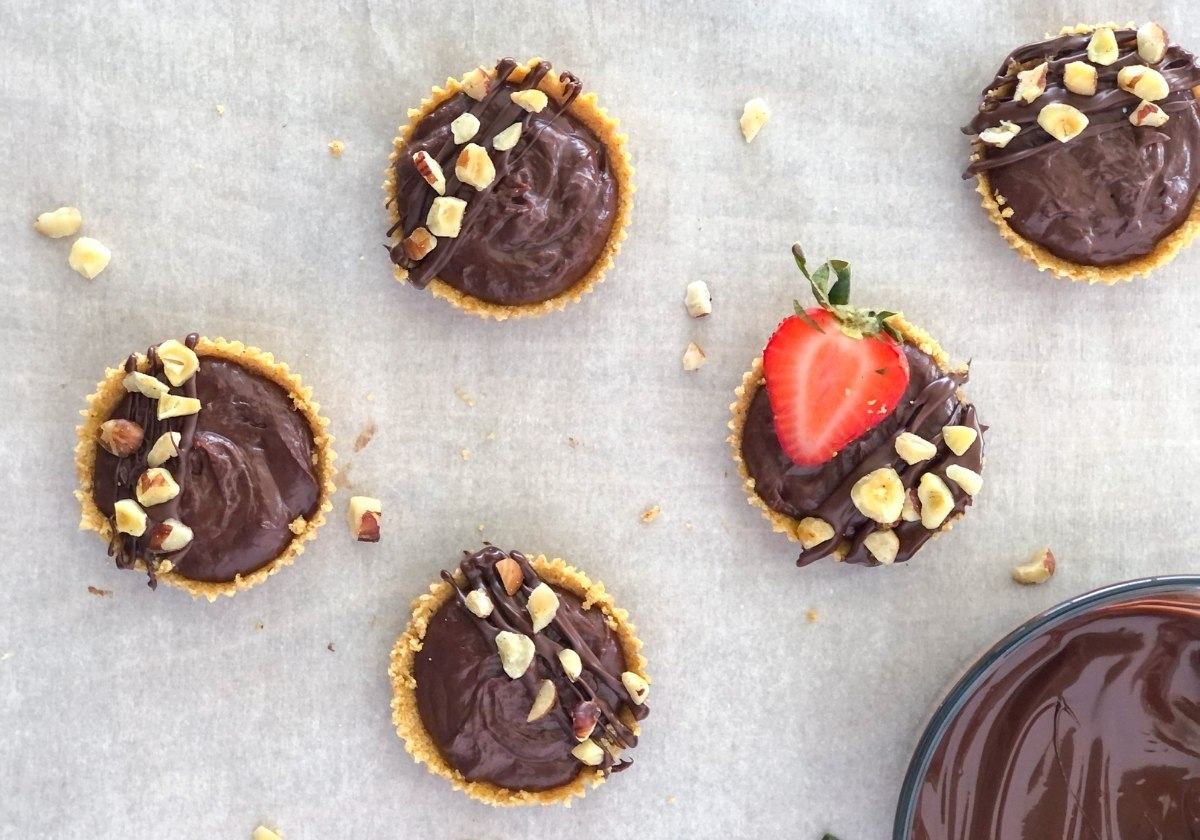 These Nutella tarts are made with Greek yogurt for a chocolatey, lusciously tangy filling. They're topped with more melted chocolate, chopped toasted hazelnuts, and sliced strawberries. (But you can use any type of berry or fruit you want!).
The buttery graham cracker crust ties it all together. You don't need any tart pans to make these, either – just a muffin tin and some cupcake liners!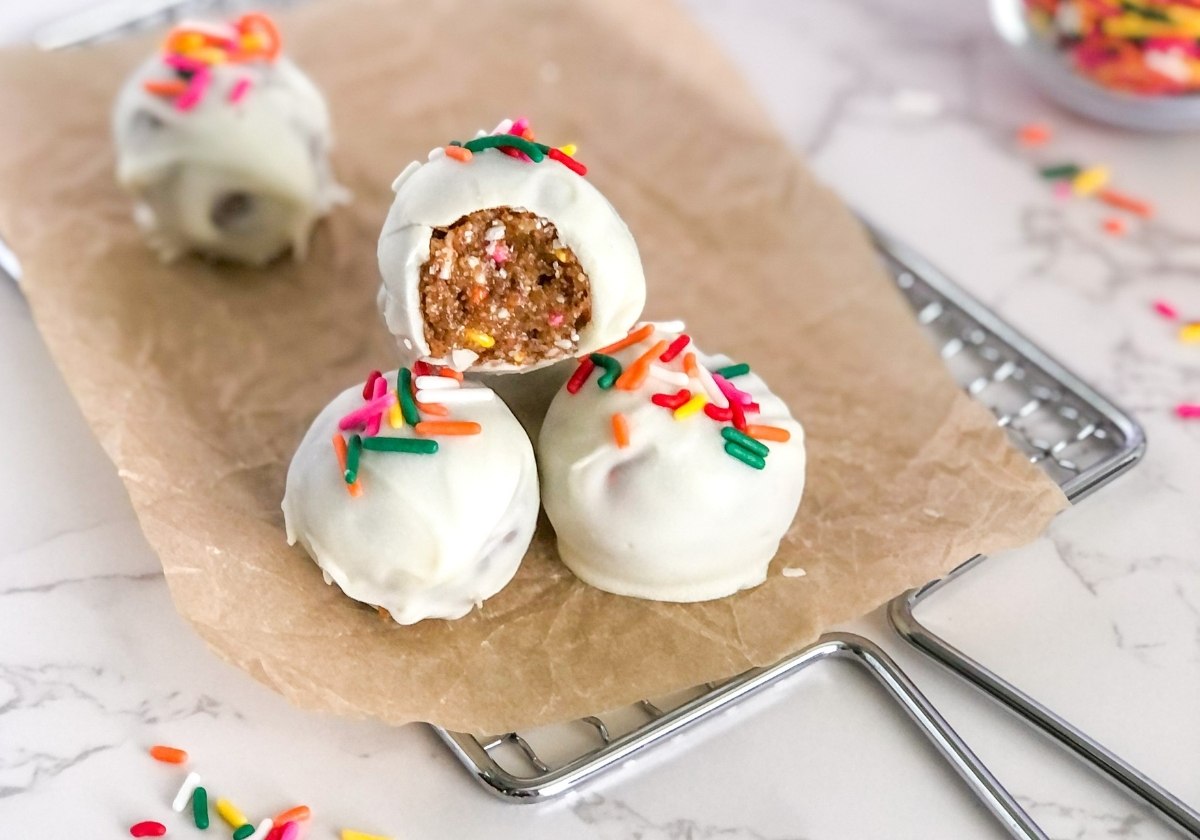 These no bake funfetti truffles recreate the nostalgic flavor of vanilla birthday cake – without the need for any baking! These are super fun, and great for any party.
The filling is made with a combination of oat flour (which is easy to make in the blender) and almond butter or cashew butter, and is sweetened with maple syrup. Plus, vanilla extract and plenty of sprinkles (hello classic birthday cake flavor)!
They're coated in melted white chocolate for the ultimate sweet treat.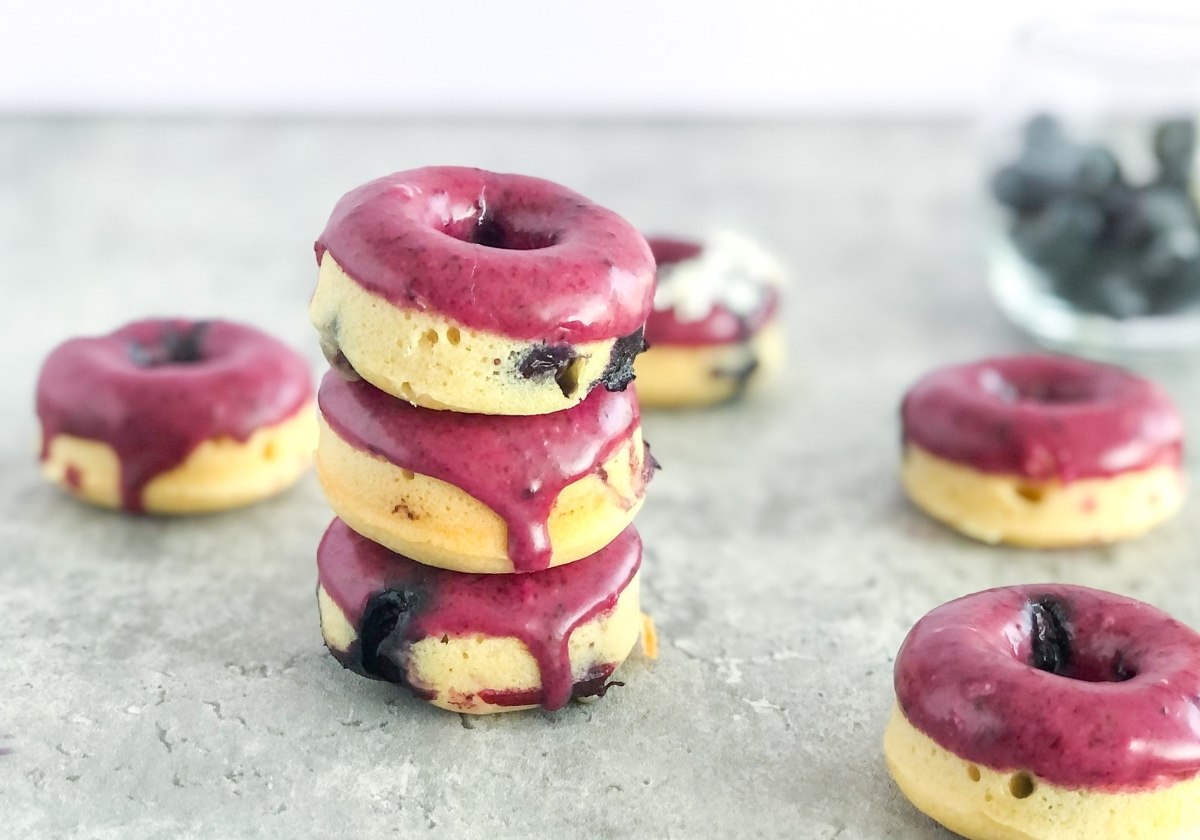 Who knew making donuts at home could be this easy?! These adorable mini baked blueberry donuts would be a lovely addition to any dessert table. The bright purple glaze is made from blueberry puree – so simple and stunning!
These are easy to whip up, and are extra delicious topped with shredded coconut.
If you love Biscoff cookies as much as I do, these no bake mini Biscoff cheesecakes are a must-try! They're packed with spiced Biscoff flavor and made with a Biscoff cookie crust. Plus, they're made with a combination of cream cheese and Greek yogurt, so they're a bit lighter than traditional cheesecake.
All you need is a muffin tin to make these cute little cheesecakes!
These chocolate-filled raspberries are super simple, yet delicious and elegant-looking! The chocolate and raspberry flavor combo is so decadent, and the shredded coconut adds a nice texture and hint of coconut flavor. A big bowl of these would disappear quickly at any party!
Just 3 ingredients, no fancy equipment, and barely any chill time needed.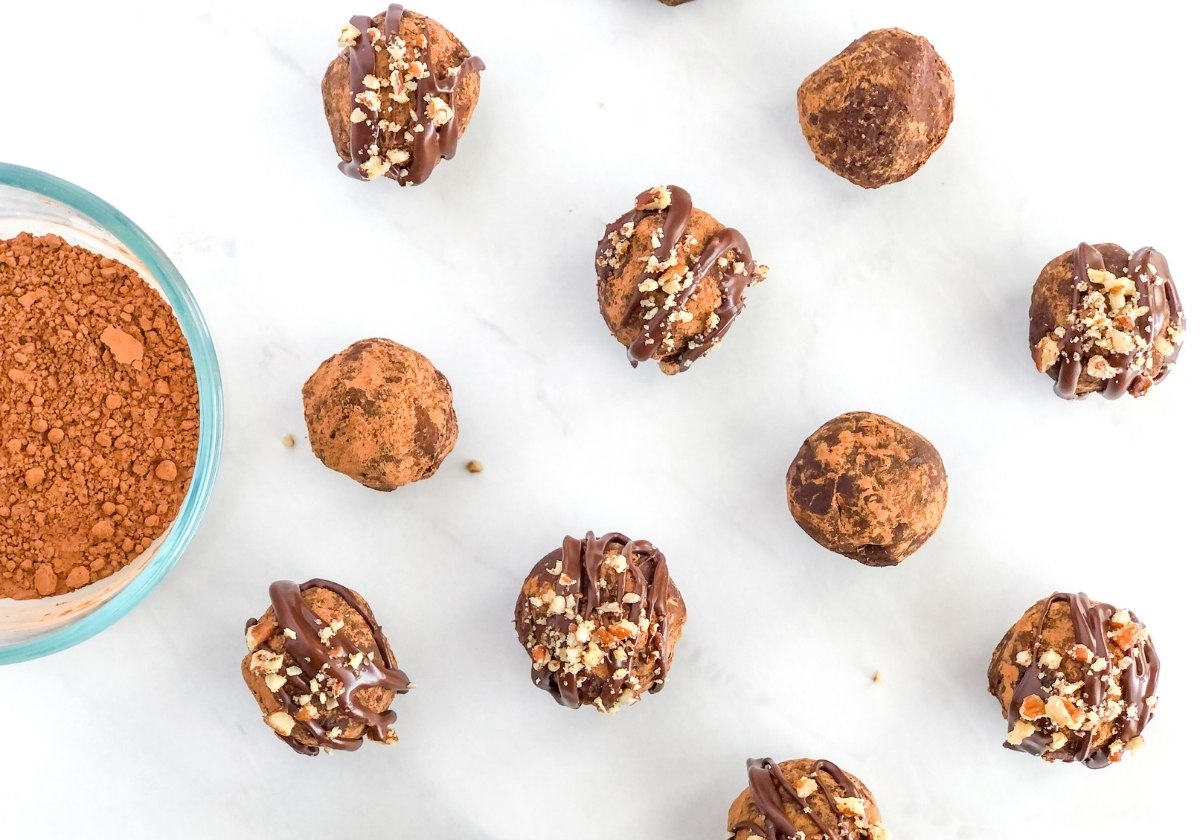 Chocolate and avocado is a surprisingly tasty pairing, and with nutty crushed pecans? Game changer. Avocado gives these truffles a rich flavor and fudgy texture, while also making them healthier.
A dusting of cocoa powder adds an even deeper chocolate flavor that really can't be beat. You can easily switch up the toppings, too: crushed Oreo cookies, chopped pretzels, freeze-dried berries – pretty much anything would be delicious here!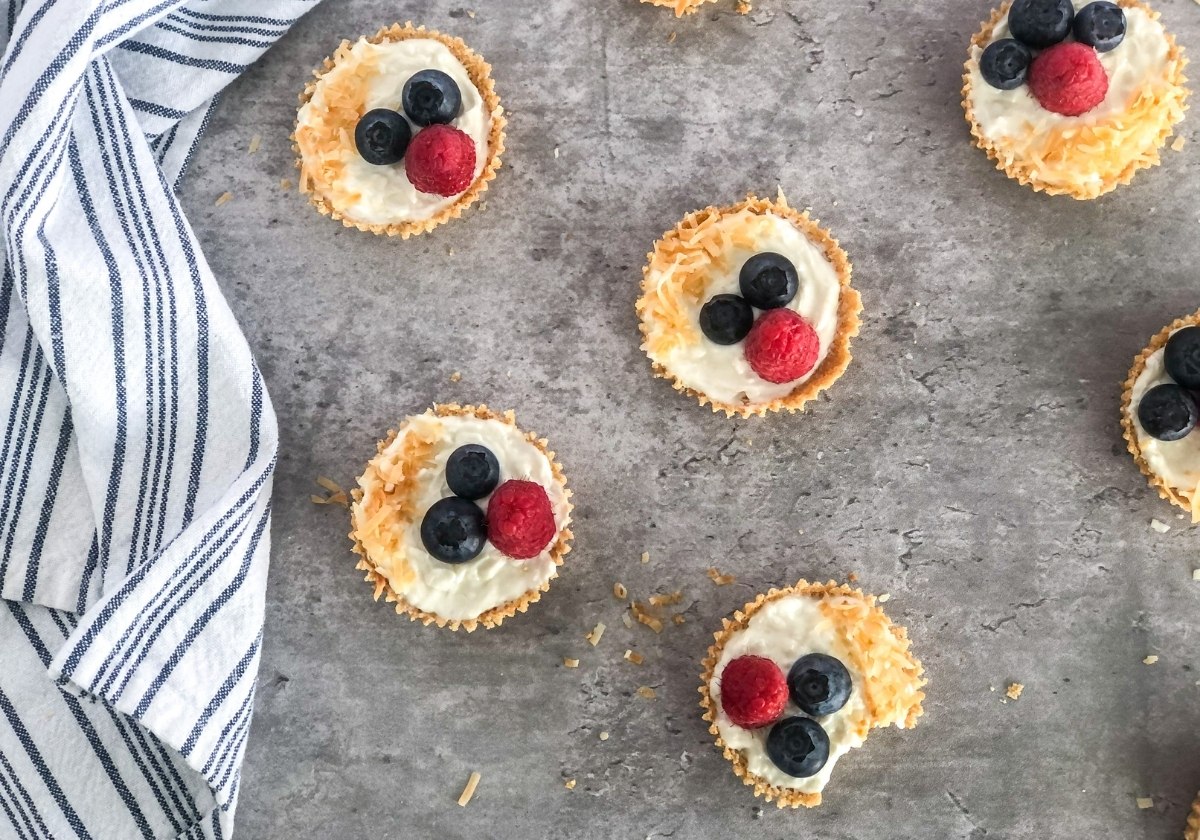 These miniature tarts are absolutely perfect for summer! A buttery graham cracker crust is filled with a Greek yogurt and shredded coconut mixture, then topped with juicy mixed berries. A sprinkle of crispy toasted coconut finishes them off!
These are super versatile, and would be tasty with other fruits, too – like mango, peach, or banana.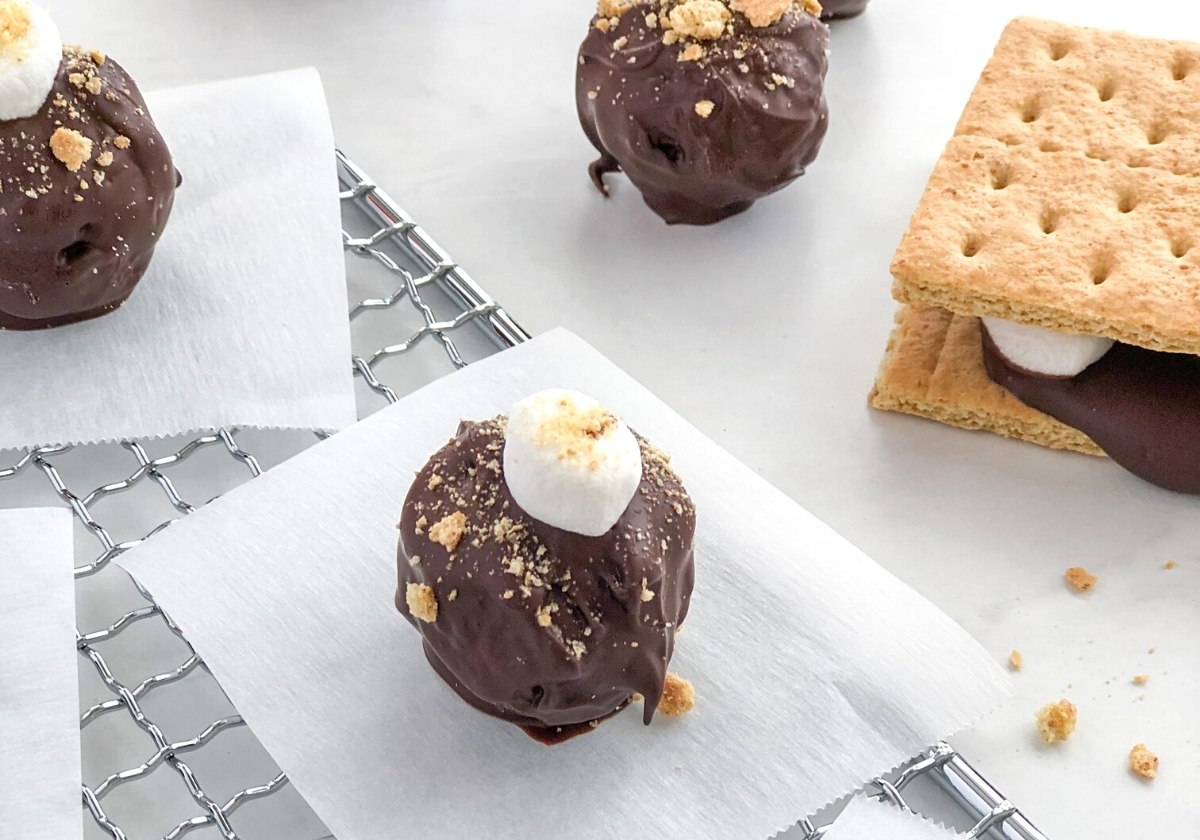 If you're always craving s'mores like I am, you'll love these easy, 4-ingredient s'mores truffles!
They have a graham cracker crumb and marshmallow filling, with a coating of melted chocolate. They're extra cute topped with a mini marshmallow!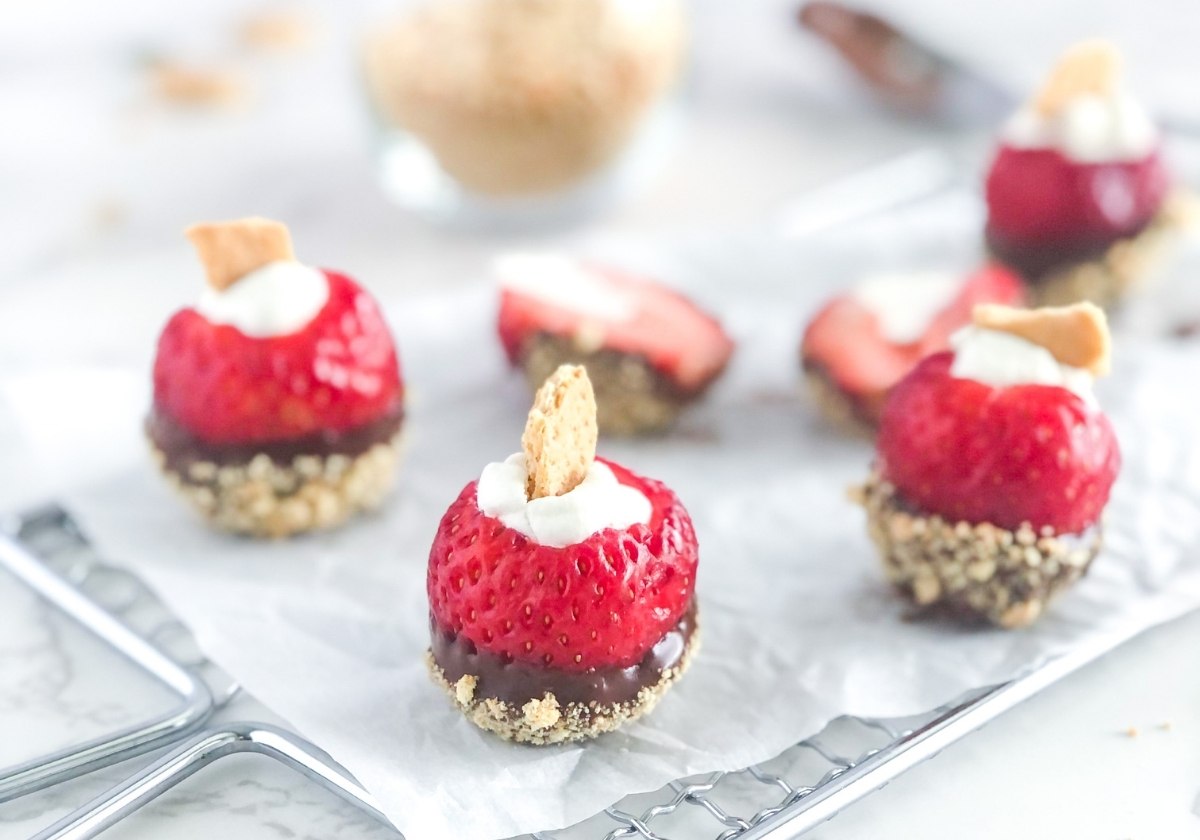 Ripe strawberries are filled with whipped cream, dipped in a melted chocolate and Nutella mixture, then coated in graham cracker crumbs to make these summery bites!
The flavors are a match made in heaven, and the only cooking needed is a microwave to melt the chocolate. Simple, yet lovely.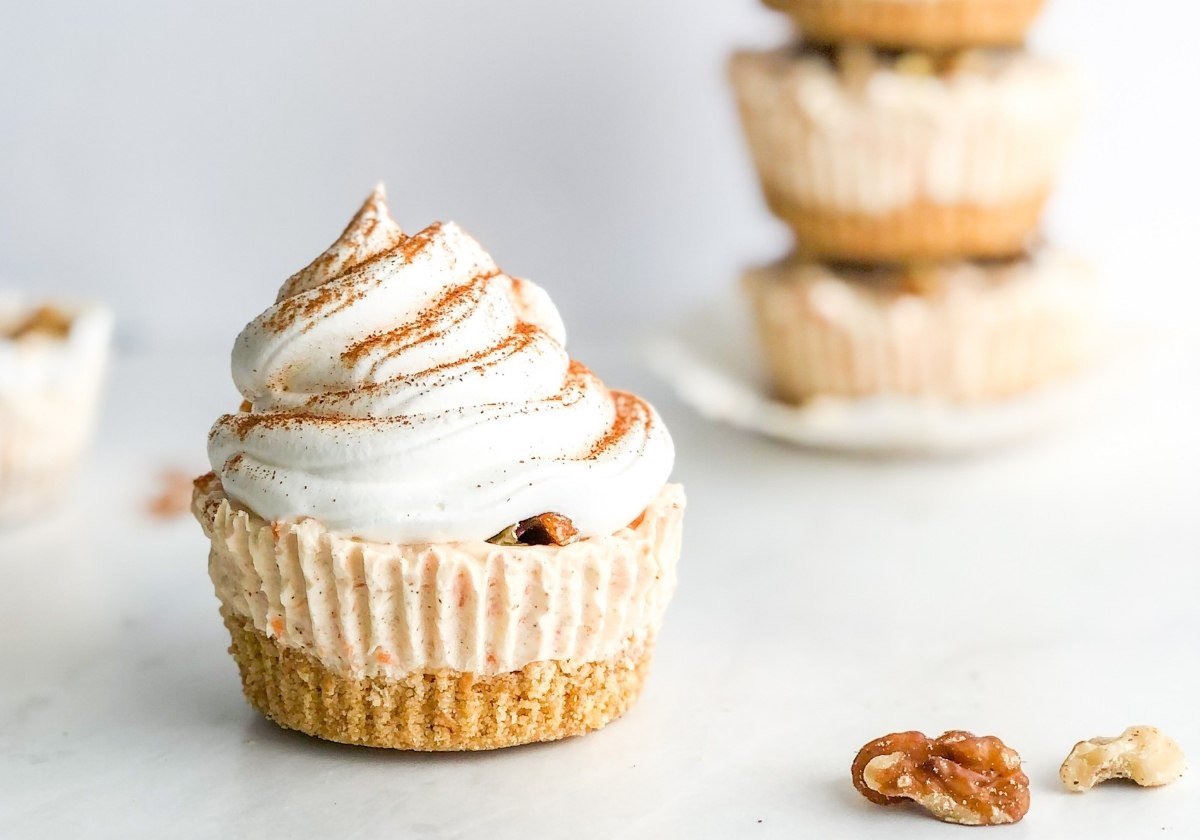 These mini cheesecakes are inspired by carrot cake – but don't require any baking! With grated carrots, walnuts, and warm spices, they're packed with flavor and perfect for any gathering. (Especially springtime or Easter!)
Add a topping of whipped cream and a dusting of cinnamon for a show-stopping treat.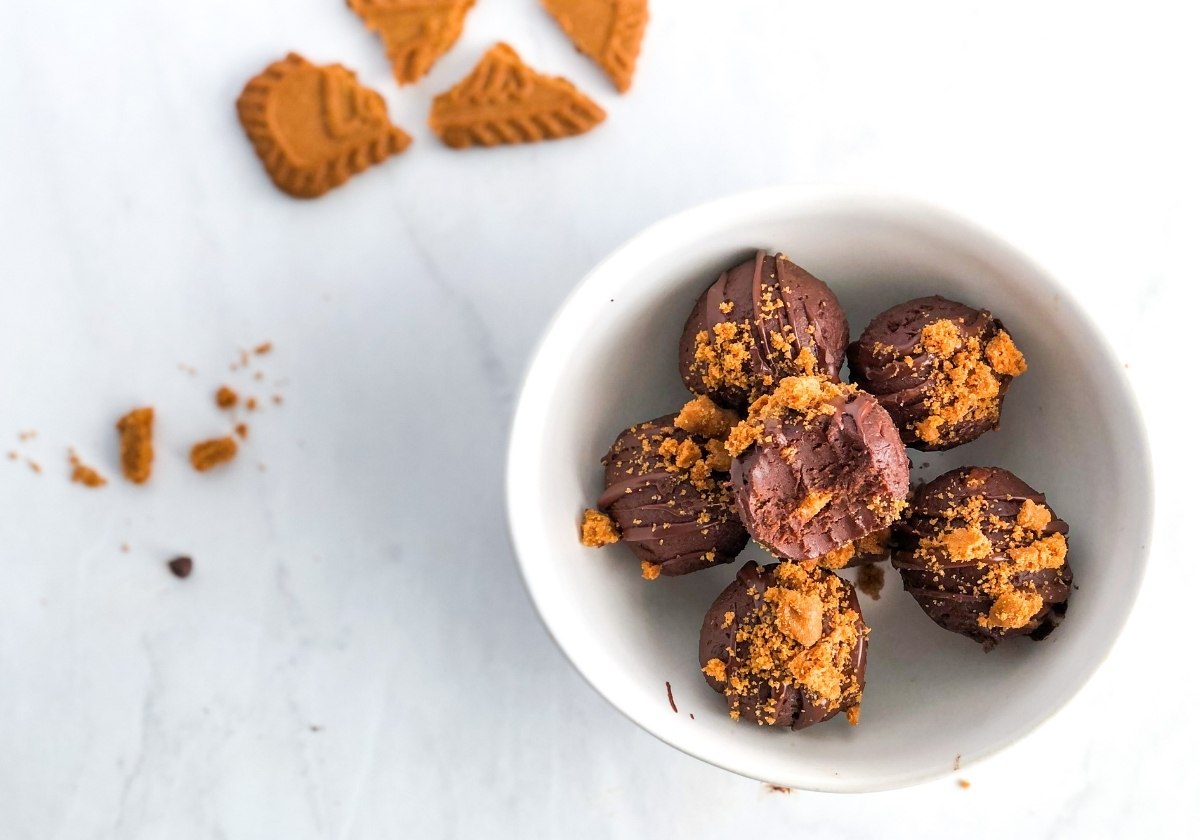 These truffles bring two of my favorite things together – chocolate and Biscoff – in one delicious bite-sized dessert! They're oh so fudgy and super easy to make.
They taste like Biscoff brownies, but without any baking. And there's a lovely hint of tanginess from the Greek yogurt, too.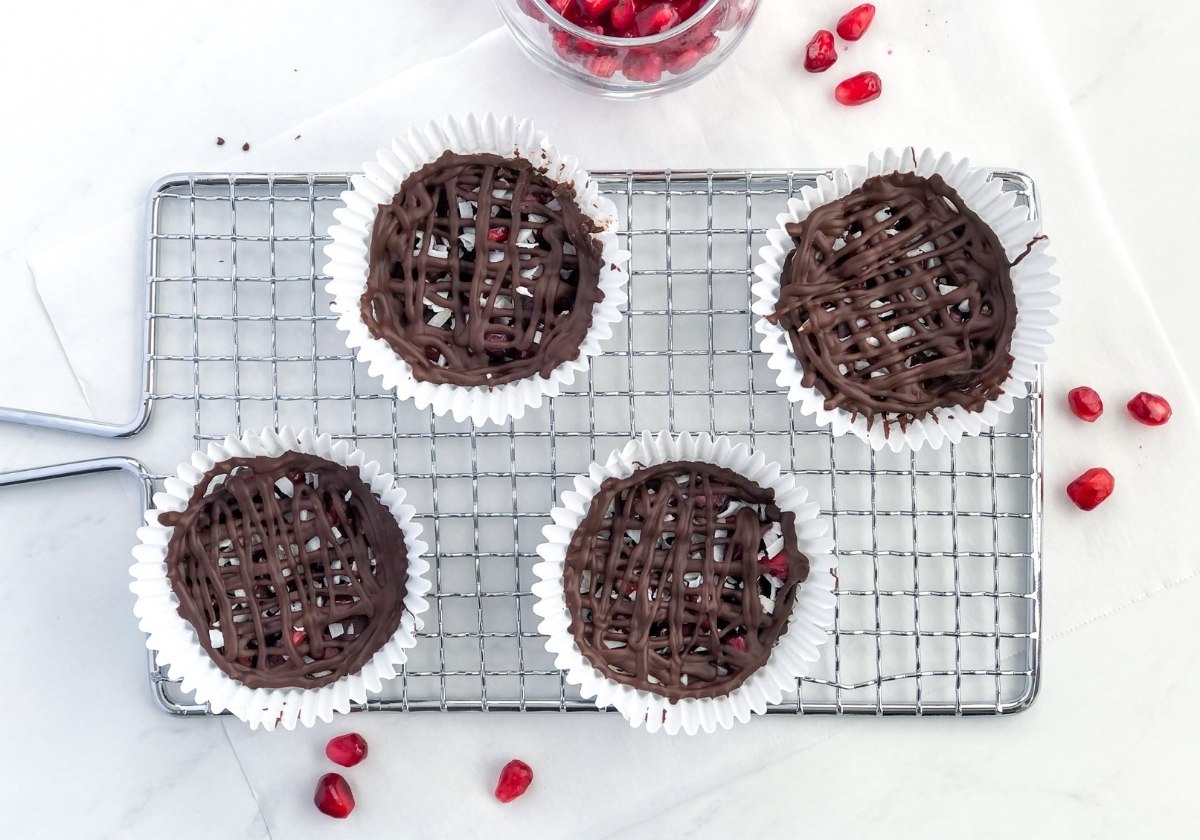 Biting into these chocolate cups yields a delicious surprise: a burst of flavor from juicy pomegranate seeds, plus shredded coconut for even more flavor and texture. They're made in muffin liners, and only require 3 ingredients.
I love making these with dark chocolate, so they're just lightly sweet, with a deep chocolate flavor.
Do you have a favorite mini dessert you love bringing to parties? Share it in the comments! I always love to hear about people's go-to recipes.
I hope these fun mini desserts have you inspired for your next party or gathering!