The mild flavor and sweetness of white chocolate makes a delicious addition to tons of desserts, from brownies and cookies to white chocolate cheesecake. Here are some of my favorite dessert recipes with white chocolate – including white chocolate chips, chunks, and/or melted white chocolate!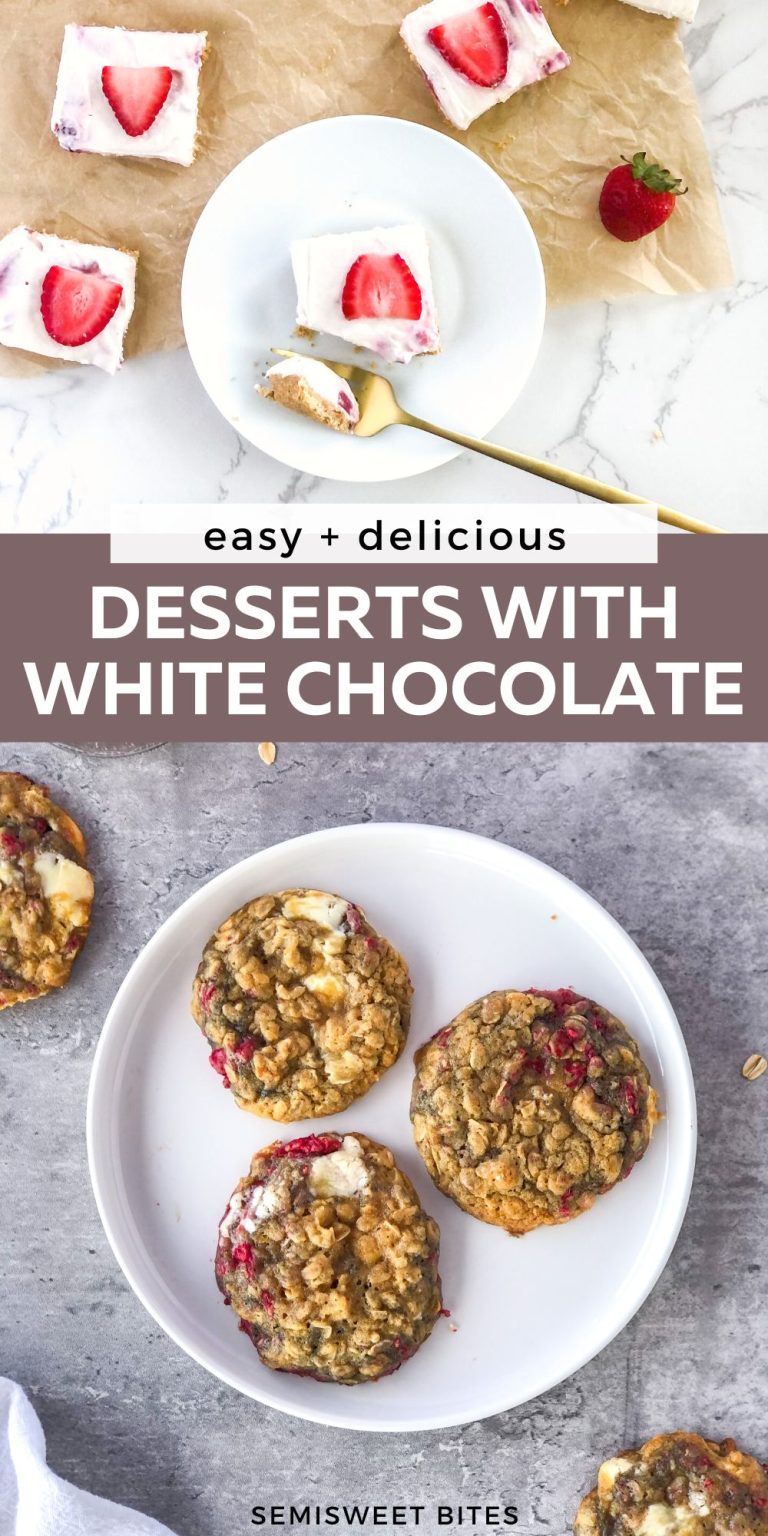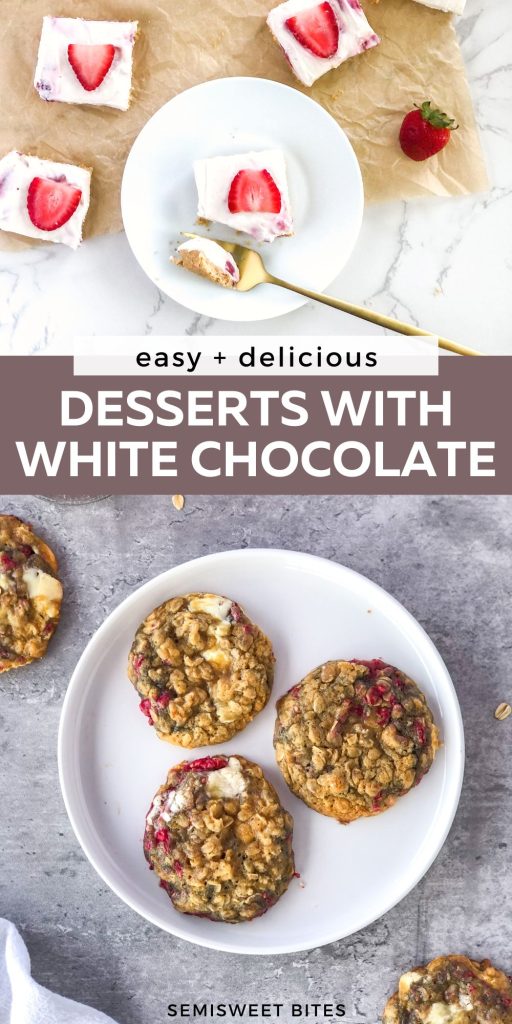 What is white chocolate?
White chocolate technically isn't a chocolate – it's a confectionary. It's made of cacao butter (also known as cocoa butter, which comes from cacao beans), sugar, and milk. But, it doesn't contain any cocoa solids, which actual chocolate – like milk or dark chocolate – has in various amounts.
White chocolate is white because it's made of fats from the cacao bean (cacao butter) and doesn't have any cocoa solids. Roasted cocoa solids give other types of chocolate their brown color.
It has a sweet buttery and milky taste, and tastes sweeter than milk chocolate, semisweet chocolate, or dark chocolate.
White chocolate has a similar melting point as milk chocolate, and a lower melting point than dark chocolate.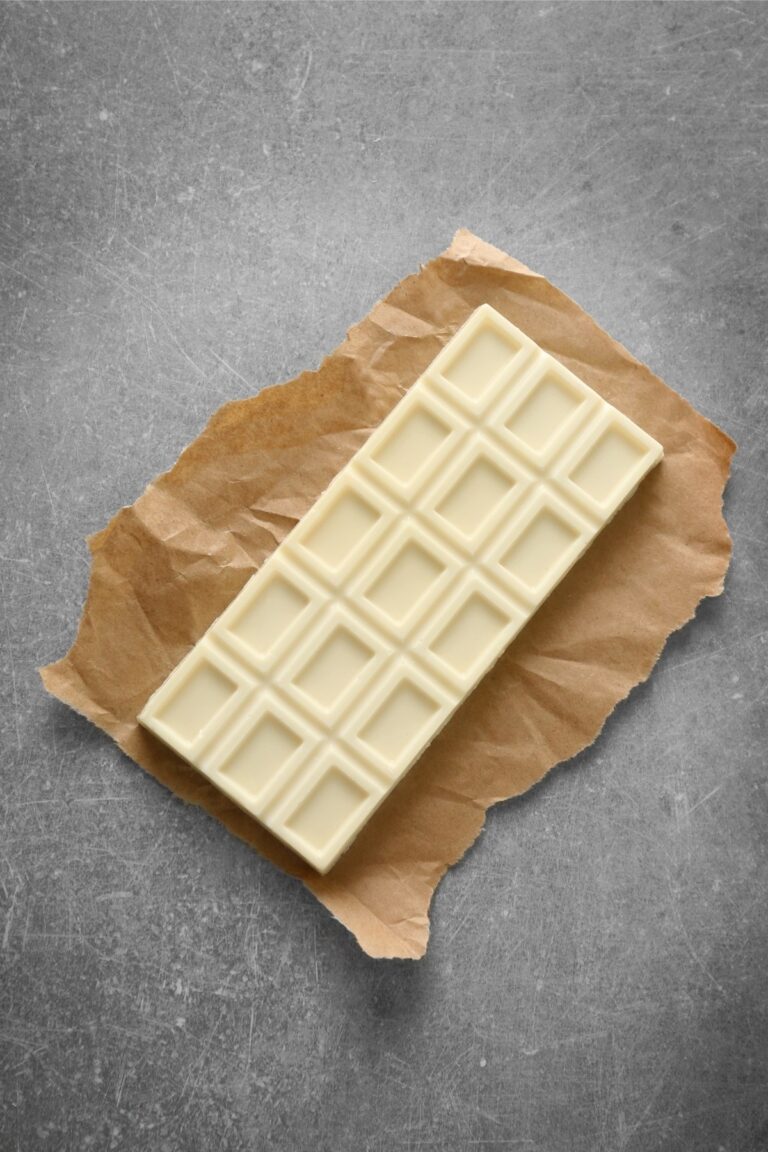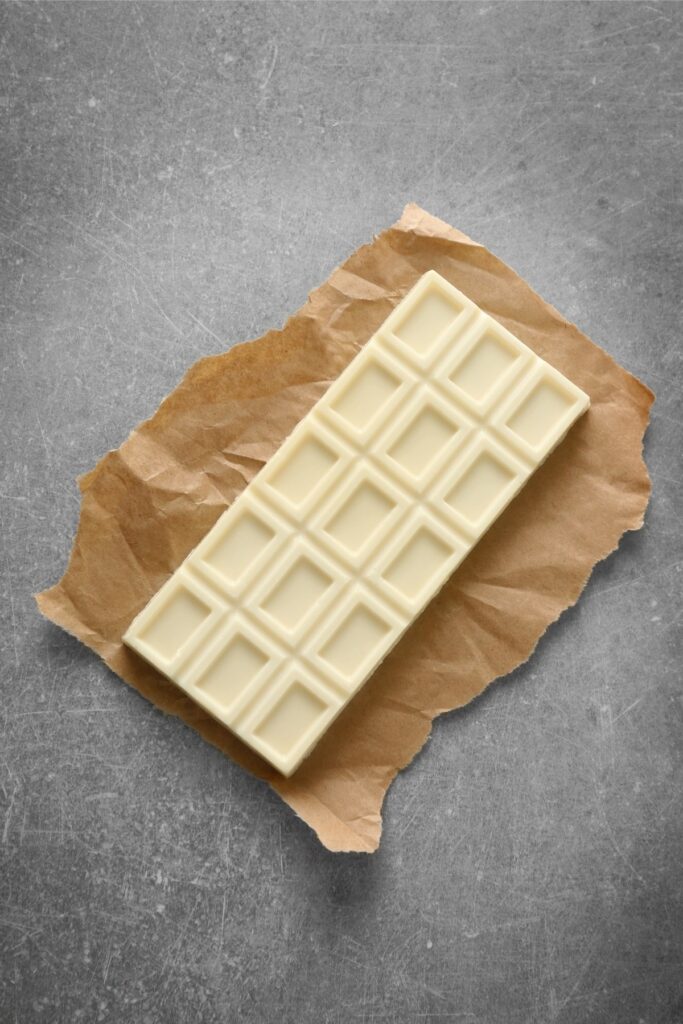 How is white chocolate made?
To make white chocolate, sugar and milk powder are blended with cocoa butter (and sometimes vanilla) in a chocolate refiner.
A chocolate refiner is a machine that crushes particles between rotating granite or stainless steel rollers. This creates the smooth texture and eliminates any grittiness.
This mixture is then poured into molds and solidified into bars (or other shapes).
Dessert Recipes with White Chocolate
While I'm a huge fan of chocolate, I don't normally gravitate toward white chocolate on its own, since it's quite sweet. But, it tastes delicious when paired with other flavors and added to desserts! Using the right amount of white chocolate in a recipe adds a perfect balance of sweetness.
From cheesecake to blonde brownies and even muffins, all of these crave-worthy dessert recipes feature white chocolate. The perfect way to satisfy your sweet tooth!
Raspberries and white chocolate are a match made in heaven, and paired with brown sugar oatmeal cookies they're even MORE delicious.
These chewy cookies are packed with flavor and perfectly sweet, with melty pools of white chocolate chunks. Plus, they're easy to make – you don't need an electric mixer!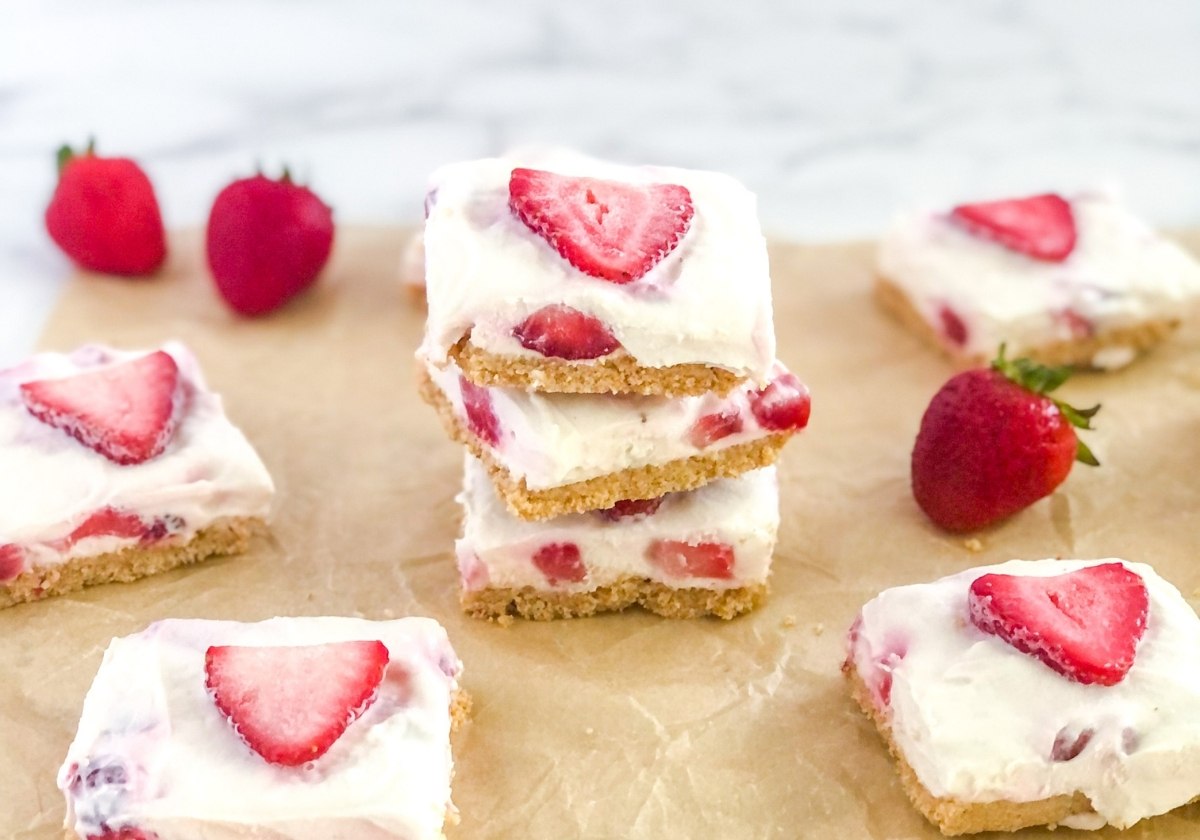 White chocolate is melted and mixed with creamy cheesecake filling to make these scrumptious (and adorable) no bake strawberry cheesecake bars!
They have a super simple graham cracker crust, and are studded with chopped strawberries. These are especially perfect for summer, but they make a fabulous easy dessert for any occasion.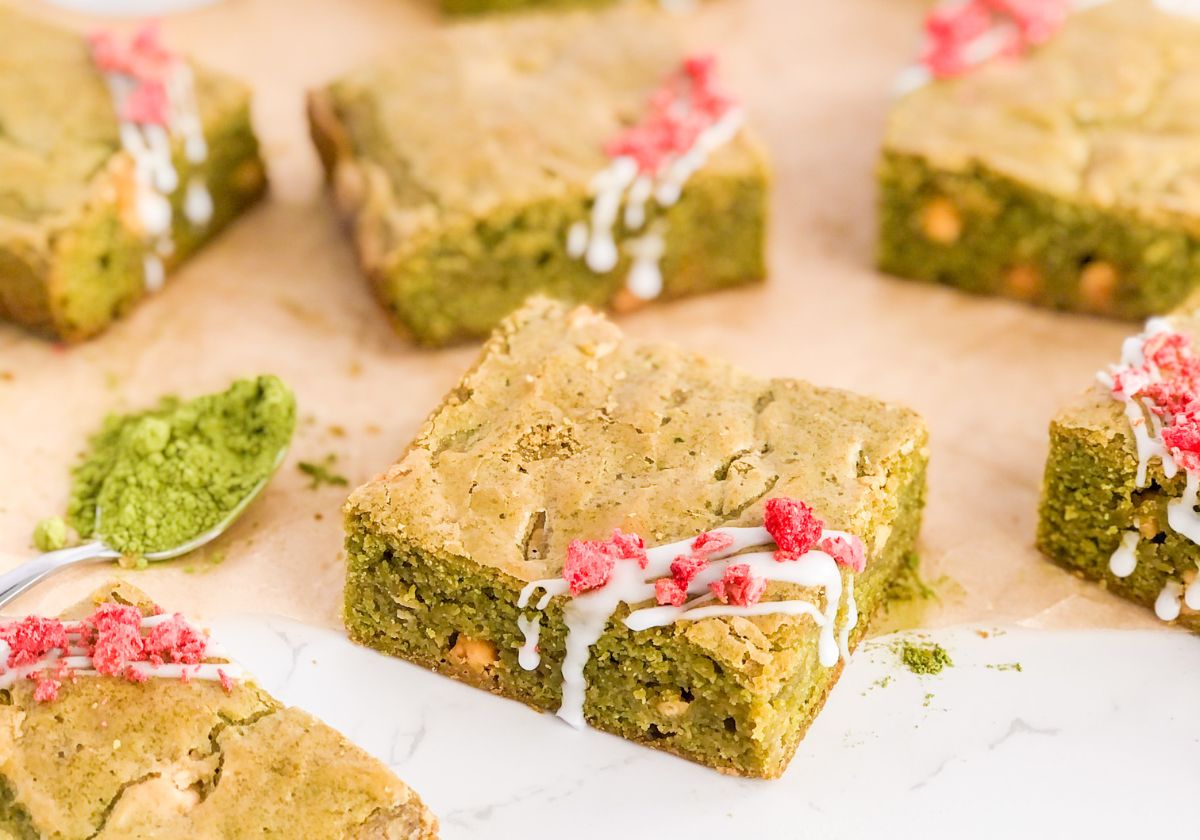 Sweet white chocolate chips balance out the earthy flavor of matcha in these tasty matcha blonde brownies! Instead of cocoa powder, they use matcha powder for a unique and flavorful dessert bar.
For an extra flair, they're drizzled with a quick vanilla icing and sprinkled with dried strawberries. But feel free to enjoy them as is, or add your own favorite toppings!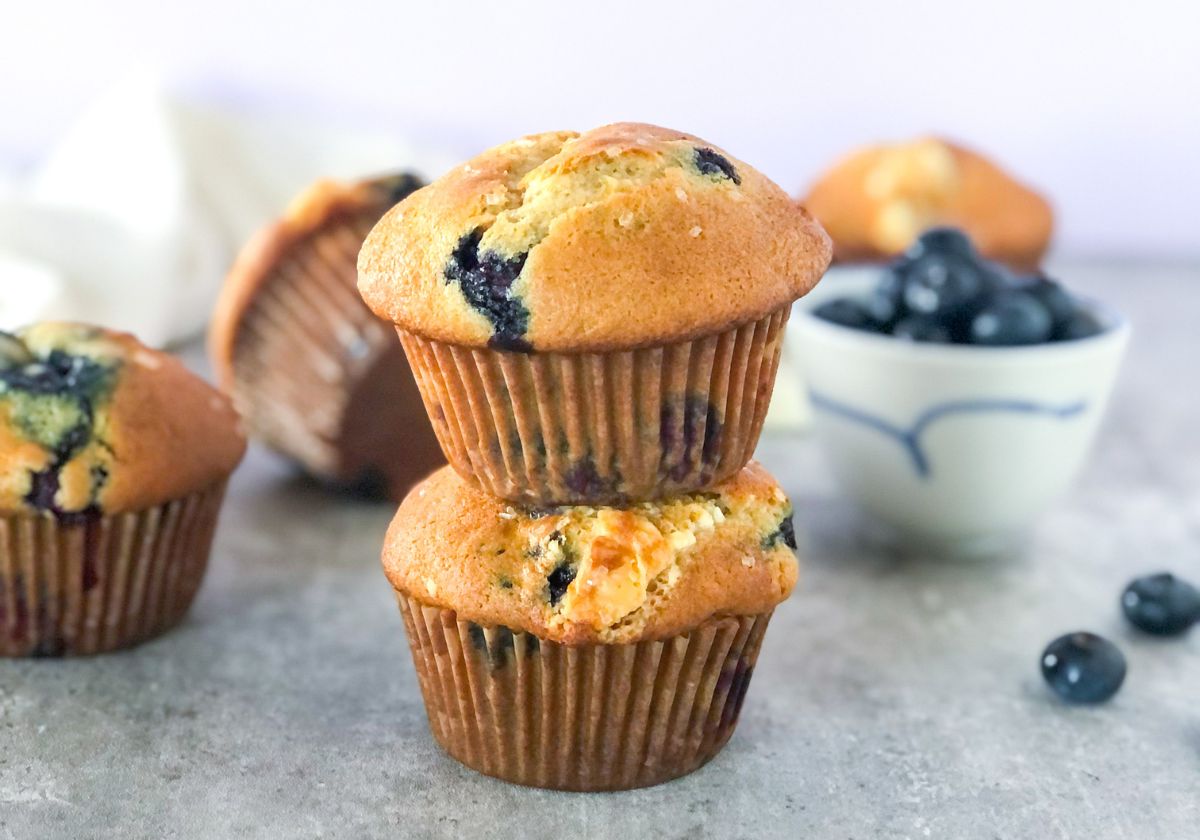 You may not think of muffins as technically a "dessert", but with the addition of white chocolate chunks they taste a little extra decadent! These muffins are deliciously moist and bursting with juicy blueberries.
Plus, there's a special baking tip that helps give the muffin tops that big rise, so they look like they came from a bakery. You'll love this fun twist on classic blueberry muffins!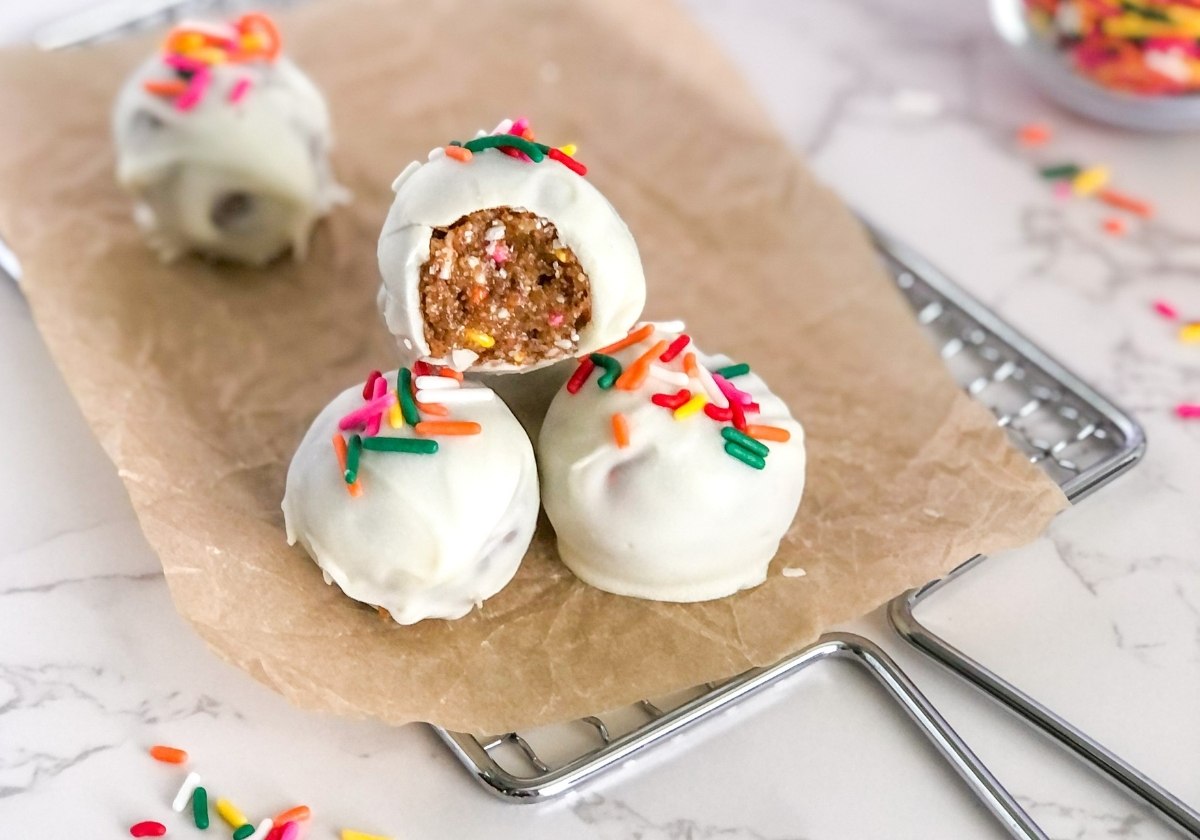 Get the flavor of vanilla birthday cake without all the hard work, and without any baking at all! These easy no bake truffles are made with almond butter, oat flour, vanilla extract, and maple syrup – plus plenty of sprinkles.
They're coated in smooth white chocolate and topped with more colorful sprinkles. These funfetti truffles are great for parties, but they're so easy you can also enjoy them for dessert any time!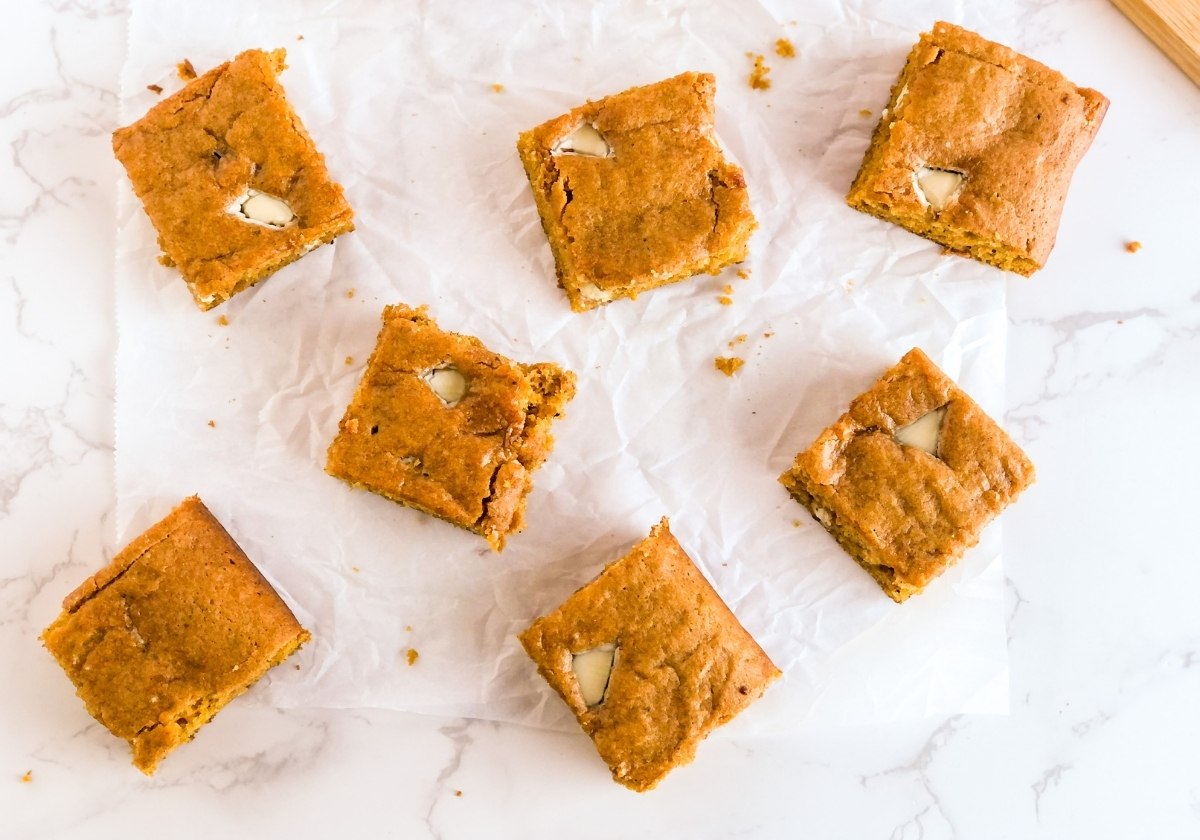 You can't go wrong with a pumpkin spice and white chocolate combination! This snack cake is super easy to make (no electric mixer needed) and packed with warm fall flavors.
Sweet bits of white chocolate are studded throughout for a bit of added sweetness. You'll be dreaming of these pumpkin spice bars all year long!
What tastes good with white chocolate?
White chocolate pairs well with tangy and sweet-tart fruits like berries (especially raspberries!), cranberries, and citrus fruit.
Because it's sweet, it also helps balance out flavors that tend to be on the bitter side, such as matcha or coffee. It's also delicious with nuts or earthy-flavored fruits and vegetables like pumpkin or beetroot (in dessert form, of course!).
Does it expire?
Yes, white chocolate does expire. A white chocolate bar (made of traditional ingredients) will usually last for 6 months to 1 year if unopened and stored properly in a cool, dry location.
(Keep in mind that some brands of white chocolate use fillers or non-traditional ingredients, so this can vary).
More Recipe Inspiration for White Chocolate:
Here's some more ideas for delicious white chocolate treats:
white chocolate hot cocoa
oatmeal with white chocolate
white chocolate truffles
white chocolate ganache or buttercream
brownies or blondies (white chocolate would be amazing in these raspberry almond blondies!)
white chocolate mousse
melted white chocolate drizzled over popcorn
What's your favorite recipe with white chocolate? Let me know in the comments!