Smoothies make such a good breakfast, snack, or healthier dessert, and this banana Nutella smoothie with oats is no exception! It has a delicious chocolate hazelnut flavor that pairs so well with the banana. Plus, the oats and Greek yogurt make it thicker, creamier, and will keep you full longer.
You only need five minutes and a blender to whip up this comforting, tasty smoothie!
Nutella Oatmeal Smoothie with Banana
Smoothies are such a satisfying afternoon snack, especially when you're busy or crunched for time. I especially love adding Greek yogurt and oats to mine, to make them extra thick and creamy. Plus, they're more filling that way!
After sharing this oatmeal banana Biscoff smoothie earlier this year (which tastes like an oatmeal cookie in a glass), I wanted to make a similar variation.
But this time, with chocolate (cocoa powder) and Nutella! Who doesn't love that combination?! It's especially delicious with banana, too.
This Nutella smoothie is creamy and flavorful, and only takes 5-10 minutes to whip up. The only thing you need to do ahead of time is chop up and freeze a banana. (And if you don't have time, it's no big deal – you can always add more ice to help thicken up the smoothie.)
Recipe Ingredients
Here's what you'll need to make this Nutella oatmeal smoothie:
Nutella: The star of this smoothie: chocolate hazelnut spread! It adds a nutty, chocolatey flavor to the smoothie, and adds sweetness. Feel free to use any brand you want, or even make your own homemade Nutella.
banana: A frozen banana add sweetness and helps thicken the smoothie. Riper bananas are best, since they taste sweeter!
oats: These help thicken the smoothie, and help keep you full longer. Old-fashioned/rolled oats are ideal, but quick oats should also work if that's all you have. I wouldn't recommend using steel-cut oats. If you don't like having any texture in your smoothies, you can leave out the oats.
cocoa powder: Because you can never have enough chocolate flavor. 🙂
Greek yogurt: To make the smoothie extra creamy (plus, it adds protein!).
milk: This is necessary for blending the ingredients. You can use dairy-free or plant-based milk (like almond milk), just be aware it may change the flavor of the smoothie.
vanilla extract: This isn't essential, but I always add vanilla extract to smoothies. It always enhances the flavors around it!
salt: Just a pinch to compliment the flavors and balance the sweetness.
Have extra oats? Try these chocolate chip blended baked oats with raspberries!
Banana Nutella Smoothie Making Tips
Making this smoothie is super simple!
There's one step you'll need to prep ahead: slice a banana into chunks, then place in a freezer-safe bag and freeze until solid. (Cutting the banana into chunks will make sure it fits in your blender).
If you don't have time to freeze the banana, you can add a handful of ice to thicken and chill the smoothie. (The flavor will just be a bit more muted).
Either way, toss all the ingredients into a blender and blend until smooth!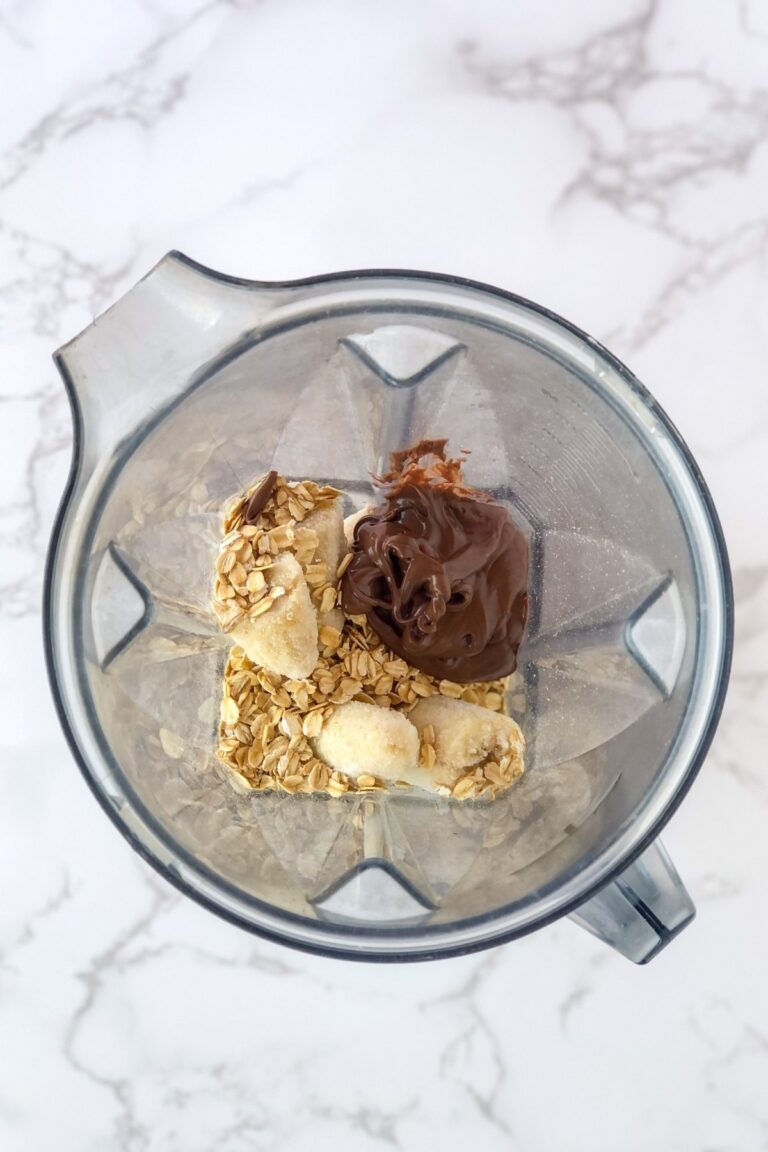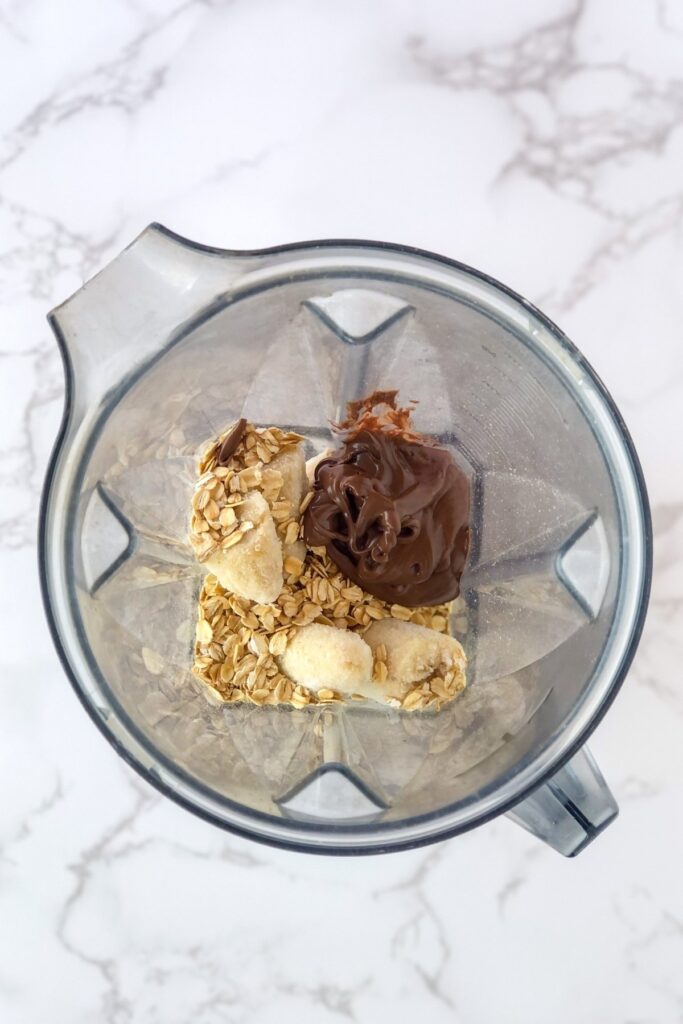 Then, pour into a glass and sip away!
If you prefer less texture in your smoothies, blend the oats into a fine powder on their own before adding the rest of the ingredients.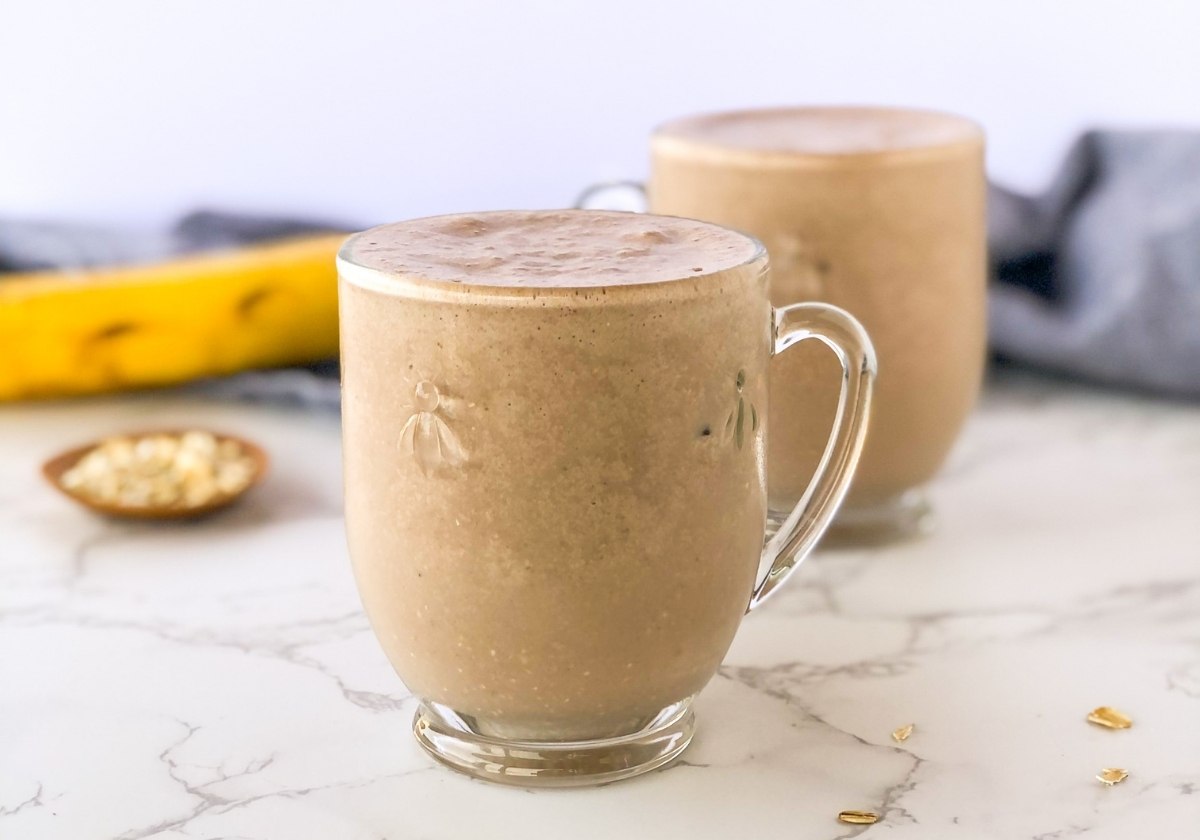 Topping Ideas & Mix-Ins
For an extra sweet, ultra Nutella-flavored smoothie, use a little extra Nutella than the recipe calls for.
Don't have Nutella? Peanut butter or almond butter would be delicious in its place. (You may want to add a splash of maple syrup for added sweetness, since Nutella is sweeter than most nut butters.)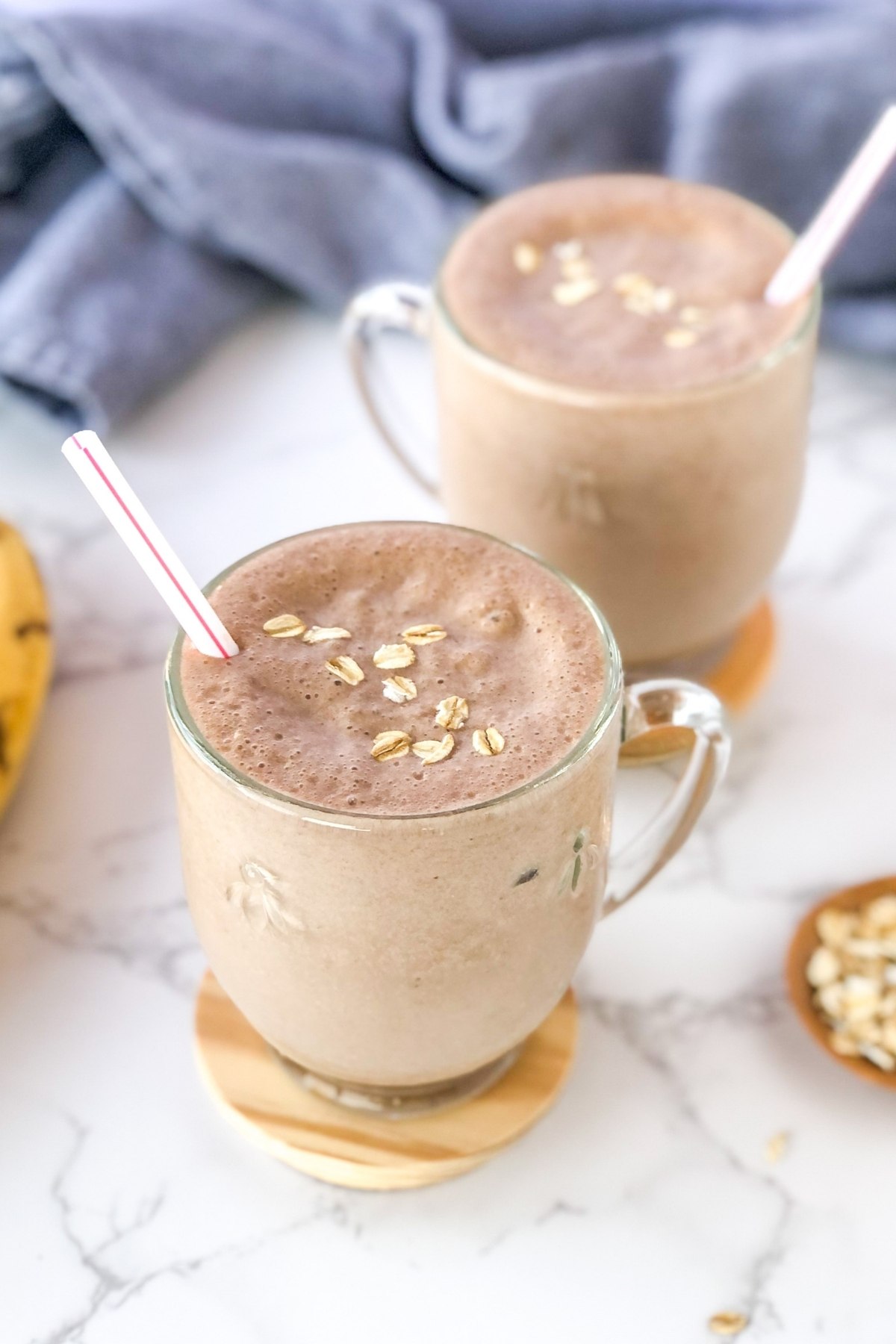 This smoothie tastes decadent, but is actually pretty nutritious! The best of both worlds. 🙂
If you make this banana Nutella smoothie, I'd love if you shared your thoughts with a rating and comment below!
More Nutella recipes to try: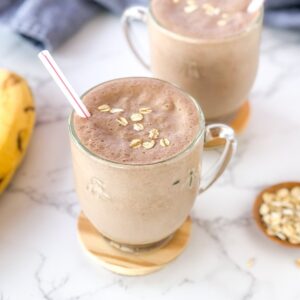 Banana Nutella Smoothie
This banana Nutella smoothie with oats has a chocolate hazelnut flavor that pairs perfectly with banana. Greek yogurt makes it extra creamy!
Ingredients
¼

cup

old-fashioned oats

1

banana

(cut into chunks and frozen*)

2

Tbsp

Nutella

(or other chocolate hazelnut spread)

½

tsp

cocoa powder

¼

cup

plain Greek yogurt

¼

tsp

vanilla extract

½

cup

milk

pinch of salt
Instructions
Combine all ingredients in a blender. Blend until smooth. (If it isn't as thick as you want it, add a handful of ice cubes and blend again until smooth.)

Pour into a glass, and enjoy!
Notes
*If you don't have a pre-frozen banana, use a regular banana and add a handful of ice. Be aware this will mute the flavor a bit.
Recipe variations:
If you're not into having texture in your smoothies, feel free to leave out the oats, or blend them into a very fine powder before adding the other ingredients.
If you want a sweeter smoothie or a stronger Nutella flavor, use 1/3 cup Nutella instead.
If you don't have Nutella, use a nut butter like peanut butter, and add 1-2 teaspoons of maple syrup for sweetness.