Greek yogurt may not seem like an obvious choice when it comes to dessert ingredients, but it's actually a perfect addition. It's thick and creamy, easy to use, lightly tangy, and packed with protein. Here are some of my favorite desserts with Greek yogurt – including cheesecake, tiramisu, tarts, and even fudge!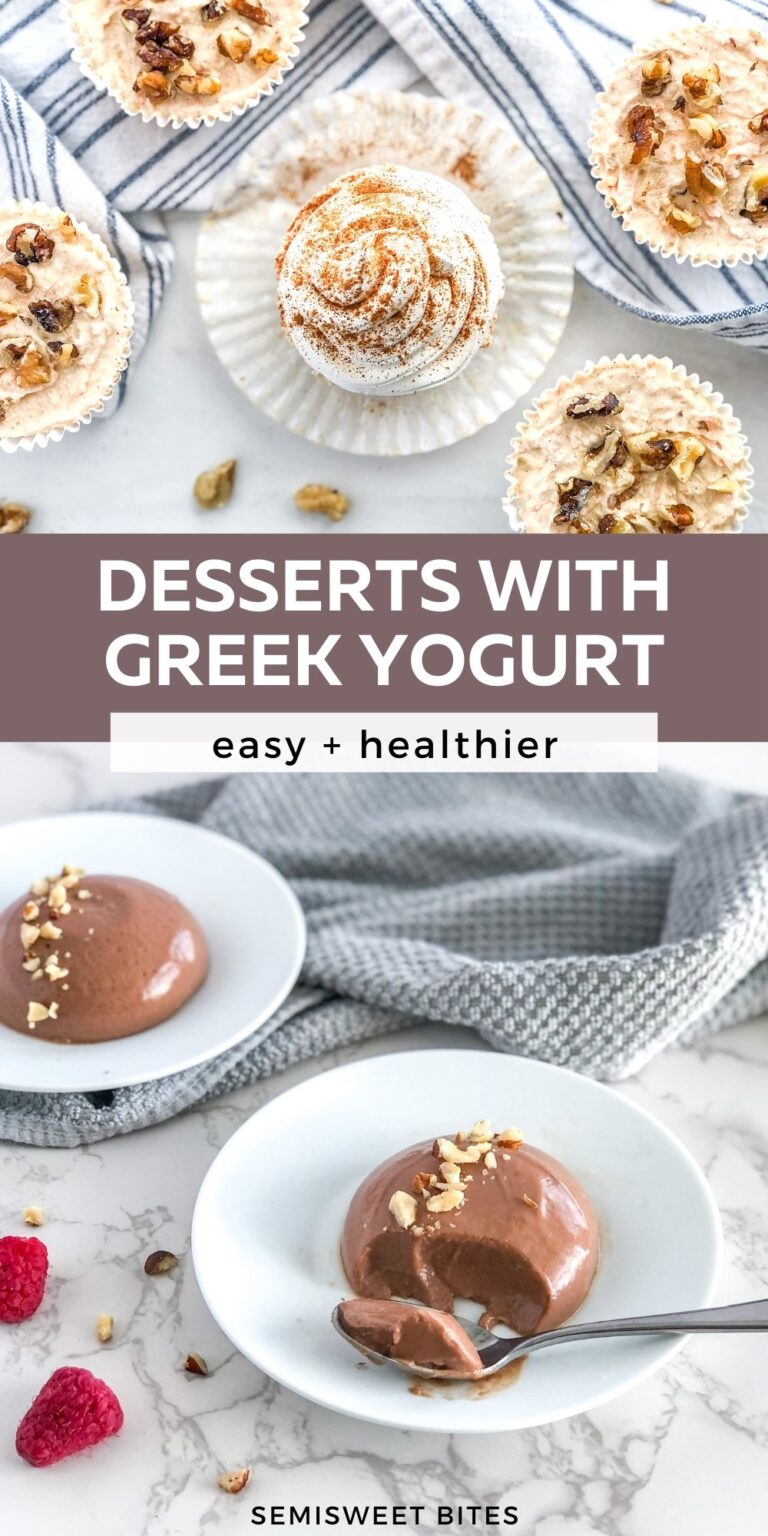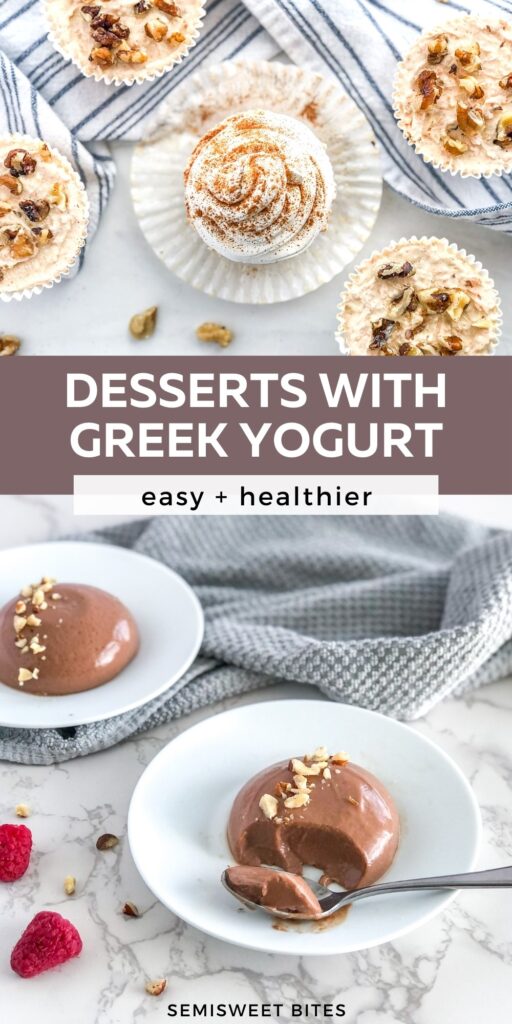 What is Greek yogurt? (Greek Yogurt vs. Regular Yogurt)
Greek yogurt is a type of yogurt – made from cow's milk – that's cultured and fermented, then strained. It's also known as 'strained yogurt', because it contains less whey and other liquids than regular yogurt. This makes it thicker and creamier.
It's also higher in protein and has a tangier flavor (like cream cheese, but milder). Because of its flavor and texture, Greek yogurt makes a great substitute for sour cream or mayonnaise in a lot of savory dishes.
It's also delicious in baked goods, like muffins, and as a partial replacement/complimentary ingredient for cream cheese or mascarpone cheese in desserts.
How is Greek yogurt made?
Greek yogurt is fermented cow's milk (just like regular yogurt), but it's made with one extra step: straining. Most of the whey and extra liquid gets removed in this step, resulting in a thicker and creamier texture.
Which Greek yogurt is best?
I prefer making desserts – whether they're baked or no-bake – with full-fat Greek yogurt (usually 5% fat). This is the creamiest, with the best texture and flavor. If you can't find that in your grocery store, 2% fat Greek yogurt should work for most recipes, too.
As for Greek yogurt brands, I haven't yet found one that I don't like! All the kinds I've tried have been delicious.
I do recommend buying plain Greek yogurt with no sugar added when using it for baking and desserts, though. That way, you have more control over the flavors and amount of sugar in whatever dessert you're making.
Greek Yogurt Dessert Recipes
We're always stocked up on Greek yogurt in our household, for anything from breakfasts, smoothies, sauces, and more. But one of my favorite uses for it is in desserts!
This list of Greek yogurt dessert recipes features a combination of no bake desserts and baked goods. From chocolate tarts to no bake cheesecakes and even mini donuts, there are tons of tasty treats to try!
You might also love these tasty dessert recipes with maple syrup!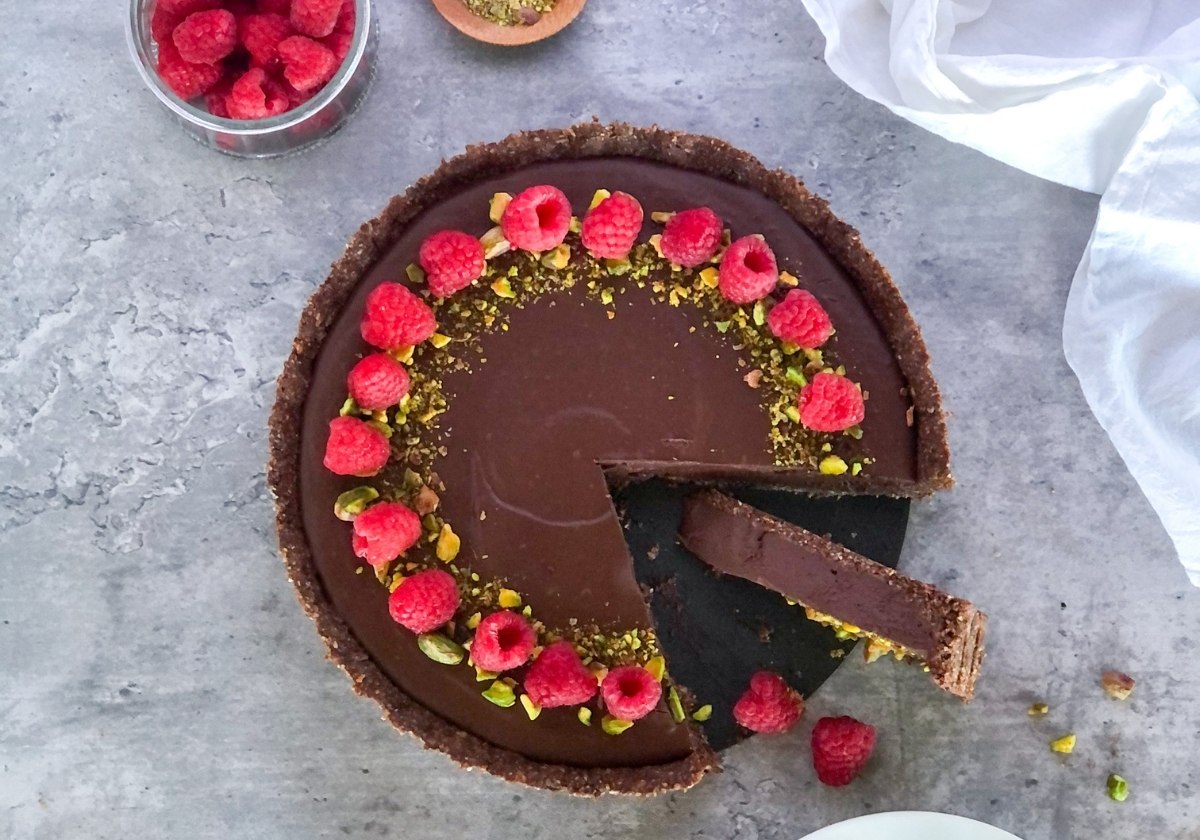 This no bake chocolate raspberry tart may look decadent, but it's surprisingly easy to make. Plus, it's a bit healthier, because we're swapping out traditional heavy cream for a combination of milk and Greek yogurt.
It makes for a super creamy, chocolatey tart that's not overly sweet.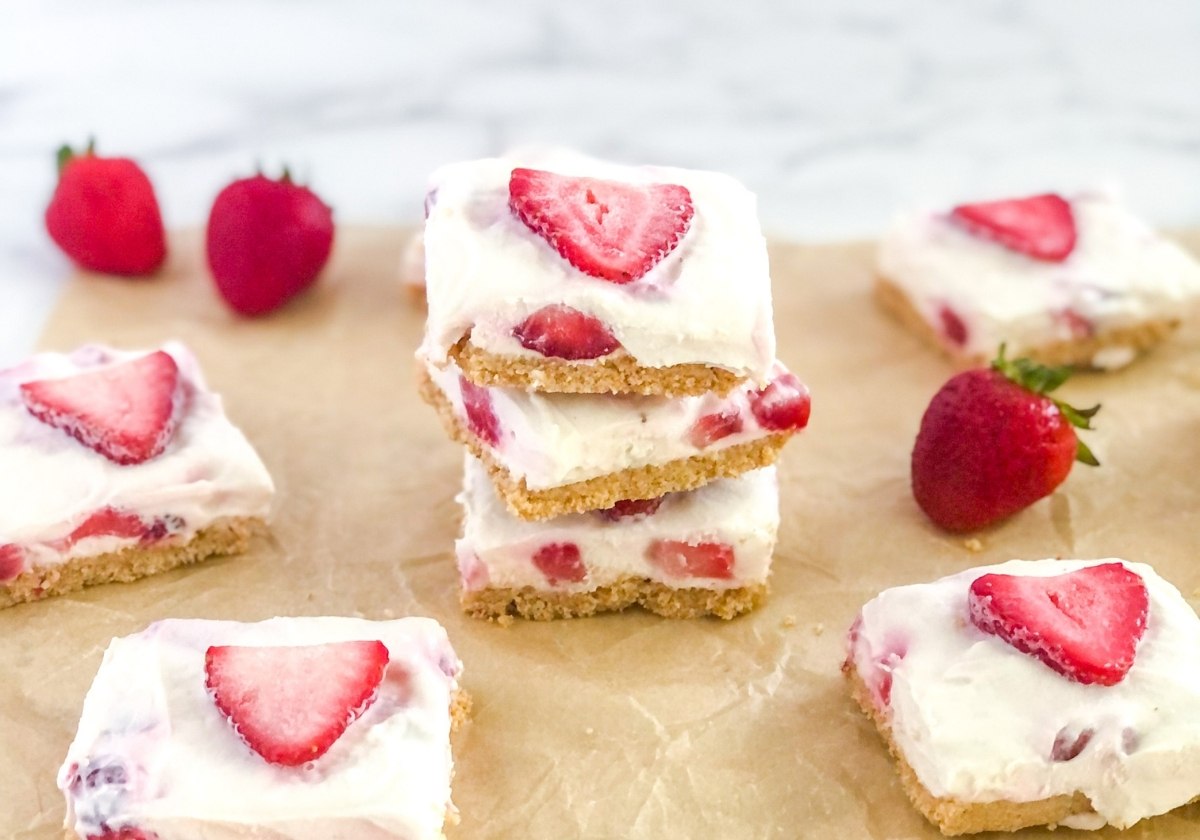 Gorgeous white chocolate cheesecake bars with strawberries are the perfect no bake summer dessert! With a simple graham cracker crust and a combination of cream cheese and Greek yogurt, they come together quickly and don't require any electric mixing.
They can even be frozen for a sweet treat that'll cool you down!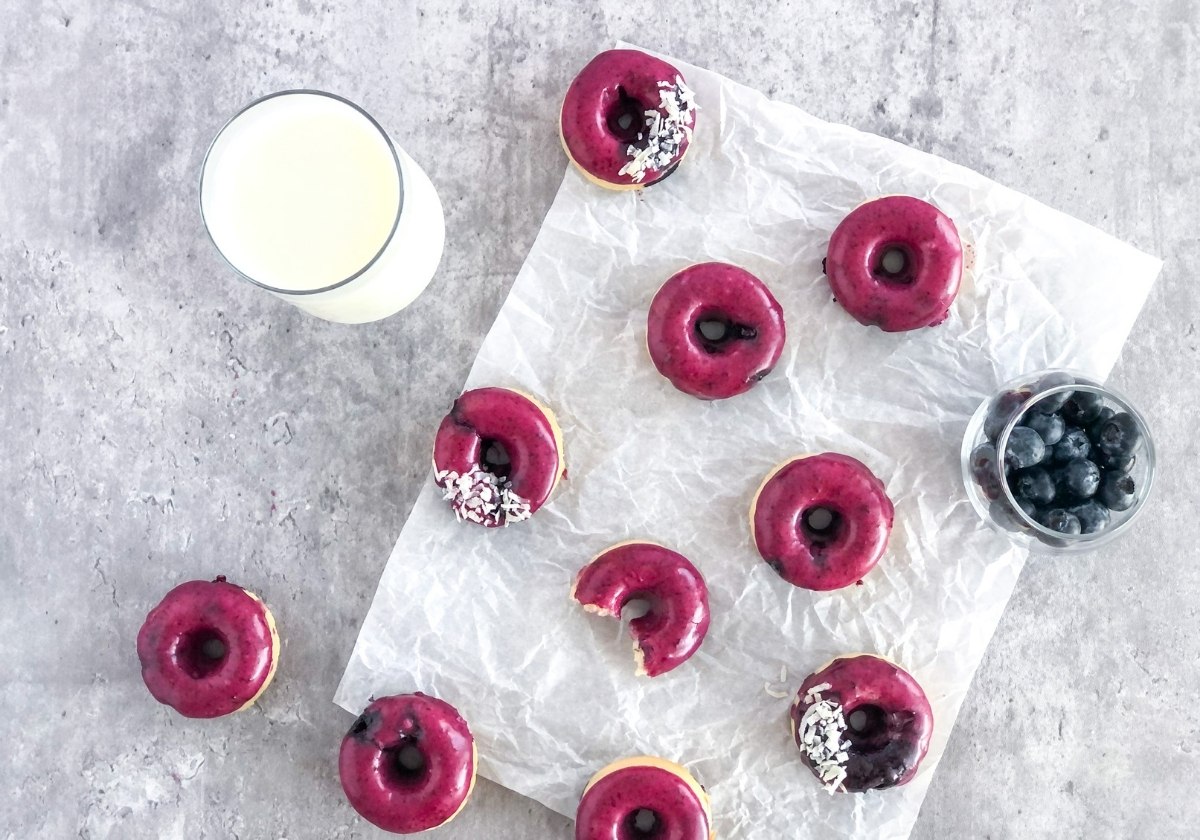 Greek yogurt gives these mini blueberry cake donuts a hint of tang, and helps keep them moist. They're baked, too, so there's no need for a fryer.
The blueberry puree glaze gives them a deep purple color that really stands out – perfect for any occasion! I love topping these with shredded coconut for an extra touch.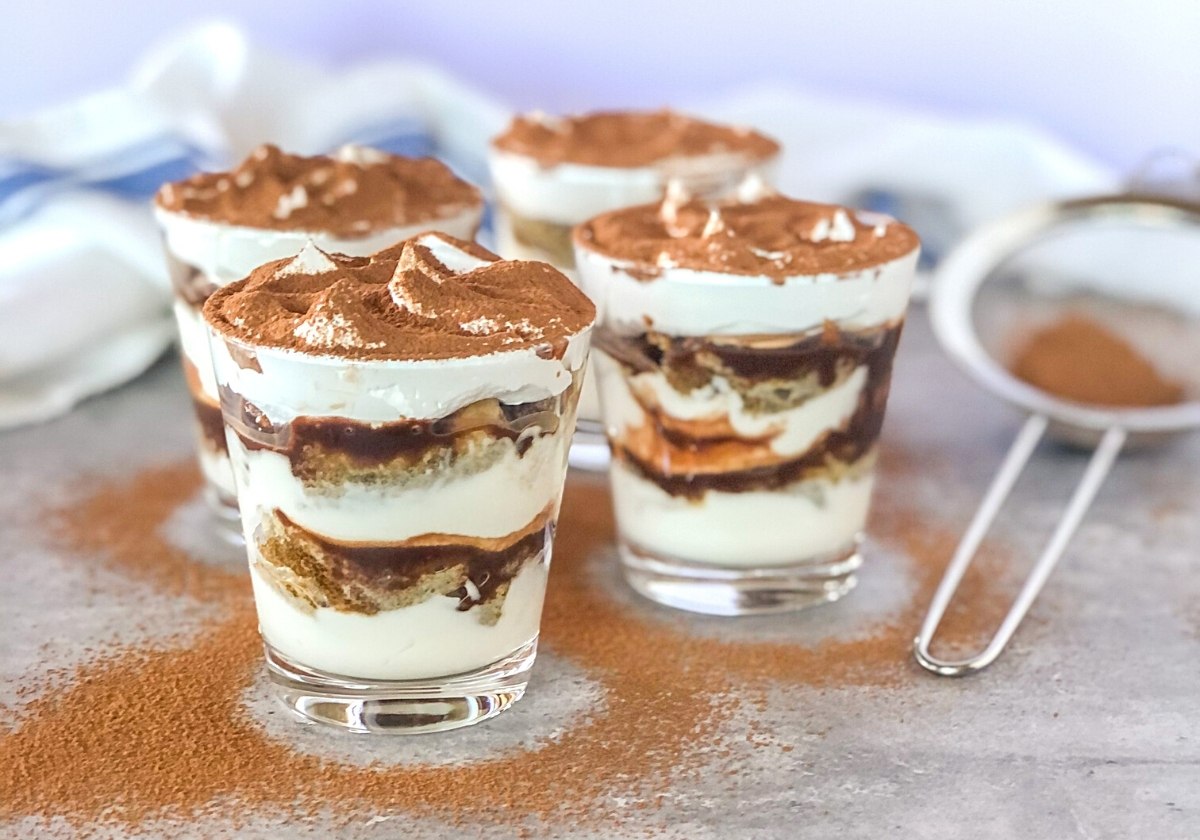 This Nutella tiramisu (also known as Nutellamisu) has that classic tiramisu flavor, with a couple delicious twists: the addition of Nutella hazelnut spread, and swapping out half of the mascarpone cheese for Greek yogurt.
It's a lighter yet flavorful take on the beloved Italian dessert. And the individual portions make it a perfect dessert for a dinner party!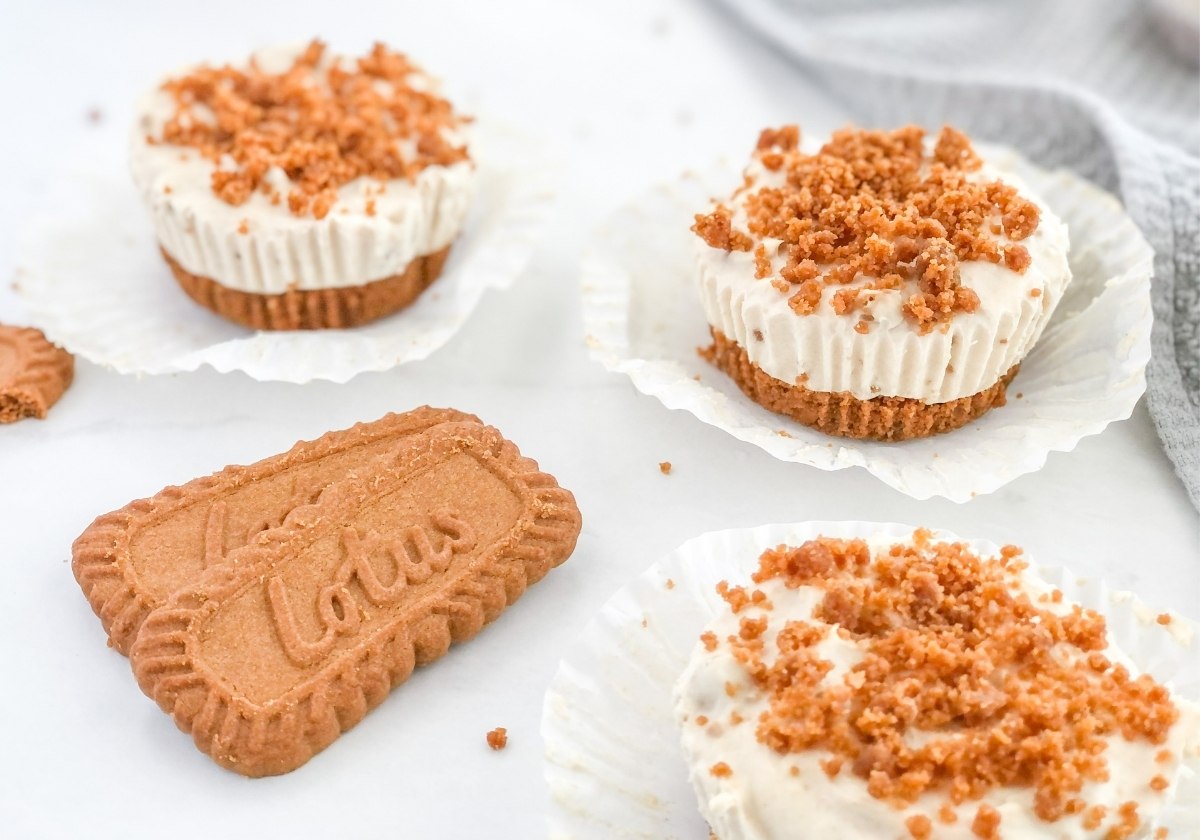 Who knew cheesecake could be so easy? All you need for these mini Biscoff cheesecakes: a muffin tin and cupcake liners. There's no baking required – just assemble, then place in the fridge (or freezer) to set.
With a buttery, spiced Biscoff crust, these adorable cheesecakes are a must-try!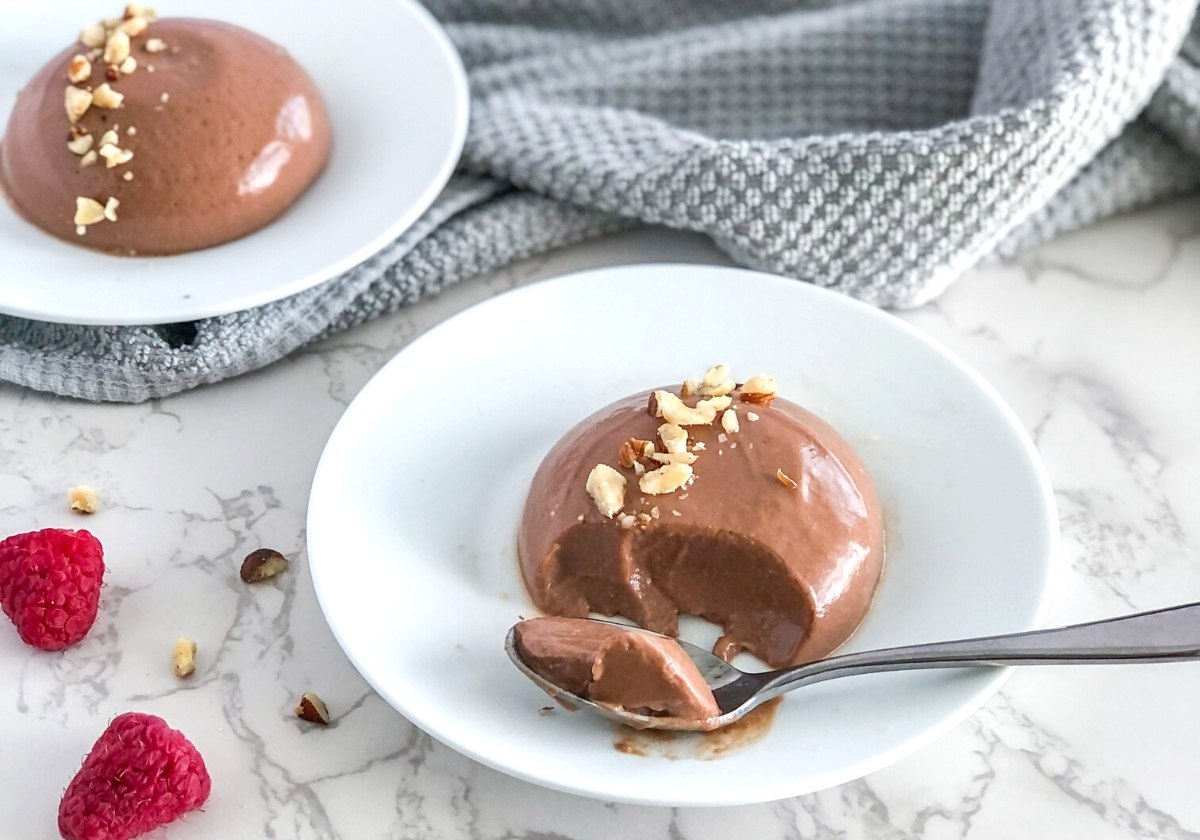 While it's not the 'traditional' way to make this silky-smooth dessert, adding Greek yogurt to panna cotta is totally delicious! Plus, the combination of chocolate and Nutella (hazelnut) flavors is perfection.
Serve these on their own, or topped with more Greek yogurt/whipped cream, toasted hazelnuts, and/or berries.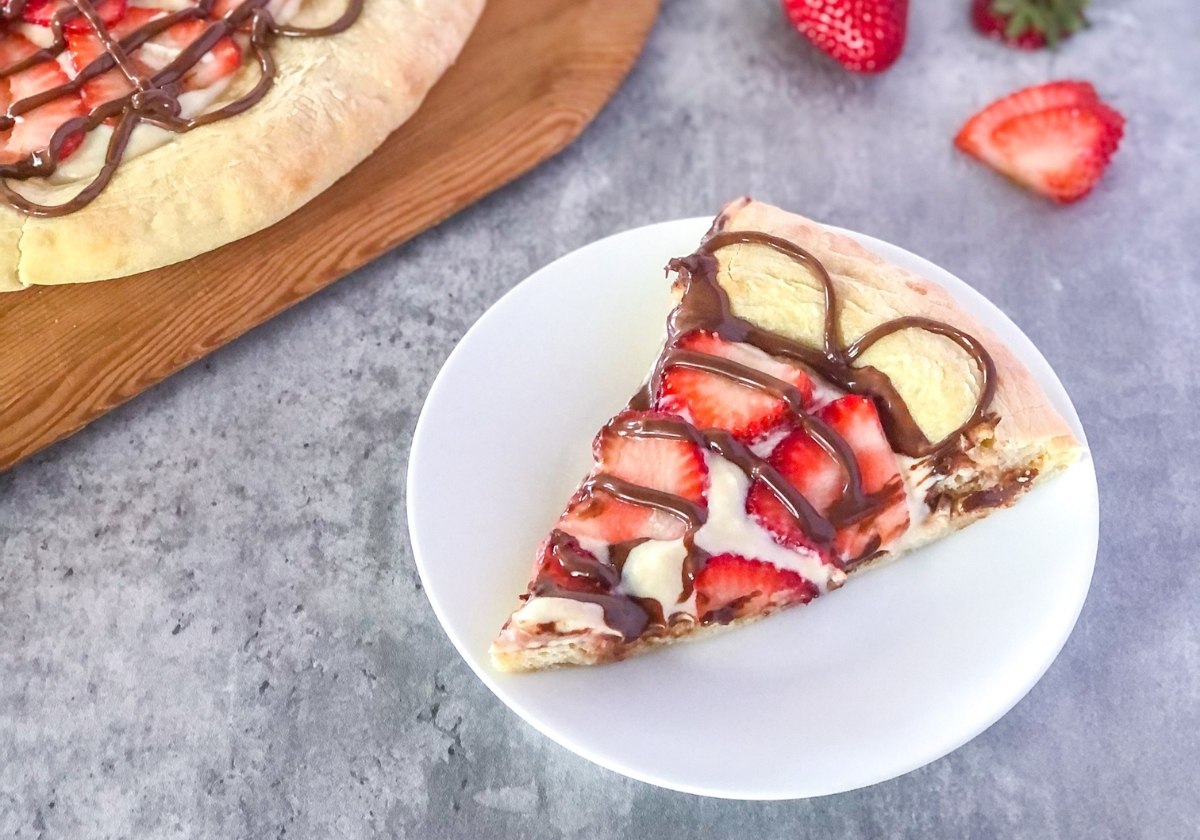 This fun dessert pizza features the ultimate flavor combination: chocolate and strawberries! Plus, there's some Nutella hazelnut spread thrown in the mix, with a luxuriously creamy mascarpone and Greek yogurt sauce. With a pillowy pizza crust base, this sweet pizza is a dream come true.
It's especially perfect for summer entertaining or feeding a crowd!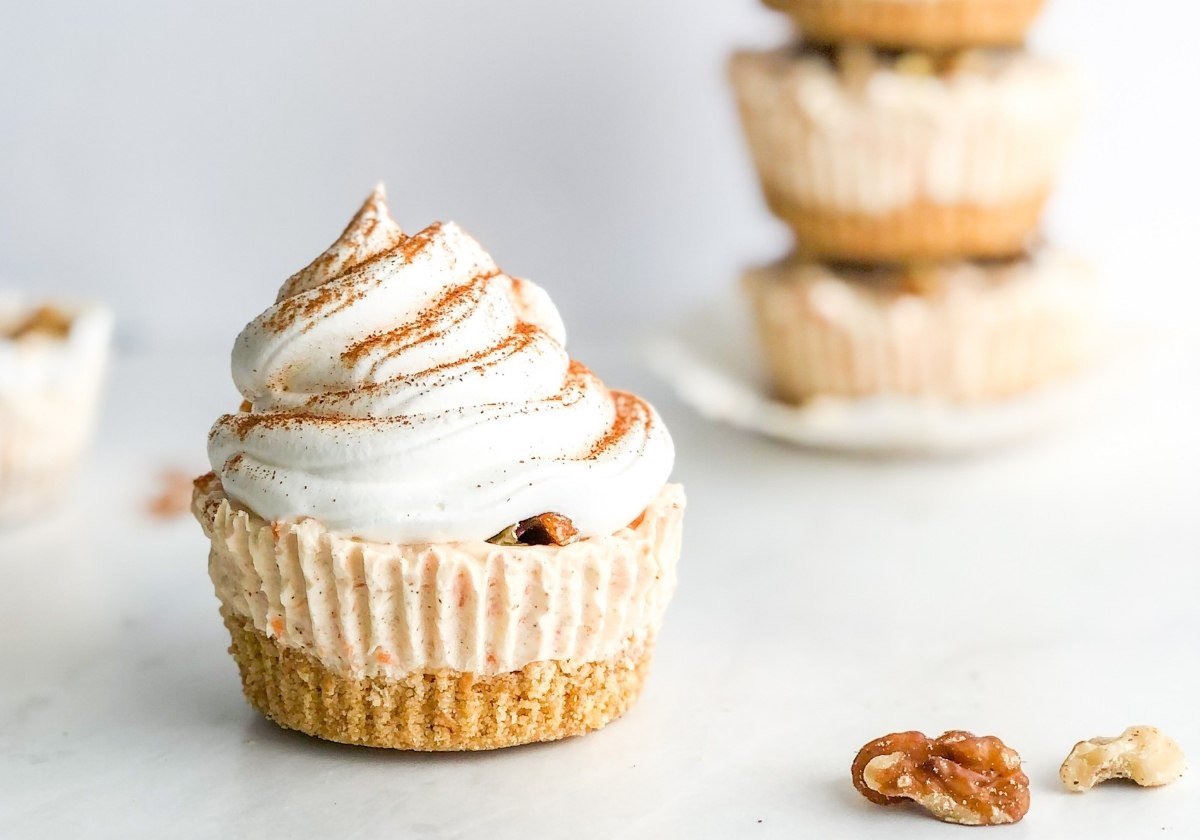 Craving that carrot cake flavor but don't want to bake a cake? Try these no bake carrot cake cheesecakes! With warm spices like cinnamon, nutmeg, and cloves, plus chopped walnuts and grated carrots, they're divine.
Plus, they're lighter than typical cheesecake, made with half Greek yogurt and half cream cheese. Bonus: there's no need to get out your electric mixer.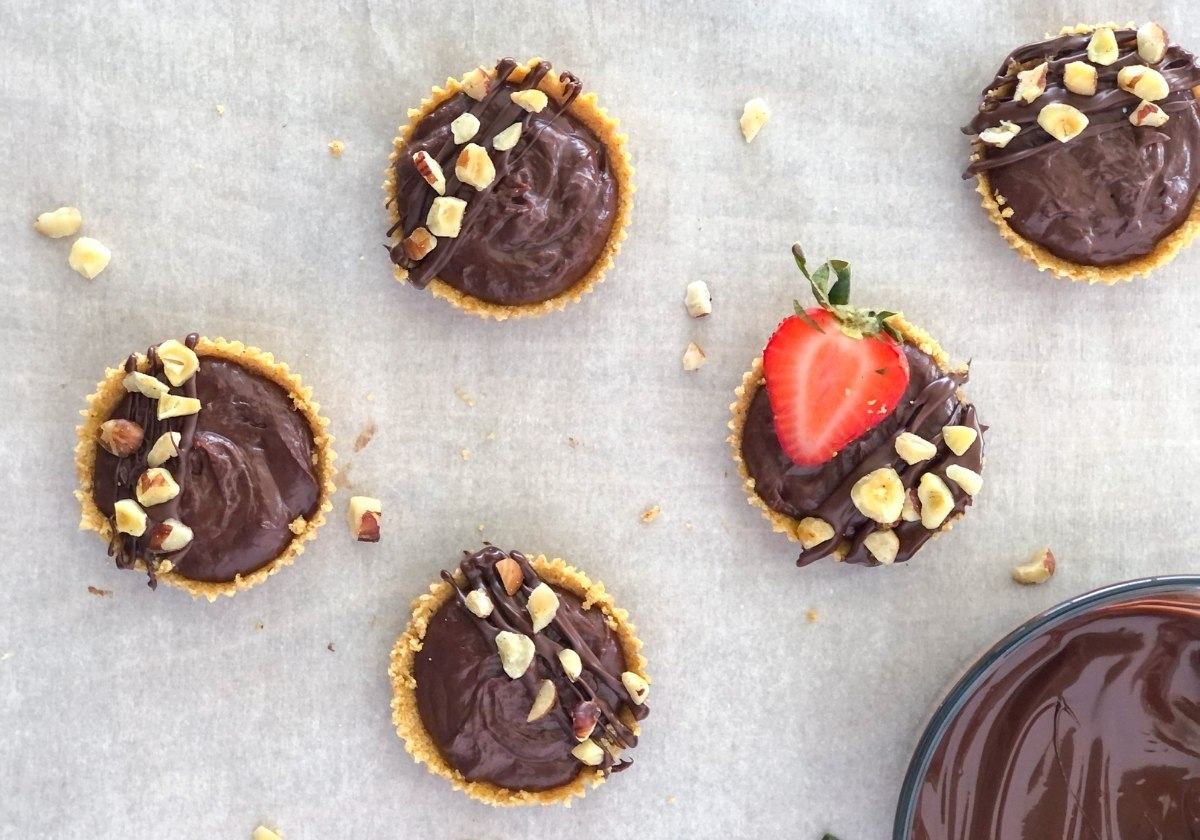 These tangy chocolate Nutella tarts are bite-sized and so fun to decorate! You don't need a tart mold to make them, either – just a muffin pan.
They're cute enough for a special occasion (or a tea party!), but easy enough to make as a sweet afternoon snack.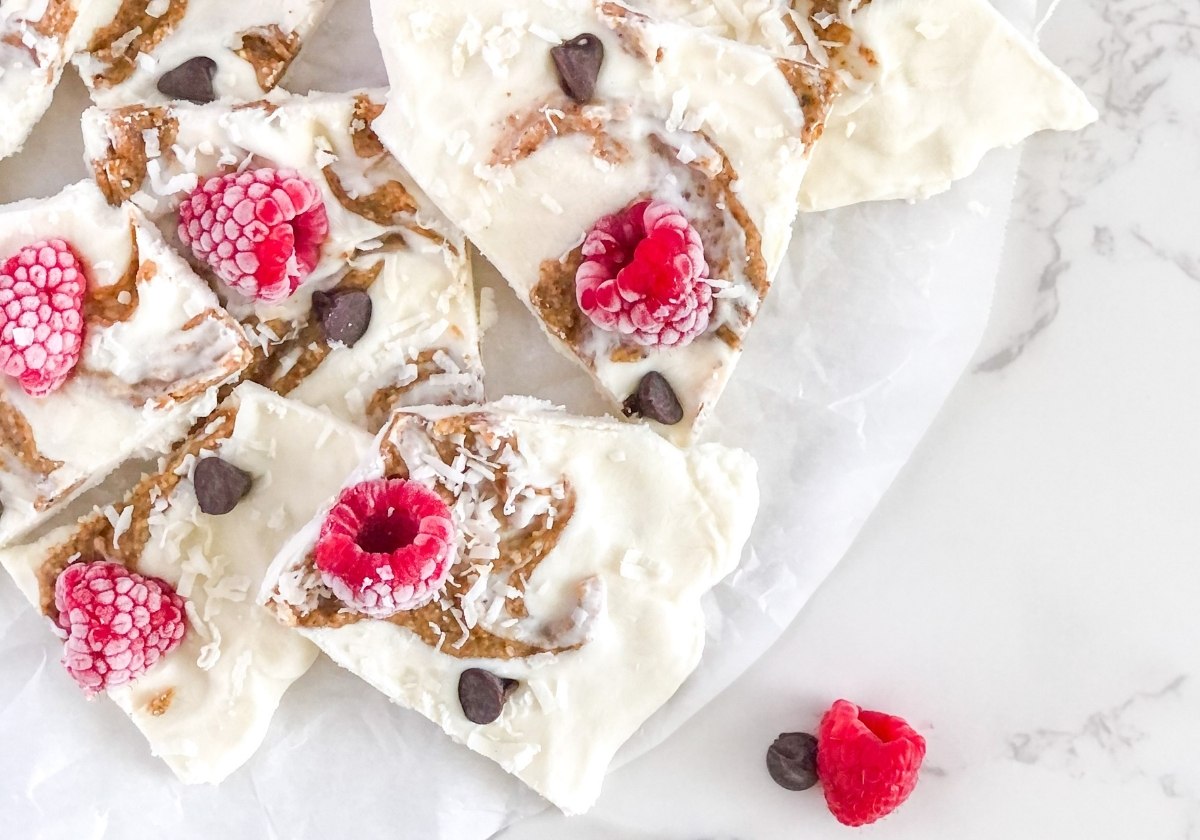 Behold the perfect frozen snack: frozen yogurt bark! It's sweetened with maple syrup, swirled with nut butter (I used almond butter), and topped with raspberries, shredded coconut, and chocolate chips. But, you can easily switch up the toppings based on what you have/like.
All you need is a sheet pan and some parchment or wax paper to spread it on, then freeze and break into pieces!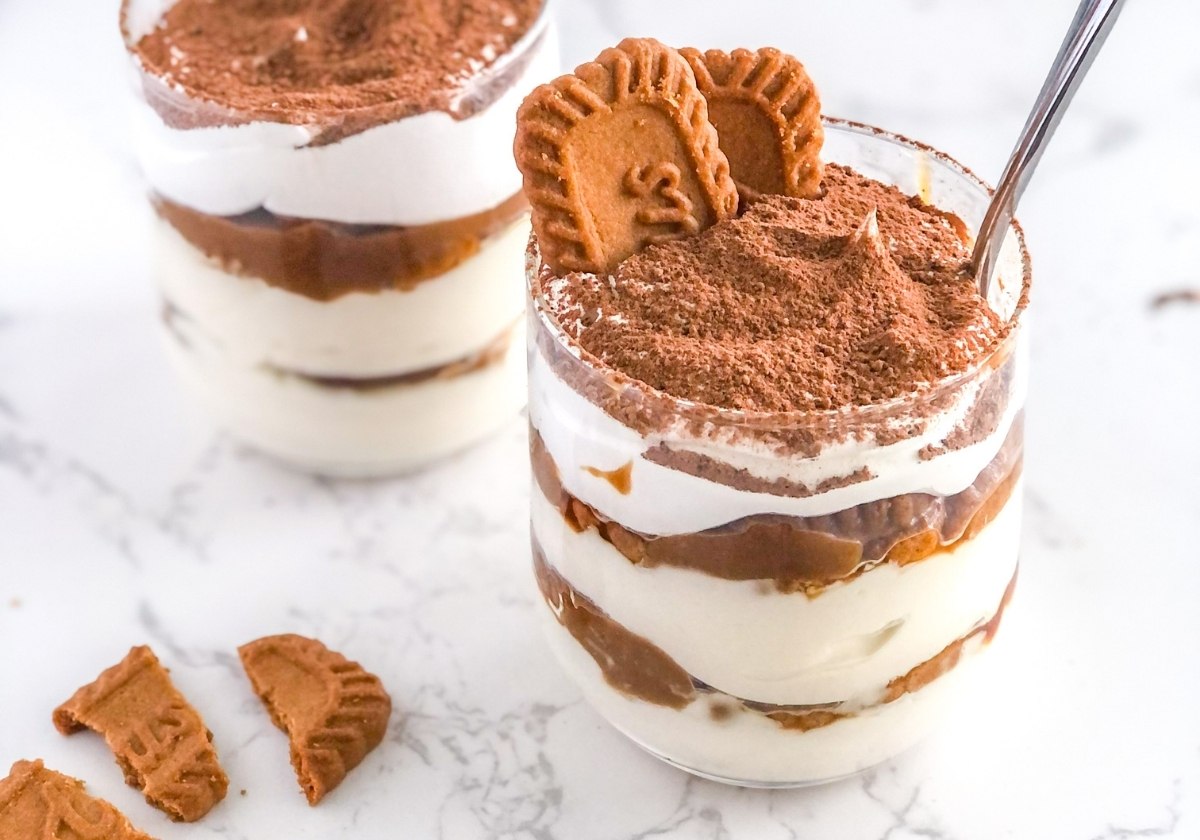 If you're craving tiramisu but don't want to make a full pan (or you want to try something a little different), these individual Biscoff tiramisu parfaits are the way to go.
They're easy to make and packed with spiced Biscoff flavor. Plus, there's no baking required. Top with whipped cream and a sifting of cocoa powder (plus espresso powder, if you have it)!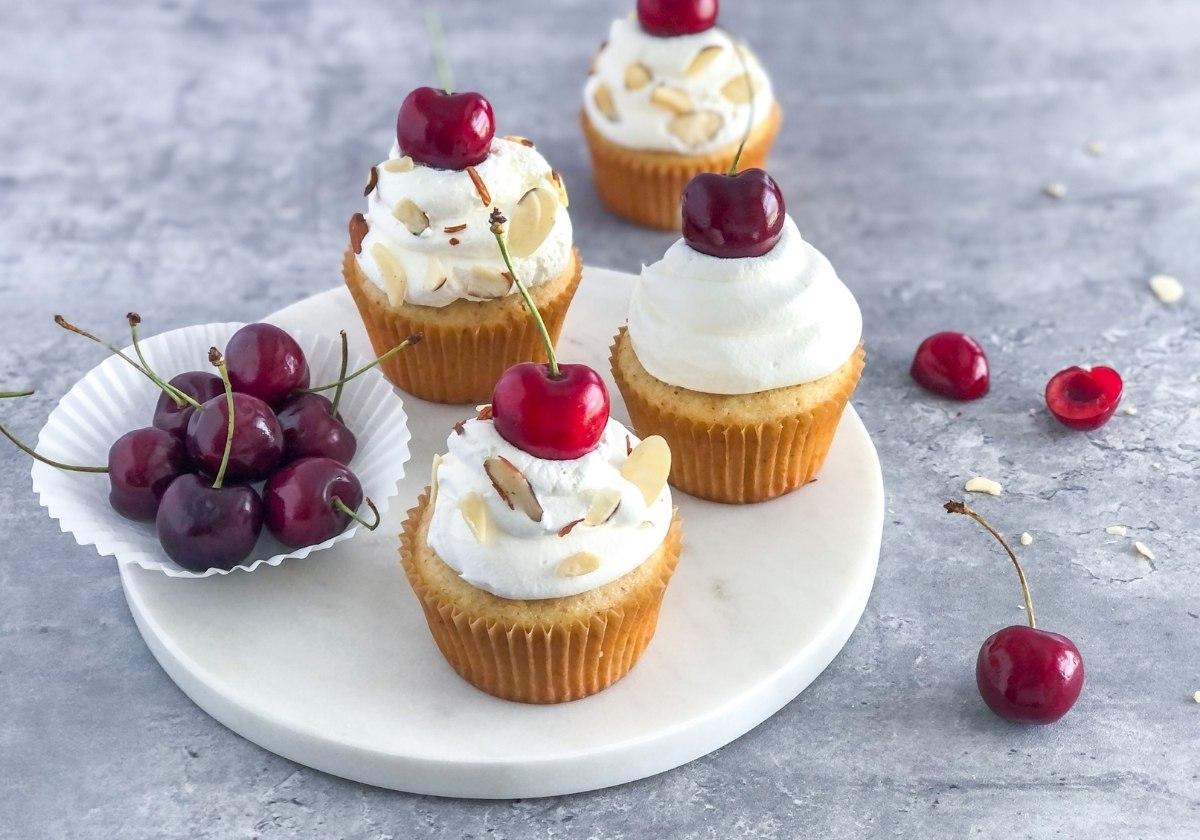 These soft almond cupcakes feature a honey-tossed cherry filling for an elegant dessert that's perfect for parties! They're delicious topped with whipped cream, buttercream, or even marshmallow meringue.
Greek yogurt in the batter enhances the cupcakes' flavor and texture. Plus, you can use either fresh or frozen cherries for the filling, so cherries don't need to be in season for you to enjoy these!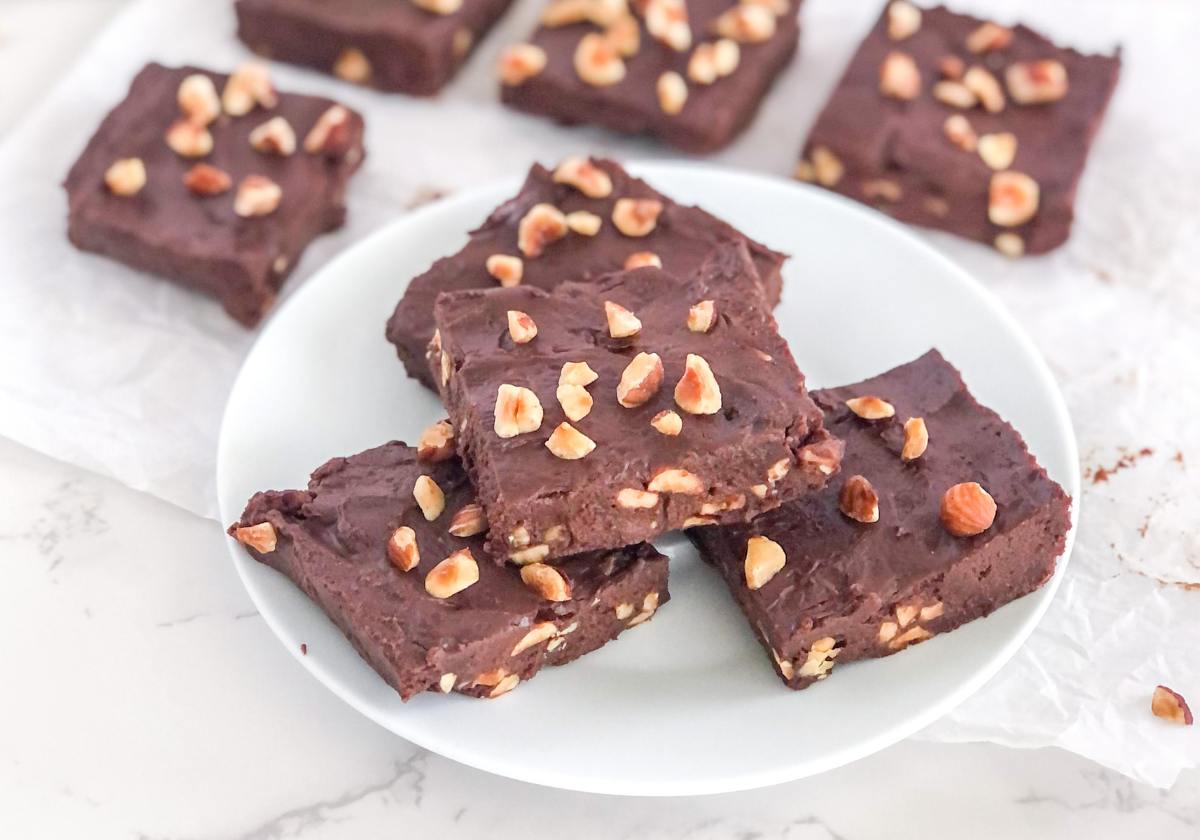 Greek yogurt is the secret ingredient to this healthier chocolate Nutella fudge! If you're like me and get overwhelmed by how sweet fudge normally is, then you need to try this fudge. It's lightly tangy, super soft, and nutty (thanks to the toasted hazelnuts).
If you're not a fan of nuts, just leave them out! Or, replace them with something else: crushed pretzels, Oreos, shredded coconut, or sunflower seeds would all be tasty.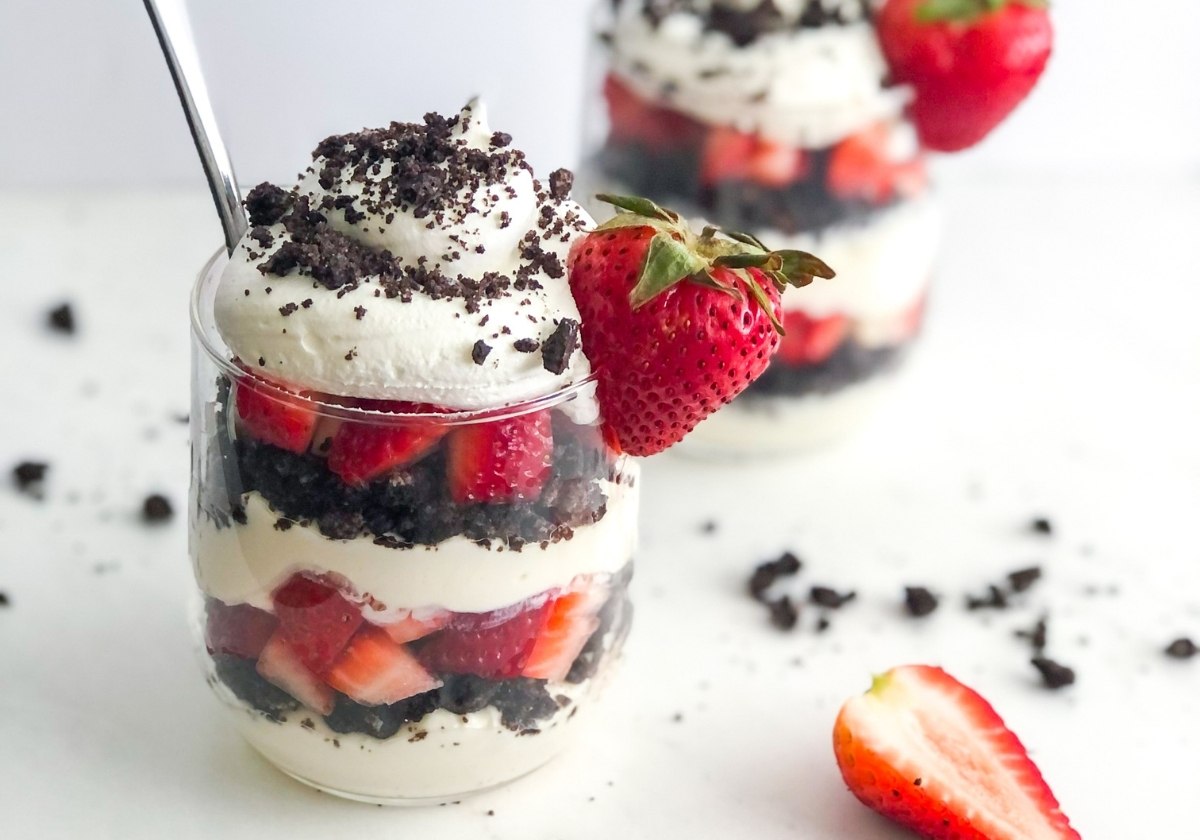 Here's another fun parfait dessert that's great for parties: strawberry Oreo cheesecake cups! They're layered with creamy cheesecake filling (made with a combination of Greek yogurt and cream cheese), crushed Oreos, and chopped strawberries.
You can always swap out the strawberries for a different fruit – like raspberries – if you want. You can even replace the crushed Oreos with another cookie, like Nilla wafers or graham crackers.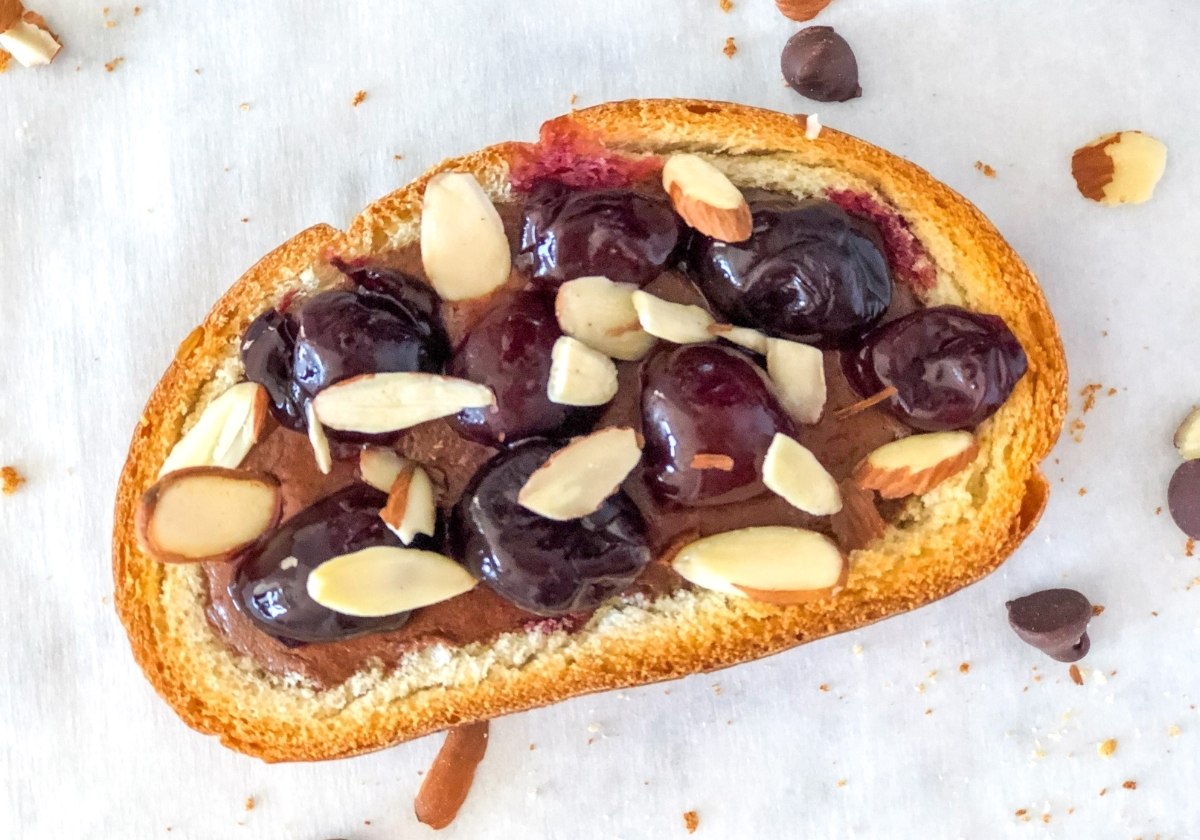 If you've never had custard toast, you're in for a treat! Essentially, you make a "well" in a slice of bread, pour in a quick custard (made with Greek yogurt, cocoa powder, and maple syrup), then bake. The toast gets golden and crispy, and the custard layer is creamy and decadent-tasting.
It's topped with cherry halves and sliced almonds for a drool-worthy flavor combination.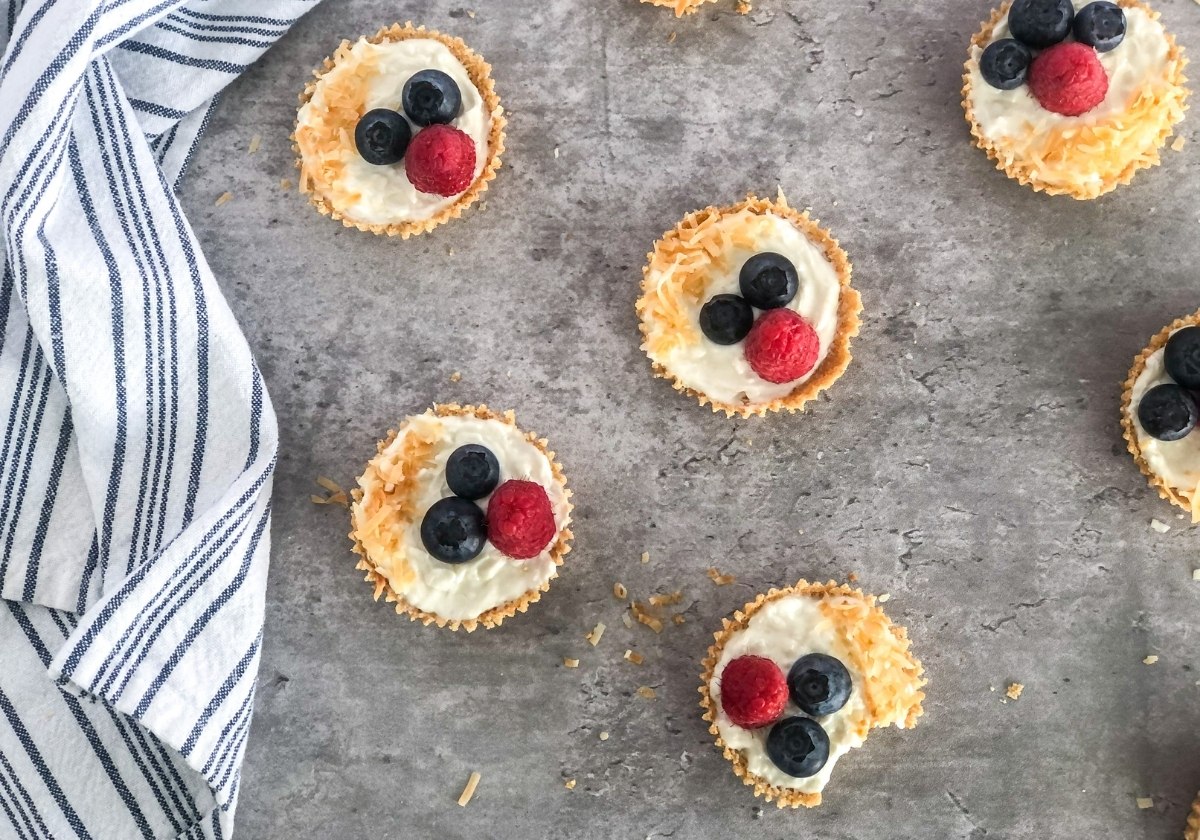 Greek yogurt is lightly sweetened with honey and mixed with shredded coconut for a simple, refreshing no bake tart filling. These mini tarts are made in a muffin tin with a simple honey graham cracker crust.
They're topped with toasted coconut and mixed berries for an easy (and healthier) summer dessert!
Layers of bright, luscious lemon curd sit atop a sweet, creamy mixture of mascarpone cheese and Greek yogurt for a fabulous no bake dessert that's perfect for dinner parties! These elegant parfaits are surprisingly simple to make (yep, even the lemon curd!).
They're finished with a dollop of whipped cream and your favorite berries. Flavorful and fun!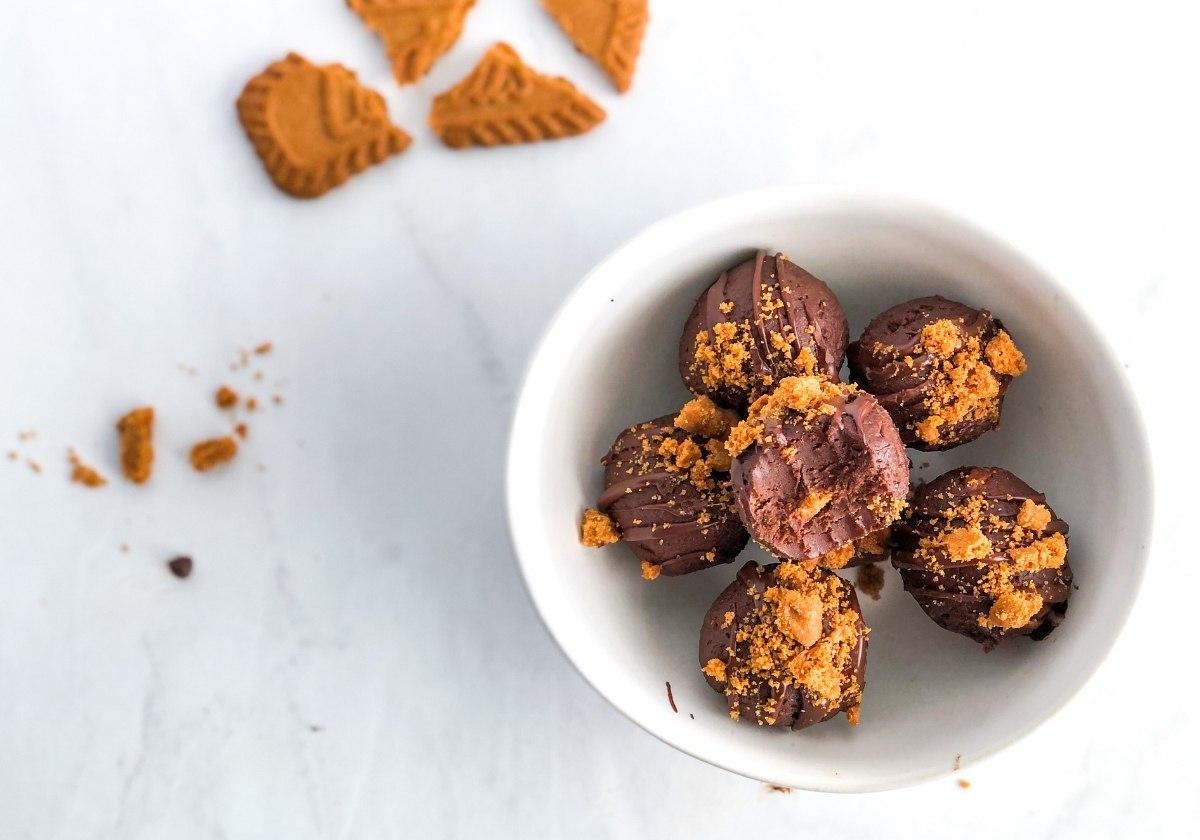 These fudgy chocolate truffles are made with melted chocolate, cocoa powder, Greek yogurt, and crushed Biscoff cookies. Each bite is chocolatey bliss with a hint of caramelized spices (thanks to the Biscoff!).
I like topping them with a drizzle of melted chocolate and more crushed Biscoff, but you can use anything you like: chocolate chips, salty pretzels, chopped nuts, etc.
And that's it! I hope I've convinced you that desserts with Greek yogurt are definitely worth trying – and then making over and over again. 🙂
For more dessert inspiration, try these tasty desserts with nuts, these Biscoff desserts, or these desserts with Nutella.
Do you have a favorite use for Greek yogurt? Let me know in the comments!