I love the nutty flavor and crunchy texture that nuts give baked goods and other sweet treats. Here are some of my favorite desserts with nuts, including walnuts, pecans, hazelnuts, and more! They're all easy to make and totally delicious.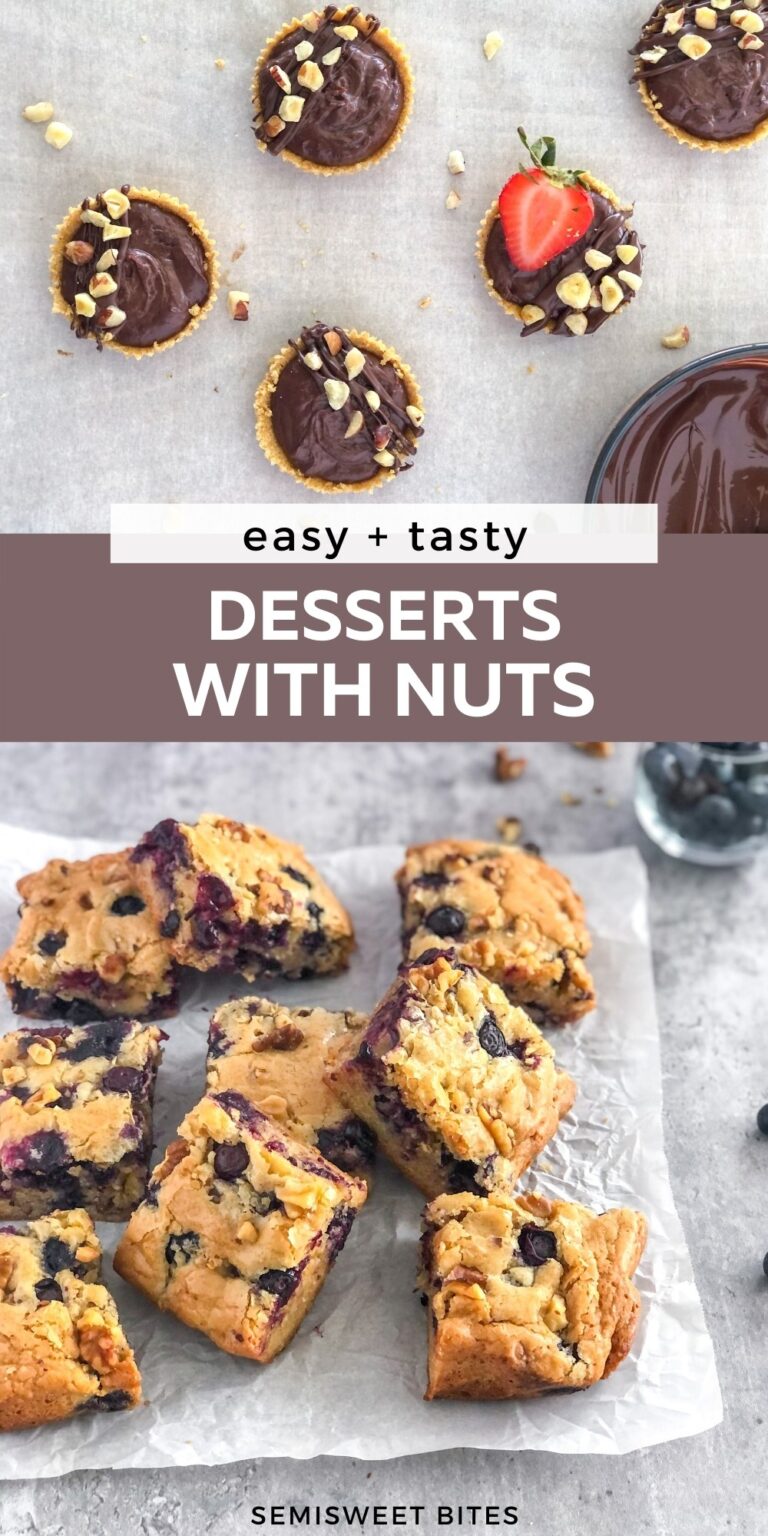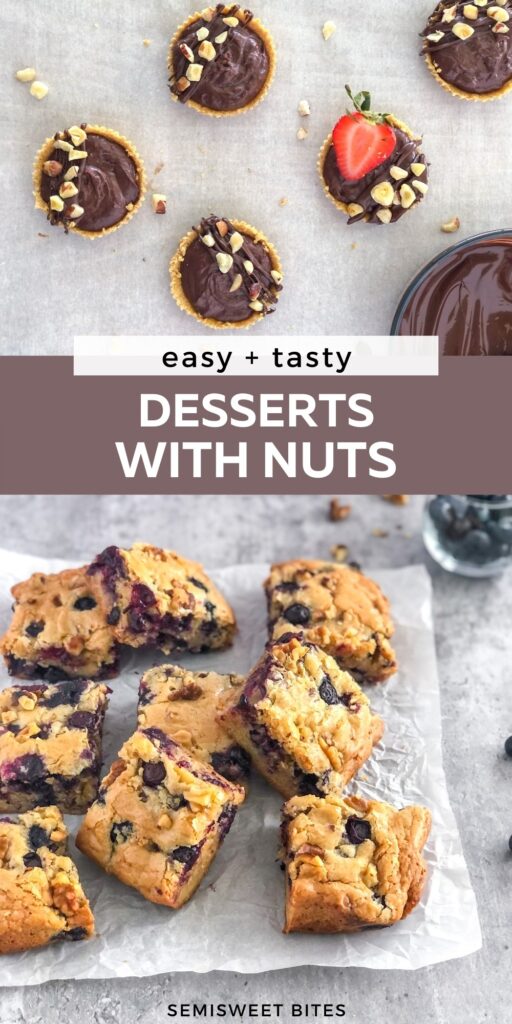 Easy Nut Desserts
Nuts give a unique flavor and texture to sweet treats. Here are my favorite desserts with nuts – from chewy blondies to chocolate fudge, truffles, and more.
Whether you're more of a pecan fan or you have a preference for toasted hazelnuts, I'm sure you'll find a delicious nutty treat to try!
Walnut Desserts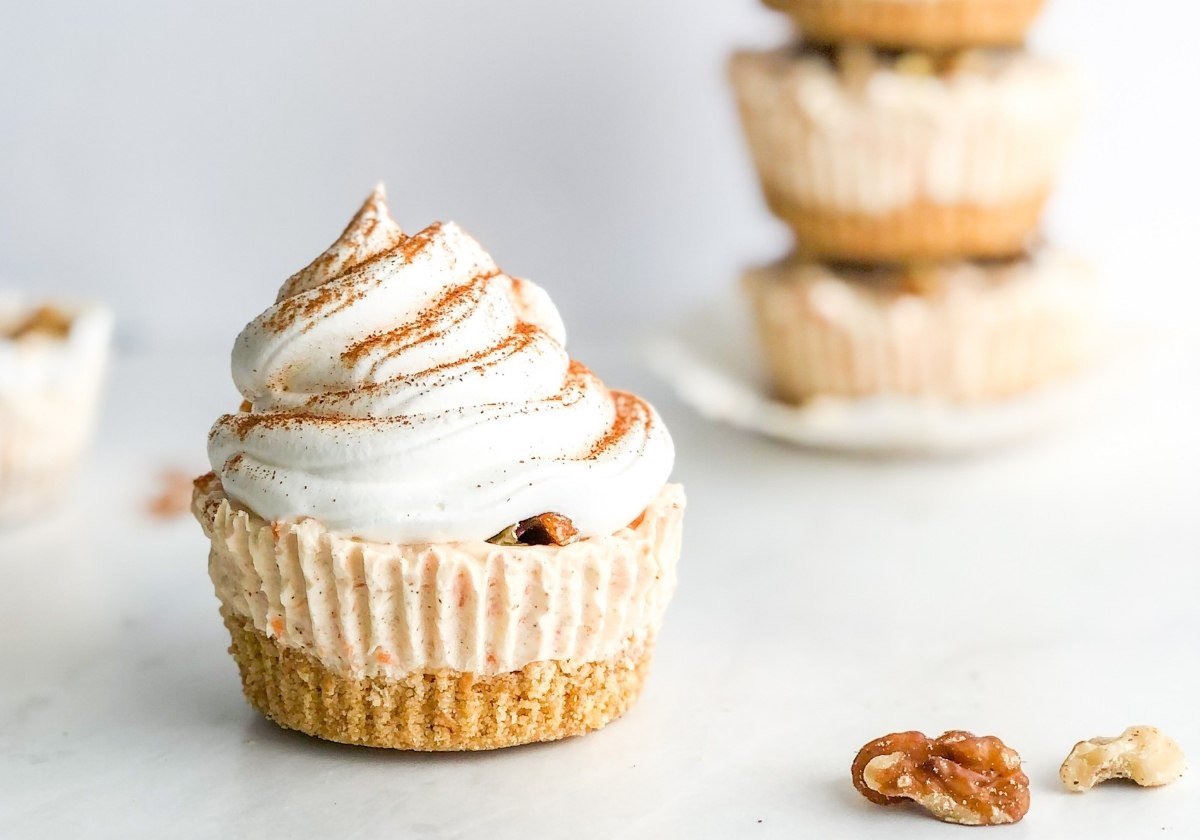 These creamy, no bake mini carrot cake cheesecakes are lightly-spiced, and feature a buttery graham cracker crust. They're topped with crunchy walnuts, too!
The creamy cheesecake layer is super easy to make, with no electric mixer needed (thanks to Greek yogurt replacing the need for whipped cream).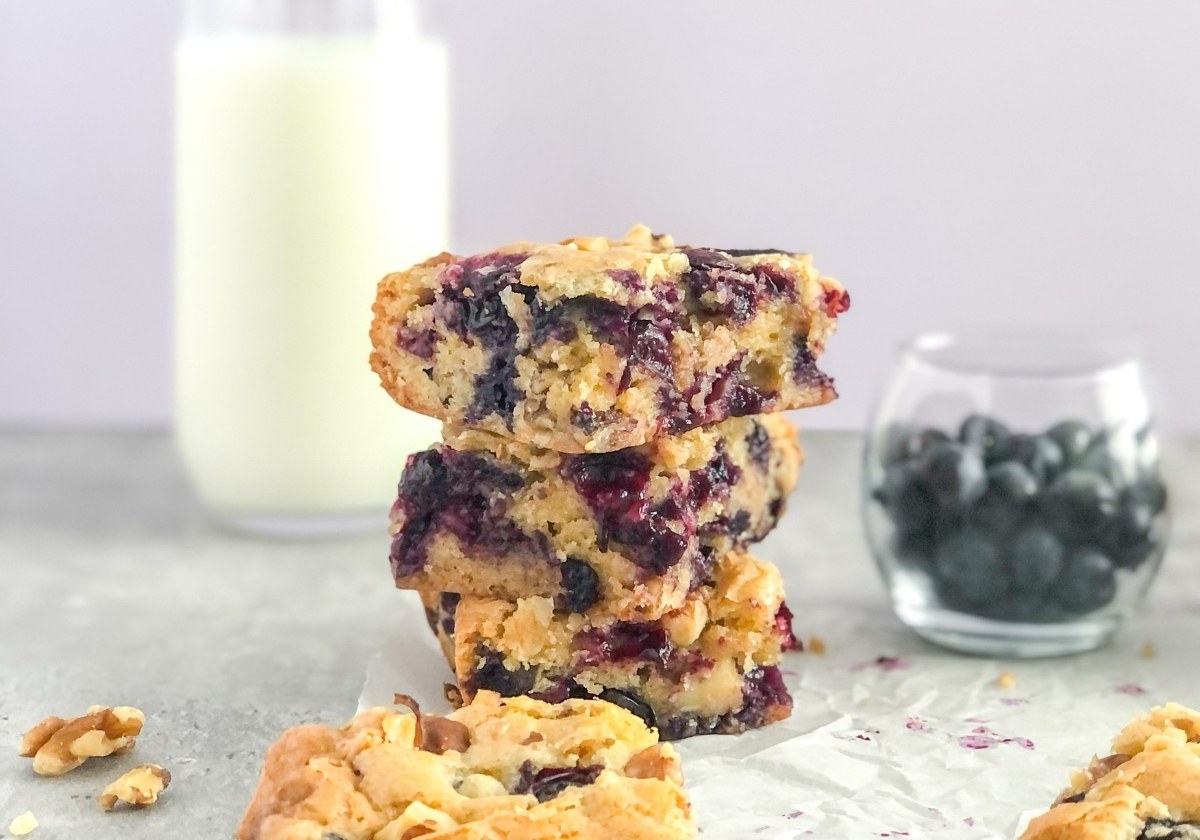 Buttery walnuts and juicy blueberries are the star of these delicious blondie bars! They have deliciously chewy edges, with a moist texture that's like a cross between a brownie and a cookie.
Brown sugar gives these a lovely caramelized flavor, too. They're a fabulous dessert for any time of year!
Desserts with Pecans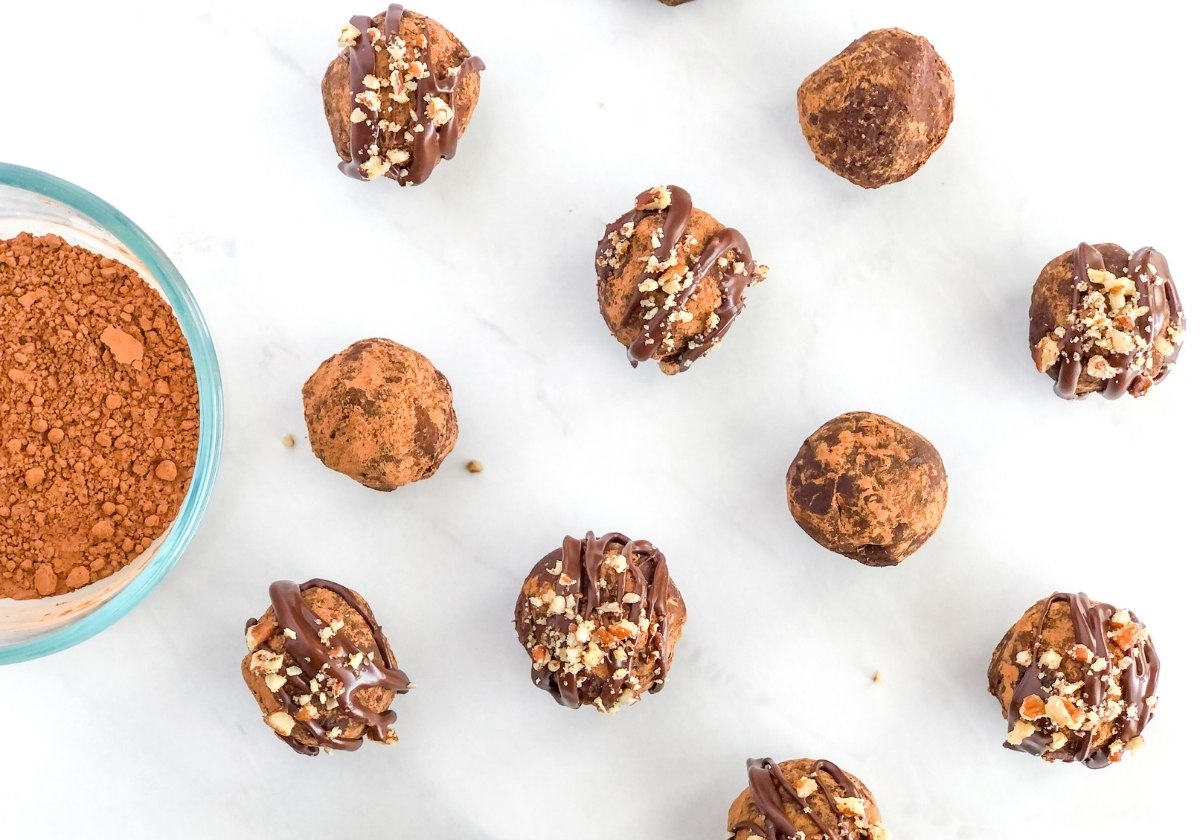 These rich, chocolatey pecan truffles are made with a secret ingredient: avocado! They're surprisingly healthy, but taste decadent – with a delicious, fudgy texture (thanks to the avocado!).
There's no baking required, either – just microwaving the chocolate. These easy truffles are topped with a melted chocolate drizzle and chopped pecans for crunch.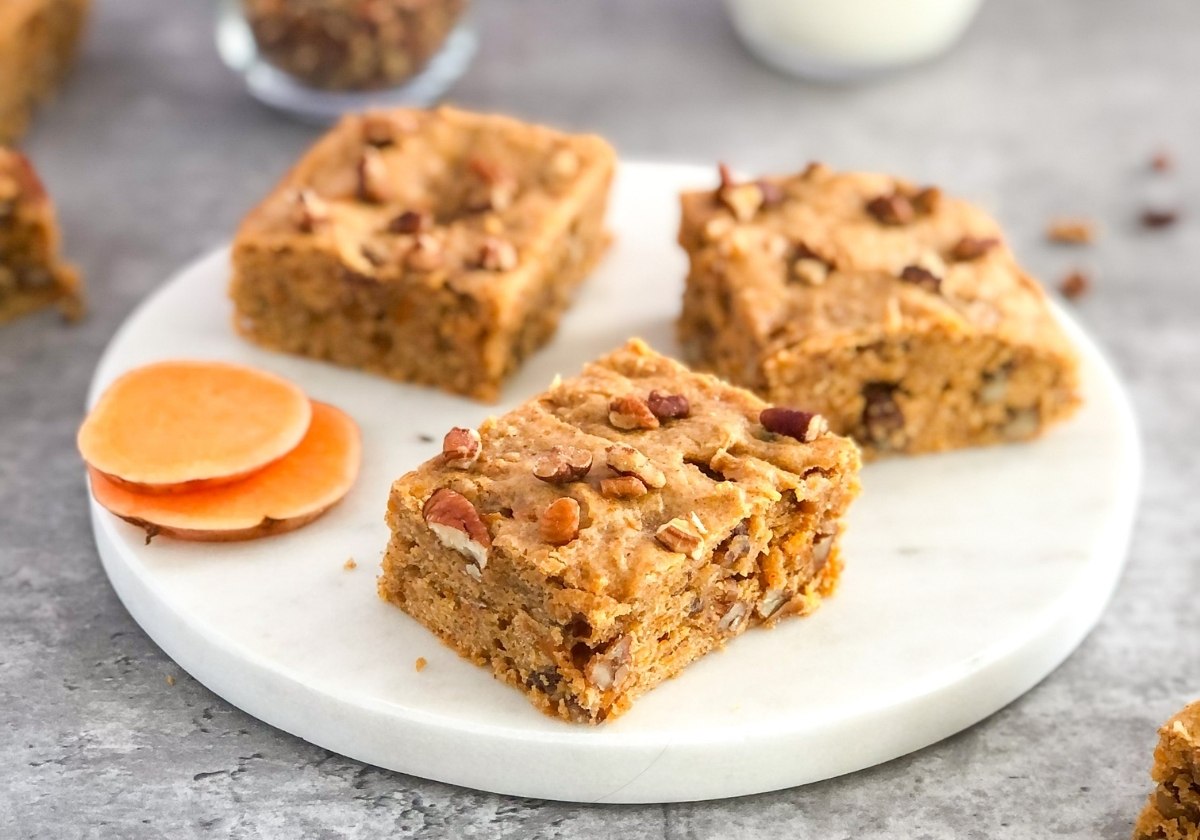 Say hello to your new favorite fall dessert: pecan sweet potato blondies! They're nutty and lightly sweet, with mashed sweet potato and brown sugar.
They're a lot like moist sweet potato bread (similar to banana bread) in bar form!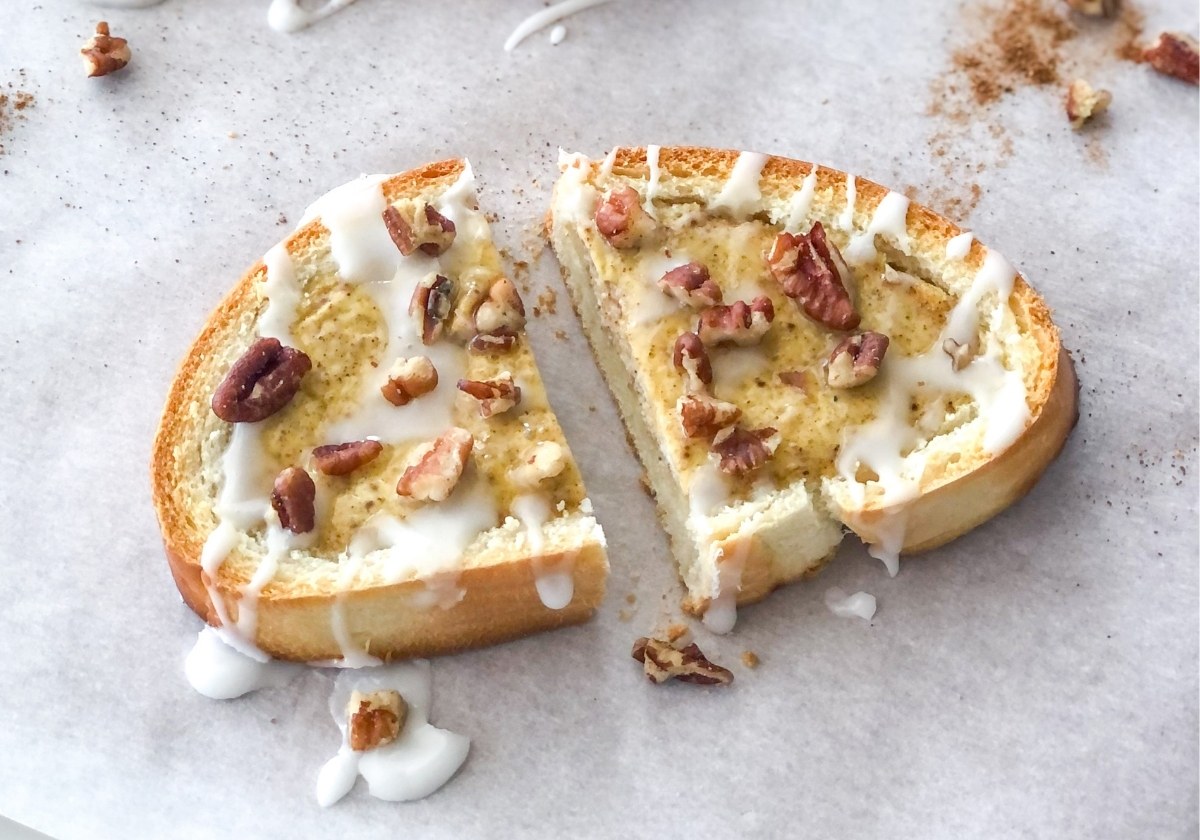 If you haven't tried custard toast, you're in for a treat! A chai-spiced egg and Greek yogurt custard mixture gets baked into bread, then drizzle with a quick icing (powdered sugar with a splash of milk).
It's finished with a sprinkle of chopped pecans for a delicious, cinnamon roll-tasting breakfast, snack, or dessert!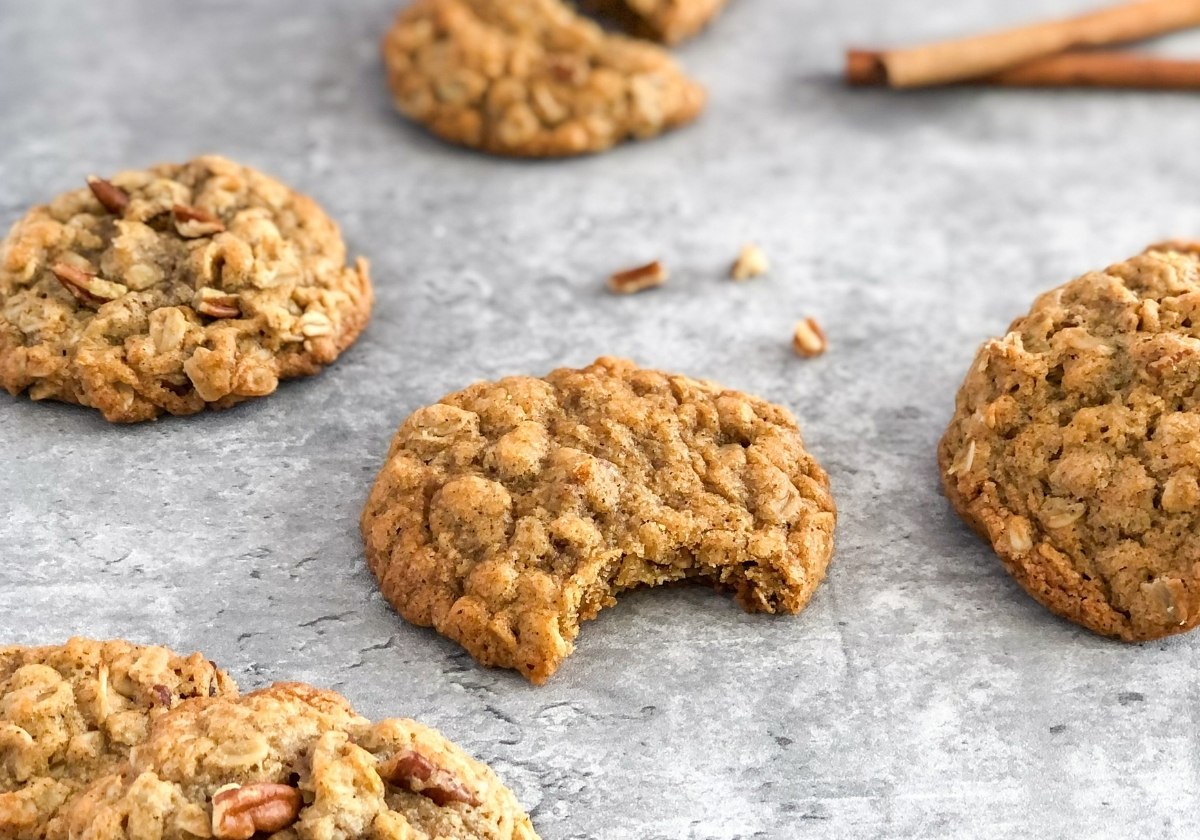 Here's another fall or winter-inspired treat to try: chai oatmeal cookies! Chewy, chai-spiced oatmeal cookies are packed with chopped pecans and baked to golden perfection.
You'll want to enjoy these comforting, cozy cookies all season long. They would also be delicious with walnuts!
Treats with Almonds
These soft and chewy blondies are studded with lightly tart, juicy raspberries, crunchy sliced almonds, and melty dark chocolate chips. They're everything you'd want in a dessert bar!
Plus, they're easy to make – even easier than cookies, because you don't have to scoop them individually. Just bake, slice, and devour. 🙂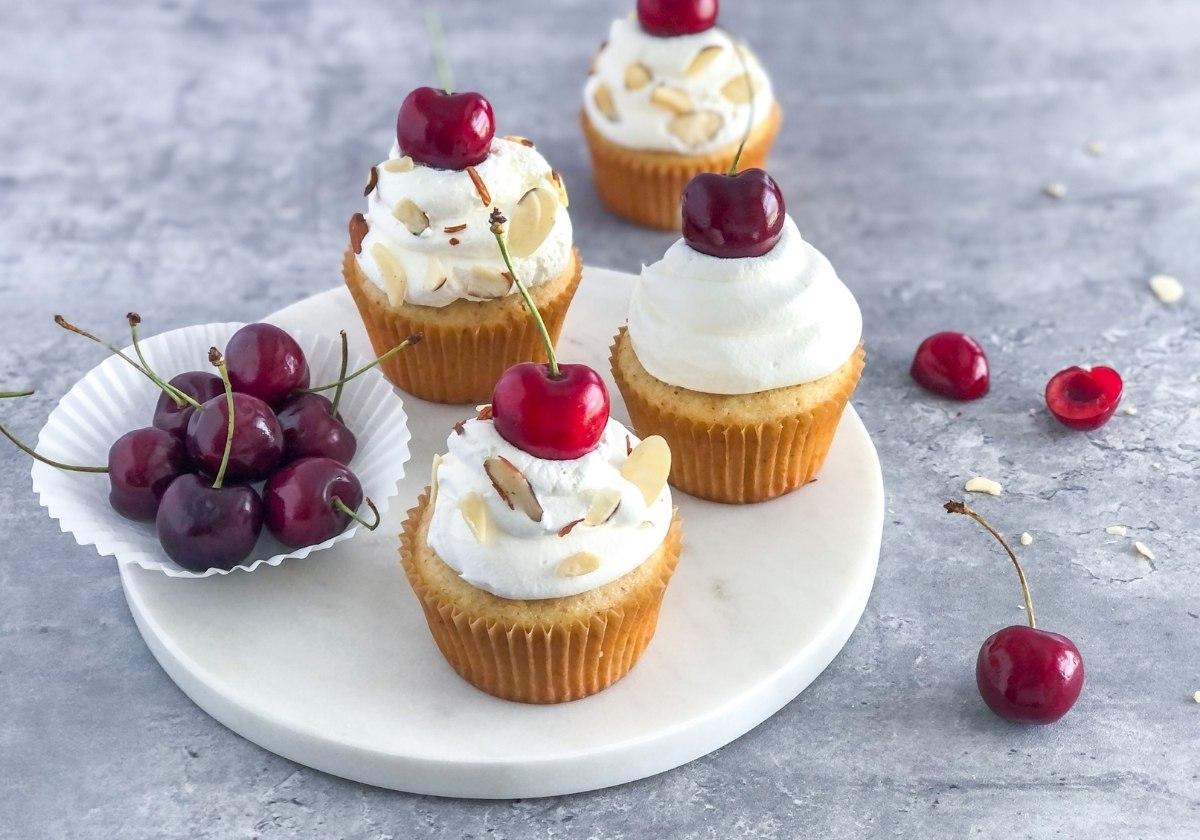 Almond meal, sliced almonds, and almond extract give these honey and cherry-filled cupcakes a classic almond flavor! They're elegant enough for a bridal shower, but surprisingly easy to make. You don't even need an electric mixer.
They're topped with fresh cherries and whipped cream, but you can easily swap that out for buttercream or cream cheese frosting if you want!
Hazelnut Desserts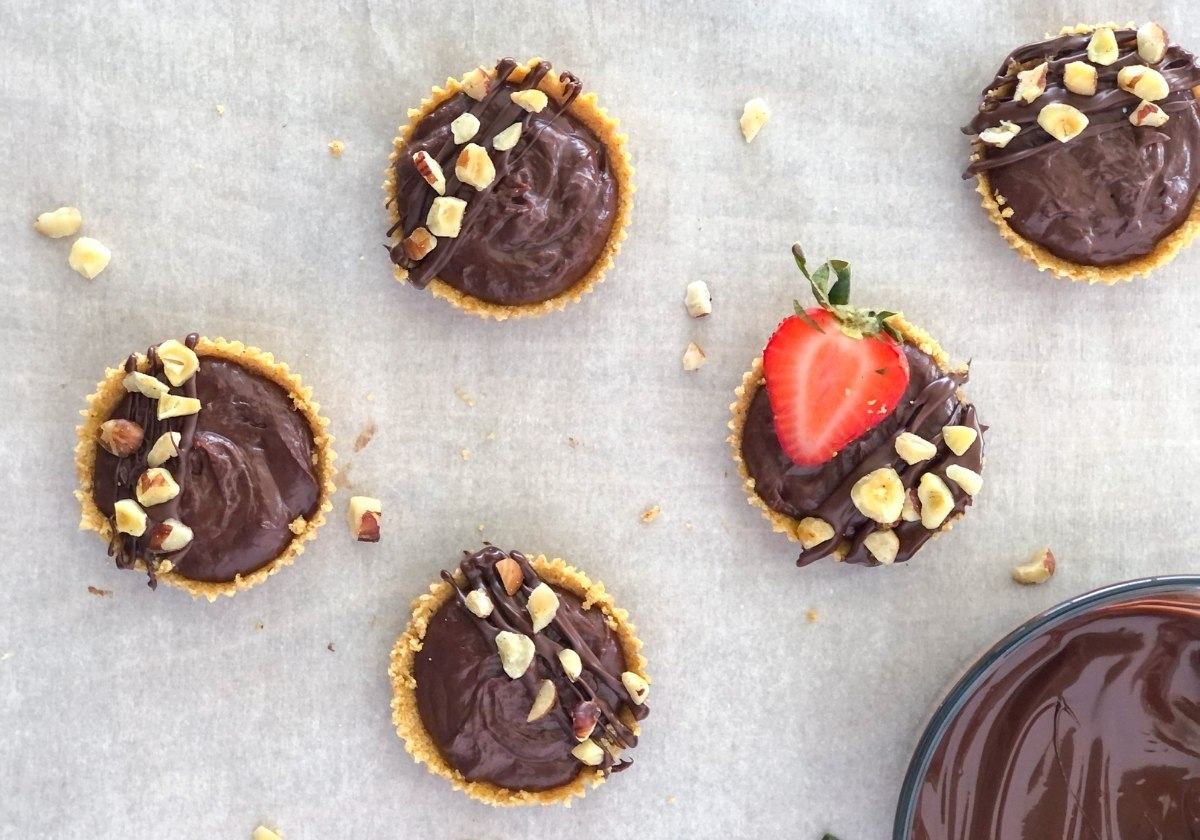 These adorable mini tarts are made with a combination of melted chocolate, Nutella hazelnut spread, Greek yogurt, and a toasted hazelnut graham cracker crust.
They're topped with a melted chocolate drizzle, toasted hazelnuts, and sliced strawberries. Perfect for events (like bridal showers) or tea parties!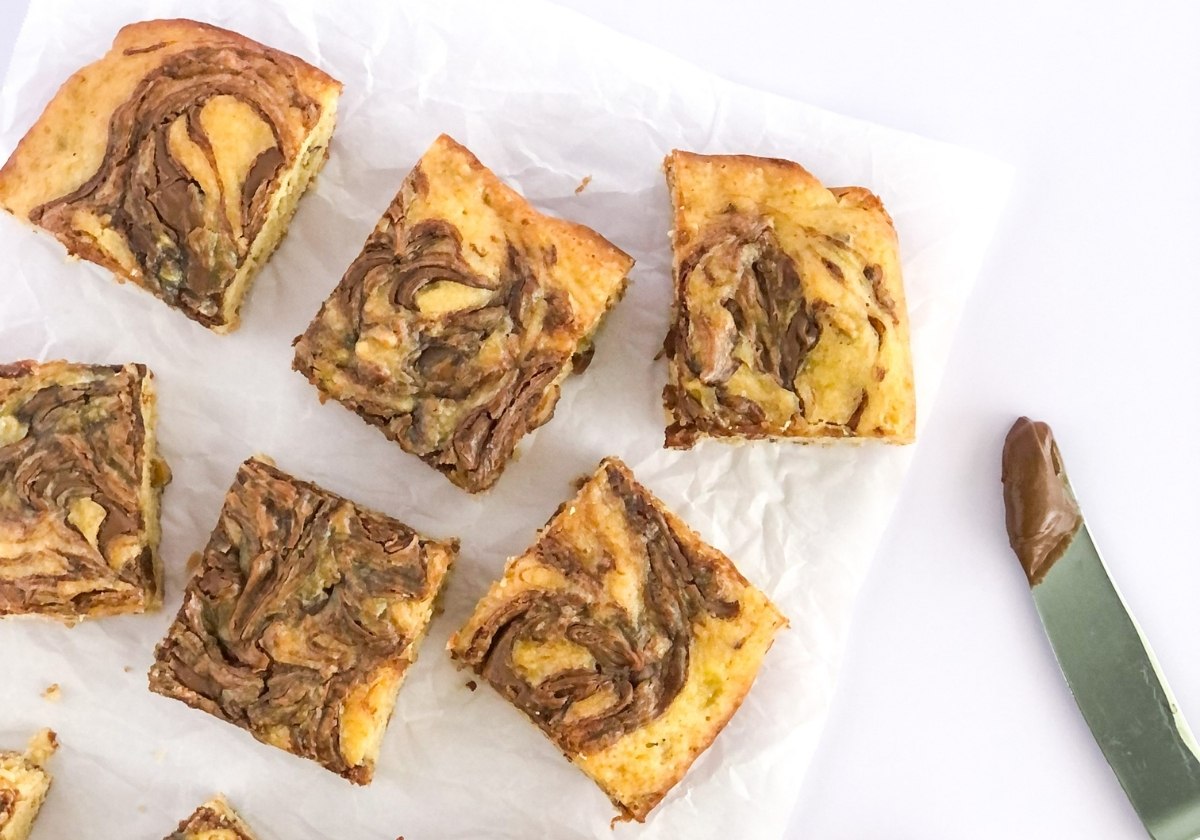 These easy banana bread bars are studded with nutty hazelnuts for a fabulous breakfast treat! It's a flavor match made in heaven.
They feature a sweet Nutella swirl that gets lightly crispy once it's baked.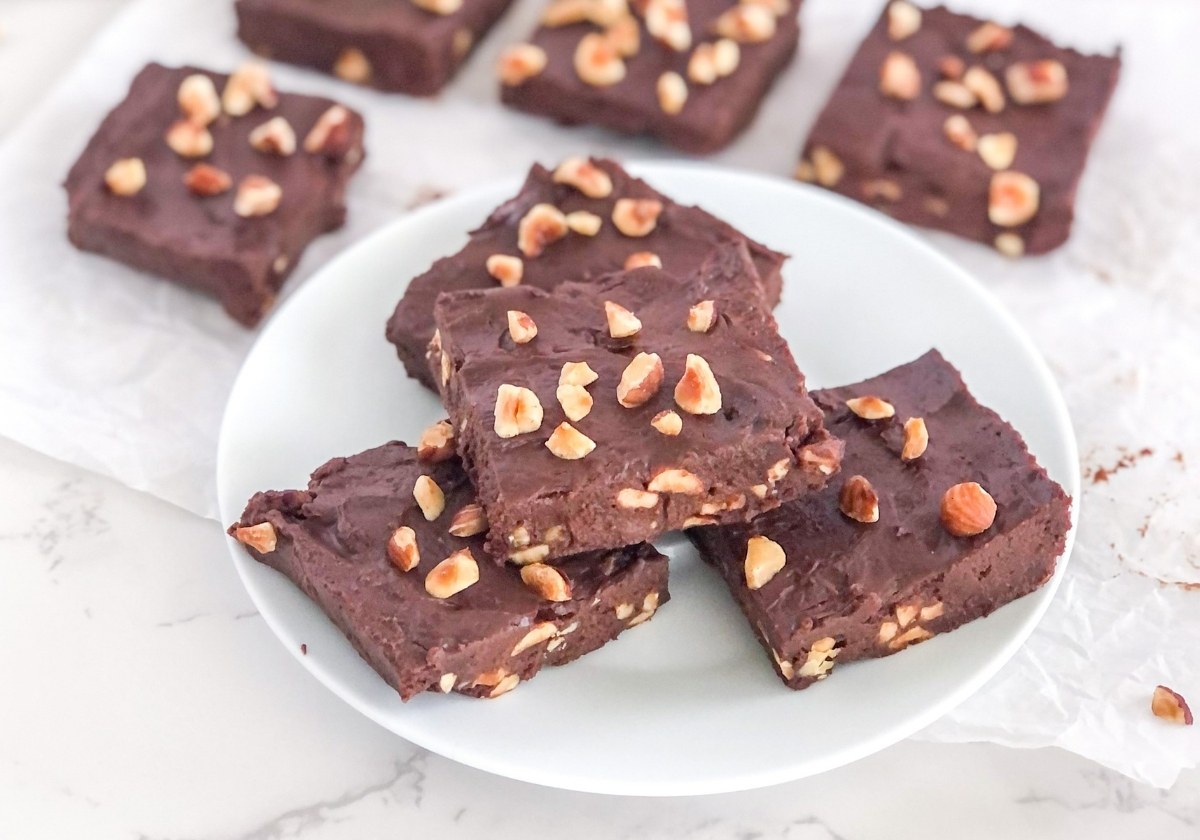 This healthier fudge recipe has a secret ingredient: Greek yogurt! It helps the fudge set, while also giving it a lightly tangy flavor. Plus, it's lower in sugar – there's no need for sweetened condensed milk.
It has a soft texture, and is flavored with toasted hazelnuts, chocolate, and Nutella.
What are your favorite desserts with nuts? Let me know in the comments! I always have a bag of pecans or walnuts on hand, and I'm always looking to try new recipes. 🙂