Pure maple syrup is a fabulous natural sweetener, with a lightly caramelized flavor that's absolutely delicious in desserts. Whether it's the star of the show or acts as more of a flavor enhancer, it's always a welcome addition in my book. For my fellow maple syrup lovers: here are tasty maple syrup dessert ideas you need to try!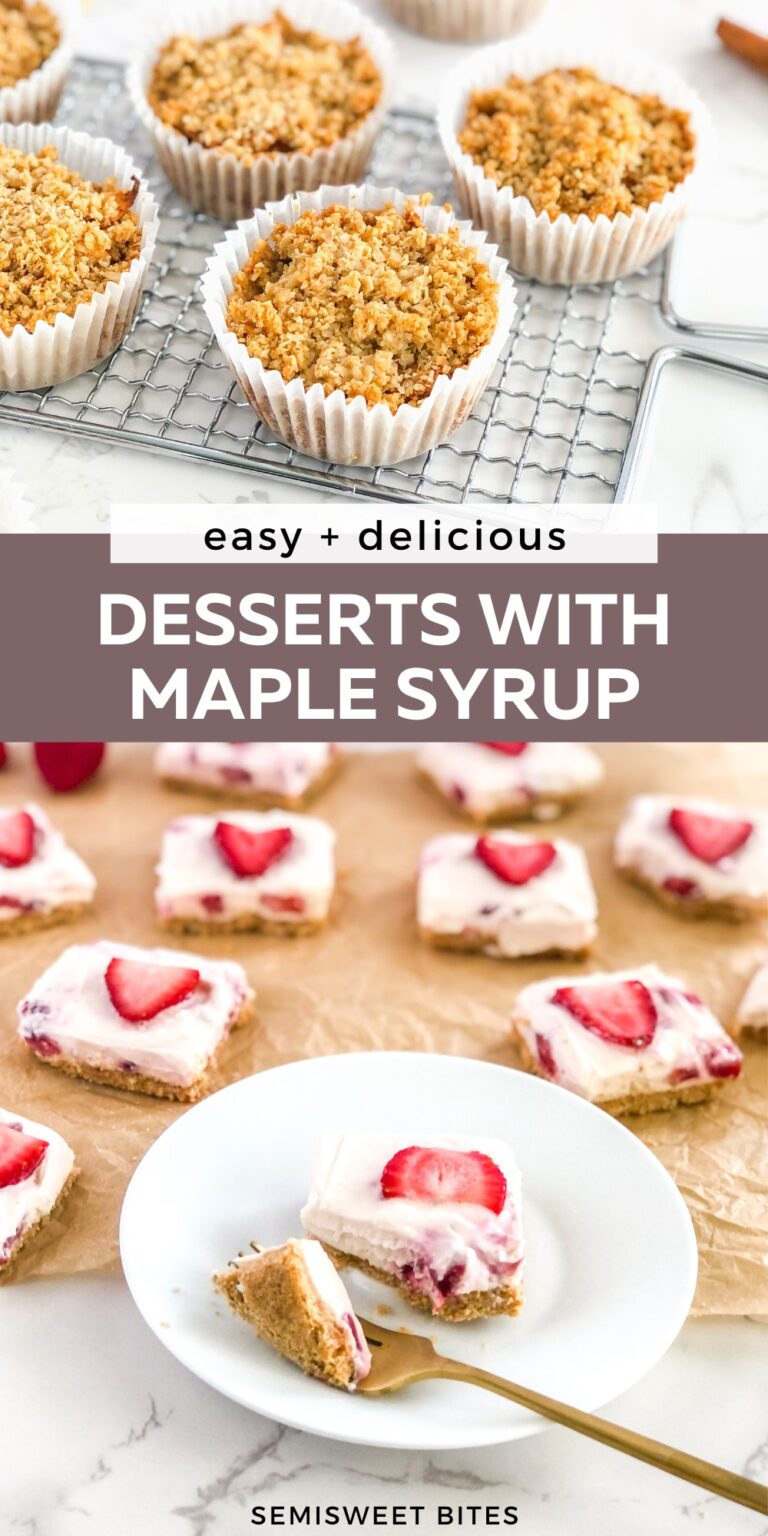 What is pure maple syrup?
Pure maple syrup is not the same as pancake syrup. It's harvested naturally, without any artificial flavors. Essentially, it's sap from maple trees that's been boiled down into a concentrated syrup.
The boiling process helps the sugars caramelize, which gives it its beloved flavor and amber color.
How is maple syrup harvested?
Maple syrup is harvested from maple tree sap. Small holes are drilled into the trees (a process called "tapping") in order to extract the sap.
The sap's water content is then reduced via a boiling process, which also caramelizes the sap's natural sugars.
Easy Desserts with Maple Syrup
I have a love affair with maple syrup. It just makes everything taste better – especially desserts. Plus, it's a fabulous sweetener that isn't as refined as white or brown sugar (but tastes just as good!).
Some of these maple syrup desserts are sweetened with only maple syrup, while some have other forms of sweeteners as well (chocolate, Nutella, Biscoff, sugar, etc.). There's something for everyone, no matter what you're craving!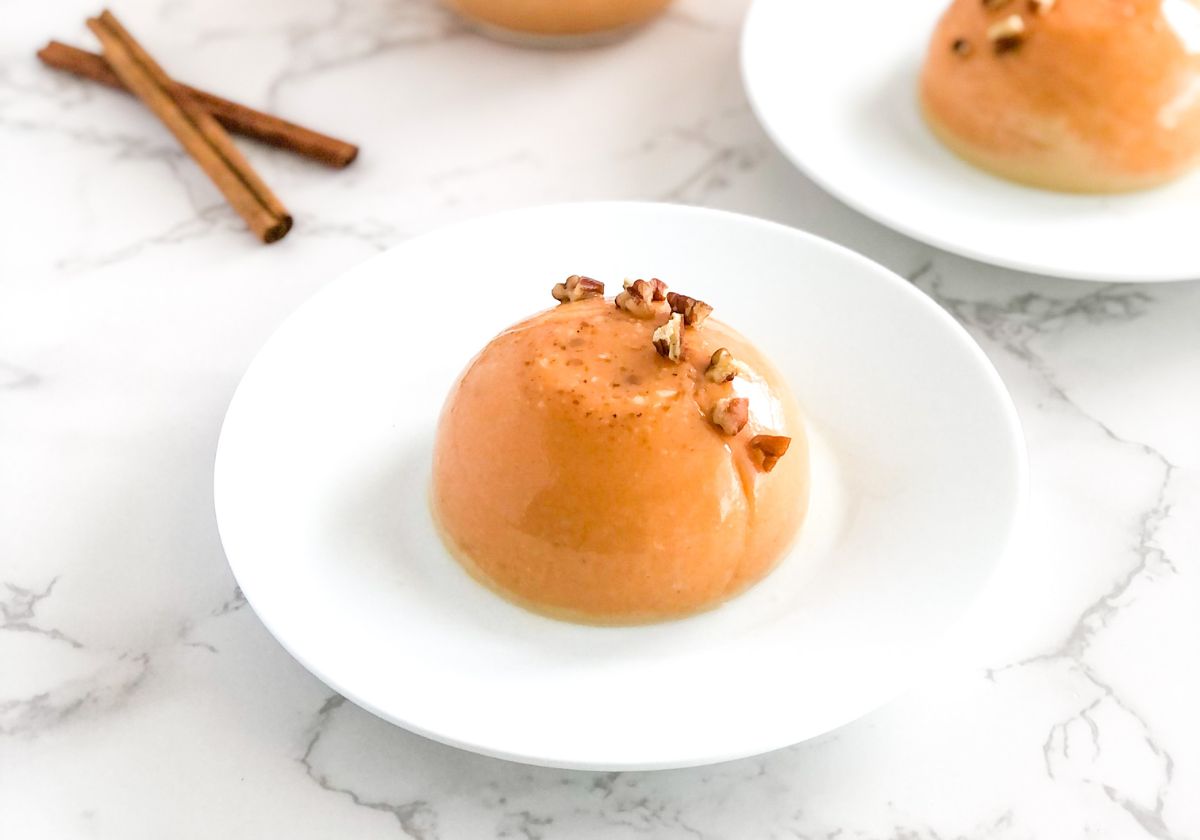 Don't be intimidated by panna cotta – it's actually super easy to make, especially when you swap out the traditional sugar for maple syrup! Plus, you don't need panna cotta molds if you don't have them – you can easily use small glasses or jars instead.
This pumpkin panna cotta is flavored with pumpkin puree, maple syrup, and cinnamon-infused milk. It's a perfect fall dessert for dinner parties, because it looks fancy and you can make it ahead of time!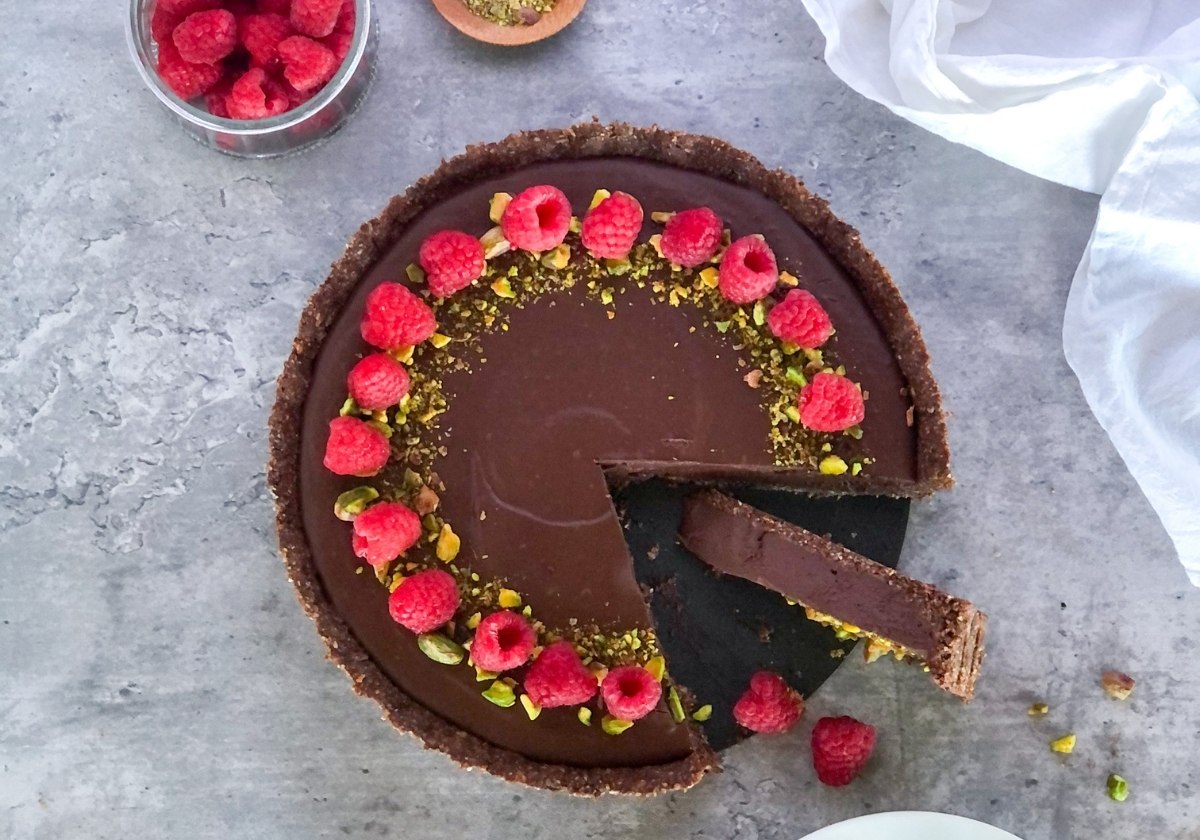 This chocolate tart may look elegant, but it's simple to make and doesn't require any baking! A smooth dark chocolate ganache with raspberry puree sits over a simple chocolate oat crust.
It tastes rich and decadent, yet it's only sweetened with chocolate and maple syrup. I love it topped with fresh raspberries and crushed pistachios, but you can decorate it however you like!
Creamy mini Biscoff cheesecakes are made a little healthier with the addition of maple syrup (plus a little powdered sugar), and swapping out some of the cream cheese for Greek yogurt!
They're easy to make, deliciously spiced, and don't need any baking. Just mix, assemble in a lined muffin tin, and chill in the refrigerator to set.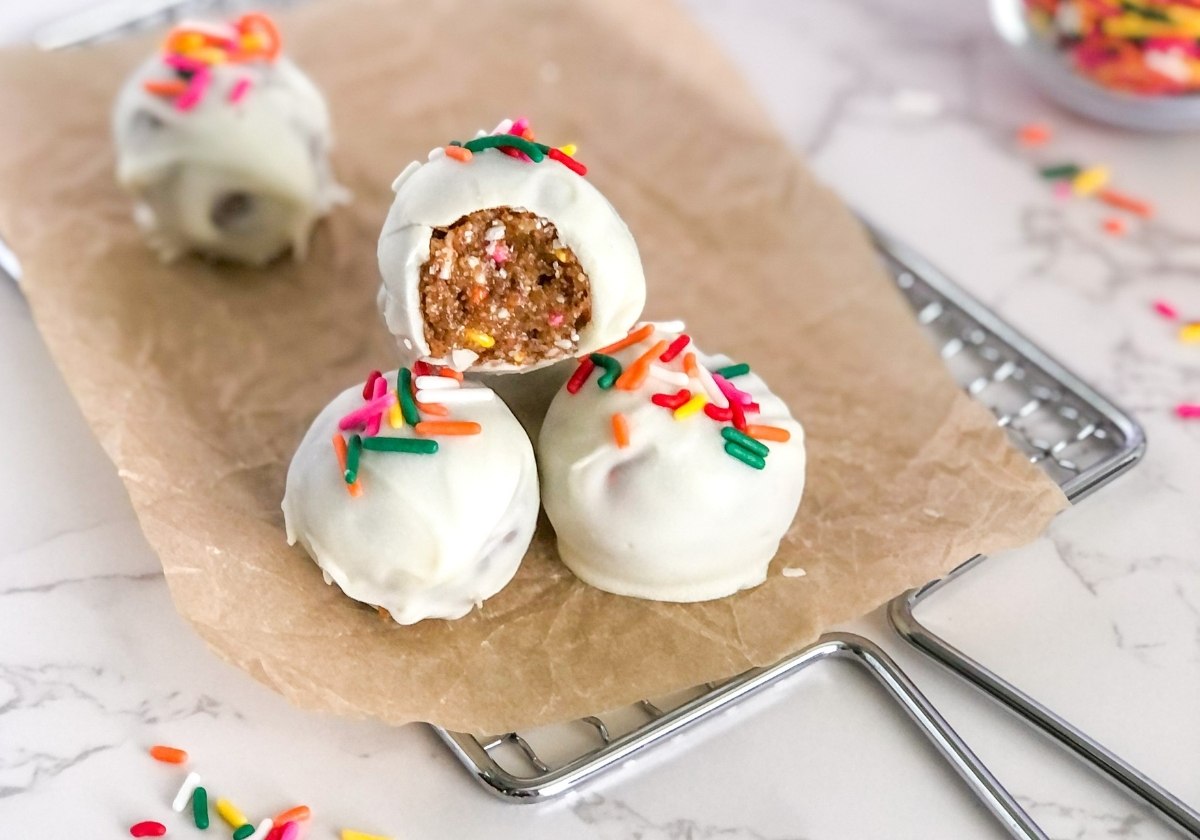 Reminisce on the vanilla funfetti birthday cakes of your childhood with this healthier treat: no bake birthday cake truffles!
They're made with oat flour (which is super easy to make in your blender with regular oats), almond butter, maple syrup, vanilla extract, and plenty of sprinkles.
The filling is rolled into balls, chilled, then dipped in melted white chocolate and topped with more sprinkles!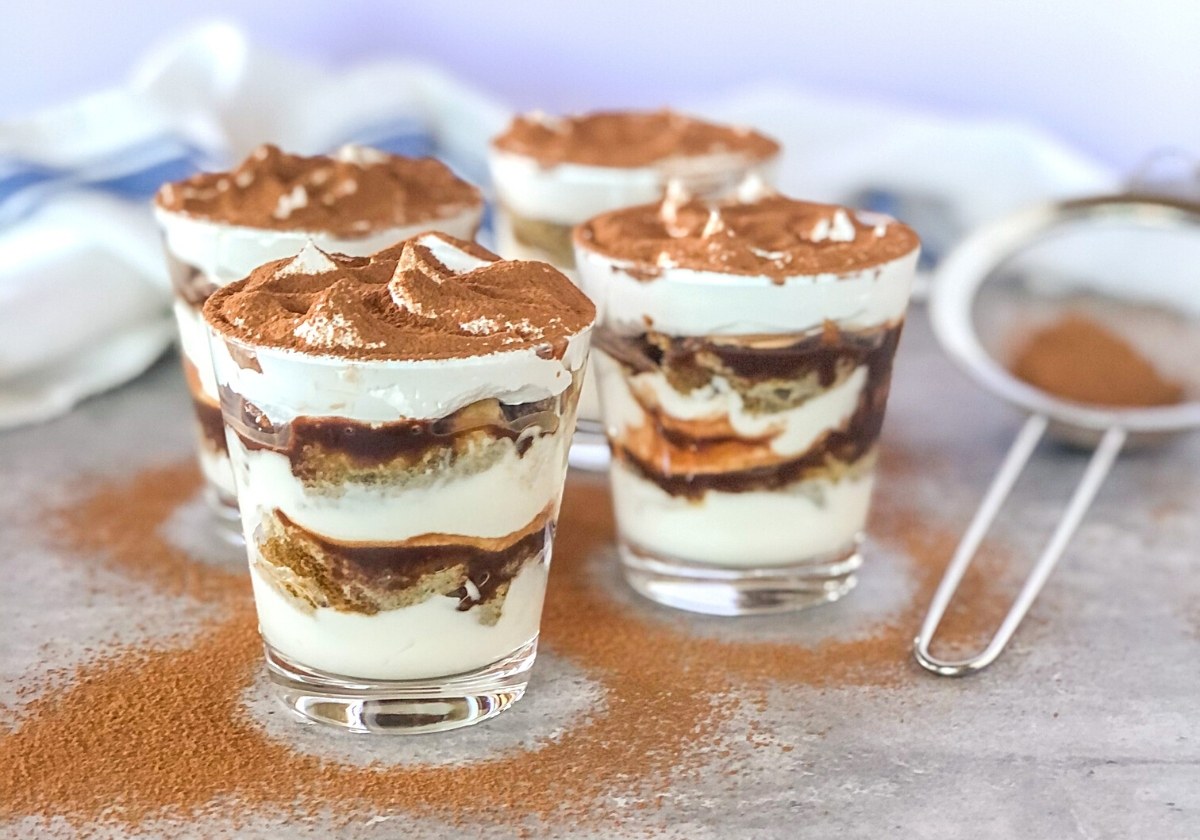 Here's another classic dessert that seems fussy, but is simple to make – especially when you make it in individual jars!
These Nutella tiramisu parfaits are layered with a Greek yogurt and mascarpone cheese mixture (sweetened with maple syrup), coffee-soaked ladyfingers, and Nutella hazelnut spread. Cocoa powder is sifted on top for a finishing touch.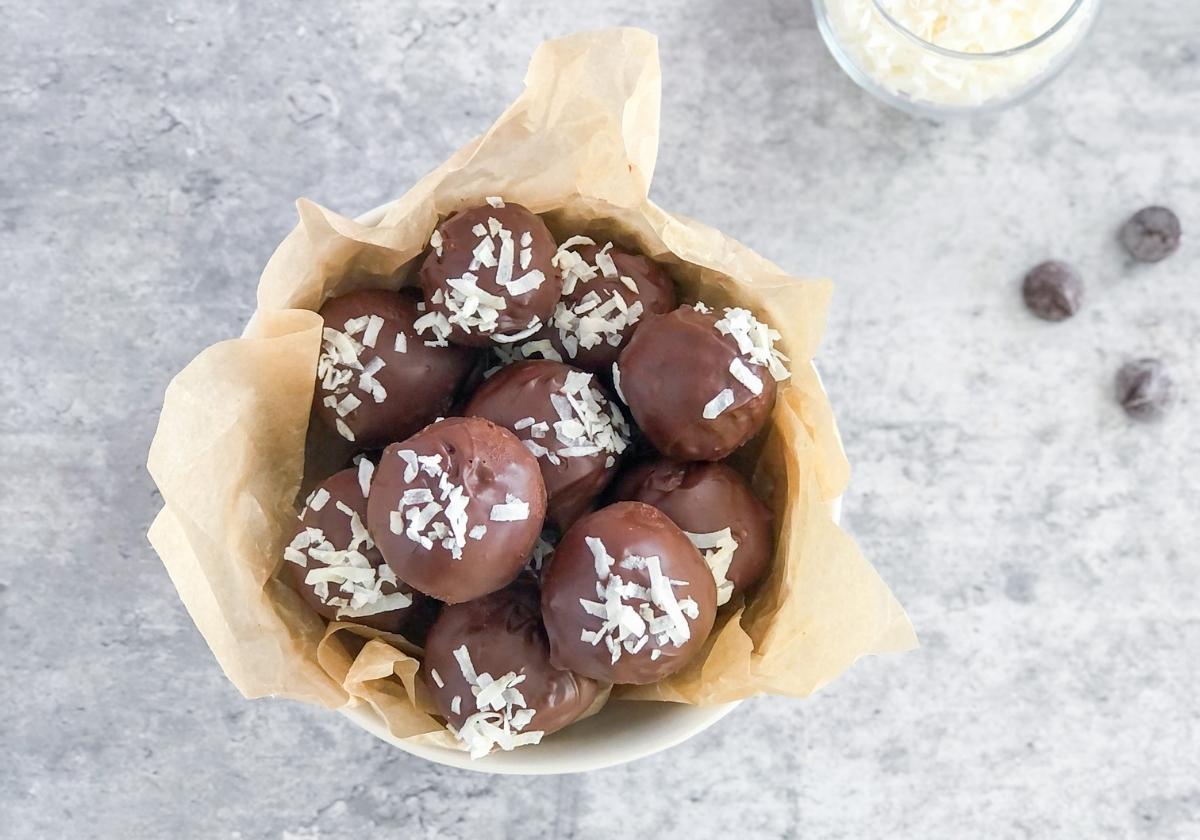 These healthier chocolate truffles taste like Almond Joy candy bars – but they're better for you (and sweetened with maple syrup)!
The filling is desiccated coconut and almond butter with maple syrup, which is coated in a smooth melted chocolate and topped with more shredded coconut.
Make a batch of these healthier treats and keep them in your fridge to enjoy all week long!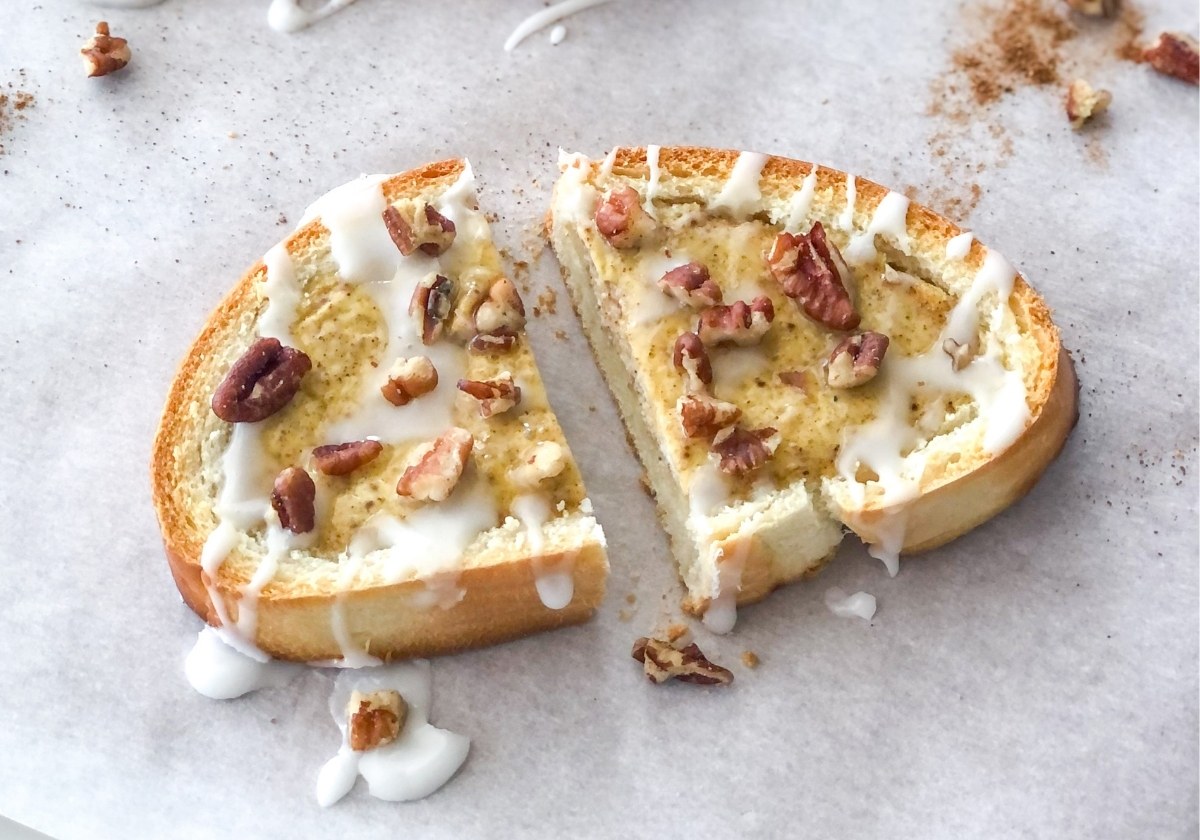 This easy sweet snack tastes like a cinnamon roll, but it's better for you (and easier to make at home!).
A maple-sweetened egg and yogurt custard gets baked into a thick slice of bread, then is drizzled with quick icing and sprinkled with chopped pecans. Simple and delicious!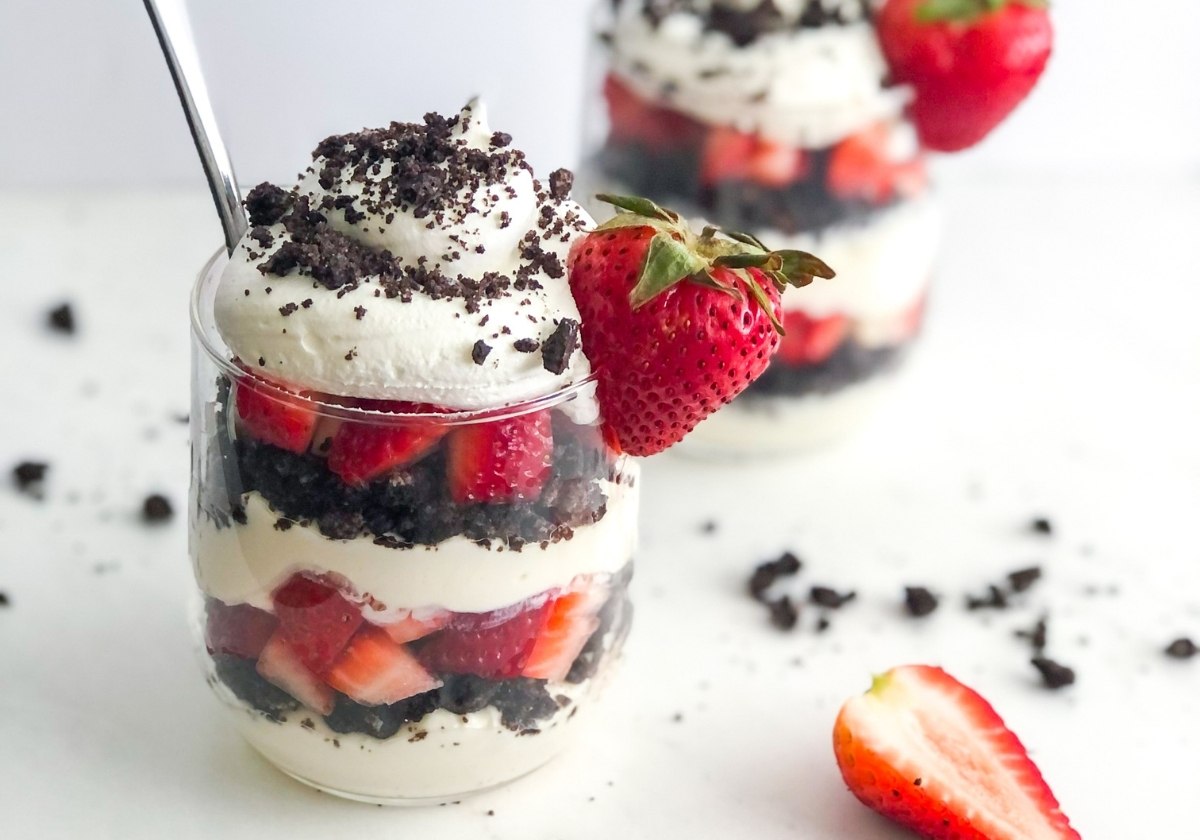 Oreos and strawberries are a match made in heaven, and with creamy no-bake cheesecake in the mix? It's just unmatched!
This might be the easiest way to make a cheesecake dessert – plus, it's sweetened with maple syrup (plus crushed Oreos) and lightened up with some Greek yogurt.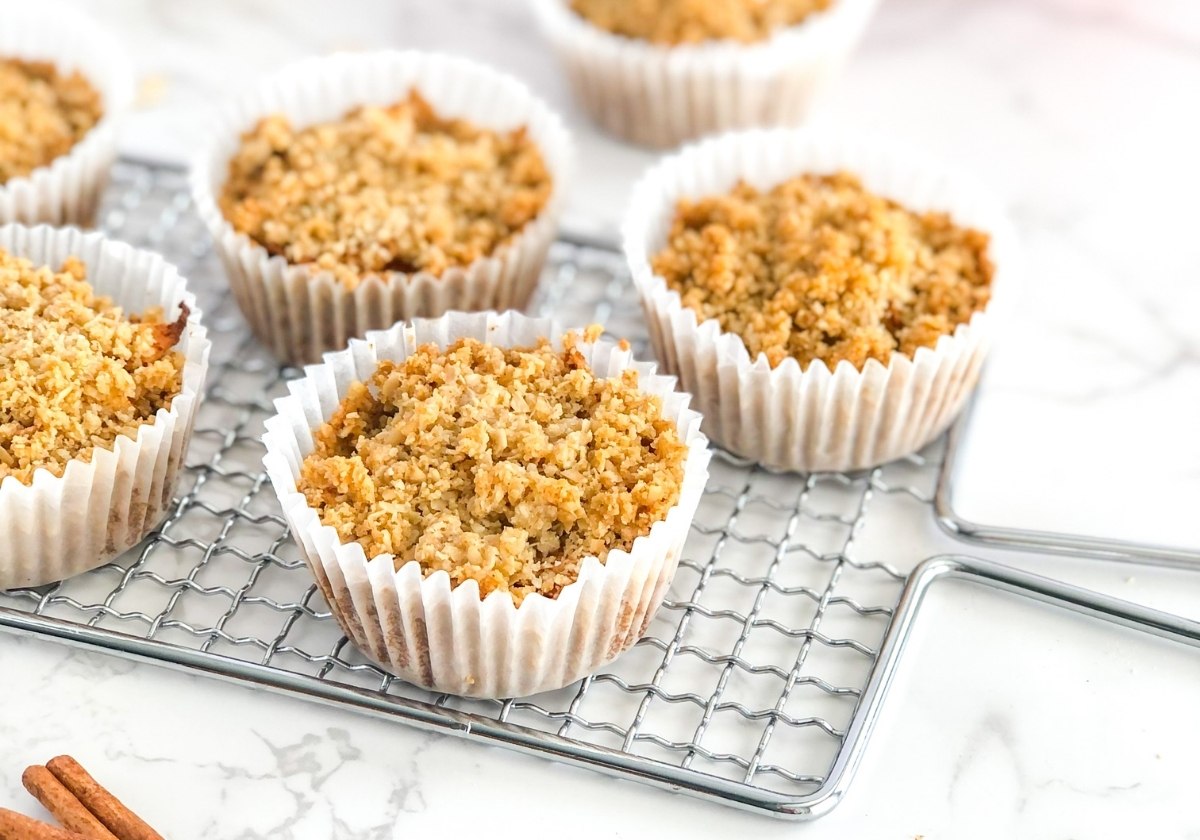 Golden brown mini apple crumble tarts are the perfect fall dessert! They're sweetened with maple syrup and brown sugar, with a delicious oat crust and tender, baked cinnamon apples inside.
These little tarts are super easy to make, and all you need is a muffin tin and some cupcake liners!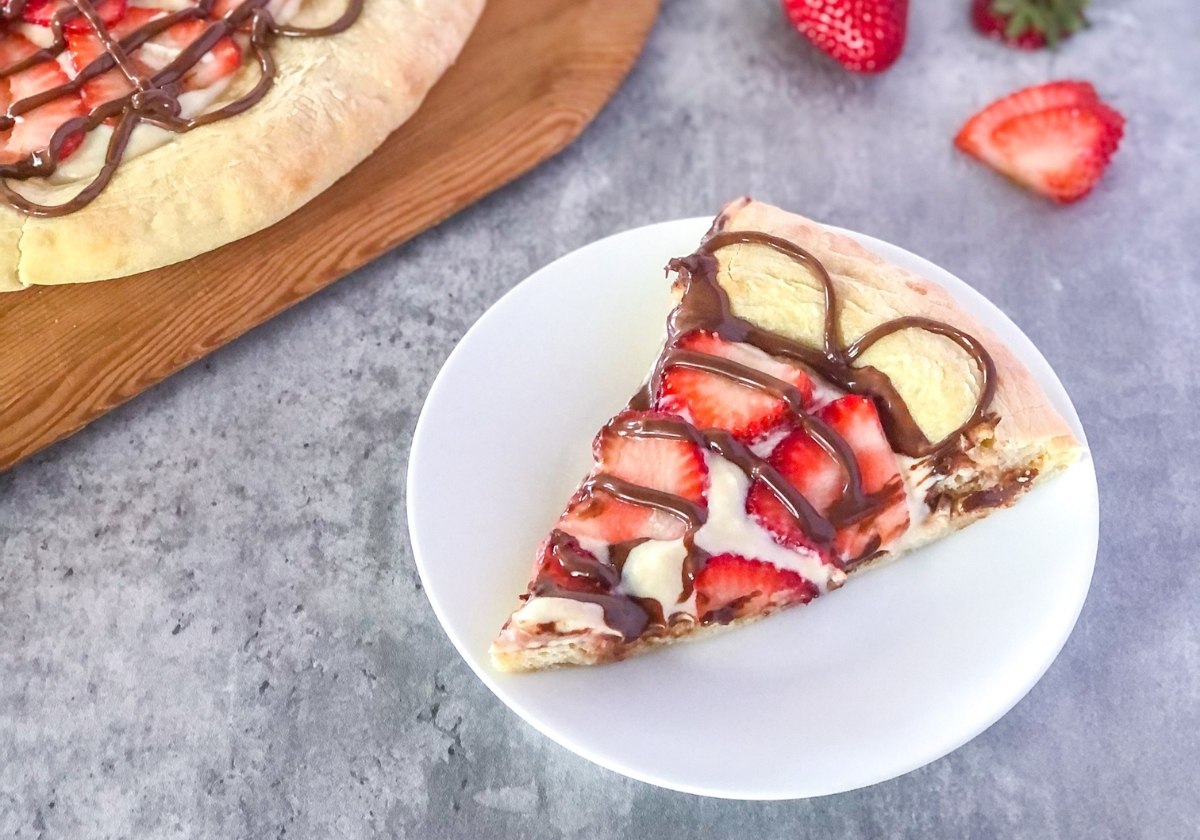 Grab some plain pre-made pizza dough at the grocery store (my favorite is Trader Joe's dough) and bake up this beauty!
The sauce is a yogurt mascarpone cream (sweetened with maple syrup, of course), with sliced strawberries and melted chocolate with Nutella drizzled on top. Great for feeding a crowd!
If you love Biscoff cookies, you'll love these super chocolatey no bake brownie truffles!
Crushed Biscoff cookies are mixed with melted chocolate and Greek yogurt, then topped with more chocolate and Biscoff. The flavor combination is dreamy!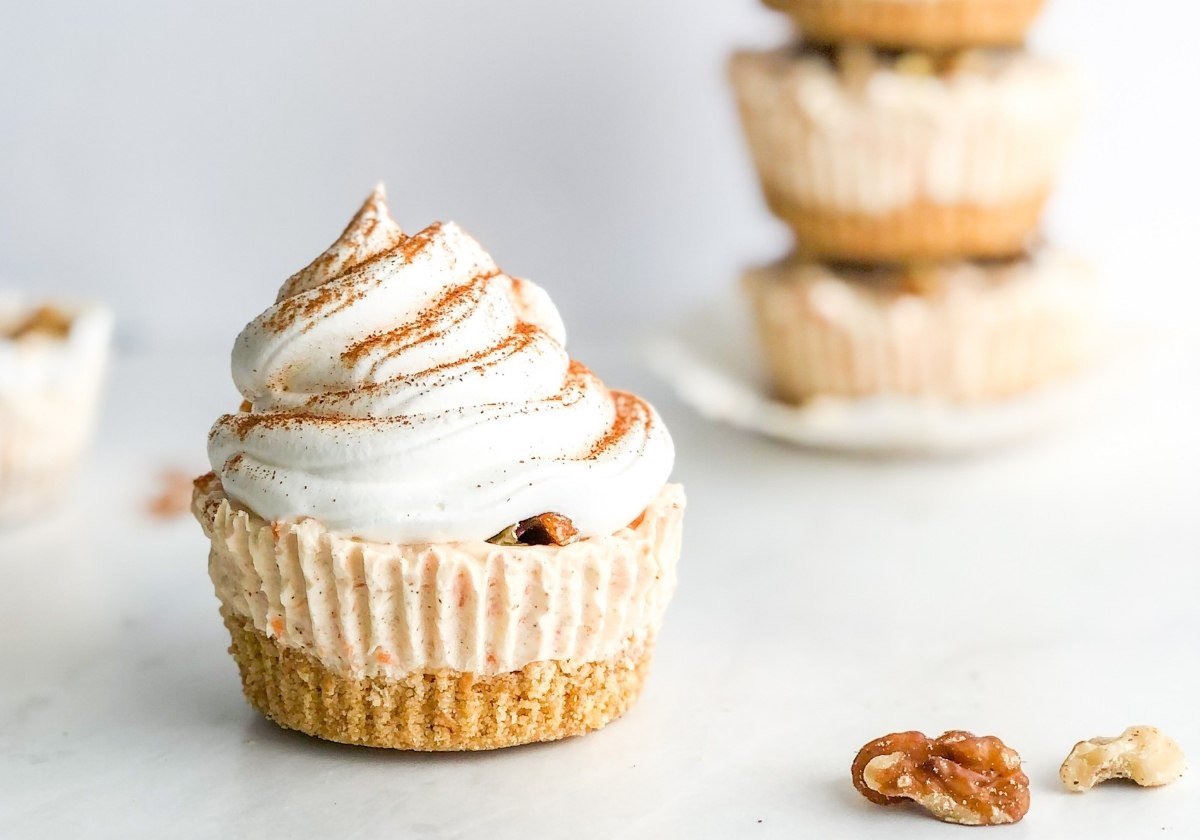 Sink your teeth into this adorable spring dessert: no bake carrot cake cheesecakes! They're deliciously spiced, with a simple graham cracker crust and chopped walnuts on top.
These easy mini cheesecakes are sweetened with maple syrup and powdered sugar. If you're feeling extra fancy, top them with cinnamon-dusted whipped cream!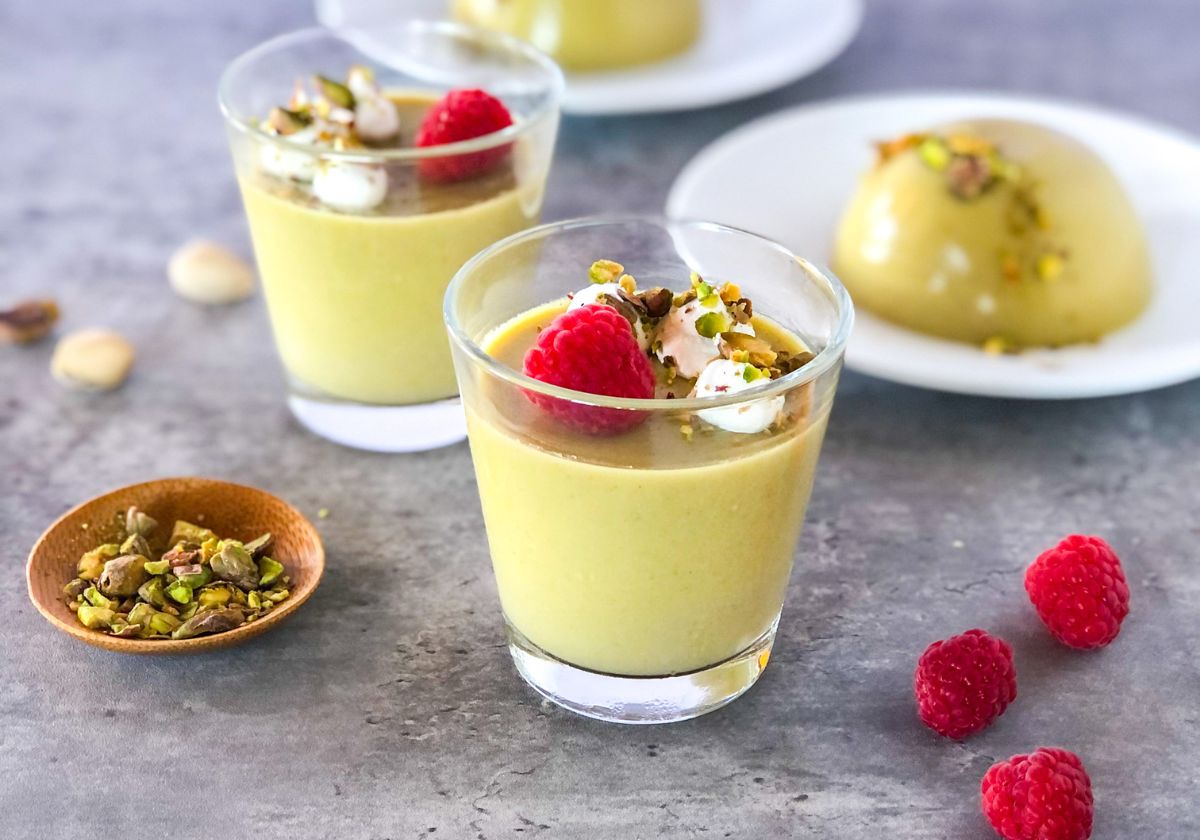 Here's another tasty (and easy!) panna cotta recipe that's sweetened with maple syrup: pistachio panna cotta!
It's made with pistachio butter, milk, and Greek yogurt, and is extra delicious topped with raspberries and whipped cream.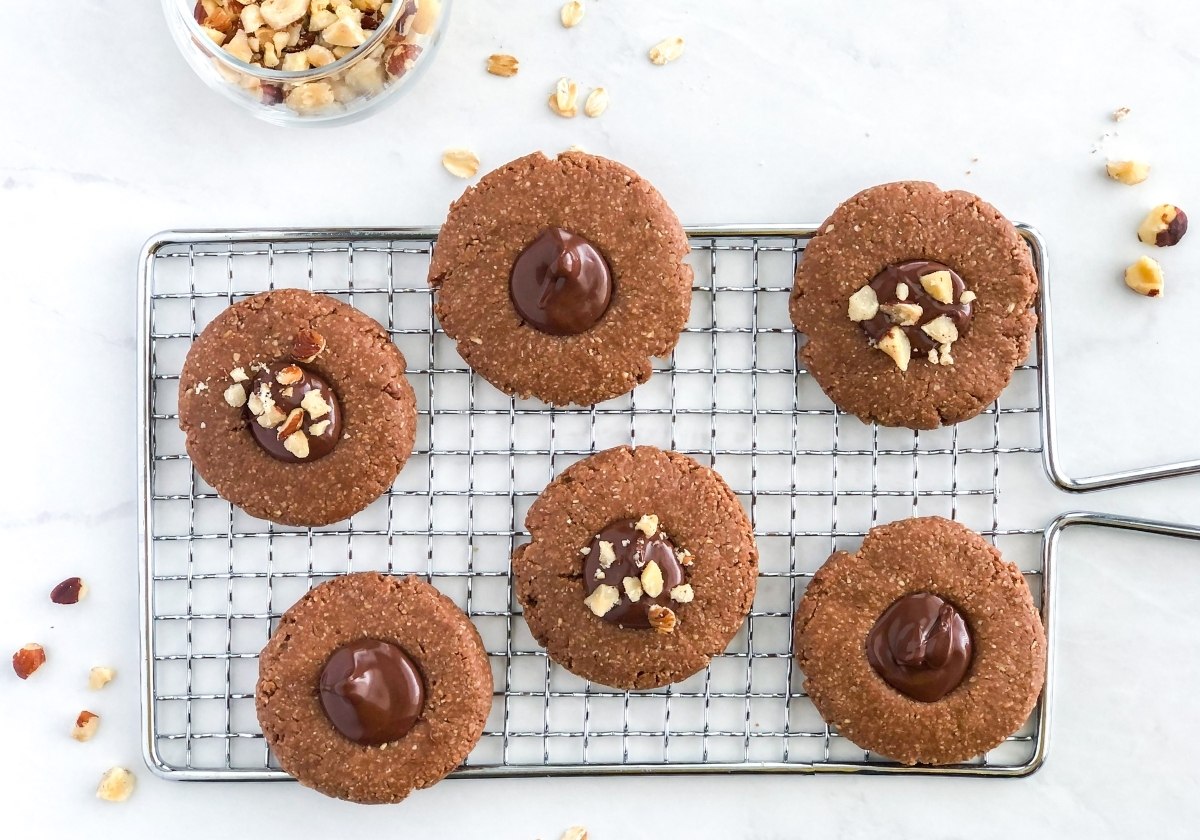 Need a quick dessert to satisfy that chocolate craving? Try these no bake chocolate Nutella cookies! They're made with oat flour (which is easy to make at home), melted chocolate, hazelnut spread, and maple syrup.
The melty chocolate Nutella centers are drool-worthy, too. Sweet and chocolatey!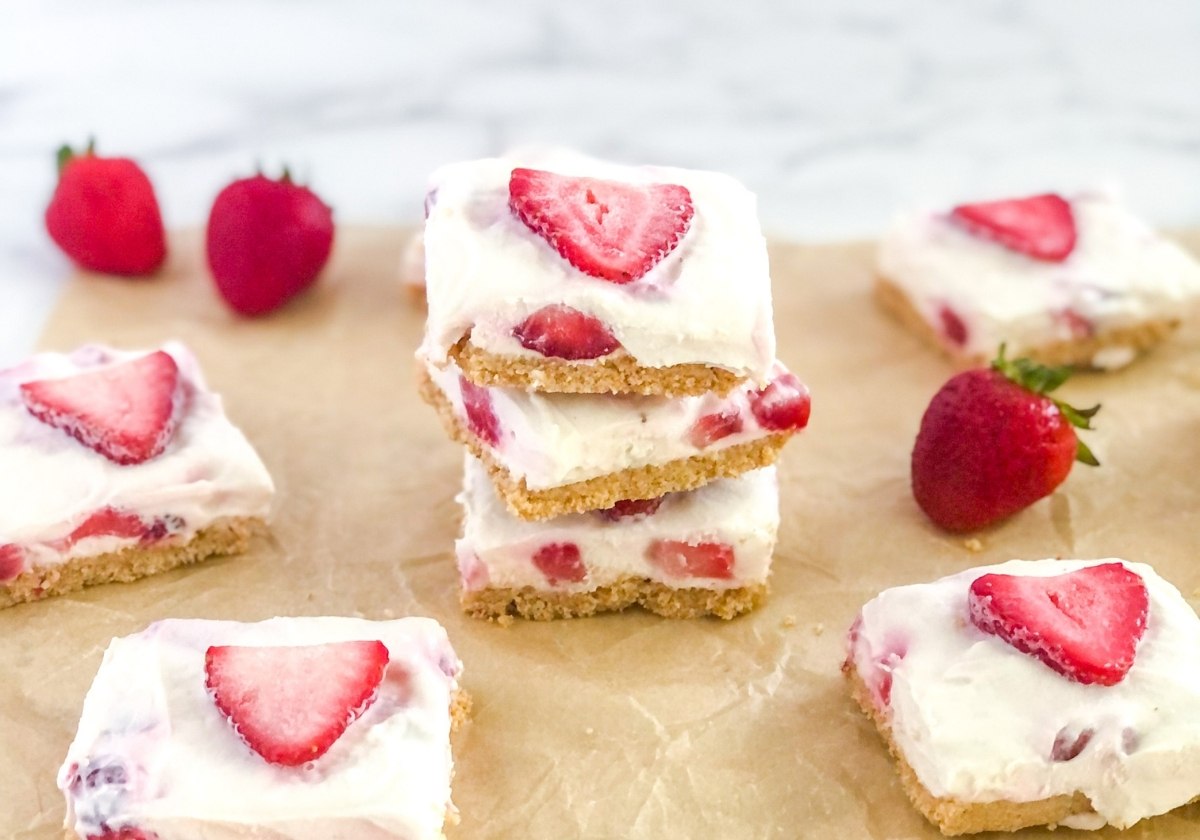 These adorable no bake cheesecake bars are studded with chopped strawberries and sweetened with melted white chocolate and maple syrup.
You can make them with other berries, too: raspberries, blueberries, or blackberries would all be delicious!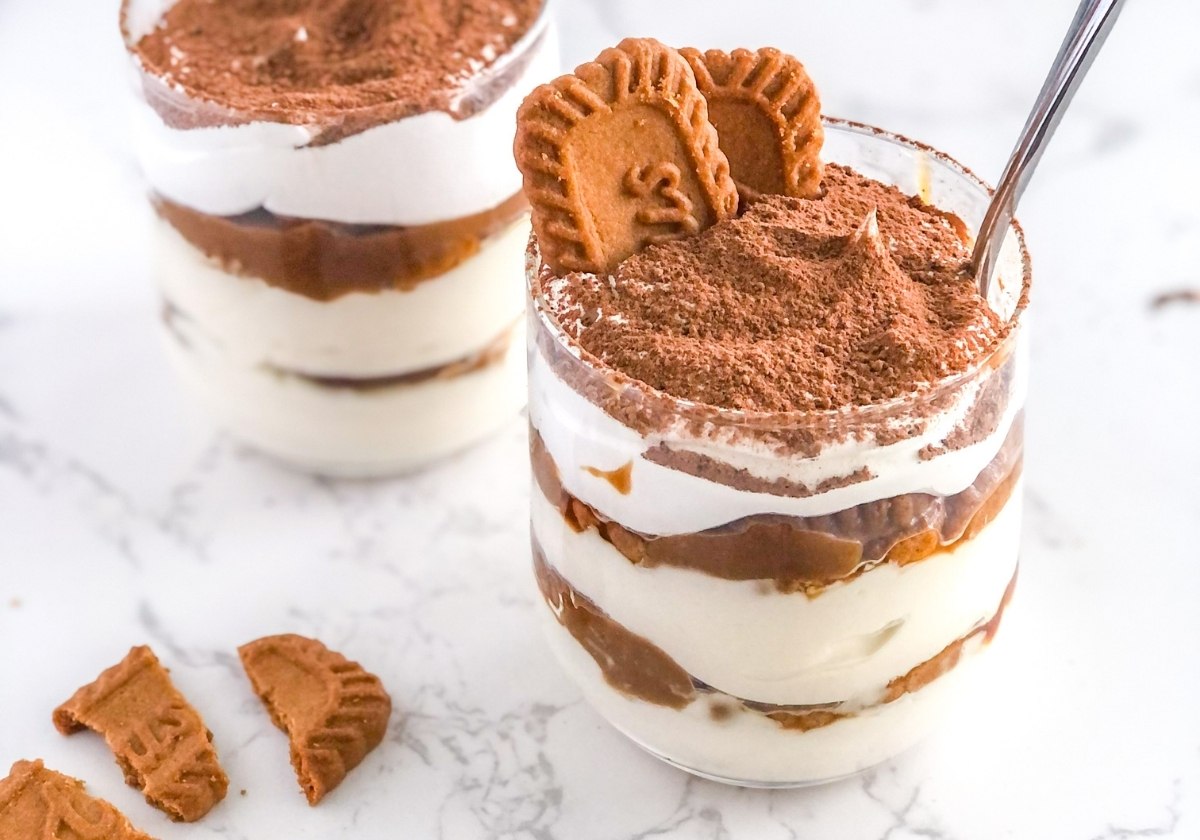 This twist on tiramisu features coffee-soaked Biscoff cookies and cookie butter (a.k.a Biscoff spread) for the ultimate Biscoff dessert recipe.
The cream layer is made of Greek yogurt and mascarpone cheese mixed with vanilla extract and maple syrup, for just the right amount of sweetness.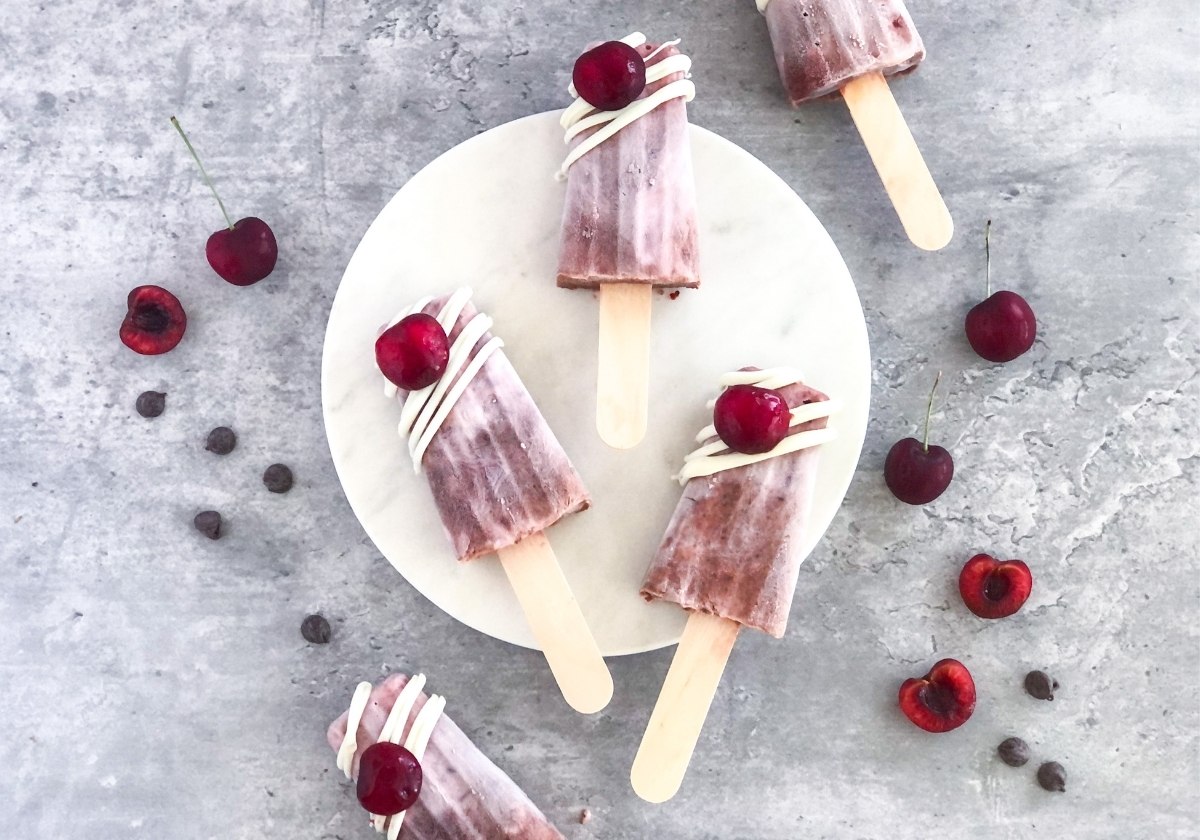 Looking for a healthy, lightly sweet snack? You'll love these homemade cherry popsicles! Fresh cherries are lightly blended with chocolate chips, then stirred into a yogurt maple syrup mixture and frozen.
They're a perfect way to cool down on a hot day!
Is maple syrup gluten free?
Yes, pure maple syrup is naturally gluten-free. But be sure to check the packaging of the brand you buy, as some syrups may be manufactured in the same area as foods with gluten.
Does maple syrup expire?
Maple syrup can last for several years if stored properly, but it can expire (i.e. it can grow mold) in some cases. At minimum, pure maple syrup should last at least several months to a year once opened, if stored in the refrigerator.
It often lasts the longest when stored in an airtight glass container (rather than a plastic one).
Unopened, maple syrup should be stored in a cool, dark place (like a pantry). Once opened, be sure to store it in the fridge.
Do you have a favorite maple syrup dessert? Let me know in the comments!