It's hard not to love the silky smooth texture of panna cotta. And let's not forget how simple it is to make – and its versatility! Not only can you make essentially any flavor you want, but with these fun and elegant panna cotta molds, you'll look like a fancy dessert chef.
So, if you're having a dinner party (especially if it's themed) or you want to impress your family and friends with a beautiful – yet easy – dessert, you might want to get your hands on one of these molds!
But first, let's start with a little background on panna cotta: what it is, where it comes from, and how it's made.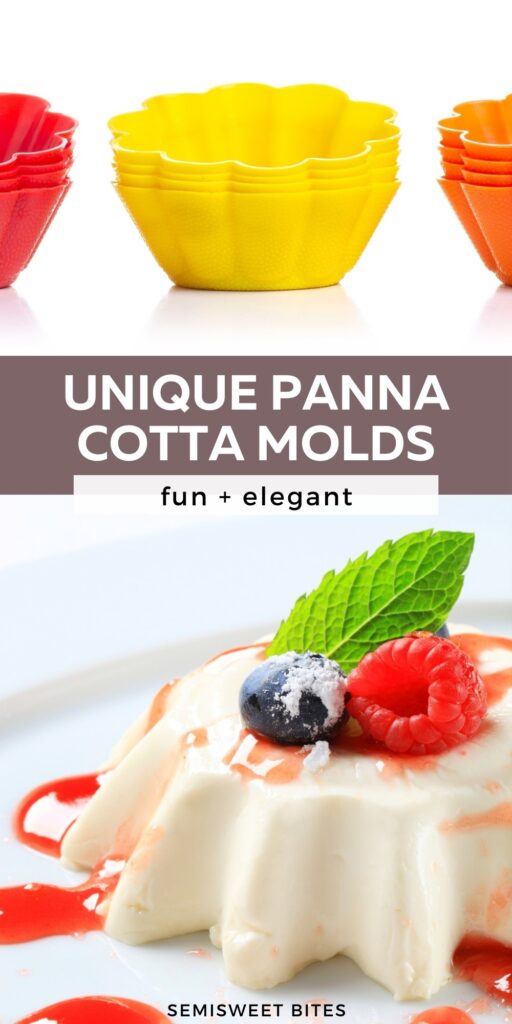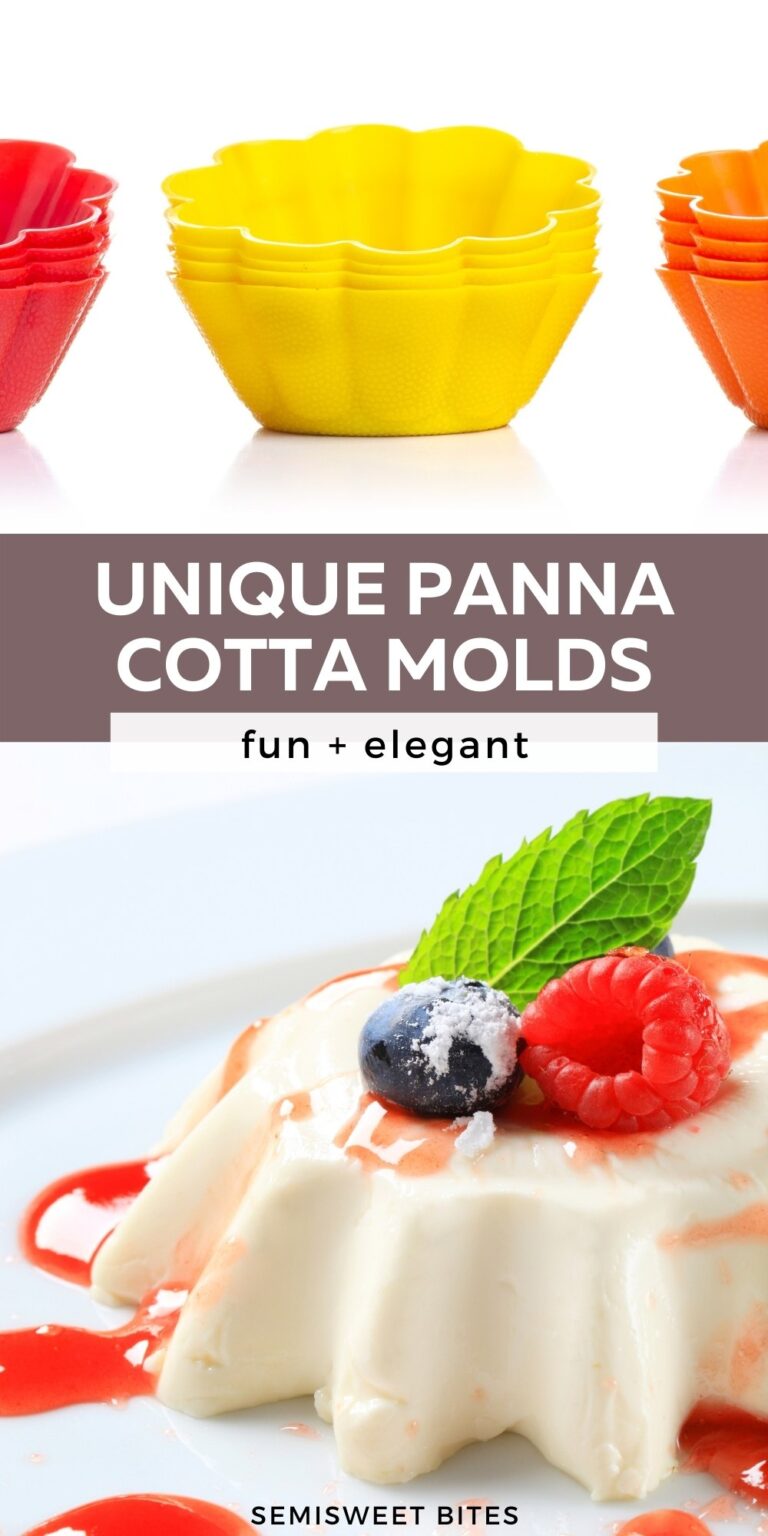 **Please note, some links on this page are affiliate links. If a purchase is made through an affiliate link, I may receive a commission at no cost to you. As an Amazon Associate, I earn from qualifying purchases. See my full disclosure policy here. Thanks for your support!
What is panna cotta?
Panna cotta is like a cross between pudding and jello. It's often made with sweetened cream and gelatin, and is served chilled. It can be served in a molded form, or still in the glass.
Personally, I like to use a combination of Greek yogurt and milk as a substitute for the heavy cream (especially because it adds a little tang). Here's a recipe for my chocolate Nutella panna cotta if you want to try it out!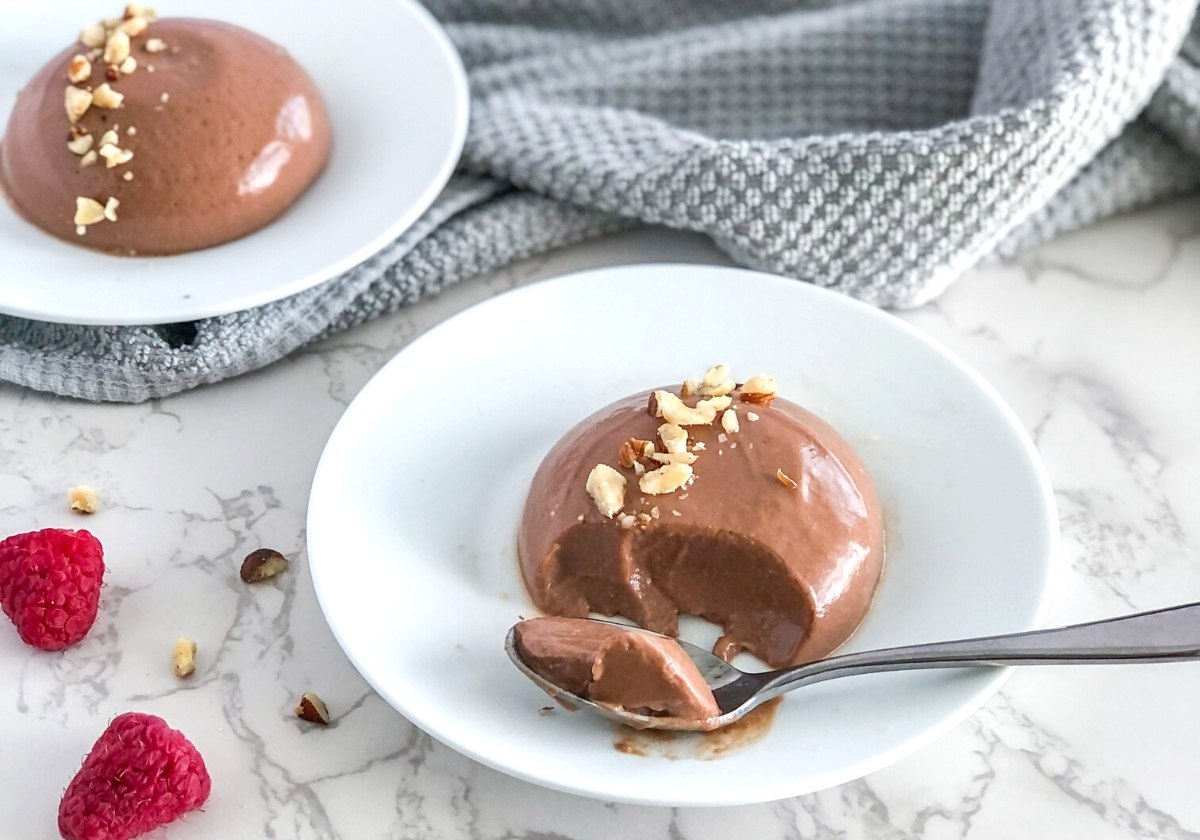 Where does panna cotta come from?
Panna cotta originates from Italy – which makes sense, since it's hugely popular there! More specifically, it's believed that panna cotta came from a region called Piedmont in northern Italy.
The words 'panna cotta' in Italian translate to 'cooked cream'.
How It's Made
Gelatin is bloomed, then heated in a saucepan with cream or milk (and sugar) to dissolve the gelatin. Additionally, flavor is added – traditionally vanilla.
The mixture gets poured into a mold and is chilled in the fridge until it sets. Then, it's removed from the mold and served with additional toppings, such as berry sauce or whipped cream.
How long does it take to set?
Panna cotta takes at least 2-4 hours to set in the refrigerator, depending on the size of your panna cotta mold. (Larger molds hold more panna cotta, which may take longer to set.) It's safest to wait at least 8 hours before removing panna cotta from its mold.
Fun & Elegant Panna Cotta Molds
Why use a mold for panna cotta? Technically, you can use other things you have lying around your kitchen: small glasses, ramekins, etc. But silicone molds make the removal process a lot easier.
You can pop them out from below, and they're thinner than ramekins, so running them under hot water will help you remove them more quickly.
Plus, molds are fun to use! You can choose your favorite shapes/designs and create beautiful panna cotta desserts with surprising ease.
Basic Molds
Basic panna cotta molds can be just as beautiful as "fancy" ones, especially if you add toppings to your panna cotta! These simple molds are easy to use and perfect for classic panna cotta.
Silicone Dome Mold
Flat Cylinder Mold
Elegant Panna Cotta Molds
These molds can probably be filed under both 'Fun' and 'Elegant'. They're beautiful and romantic – definitely a showstopper for date night panna cotta!
Gemstone-Shaped Mold
Silicone Spiral "Mini Bundt-Cake" Mold
Classic Grooved Dome Molds (Plastic)
Silicone Rose Mold
Fun Molds
These panna cotta molds are definitely ready for a good time! With fun and unique shapes, you're bound to find something perfect for any occasion.
6-Cavity Silicone Flower Mold
Silicone Mini Basket Mold
These are extra fun, because with the basket shape, you can put anything you want inside them! Go as wild on the toppings as you like, with fruit, nuts, chocolate, and more.
Individual Flower-Shaped Molds (Variety)
Jack-O-Lantern Halloween Mold
Spooky panna cotta might be the coolest panna cotta there is. Just sayin'. 🙂
Individual Variety-Shaped Molds
This is a variety pack of individual molds with different shapes. It's a perfect choice if you can't choose between basic, elegant, or fun! It has simple shapes, spiral/bundt cake-style shapes, and fun shapes like hearts and stars.
Flower & Heart/Romantic Patterned Mold
These molds come with a variety of shapes, all with a romantic theme. They feature hearts, flowers, and mini cake shapes, all with unique detailed patterns.
How to Remove Panna Cotta from Molds
Here are a few tips for removing panna cotta from molds:
Use a silicone mold: I know this one might sound obvious, but it really does make things easier!
Run hot water over the mold (without touching the panna cotta) to loosen the panna cotta. It should slowly begin to slide out. You can also dip the molds in a bowl of hot water for 5 seconds instead. Repeat as needed.
Place a plate upside down over the mold and then flip it right side up (below the mold) to catch the panna cotta.
Use a thin spatula or knife to gently loosen the side of the panna cotta from the molds. This should be a last resort, though!
Panna Cotta Flavor Ideas
Panna cotta is extremely versatile, since it's essentially a blank (sweet and creamy) slate for any flavor you can cook up! You can add chocolate, fruit (either pureed or small pieces), spices, spreads, herbs, citrus, coffee…the list goes on.
Basically, anything that would taste good in a smoothie would probably be delicious as a panna cotta flavor! This pistachio panna cotta is creamy and delicious, and this maple pumpkin panna cotta is perfect for fall.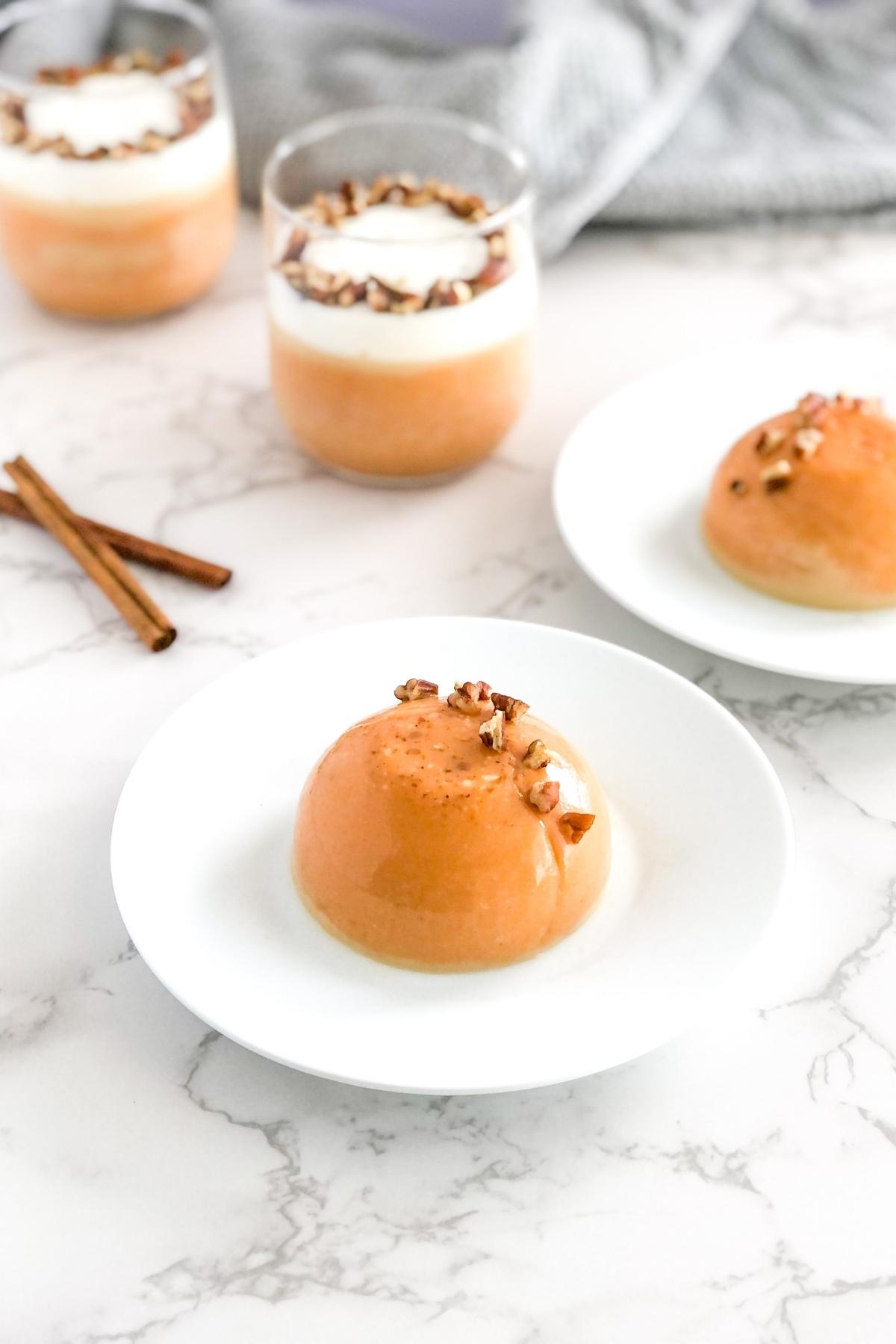 Now, go forth and whip up some jaw-dropping panna cotta with these fabulous molds! Let me know your favorite panna cotta flavor in the comments. 🙂