If you have a sweet tooth like me, then you might be looking for some easy sweet snack recipes to have on hand for when those afternoon cravings strike. If so, you're in luck!
I put together all my favorite lightly sweet snack recipes, from no bake chocolate snacks to baked custard toast (multiple flavors!). These all make fabulous go-to afternoon snacks!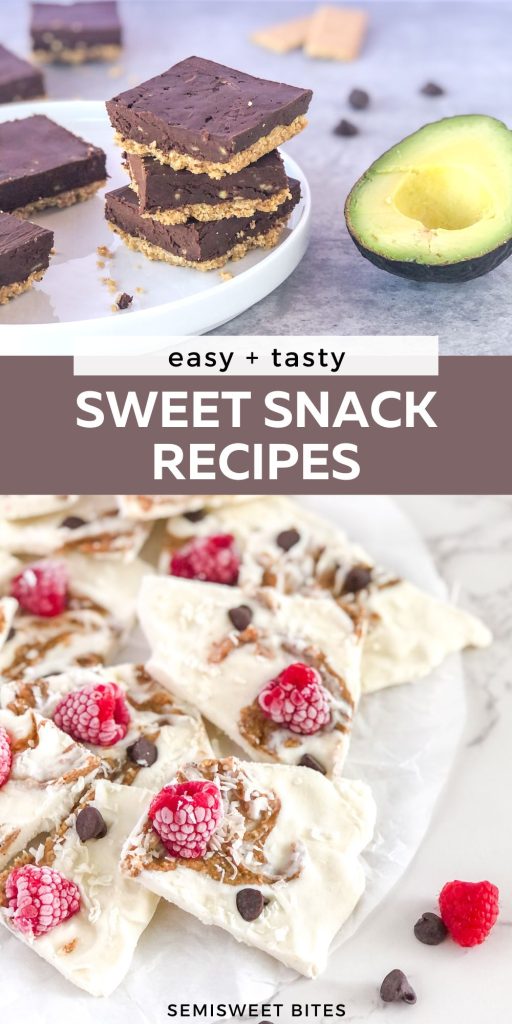 Sweet Homemade Snack Recipes
I always find myself craving something a little sweet in the afternoons (often chocolate, but not always!). That's why I love to have a couple sweet snack options ready to enjoy – most of which I've included here.
Whether you're a hardcore chocolate lover or looking for something a little lighter, you're bound to find a new favorite recipe in this list of easy sweet snacks!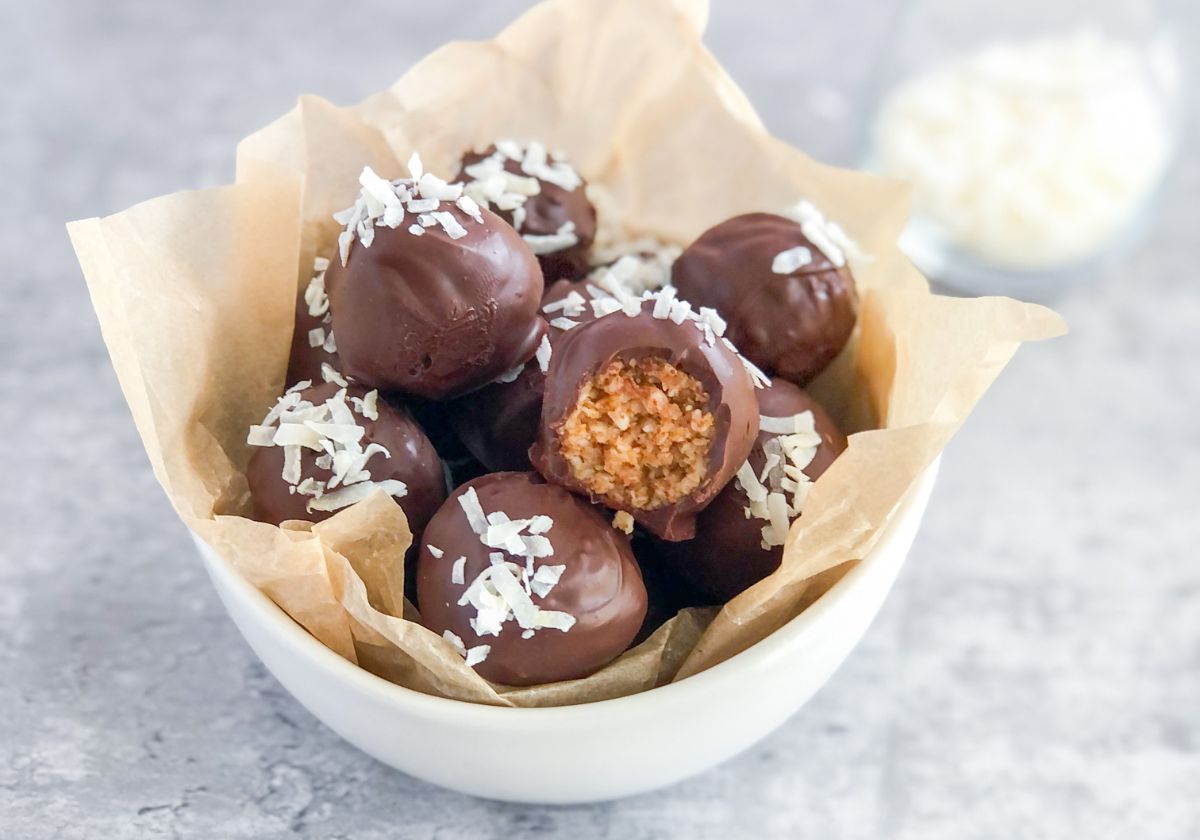 These no bake chocolate snack bites taste like Almond Joys, but they're much better for you!
The centers are a combination of creamy almond butter, shredded coconut, and maple syrup. And they're coated in smooth dark chocolate for the perfect finish.
They're easy to make, and great to have on hand for a boost of energy throughout the day!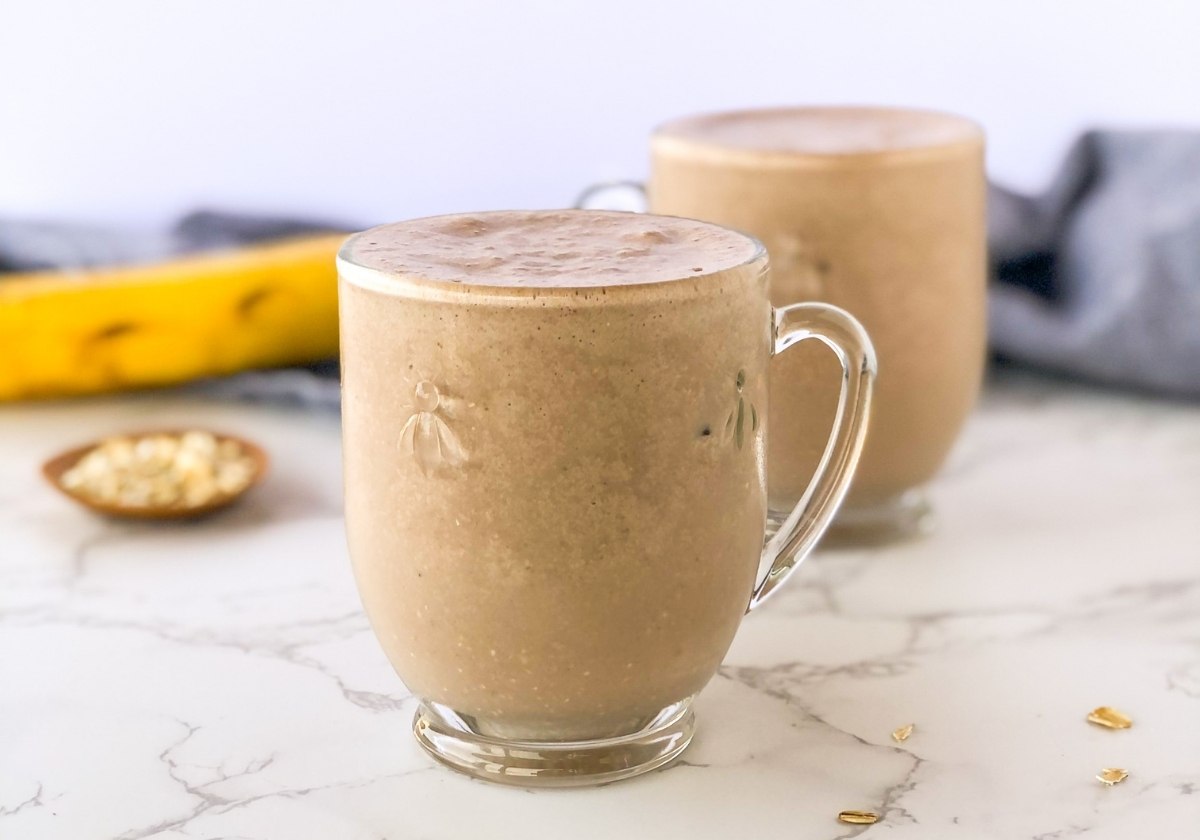 I love the way oats thicken smoothies and add texture, and this smoothie is no exception! Plus, the flavor combination of banana, chocolate, and hazelnut (Nutella) is divine.
It's the perfect smoothie for a lightly sweet snack that tastes decadent. Delicious and creamy!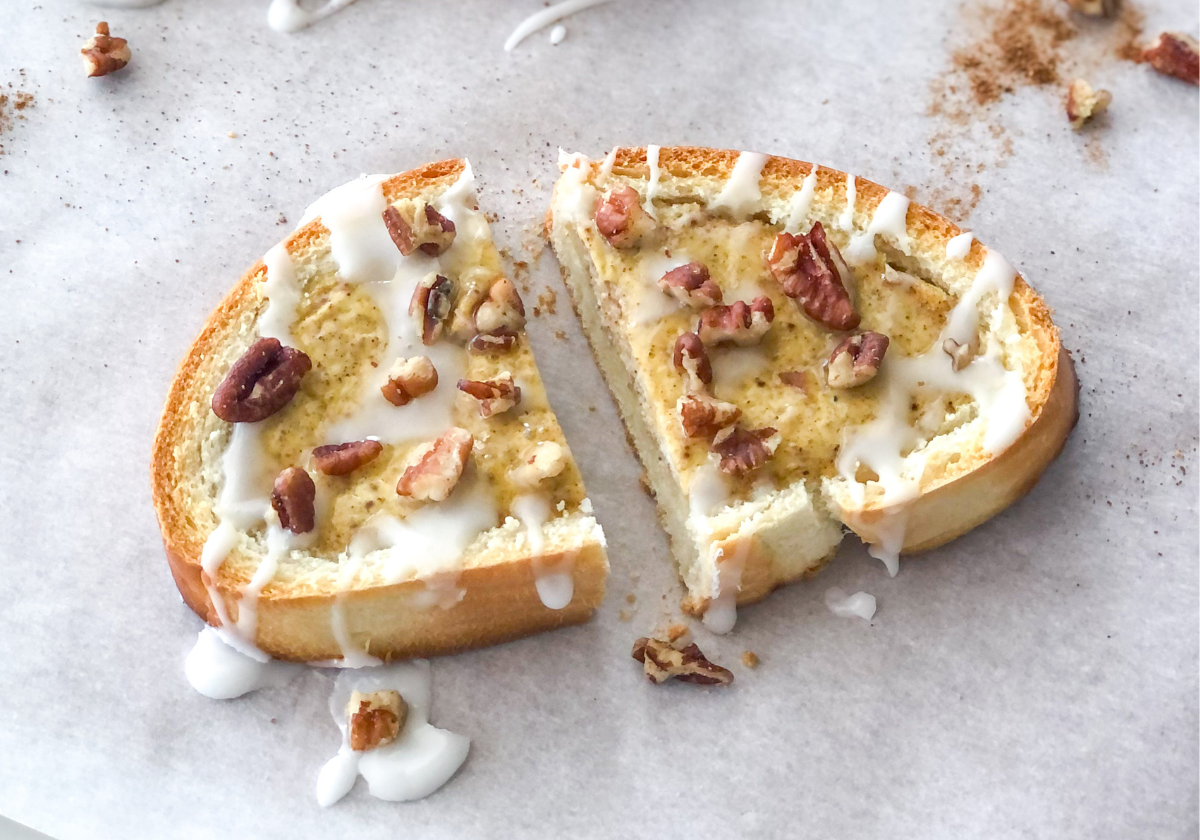 If you haven't tried custard toast, you're in for a treat! It's easy to make and there are endless flavor combinations, like this chai custard toast.
It's drizzled in a simple vanilla icing and topped with chopped pecans. The taste is similar to a cinnamon roll (but it's healthier), and it makes a tasty breakfast, snack, or lightly sweet dessert!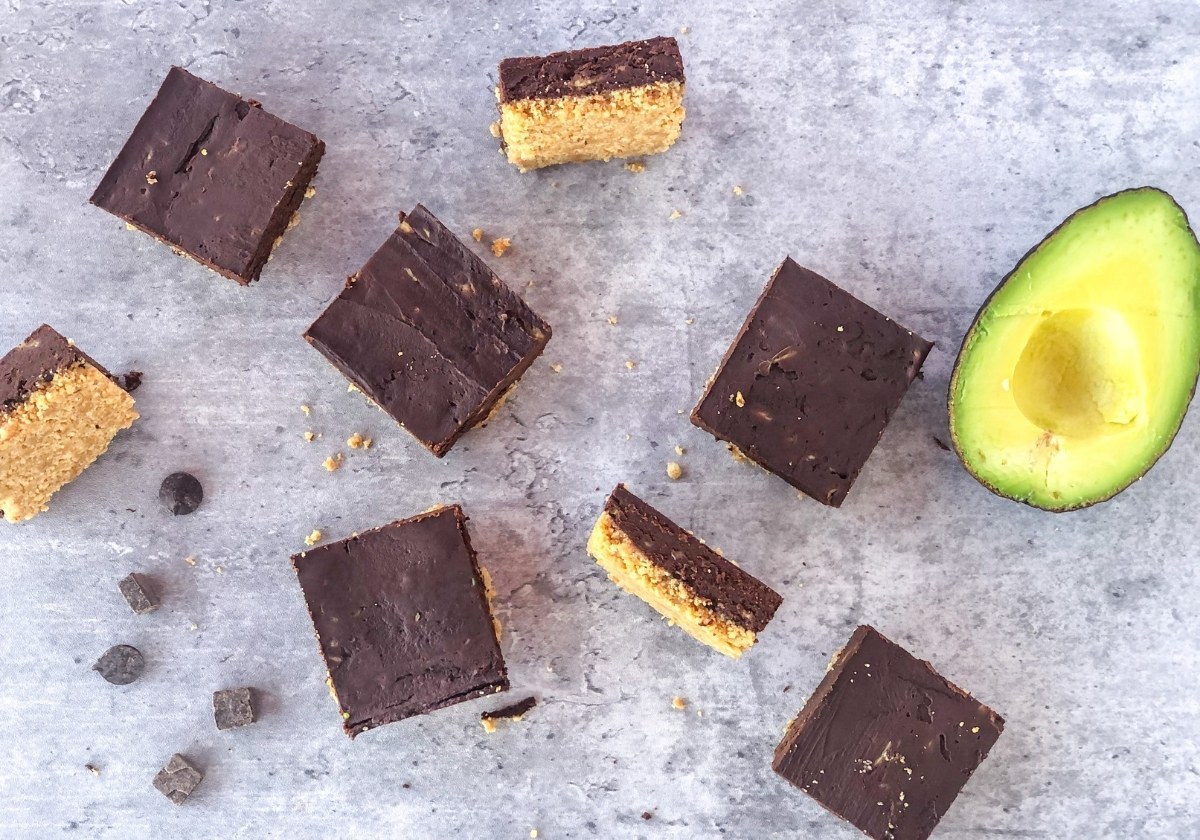 Looking for a chocolate snack that's low in sugar, but totally crave-worthy? These avocado fudge bars are made with creamy avocado and melted dark chocolate for a fabulous texture and flavor.
This fudgy chocolate layer is spread over a simple graham cracker crust for a bit of crunch!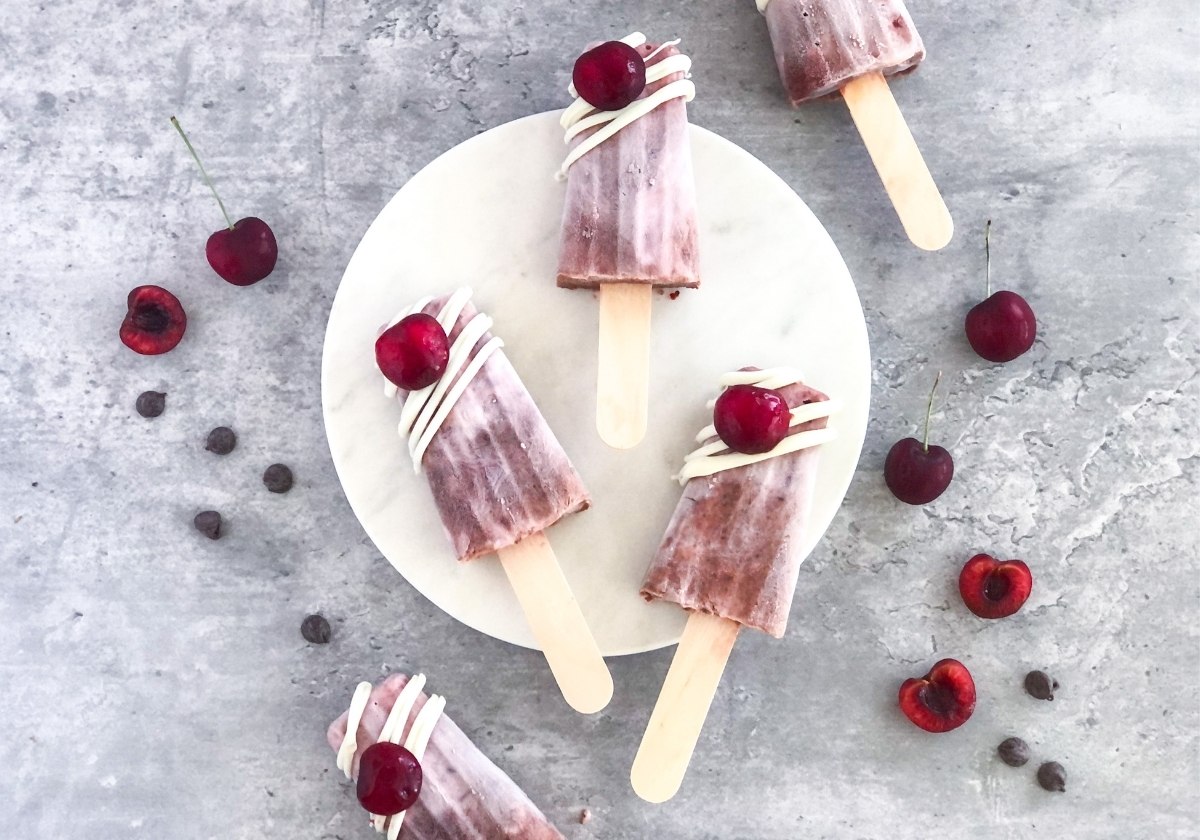 Homemade popsicles are a fun and refreshing snack for hot days, and they're extra creamy when made with Greek yogurt.
These cherry yogurt pops feature fresh cherry chunks and chocolate chips for a flavor match made in heaven! Plus, they're sweetened with maple syrup, so they're better for you than most store-bought popsicles.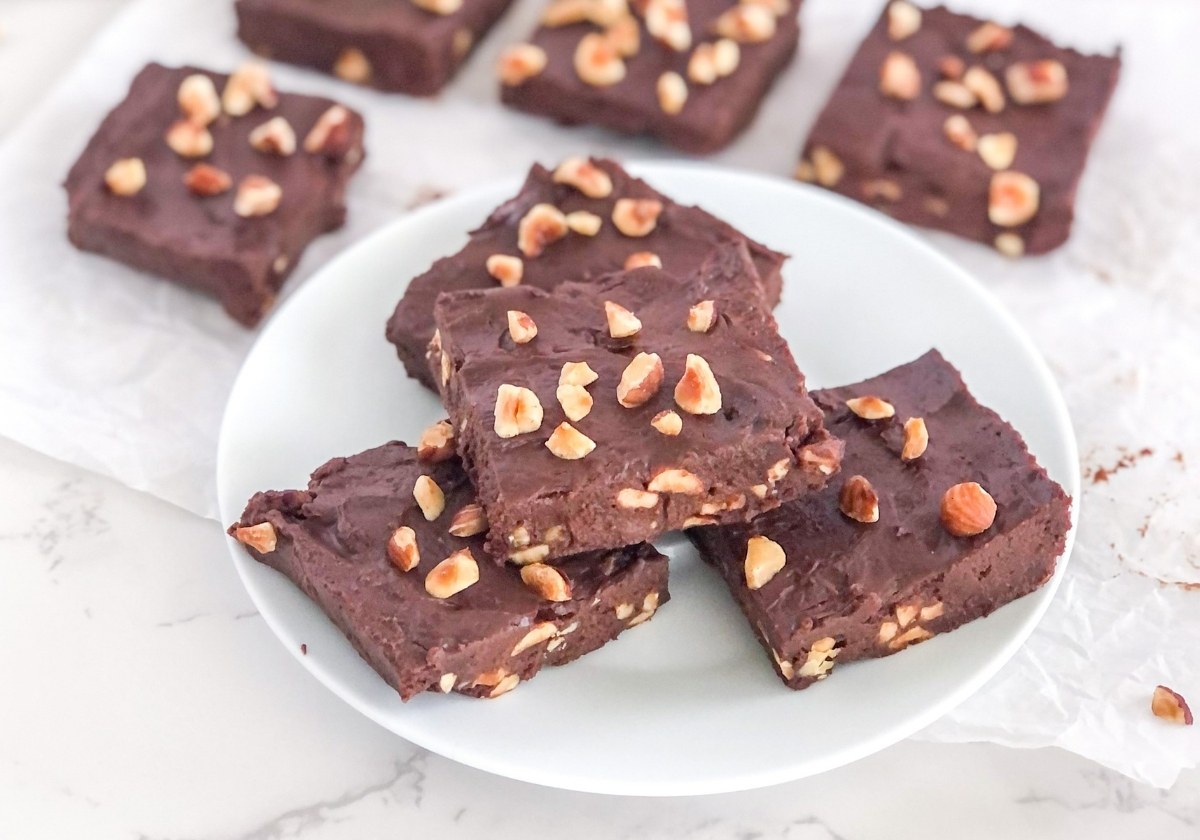 This soft and creamy Nutella fudge is healthier than typical fudge, thanks to a special ingredient: Greek yogurt! There's no need for sweetened condensed milk in this recipe.
It's a delicious combination of melted chocolate, Nutella, Greek yogurt, and toasted hazelnuts. Plus, it's quick and easy to make, too!
Here's another must-try custard toast flavor: churro custard toast with chocolate drizzle!
It's a lot like cinnamon toast, but it's inspired by Spanish churros (which, in Spain, are traditionally dipped in thick hot chocolate). Such a dreamy sweet snack or treat!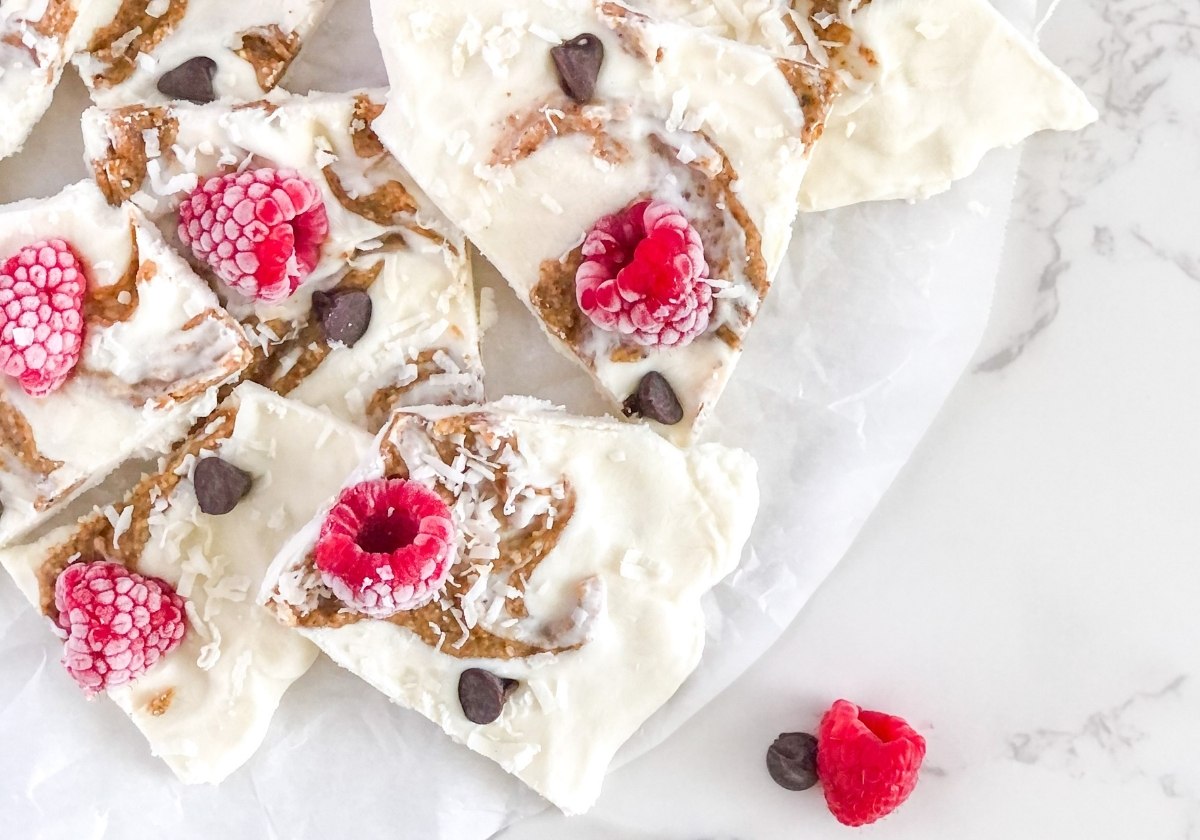 Frozen yogurt bark is such a cool snack, because you can essentially customize it with whatever you want or have on hand! I used almond butter, raspberries, chocolate chips, and shredded coconut here, and it was so tasty!
The base consists of Greek yogurt, vanilla extract, and maple syrup for a little sweetness. It's spread over a lined sheet pan, topped with your favorite toppings, then frozen. Then, you just break it into pieces and enjoy!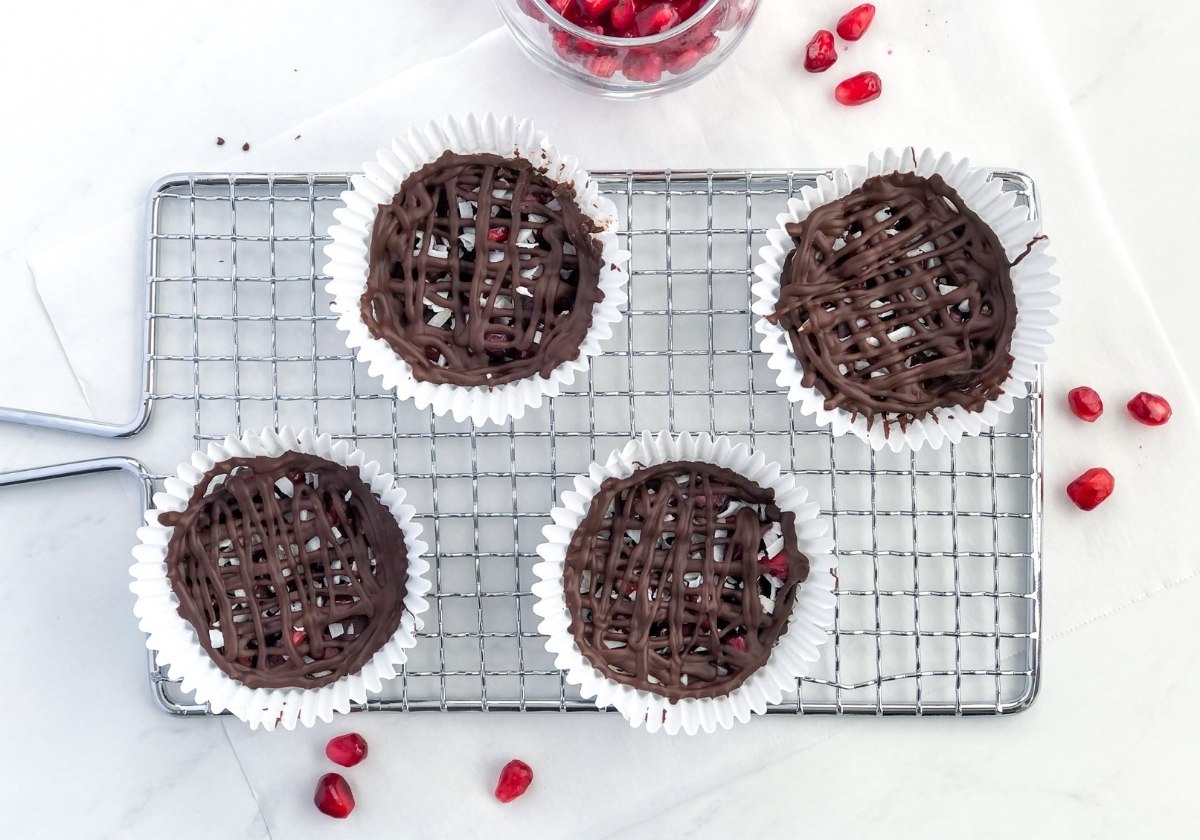 Sweet-tart, juicy pomegranate seeds pair so well with dark chocolate. And with shredded coconut in the mix, it's a perfect 3-ingredient snack!
These chocolate pomegranate bites come together quickly, and are great for satisfying chocolate cravings. All you need is a muffin tin and some cupcake liners to make them!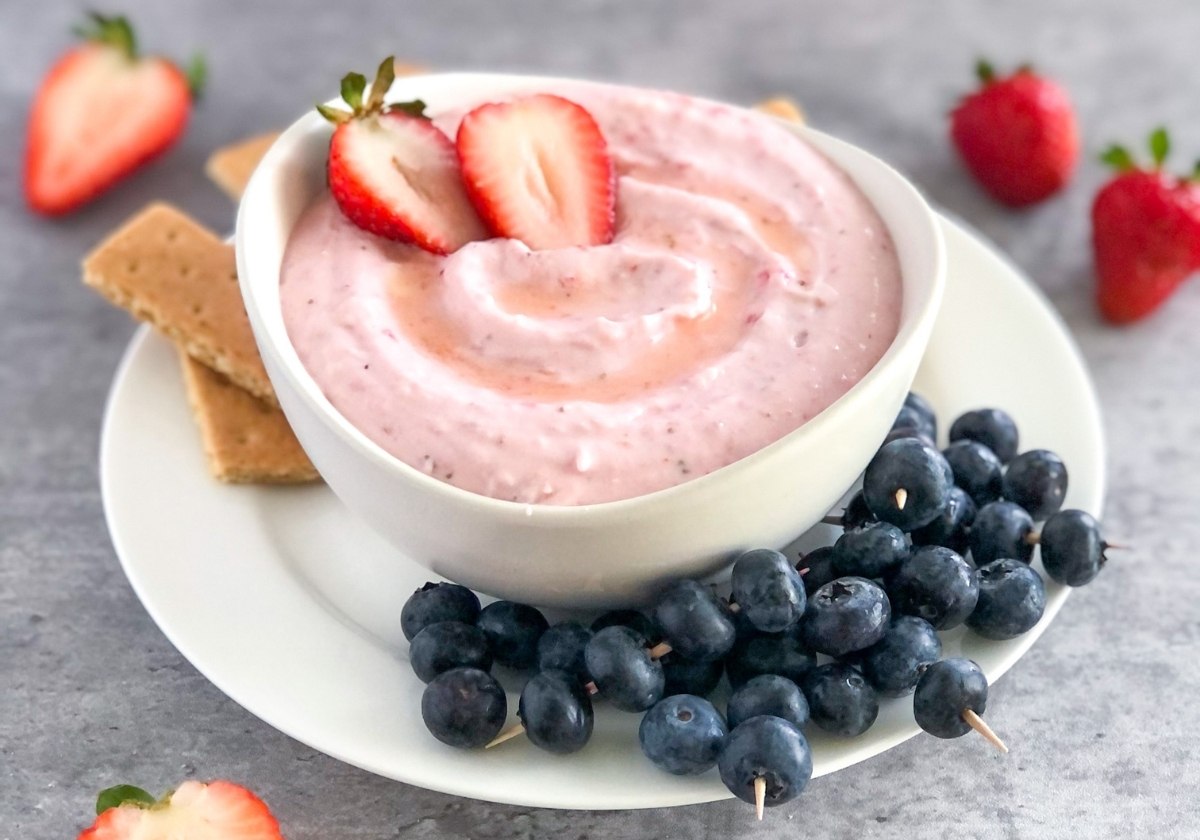 This strawberry fruit dip is extra creamy, thanks to the combination of Greek yogurt and mascarpone cheese. All you have to do is toss all the ingredients into a food processor and blend!
You can enjoy this honey-sweetened dip with graham crackers or Nilla wafers, pound cake, or any type of fruit.
Biscoff and chocolate may seem like an odd combination, but I promise: it works! These chocolatey bites are made with Greek yogurt for a healthier truffle filling that's just as delicious.
These are a great make-ahead snack to keep handy in the fridge for when you're craving something a little sweet!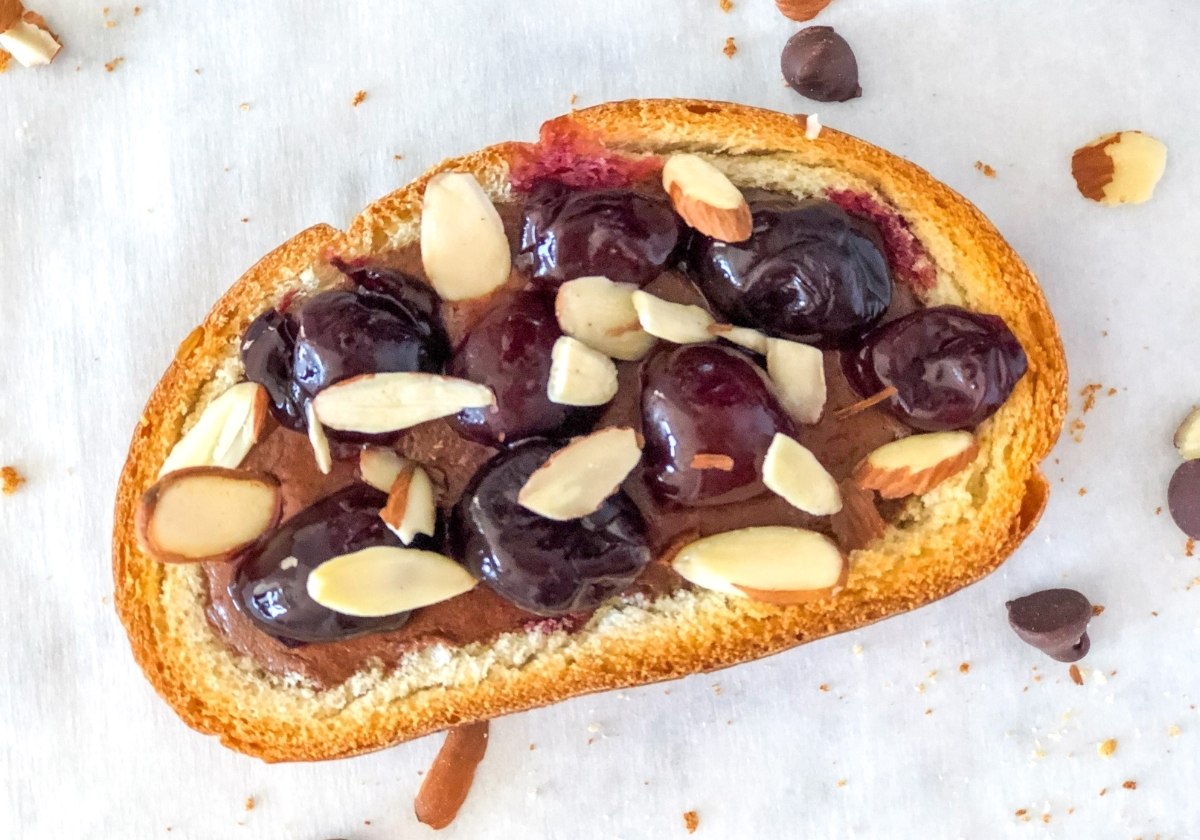 This custard toast flavor is sort of like Black Forest cake, with sliced almonds for extra flavor and crunch!
The creamy chocolate custard layer is baked into a thick slice of bread and topped with sweet cherries and almonds. It tastes decadent, but is actually pretty healthy – and easy to make!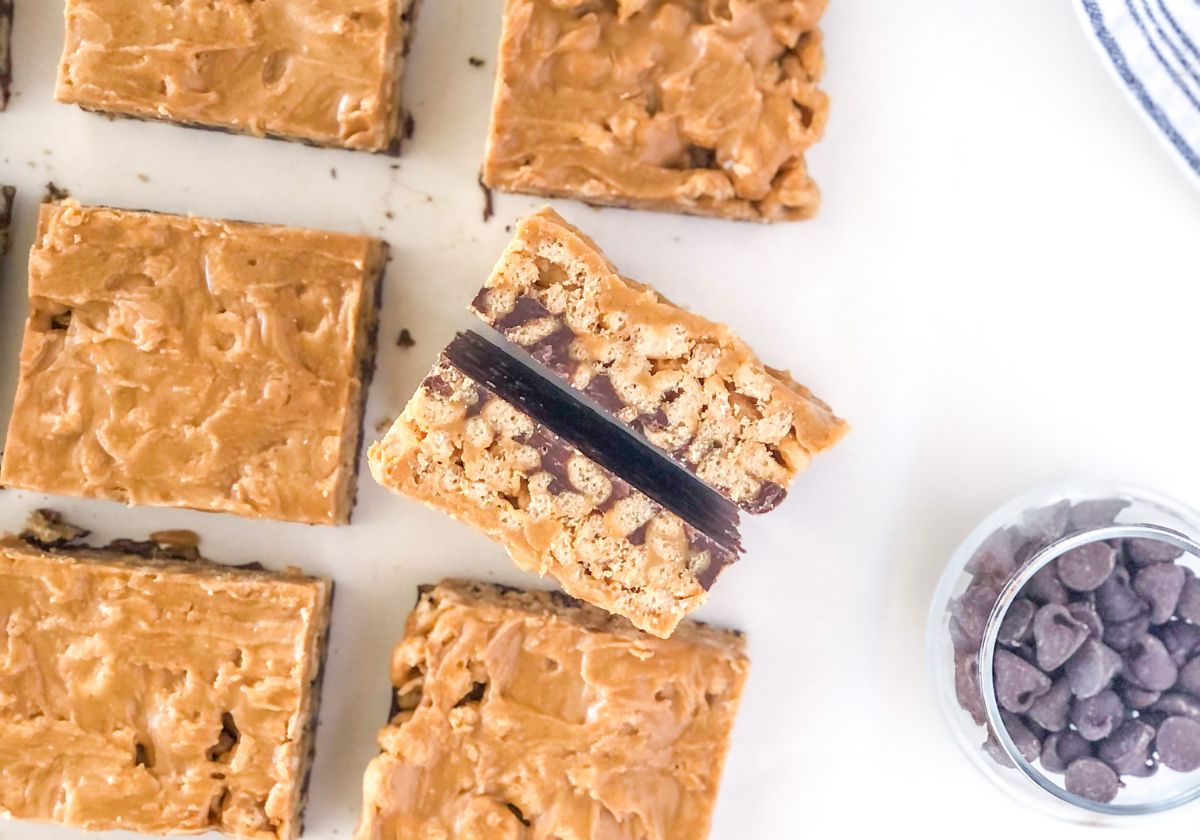 Peanut butter and chocolate is a classic flavor combination for a reason. Add crunchy cheerios and sweet honey, and you have an irresistible cereal bar everyone will love!
These no bake cheerio bars are perfect for kids and adults alike.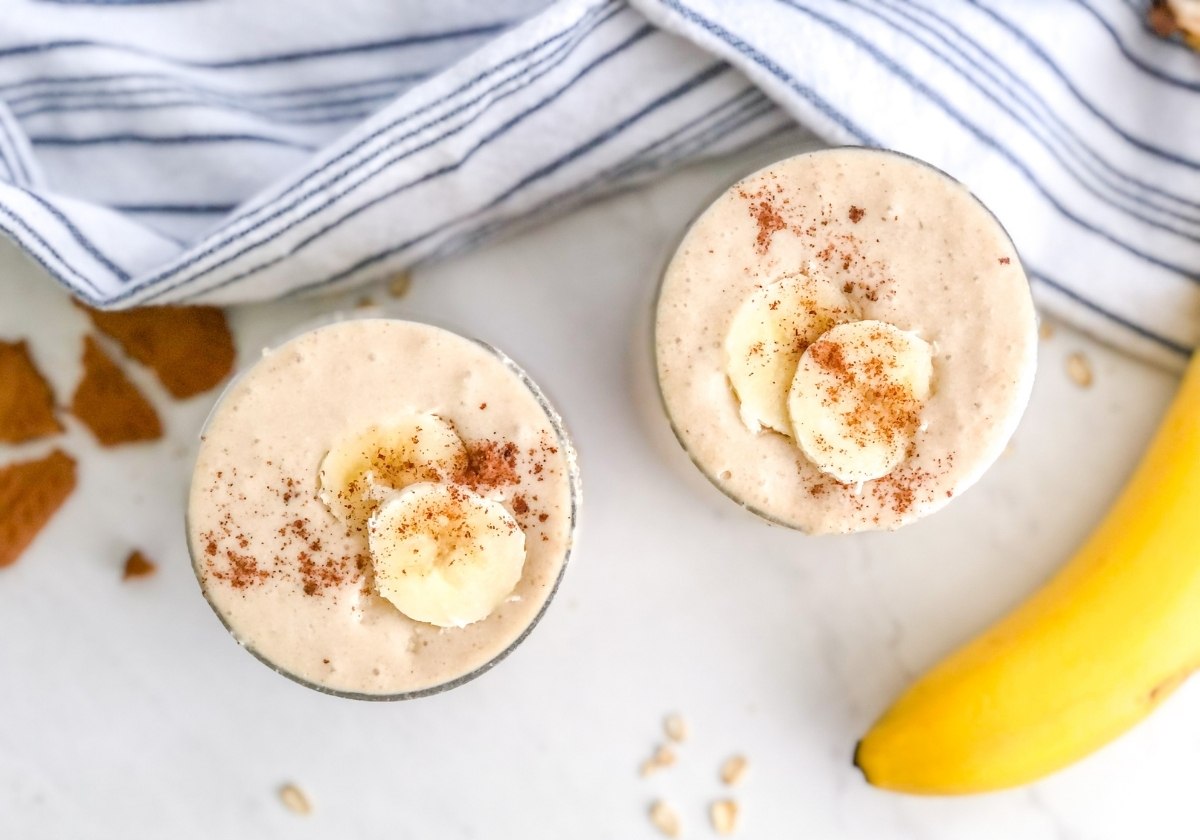 If you're a Biscoff lover like me, you definitely need to try this Biscoff smoothie! Sweet banana, Biscoff spread, oats, Greek yogurt, and extra spices come together for creamy smoothie perfection.
And if you needed any more convincing: it tastes like a spiced oatmeal cookie!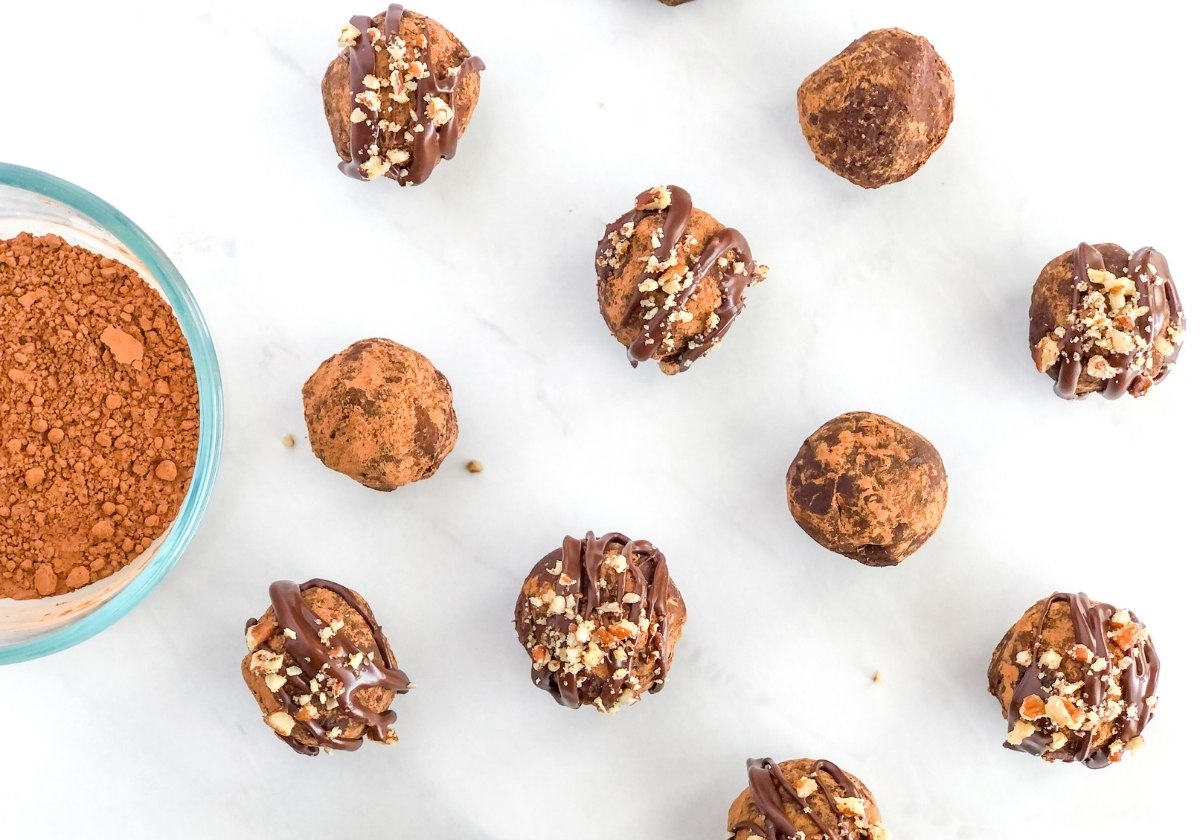 Here's another spin on the chocolate and avocado combo: avocado truffles! They're super fudgy and so delicious.
Plus, they're drizzled with more melted chocolate and topped with crushed pecans for nutty flavor and some crunch. They don't require much effort to make, either!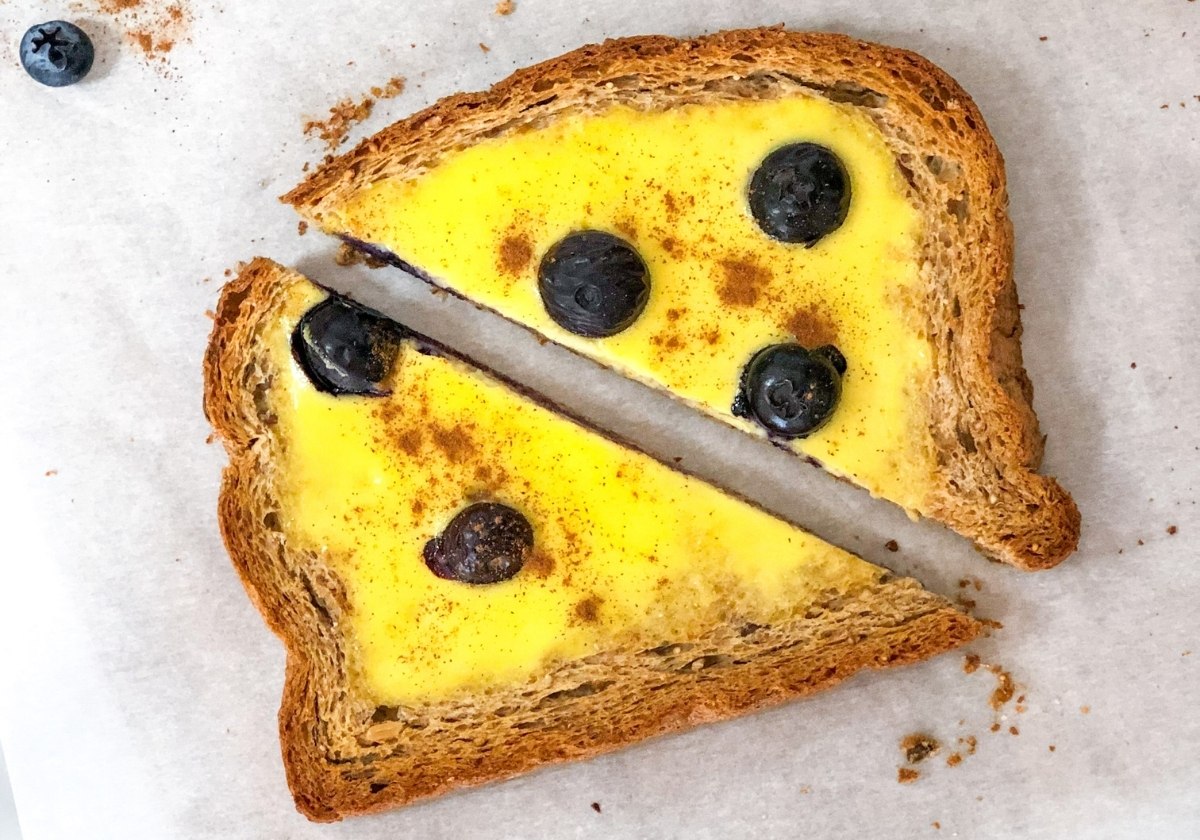 This basic custard toast recipe is just as tasty as any of the fancy flavors – and you can customize it with any fruit you want! I added blueberries and a dusting of cinnamon for a healthy, nourishing snack.
The custard is made from a combination of Greek yogurt, egg, and vanilla extract, and is sweetened with a splash of maple syrup. It pairs so well with the toasty bread!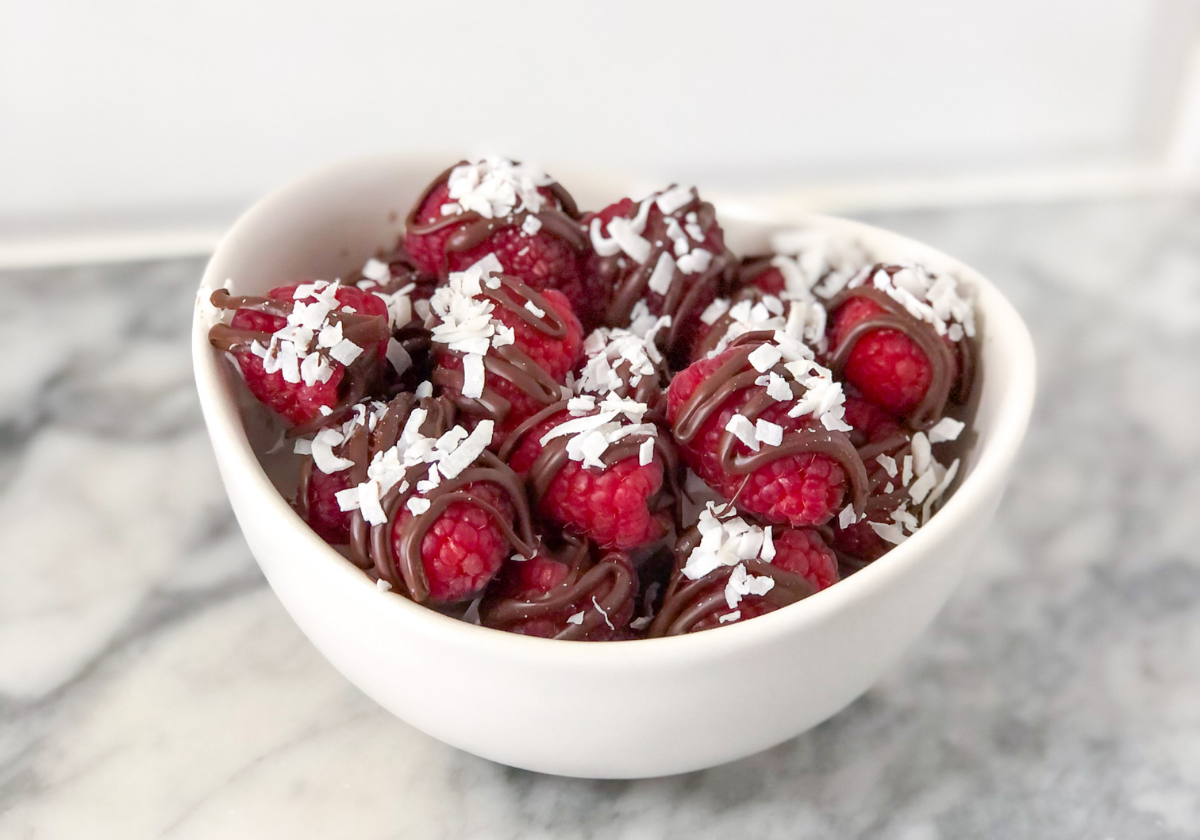 These chocolate filled raspberries are one of my favorite sweet snacks ever! They only require 3 ingredients, there's no baking, and the chocolate raspberry combination is to die for.
The shredded coconut adds another layer of flavor that's pure bliss.
I hope this list of easy sweet snacks has you inspired to get your snack on!