Yogurt custard toast is all the best things: creamy, crispy, tangy, sweet, easy to make, and positively delicious. It's soft and creamy on the inside, and crispy on the outside. What's not to love?!
There's no wonder custard toast has gone viral on TikTok – it's the perfect snack, breakfast, and healthy dessert all rolled into one. Plus, it's easily customizable, so you can make it just how you like it!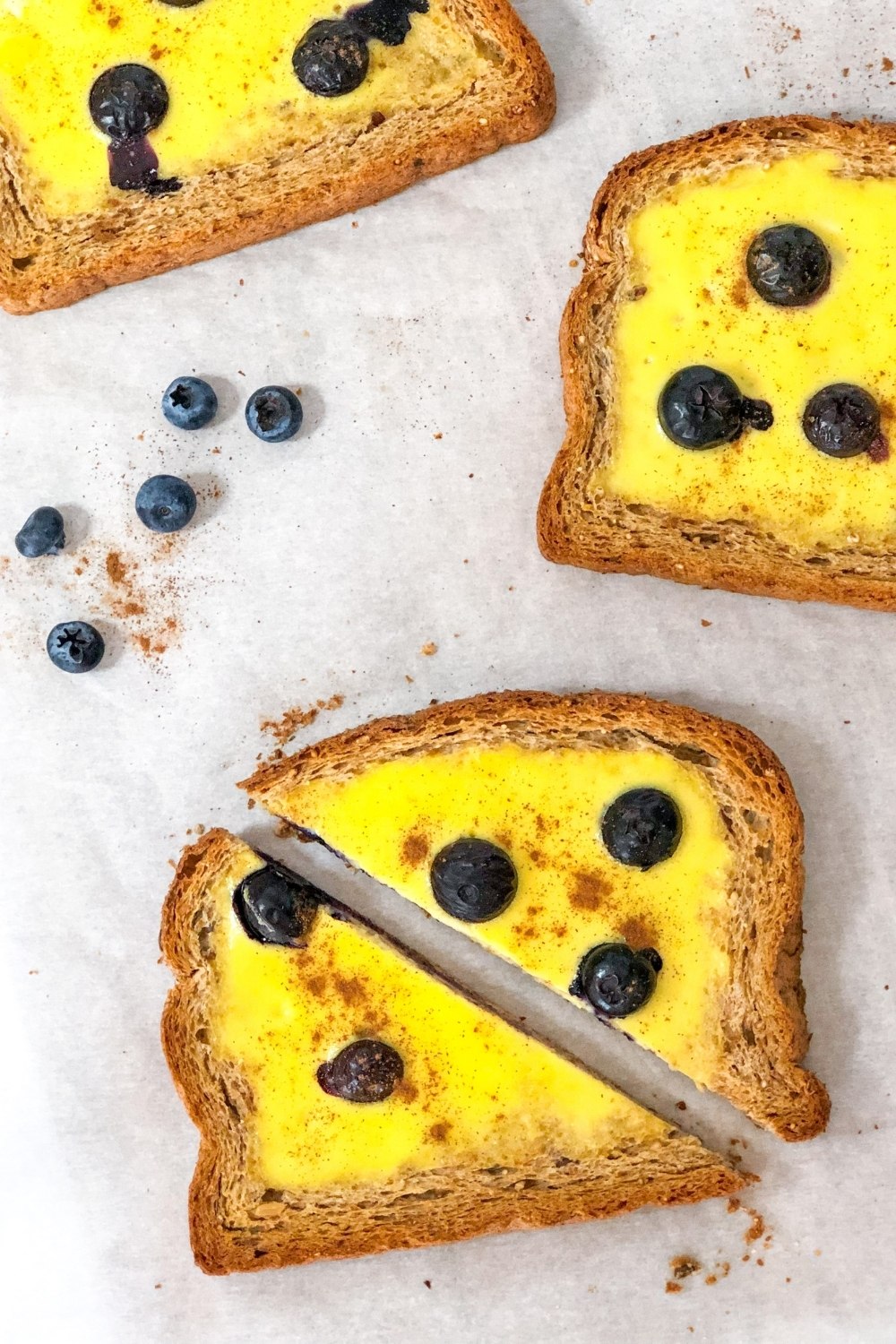 Viral TikTok Custard Toast with Greek Yogurt
I stuck to a more basic recipe here, with blueberries, vanilla, and a sprinkle of cinnamon. Simple yet divine. One thing I love about this recipe is how versatile it is. It's a perfect vessel for any scrumptious toppings your heart desires.
Yogurt custard toast uses ingredients you likely already have on hand, and only takes 5 minutes to prep before it goes in the oven. It really is that quick and easy! Plus, you can eat it any time of day, so you really can't go wrong here.
Recipe Ingredients
You only need a handful of ingredients to make this custard toast:
bread: My favorites are brioche or challah bread cut into semi-thick slices, but any bread should work! I used standard pre-sliced whole wheat sandwich bread for these photos.
yogurt: I recommend Greek yogurt (plain or vanilla), as it's thicker, creamier, and adds a nice tanginess to the custard filling. But regular yogurt works, too!
egg: This thickens the custard (and gives it that bright yellow color). I haven't tested any egg substitutes yet, but I'm not sure if a flax egg would work here for the proper structure of the custard. Using silken tofu might work as an egg substitute – you'd just need to blend the ingredients together until creamy.
maple syrup (or honey): This sweetens the custard just the right amount! If you're using yogurt with added sugars, you can leave this out or add less.
vanilla extract: This adds a little extra richness to the custard flavor, and somehow helps bring out any other flavors, too! (It's magic like that.) If you're using vanilla yogurt or flavored yogurt, you can leave this out.
optional toppings: I used blueberries and a sprinkle of cinnamon here, but you can add whatever you like!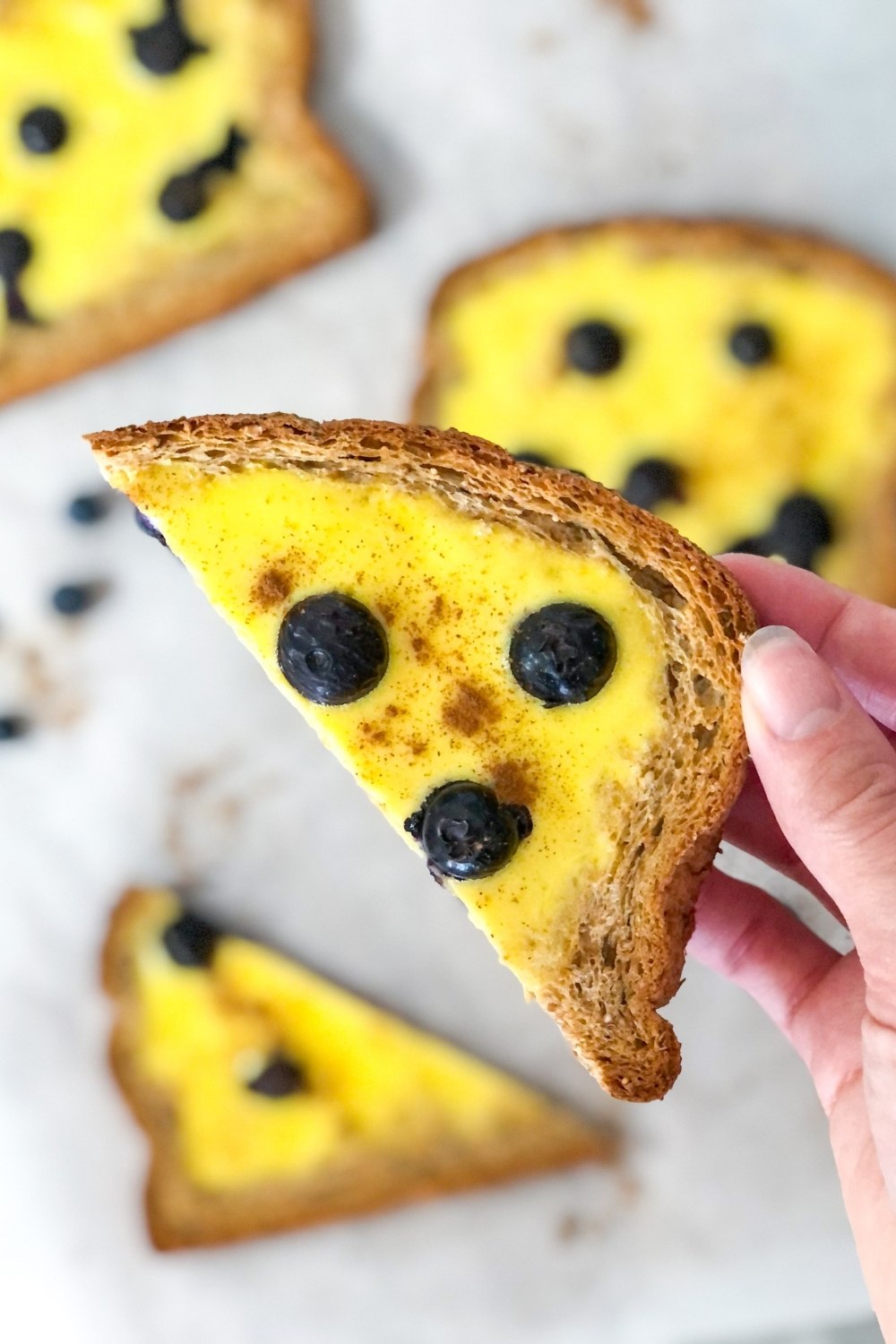 What's the best bread for custard toast?
Any sandwich bread works here, but a thicker bread means you can add more custard!
I believe the best bread to use for custard toast is similar to the best bread for French toast. I love a fluffy loaf of brioche or challah, but french bread and sourdough are also popular (and tasty) options.
The custard might be the star of the show, but the bread is the stage. The custard can't shine as much if it doesn't have a good base!
Quick tip: try not to get bread that has too many holes in it, as the custard could seep out while baking.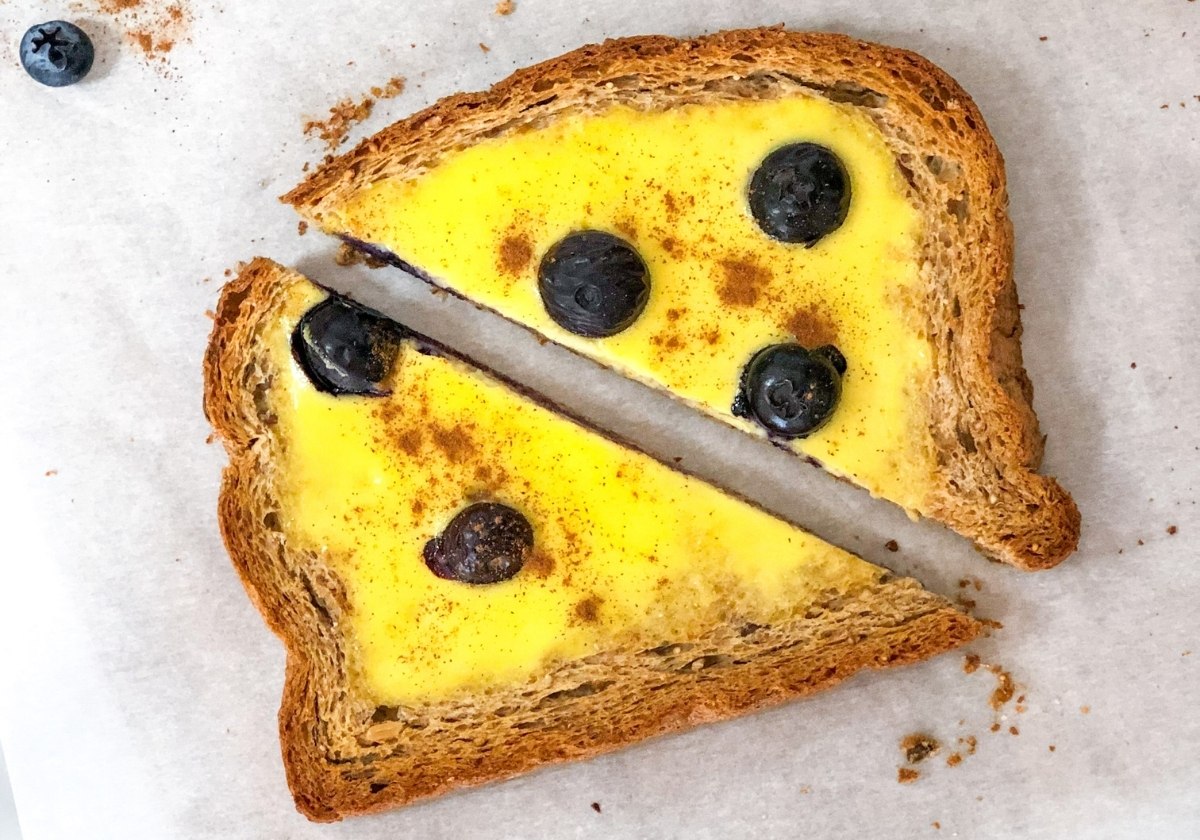 Custard Toast Without Yogurt (Yogurt Substitutes/Dairy Alternatives)
We always have yogurt on hand, since my husband is a huge smoothie guy. So I haven't had a chance to test yogurt substitutes yet, but here are a few options that could potentially work:
sour cream (full-fat, not fat-free or the texture will be off)
ricotta cheese (blended smooth or whipped)
milk with cornstarch (as a thickening agent)
cottage cheese (blended smooth so it isn't clumpy)
mascarpone cheese (blended)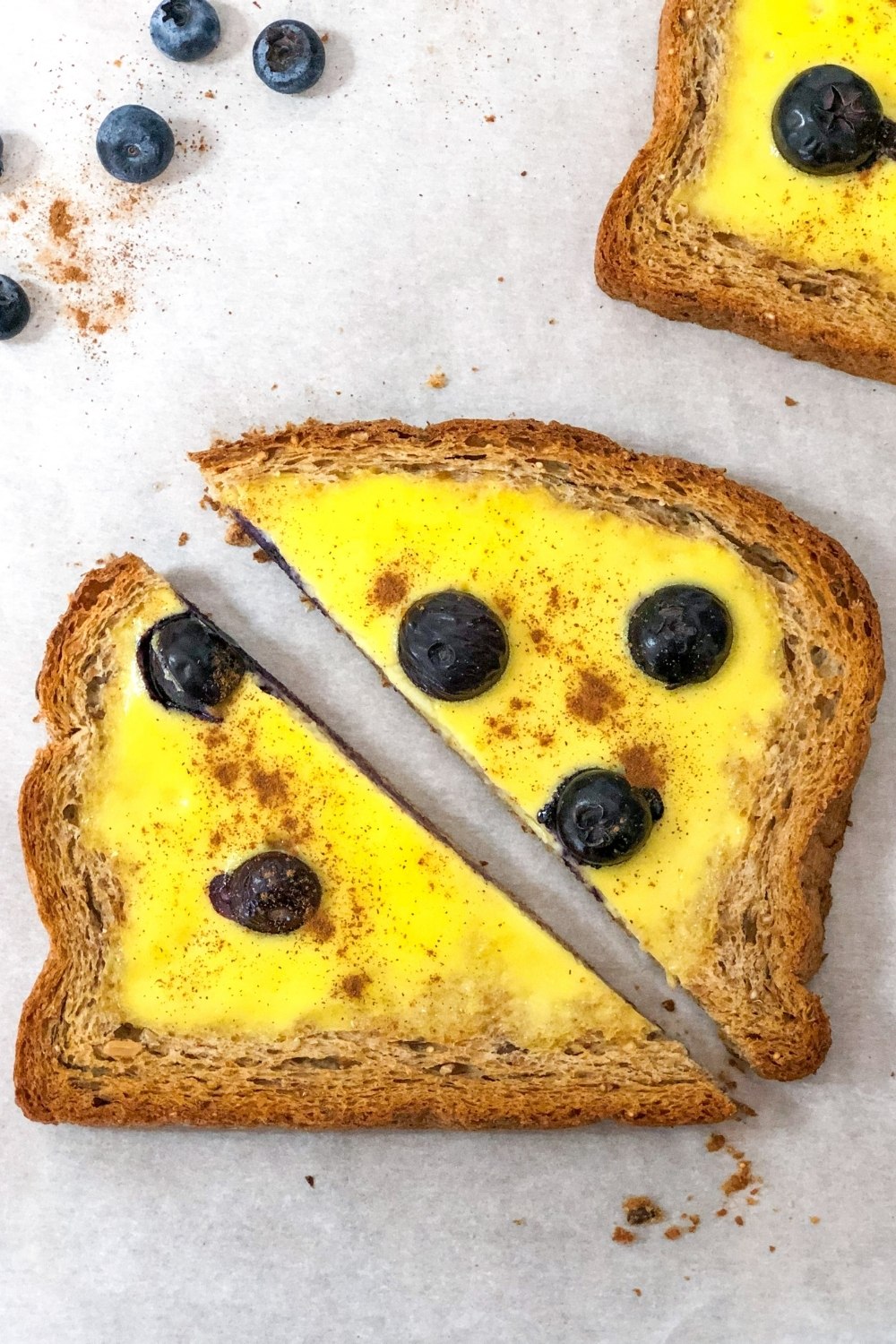 Can I use flavored yogurt?
If all you have is flavored yogurt, go for it! Personally, I prefer using plain Greek yogurt, and then adding in my own flavorings/toppings. That way, I can also control how much added sugar is in it and there won't be any artificial flavors. You do you, though!
How to Make Custard Toast with Yogurt
Start by combining the wet ingredients in a bowl and mixing with a fork or whisk until smooth.
Separately, place your sliced bread on a baking sheet. (You can use parchment paper for easier cleanup, though this recipe isn't typically very messy). Use the back of a spoon or fork to push down on the center of the bread all the way out to the crust, creating a well for the custard.
Pour an even amount of custard over each toast and sprinkle blueberries (or other fruit) on top.
Bake at 400 degrees Fahrenheit (205 degrees Celsius) until custard is set (doesn't jiggle) and toast is crispy. (See baking times in the full recipe at the bottom of this post).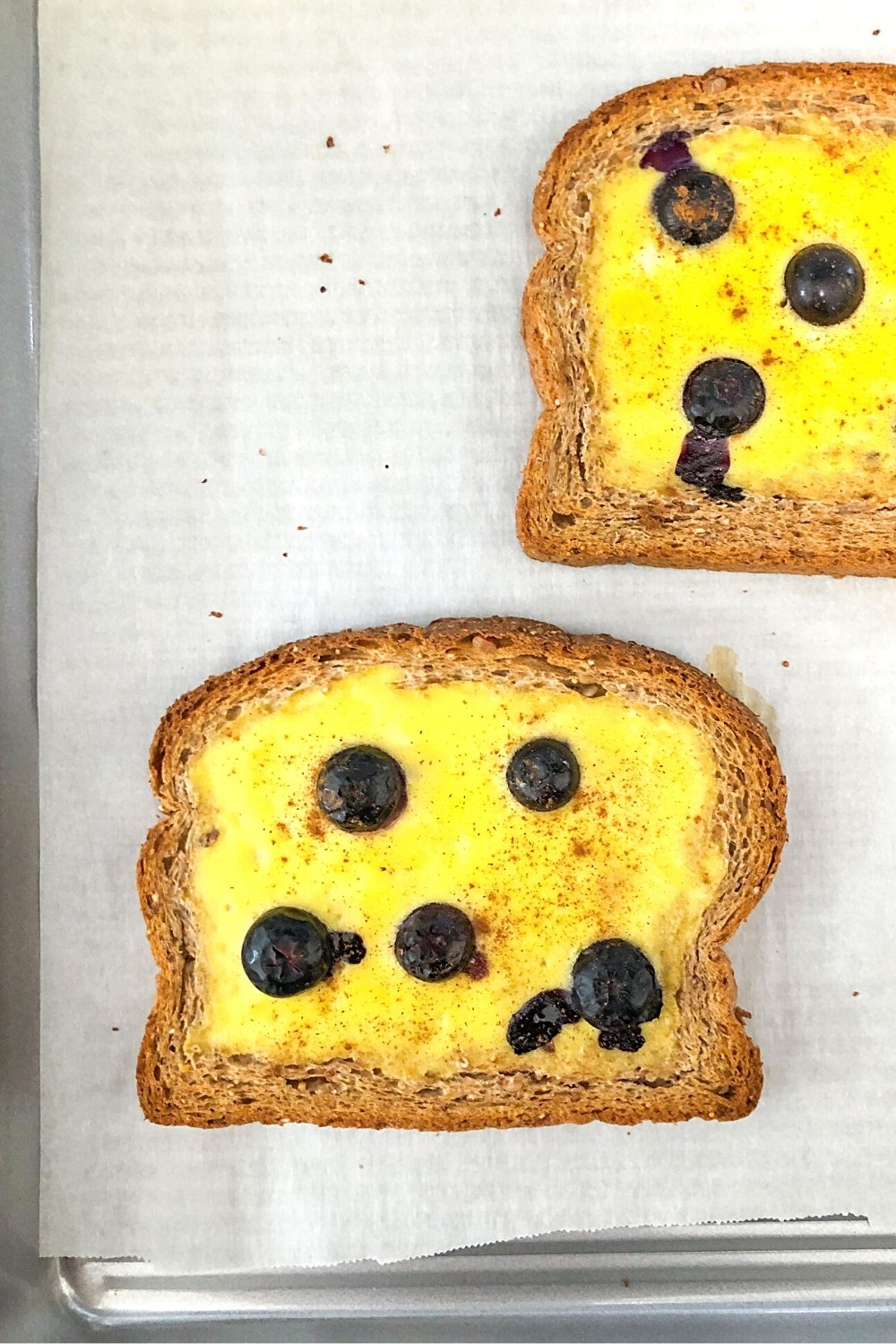 Add a dash of cinnamon and let the toast rest for a couple minutes, as it will keep cooking a bit once it's out of the oven. Then, slice and enjoy!
Custard Toast Toppings
You can keep your custard yogurt toast pretty basic and it'll still be delicious. But you can also go wild on the toppings, if that's what you're feeling! I like to switch things up to keep it interesting. Here are some topping ideas for custard toast:
fruit (berries, sliced stone fruit, bananas, etc.)
chopped nuts (walnuts, peanuts, pecans, etc.)
nut butter (peanut butter, almond butter, cashew butter, etc.)
cocoa powder
chocolate chips
shredded coconut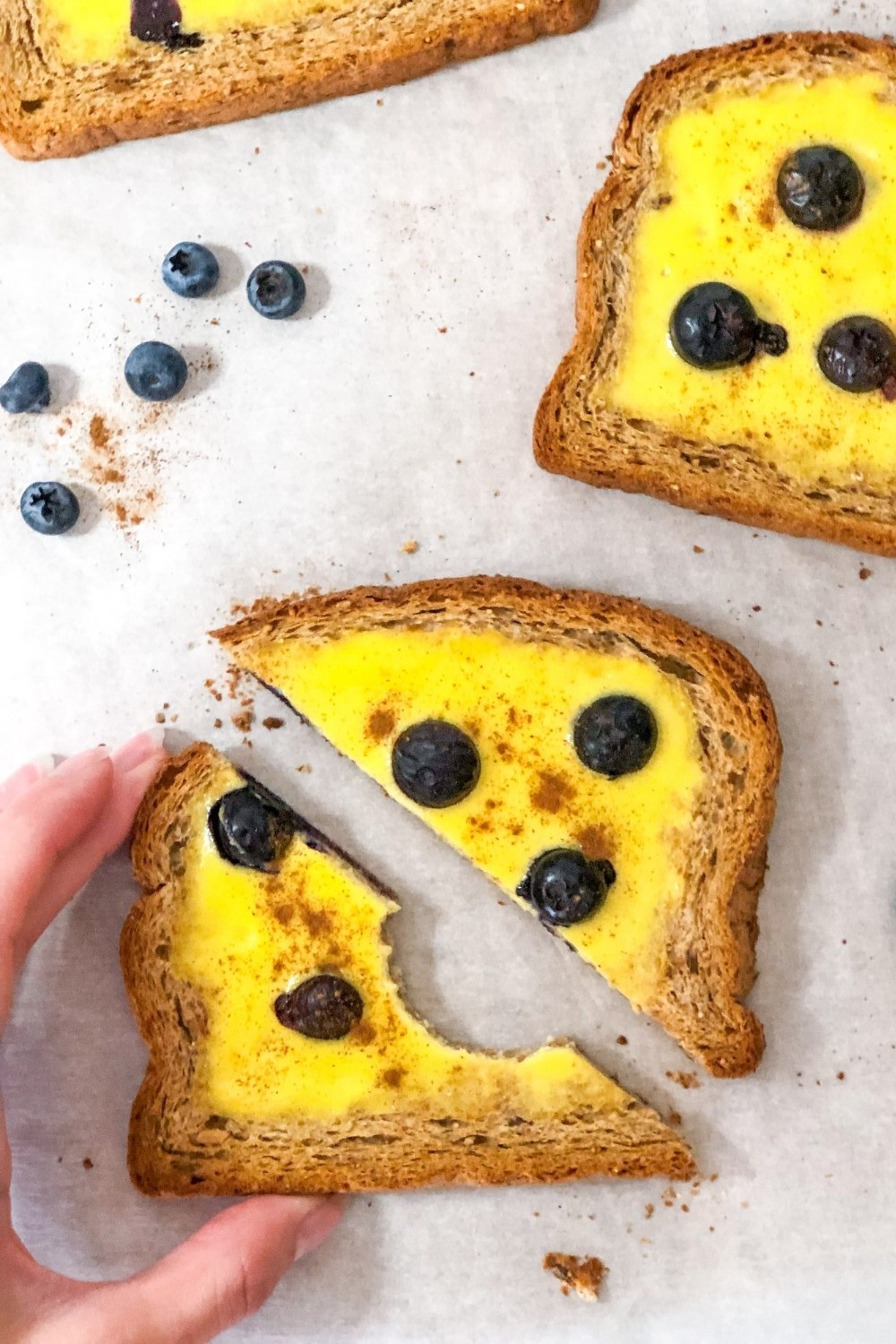 The moment I tried custard toast, it was love at first bite. And apparently I'm not the only one, as my husband keeps asking when we're having more!
I like knowing that I can whip this up in practically no time whenever I need an energy boost or the afternoon hunger pangs strike. Whether you're enjoying it as a breakfast, afternoon snack, or dessert, I hope you love it. 🙂
Check out these other fun custard toast flavor variations:
For another viral TikTok breakfast recipe, try these chocolate chip baked oats. And if you're looking for more snack ideas, check out this list of my favorite easy sweet snacks!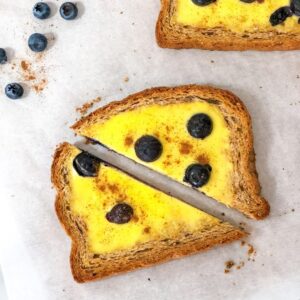 Yogurt Custard Toast
Yogurt custard toast is all the best things: creamy, crispy, tangy, sweet, easy to make, and positively delicious. Here's how to make this viral TikTok toast with just a handful of ingredients!
Ingredients
3

slices

bread

(depending on the thickness of the slices)

1

egg

3

Tbsp

plain Greek yogurt

(or vanilla)

2

tsp

maple syrup

(or honey)

½

tsp

vanilla extract

sprinkle of cinnamon

(optional)

handful of blueberries

(optional)
Instructions
Whisk together egg, yogurt, maple syrup, and vanilla extract in a bowl until smooth. Set aside.

Using the back of a spoon, press down in the center of each bread slice, as close to the edges as you can get, creating a well for the custard. Place on a baking sheet.

Pour custard into the center of each slice of bread, using a spoon to spread out if needed. Sprinkle a handful of blueberries (or other fruit) on top.

Bake at 400ºF (or 205ºC) for 8-12 minutes for thinner bread slices OR 12-16 minutes for thick slices, until custard is set. (The center of the custard shouldn't wobble if shaken.)

Let rest for 1-2 minutes, sprinkle cinnamon on top (if desired), then dig in!