Cinnamon sugar toast is a beloved sweet snack/dessert, so I wanted to share this fun spin on it: churro custard toast with chocolate drizzle! It's a variation of the viral TikTok yogurt toast recipe, inspired by churros (which, in Spain, are traditionally dipped in a thick hot chocolate).
My mom is originally from Spain, and growing up, she'd make us crispy cinnamon sugar churros for a special brunch. We definitely Americanized the dish by eating them with eggs (which is not a typical Spanish breakfast food), but it was a fun tradition that we still look forward to.
This churro toast is an easier way to enjoy a warm cinnamon sugar "pastry" – with the delicious addition of creamy custard!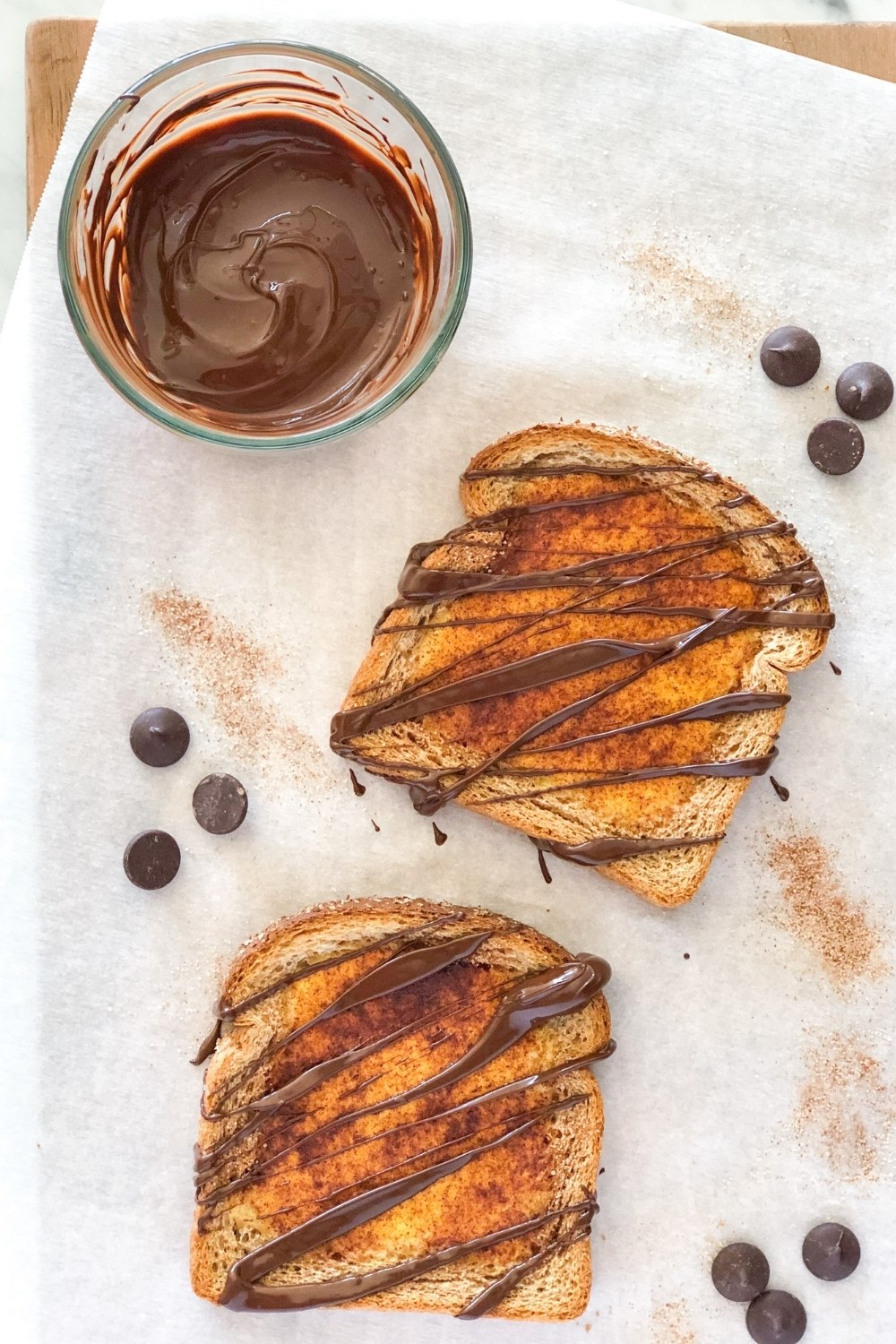 Cinnamon Sugar Toast with Melted Chocolate
I love how the cinnamon sugar gets broiled into the custard here, and it pairs so well with the melty chocolate drizzle. I used dark chocolate to replicate the richness of authentic Spanish hot chocolate/dipping chocolate for churros, but any chocolate should work!
This toast is perfect for when those sweet/chocolate cravings hit, since it only takes about five minutes of active prep time to make. Plus, it's actually somewhat nutritious, with the base consisting of bread and an egg/Greek yogurt custard.
Churro Toast Recipe Ingredients
Here's what you'll need to make this churro toast:
bread: Any type of bread works here! Whole wheat/seedy bread is more nutritious than white bread, whereas crusty breads like french or brioche are thicker (i.e. can fit more custard on each piece) and crisp up nicely. It's all about what you prefer or have on hand!
yogurt: I prefer Greek yogurt, because it's thicker and tangier than standard yogurt. Plus, it has more protein. But, regular yogurt works too! You can use plain or vanilla yogurt.
egg: This binds and thickens the custard, and helps it rise.
vanilla extract: A splash of vanilla extract makes the custard extra delicious. If you're using vanilla-flavored yogurt, you can leave this out.
sugar & cinnamon: The custard is sprinkled with cinnamon and sugar and baked, giving it a lovely warm-broiled sweet coating. This is also part of what makes it reminiscent of that churro flavor!
chocolate chips: A drizzle of melted chocolate finishes off this sweet snack. Melting chocolate chips in the microwave is super quick, too. I used dark chocolate chips for richer flavor, but any chocolate chips should work – semisweet, milk chocolate, etc.
For another delicious variation, try this chai custard toast with pecan icing or this blueberry cinnamon custard toast!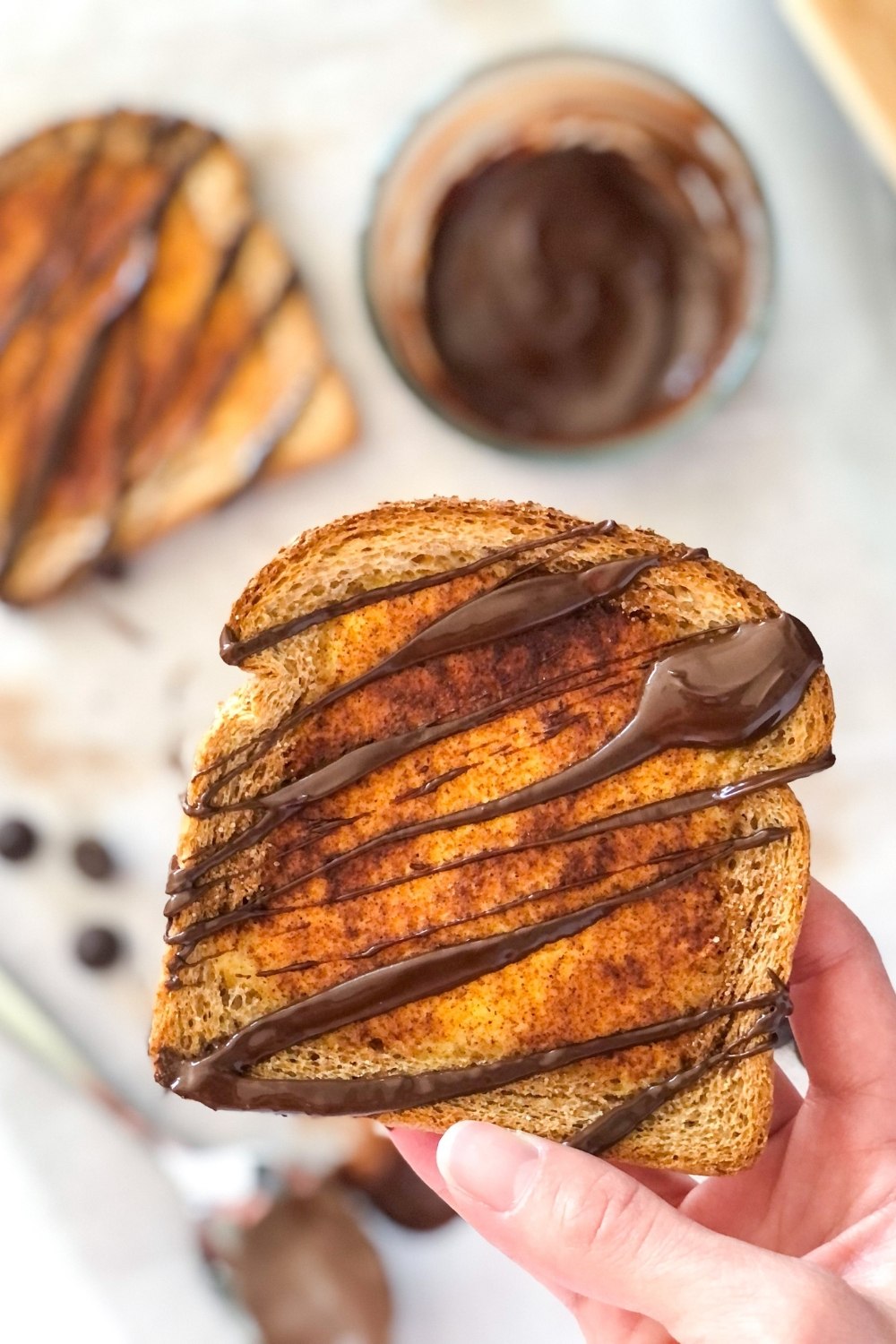 How to Make Churro Custard Toast
This recipe is super simple. Essentially, you just mix together the Greek yogurt/egg custard, pour it over the toast (making an indentation first), then bake until it's set and golden. And of course, drizzle on the melted chocolate!
Step 1: Make Yogurt Custard
Start by prepping the custard. In a small bowl, combine yogurt, egg, and vanilla extract until it's well-mixed. Set aside.
Step 2: Sprinkle With Cinnamon Sugar & Toast
Next, place the bread on a sheet pan lined with parchment paper. Using the back of a spoon, press down in the center of the bread, creating a "well" for the custard. Spoon or pour custard over each piece of bread.
Then, in a small bowl, mix together cinnamon and sugar. Sprinkle over the custard.
Bake at 400 degrees Fahrenheit (205 degrees Celsius) until the custard is set and the toast is golden brown. (See baking times in the full recipe at the end of this post).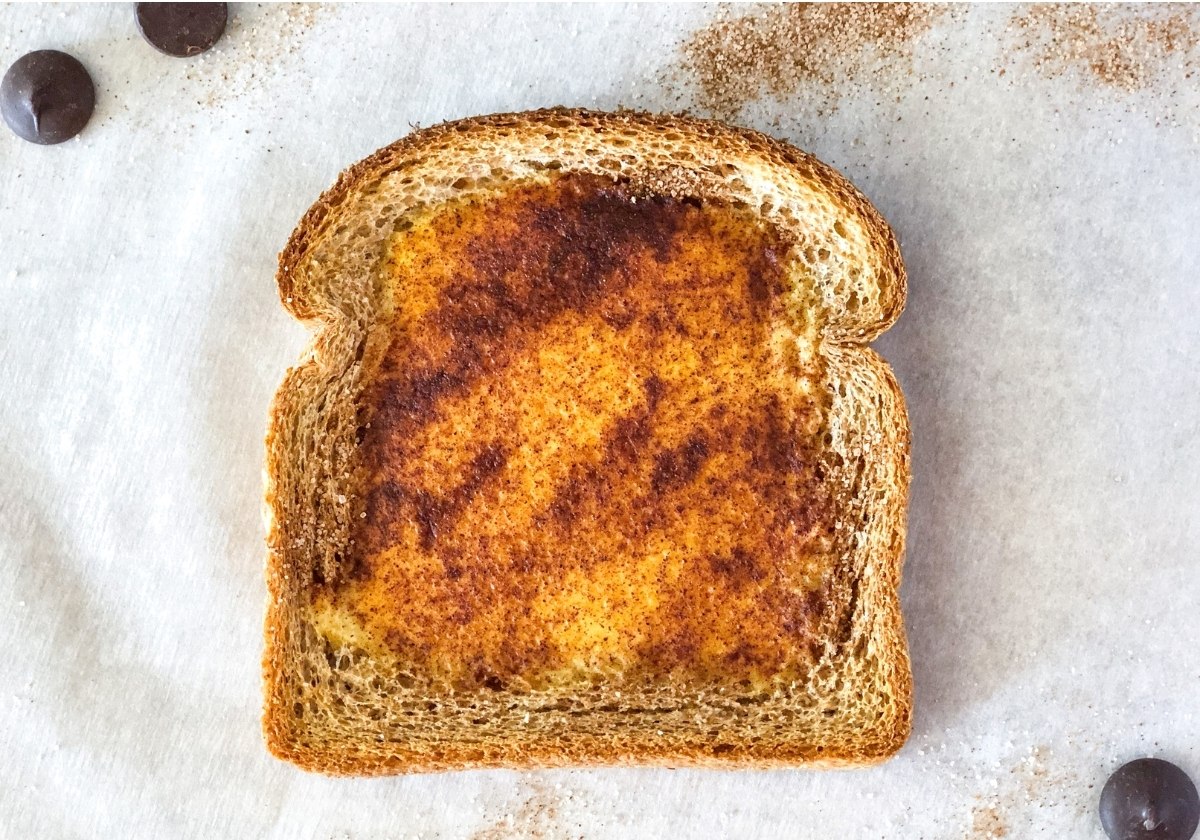 Step 3: Melt Chocolate & Drizzle
While the toast is in the oven, prepare the chocolate drizzle. Place chocolate chips in a microwave-safe dish (I recommend using a glass bowl if possible), and microwave in 30 second intervals at 50% power. Stir between each interval, until smooth. Be careful not to over-cook or scorch the chocolate.
Using a spoon or fork, drizzle chocolate over each piece of toast. That's it!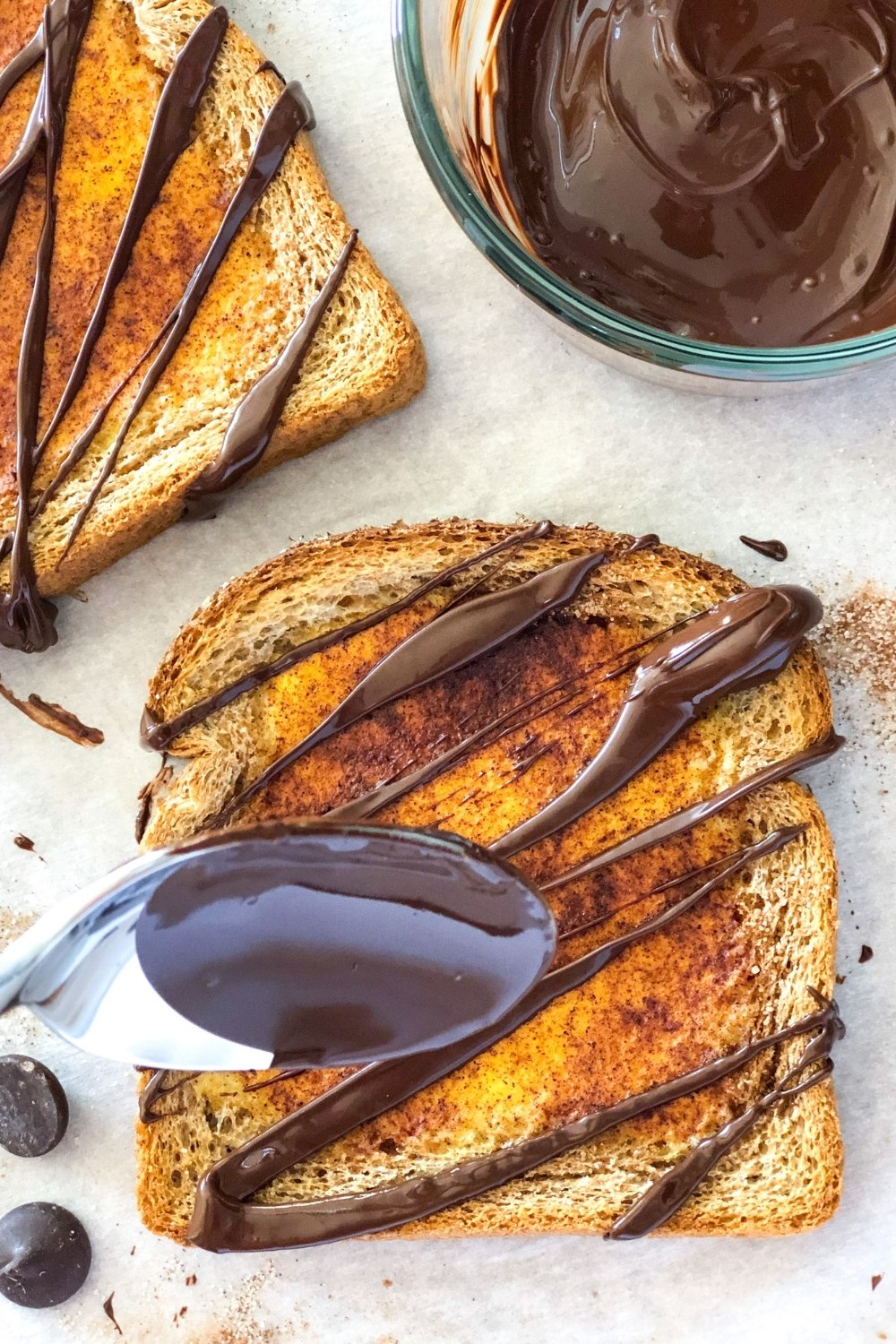 Cinnamon Sugar Churro Toast Topping Ideas
Here are some ways to change up this recipe a bit:
Add chocolate chips to the custard before baking, instead of drizzling with melted chocolate. (Or in addition to, for extra chocolatey toast!)
Add a pinch of cayenne pepper to your melted chocolate. (In Spain, they sometimes add this to their dipping chocolate/hot chocolate for a little heat.)
Sprinkle with chopped nuts or crushed graham crackers for added texture and flavor.
Instead of the chocolate drizzle, make actual hot chocolate (preferably with real melted chocolate, like the Spanish) and dip the toast as you eat it!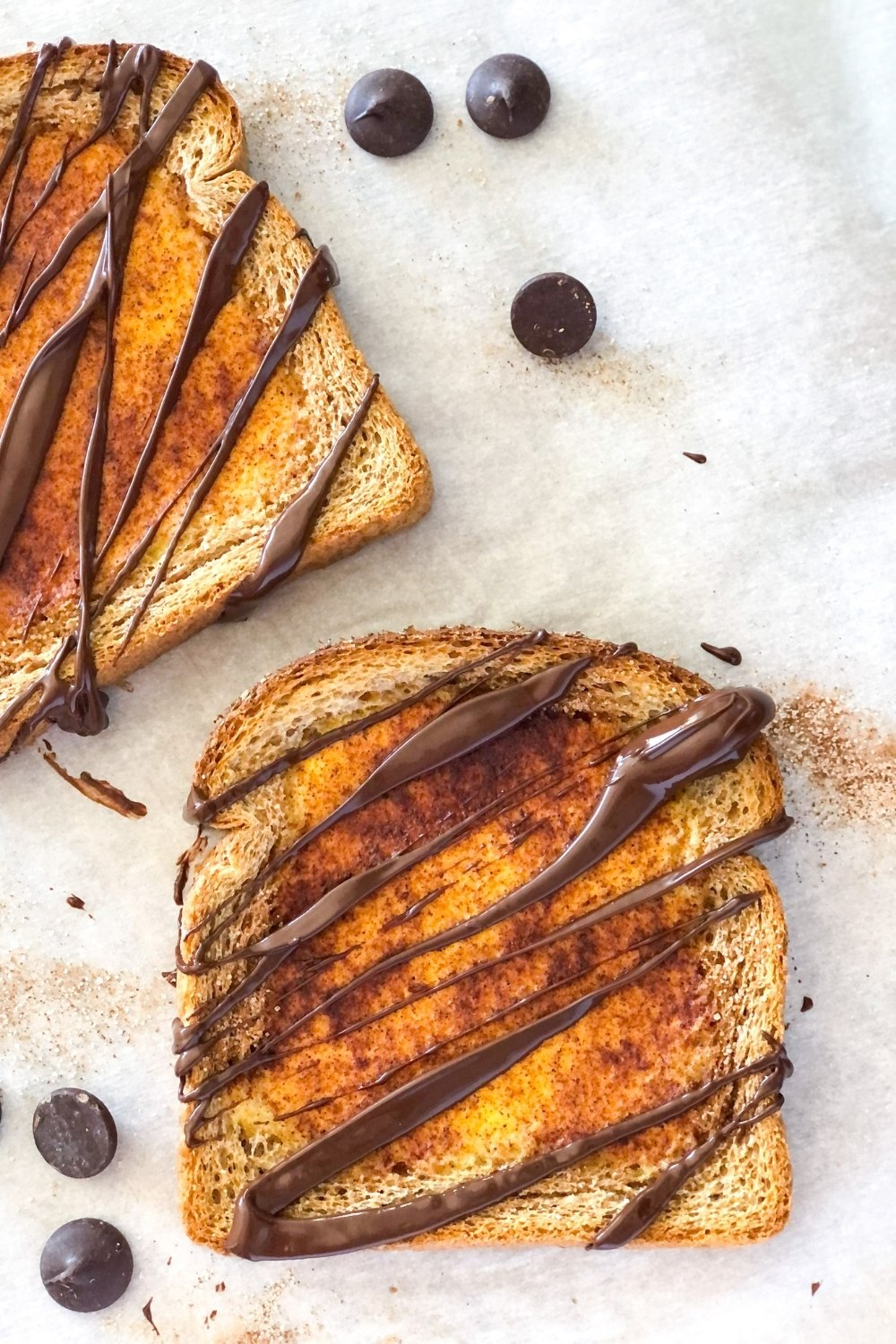 This toast isn't quite the same as eating actual fried dough churros, but it's still quite delicious (and easier to make). It's perfect for a quick afternoon snack when you're craving something sweet!
You'll find the full churro custard toast recipe at the bottom of this post. If you try it, I'd love if you shared your thoughts with a rating and comment below!
Looking for more easy sweet snacks/dessert ideas? Check these out:
(You might also like this cherry chocolate custard toast!)
Churro Custard Toast with Chocolate Drizzle
Churro custard toast with melted chocolate drizzle is a cross between cinnamon sugar toast and TikTok yogurt toast. Inspired by Spanish churros!
Ingredients
2-3

pieces

bread

3

Tbsp

Greek yogurt

(plain or vanilla)

½

tsp

vanilla extract

2

tsp

granulated white sugar

½

tsp

cinnamon

¼

cup

dark chocolate chips

(or semisweet)
Instructions
In a small bowl, combine yogurt, egg, and vanilla extract. Mix well and set aside.

Line a sheet pan with parchment paper. Place bread on top. Using the back of a spoon, press down in the center of each piece of bread, making an indentation for the custard. Spoon an equal amount of custard onto each piece of bread.

Separately, in a small bowl, mix together cinnamon and sugar. Sprinkle over custard.

Bake at 400ºF (or 205ºC) for 8-12 minutes for thinner bread slices OR 12-16 minutes for thick slices, until custard is set and toast is golden brown.

Meanwhile, place chocolate chips in a microwave safe bowl. Microwave in 30 second intervals at 50% power, stirring in between each interval, until smooth.*

When toast is done baking, drizzle melted chocolate over each piece. Enjoy!
Notes
*I recommend using a glass bowl to microwave chocolate. If you want the chocolate to be less thick/easier to drizzle, stir in a small amount of room-temperature butter or coconut oil with the hot melted chocolate until it's fully melted.
What type of bread to use? You can use any kind of bread! I used sandwich bread here, but french, brioche, or challah bread are great if you want a thicker, fluffier toast.