My rescue puppy Sasha turned one year old a few weeks ago, and I wanted to do something special to celebrate her. I whipped up a batch of these oat flour pupcakes (dog cupcakes), and they turned out great!
I wanted to use oat flour for two reasons: it's super easy to make at home, and it's better for dogs than all-purpose flour. The rest of the ingredients are dog-friendly, too: peanut butter, banana, unsweetened applesauce, and more goodness.
And, they're topped with an easy, 2-ingredient peanut butter pumpkin "frosting". (I've read that a lot of dogs don't do well with dairy, so I didn't use any dairy in this recipe.)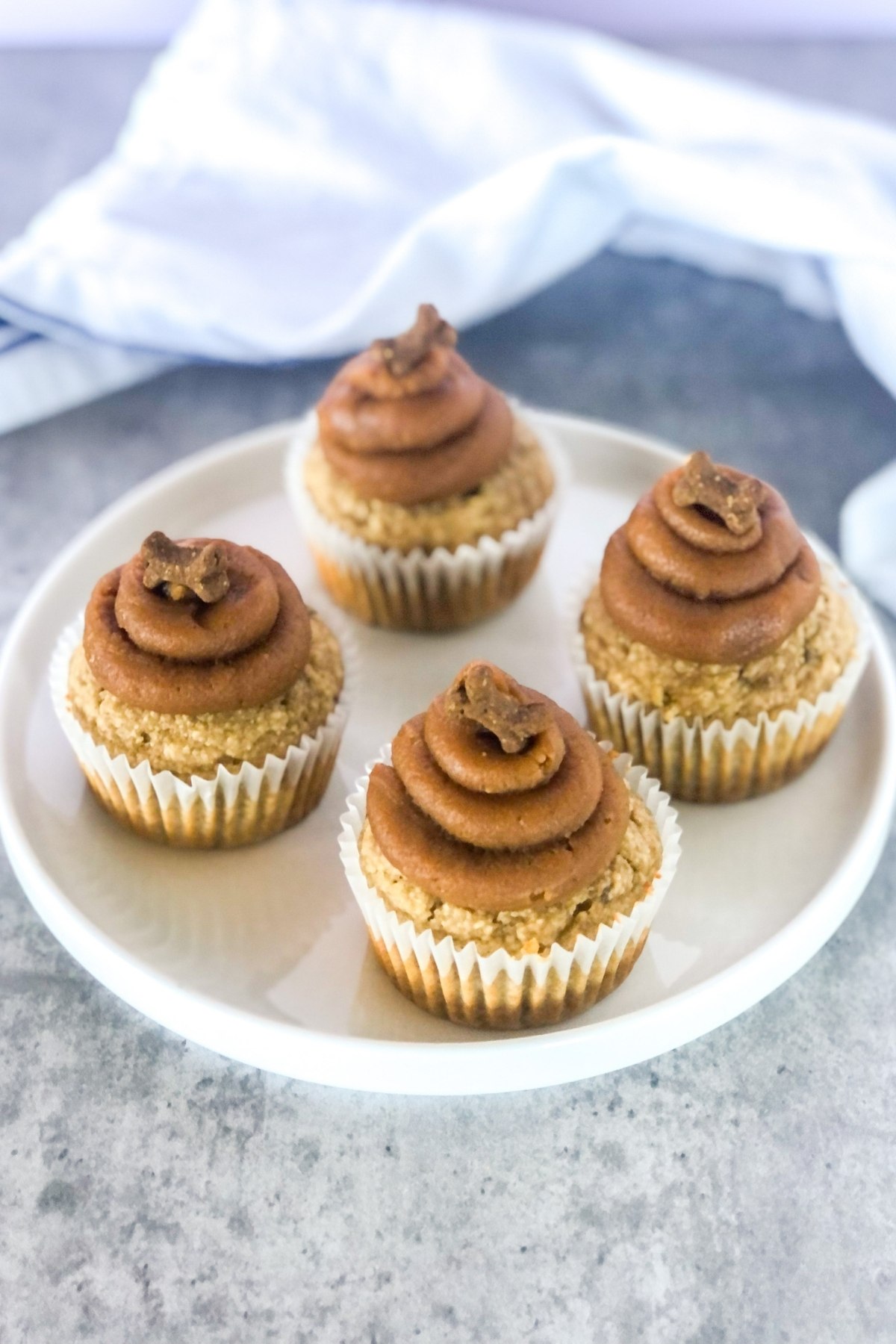 **Please note, some links on this page are affiliate links. If a purchase is made through an affiliate link, I may receive a commission at no cost to you. As an Amazon Associate, I earn from qualifying purchases. See my full disclosure policy here. Thanks for your support!
Peanut Butter Banana Pupcakes
These pupcakes are a great way to share a special treat with your furry friend(s). And if you end up with extra: they're actually a nutritious and tasty breakfast or snack for humans, too!
I'll be honest: I ate a couple of these myself for breakfast (without the frosting) and they were GOOD. They're actually more like muffins than cupcakes. The ripe banana, applesauce, and honey makes them lightly sweet, and they have a lovely moist texture.
These dog cupcakes are super easy to make, with no complicated steps or fancy equipment. You just need a muffin tin and cupcake liners, plus a blender to make the homemade oat flour.
You can use a piping bag or Ziplog bag with the tip cut off to add the frosting, or just spread it on with a knife.
Dog Cupcake Recipe Ingredients
Here's what you'll need to make these peanut butter pupcakes:
bananas: These add natural sweetness, moisture, and nutrients. Riper bananas are easier to mash, and they taste sweeter.
peanut butter: I've never met a dog that didn't love peanut butter! It adds flavor to the pupcakes while helping bind them, too. Don't use drippy peanut butter, as it won't have the same consistency. It should be thick and creamy.
honey: Honey sweetens the pupcakes and adds some liquid to the batter.
unsweetened applesauce: For moisture and flavor.
olive oil or vegetable oil: Adding a little dog-safe oil to the batter makes sure it has a soft and tender texture. I used olive oil to make my pupcakes, but vegetable oil should work too.
eggs: These bind the ingredients and add structure.
oat flour: Oat flour is better for dogs than all-purpose flour. Plus, it's more nutrient-dense, and it's easy to make at home in a blender! Old-fashioned oats are best to use. You can also purchase pre-made oat flour at many grocery stores.
baking powder: For rise.
And for the "frosting", I mixed together some peanut butter with a little canned pure pumpkin (not pumpkin pie filling). Optionally, you can top each pupcake with a dog treat!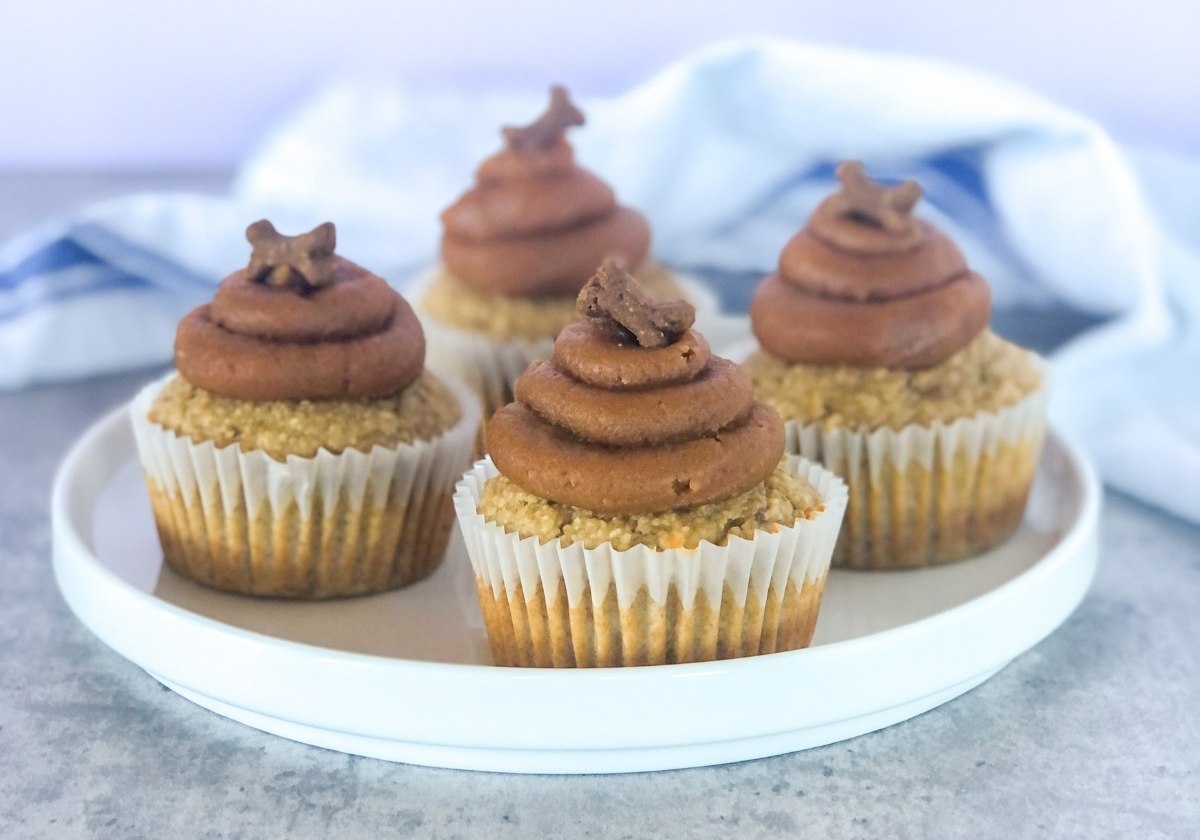 How to Make Pupcakes for Dogs
These are about as simple to make as regular muffins, just with a quick added step of blending oats into oat flour!
Start by blending old-fashioned oats in a blender or food processor. I recommend doing it in 15-20 second intervals, just to avoid your blender getting too hot. Blend until the oats reach a fine powder consistency.
(If you end up with extra oat flour, you can store it in an airtight container in your pantry! It should last for up to 3 months.)
Next, combine the dry ingredients in a medium bowl and whisk well. Separately, combine the wet ingredients into a large mixing bowl and mix. Pour the dry ingredients into the wet ingredients and stir until combined.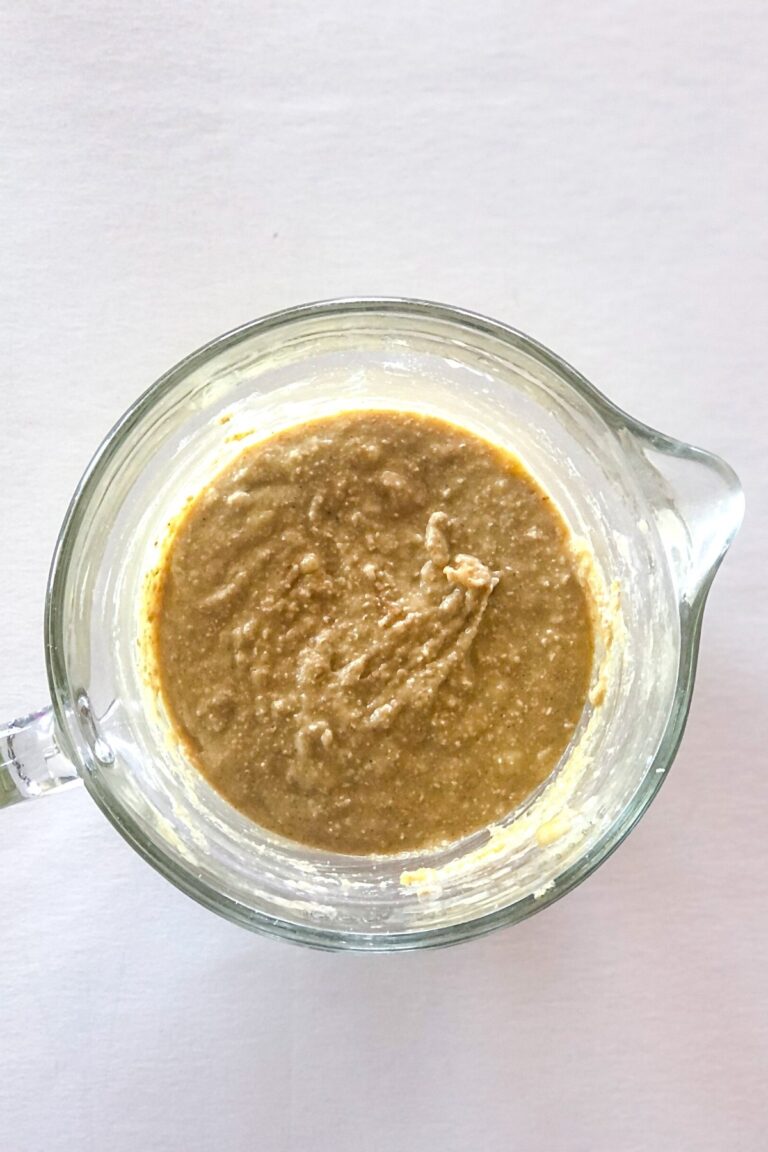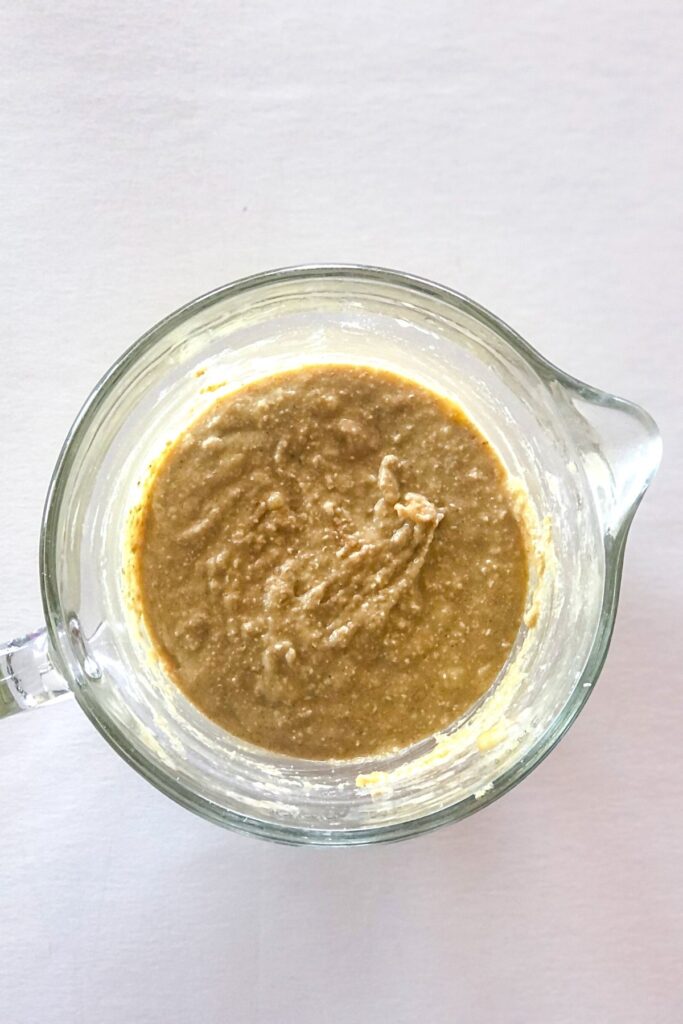 Line a muffin pan with cupcake liners. Spoon the pupcake batter into the liners, filled about 3/4 of the way full. (I made a half batch in the photos above – that's why not all the muffin wells are filled).
Then, bake at 350 degrees Fahrenheit for about 20-22 minutes, until a toothpick inserted into the center of a pupcake comes out clean. Allow them to cool in the pan for 5-10 minutes, then transfer them to a wire rack to finish cooling.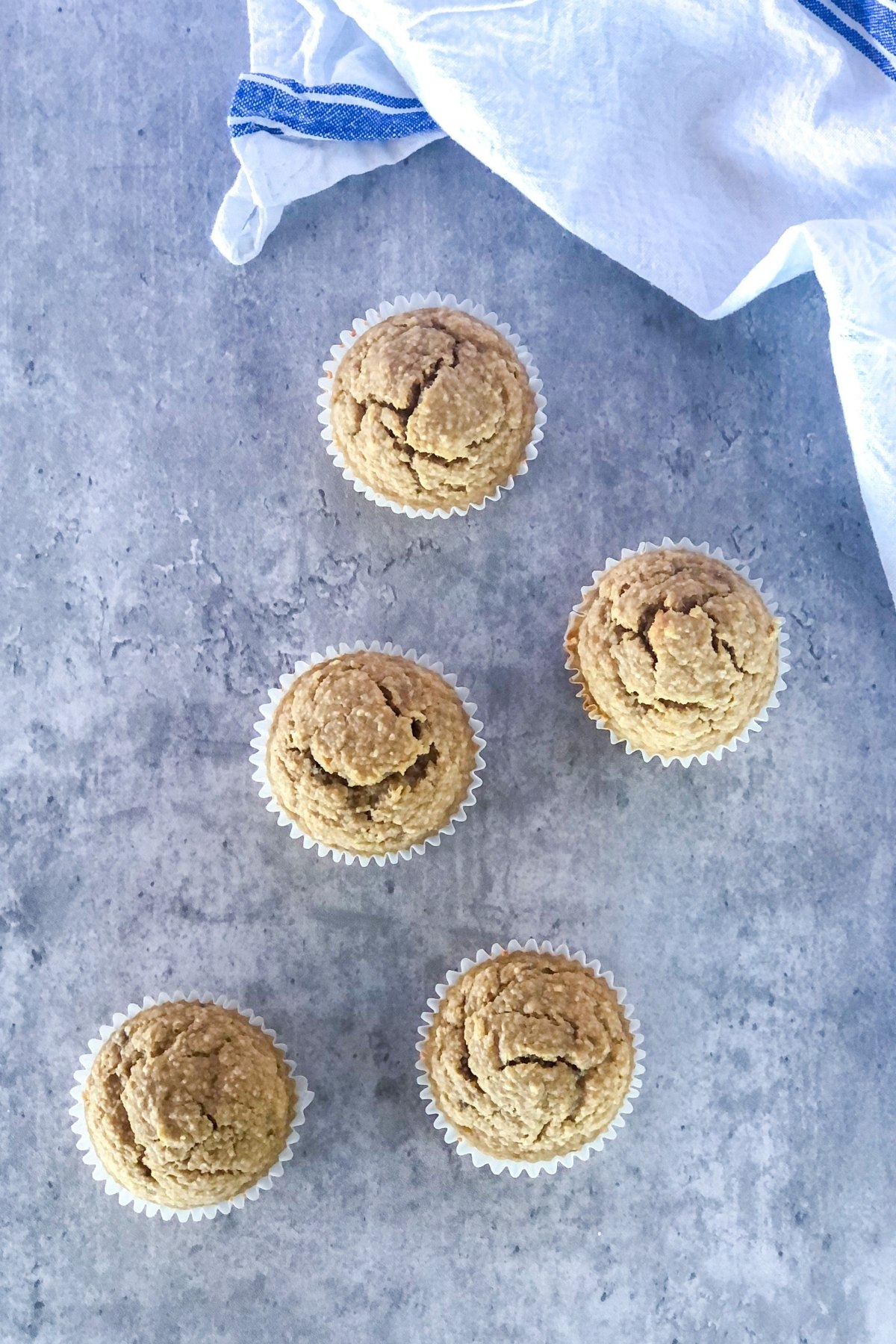 Once the pupcakes are fully cool, "frost" them (frosting instructions below) and decorate with a dog treat if desired!
Here's Sasha sitting nice for her first pupcake (while staring at it longingly), and then digging in! She's usually a pretty slow eater, but this was gone in about 5 seconds. I think she liked it. 🙂
Peanut Butter Pumpkin Frosting for Dog Cupcakes
The "frosting" here is a simple mixture of peanut butter (thick and creamy, not the drippy kind) with a little plain canned pumpkin. If your dog doesn't have issues with dairy, you can mix in a little Greek yogurt in place of some of the peanut butter.
Use a piping bag or Ziploc with the tip cut off to pipe the frosting onto the cupcakes. If for some reason the consistency is too thin to pipe, you can chill the frosting in the fridge to help it set more.
And yep, this frosting looks a lot like a pile of dog poo – we found that hilarious! But, you can mix some softened cream cheese or plain Greek yogurt into the frosting if you want to change the color (as long as your dog can handle dairy).
Storage Tips
Store unfrosted pupcakes in an airtight container on the counter for up to 3-4 days. I recommend placing a paper towel in the container to absorb any excess moisture that the muffins might release. (Storing cupcakes/muffins in the refrigerator will make them last longer, but it also makes them dry out.)
Store the "frosting" in an airtight container in the fridge. It's best to wait to frost the pupcakes until you're serving them, because the frosting needs to be refrigerated.
Pupcake Topping Ideas
You can top these pupcakes with whatever you'd like! Here are some ideas: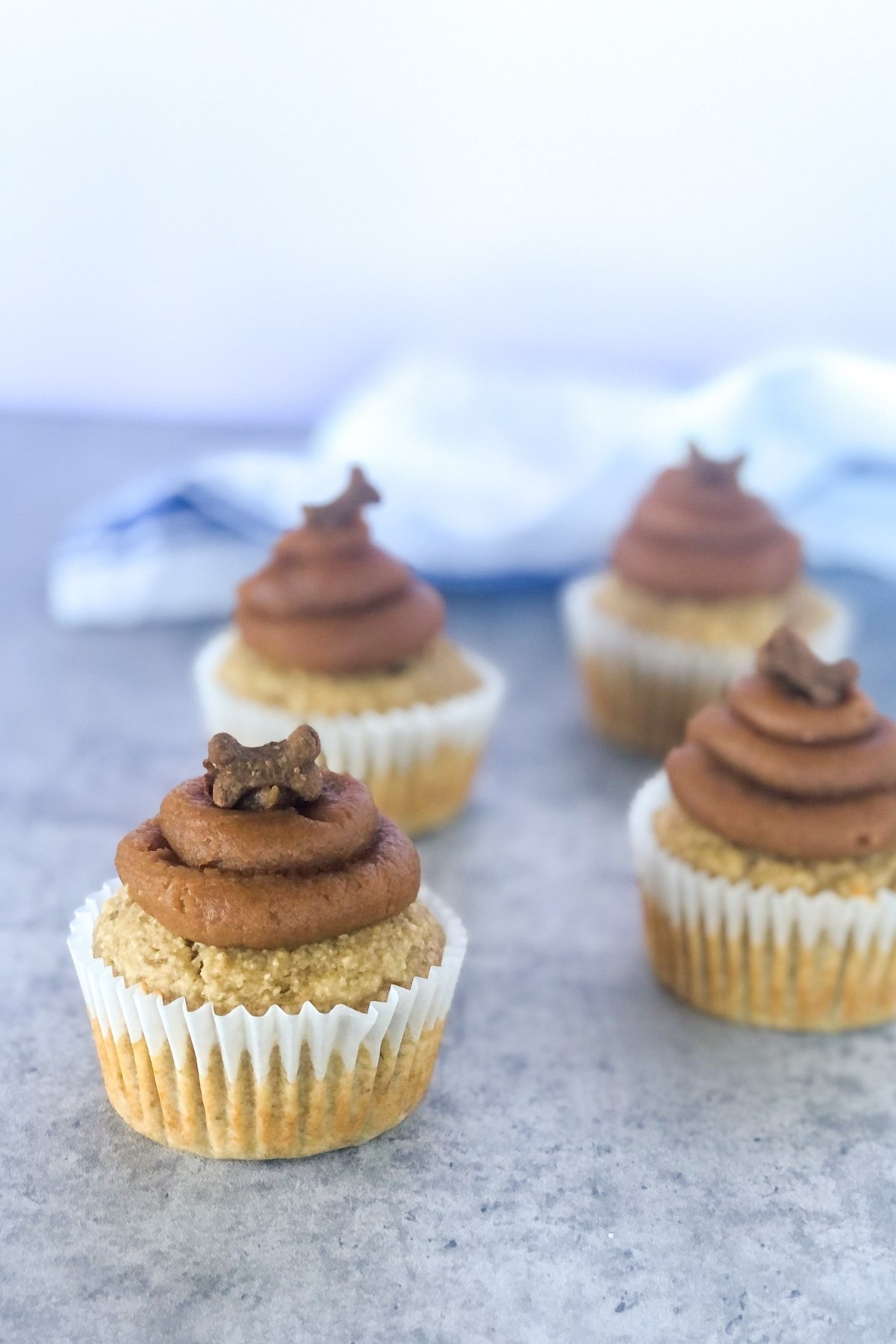 Recipe Variations
Here are some simple variations for this dog cupcake recipe:
use plain canned sweet potato instead of pumpkin in the frosting
swap out half the oat flour for all-purpose flour
replacements for applesauce: an equal amount of plain canned pumpkin or sweet potato, or Greek yogurt
How do you celebrate your pup's special day? Let me know in the comments – I'd love to hear all about it!
If you make these peanut butter pupcakes, I'd love if you shared your thoughts with a rating and comment below.
More recipes with oat flour (for humans!):
Oat Flour Pupcakes with Peanut Butter "Frosting"
These peanut butter pupcakes (dog cupcakes) are filled with dog-friendly ingredients like banana, applesauce, and oat flour! Dairy-free.
Ingredients
For the Pupcakes
1½

cups

oat flour*

(spooned and leveled to measure)

2

tsp

baking powder

2

bananas

⅓

cup

peanut butter

(thick & creamy, not drippy)

¼

cup

honey

½

cup

unsweetened applesauce

2

eggs

3

Tbsp

olive oil or vegetable oil
For the "Frosting"
½

cup

peanut butter

¼

cup

plain canned pumpkin
Instructions
Preheat oven to 350°F (180°C). Line a 12 hole muffin pan with cupcake liners.

Blend oats to make oat flour* (if needed). Whisk oat flour and baking powder in a medium bowl.

In a separate large bowl, mash bananas into a smooth paste. Add peanut butter, honey, applesauce, eggs, and oil. Whisk well until smooth and combined.

Pour dry ingredients into wet ingredients and stir until combined. Spoon batter into lined muffin tin wells, about ¾ of the way full.

Bake for 20-22 minutes, until a toothpick comes out clean and the cupcakes are lightly golden. Remove from the oven and allow them to cool for 5-10 minutes, then transfer to a cooling rack.

Meanwhile, mix together "frosting" ingredients in a bowl. Once the cupcakes are fully cooled, pipe "frosting" on top** and decorate as desired!
Notes
*To make oat flour: blend approximately 2 cups of old-fashioned oats into a fine powder using a blender or food processor. Be sure to measure out the 1.5 cups of oat flour once it's blended: spoon it into the measuring cup and level it with a knife.
**If you don't have a piping bag, use a plastic zippable bag with the corner cut off.
Storage Tips: Store unfrosted pupcakes in an airtight container on the counter for up to 3-4 days. Store "frosting" in an airtight container or covered bowl in the refrigerator until you're ready to serve the pupcakes.