Say hello to this delicious (and easy!) fall appetizer: a pumpkin honey butter board! Creamy softened butter is spread over a board, then topped with cinnamon-spiced pumpkin puree, a drizzle of honey, and a sprinkle of chopped pecans.
This dreamy concoction is inspired by the butter boards that have gone viral on social media, but with a fall-flavored spin. Serve this alongside crostini or crackers for a crave-worthy holiday dip!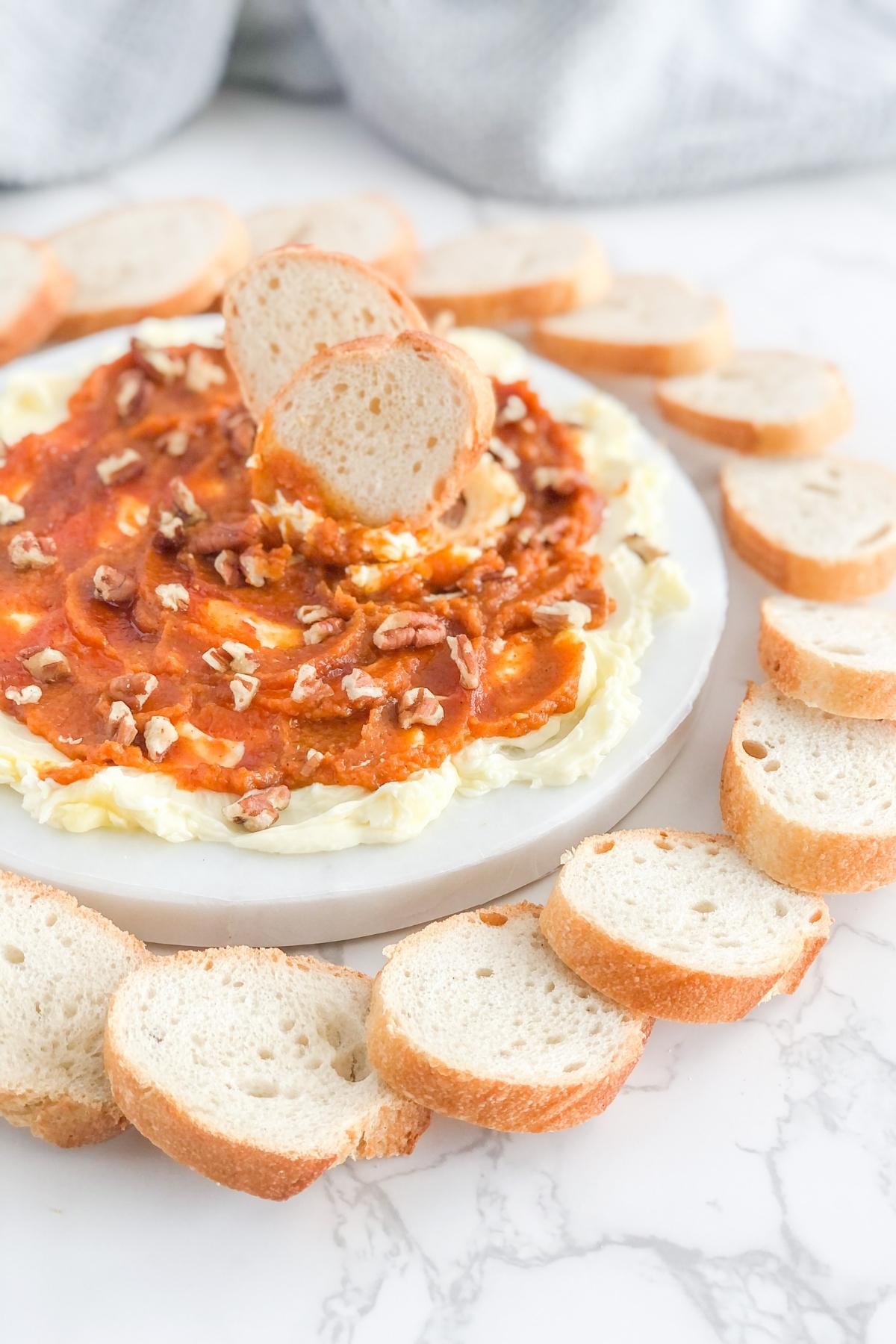 Fall Butter Board Appetizer with Pumpkin Puree
Butter boards are sort of like a cross between a charcuterie board and an appetizer dip. There are endless ways to customize them with different toppings – either savory or sweet.
This pumpkin honey version would be a perfect butter board for Thanksgiving, with the fall-inspired flavors of pumpkin, cinnamon, and pecans. I love the combination of creamy butter, earthy pumpkin, sweet honey, and nutty, crunchy pecans!
Butter boards are so easy to make, but have a beautiful presentation. That's why they're so great for events! Just be sure to set out butter or cheese knives to avoid double-dipping. (Nobody wants that!)
There's no need to get your wooden or marble board dirty, either – just cover it with a couple layers of parchment paper for easy clean-up.
What You'll Need to Make This
You only need a few ingredients for this simple appetizer recipe:
Unsalted butter is softened at room temperature to make a creamy base for this butter board.
Canned, plain pumpkin puree is mixed with ground cinnamon and vanilla extract for a delicious fall-flavored topping.
A honey drizzle adds sweetness. You can use maple syrup instead, but it will be messier, since it's not quite as viscous.
It's all topped with a handful of chopped pecans (or walnuts) for crunch and added flavor. Feel free to leave out the pecans to make this recipe nut-free!
Lastly, you'll need something to serve with this butter board! To make crostini, just slice a French baguette into thin slices and lightly toast on a sheet pan in the oven.
Have extra pumpkin puree? Try these no bake pumpkin cheesecake bars or this pumpkin snack cake!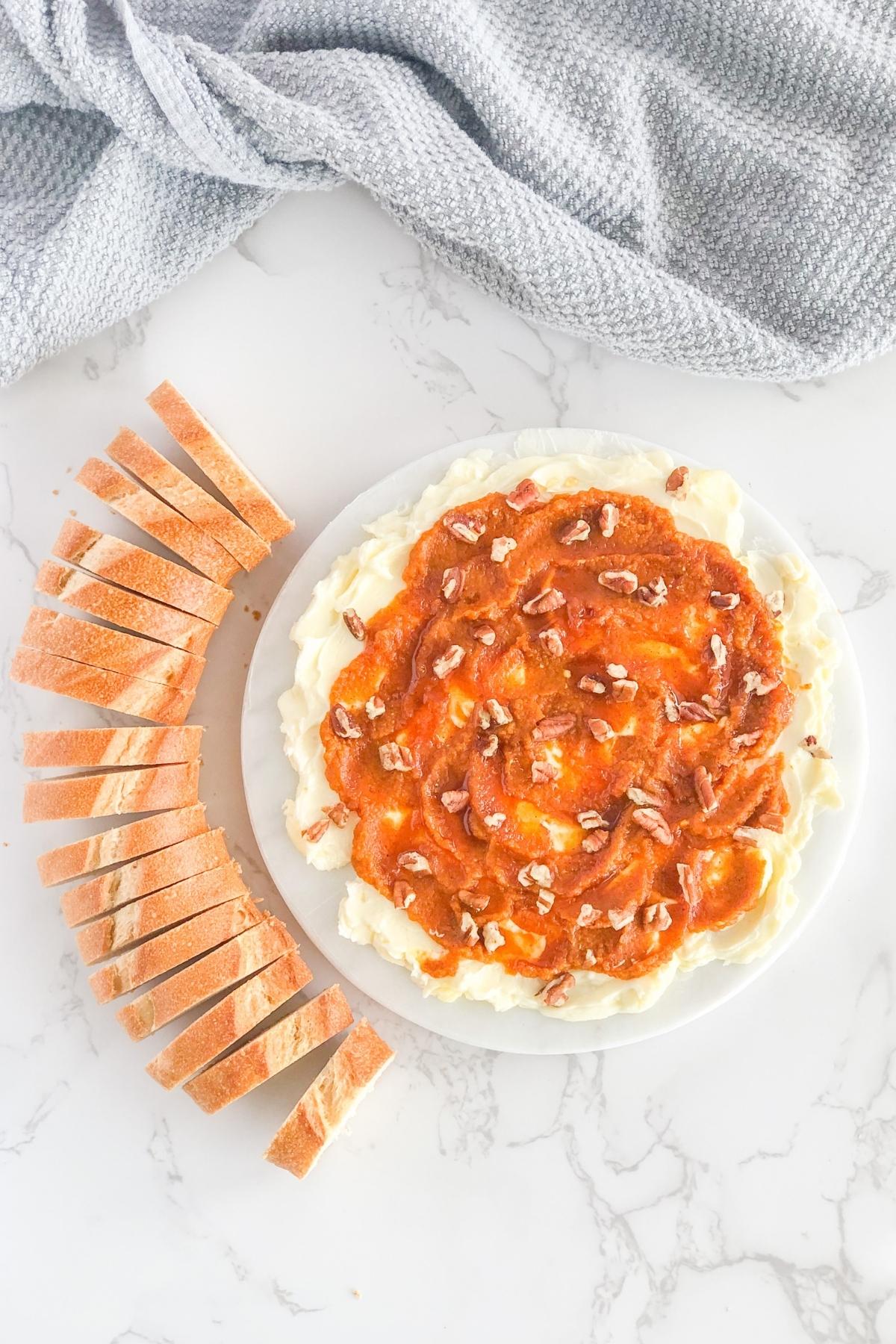 How to Make a Butter Board
Now, on to the fun part: putting together this fall butter board!
Start by preparing your board. Personally, I'm not a fan of spreading butter directly onto the board, since it's hard to clean and can stain. Instead, I recommend wrapping and/or taping parchment paper around the board.
Next, bring a stick of butter to room temperature by letting it sit on the counter for 30 minutes to an hour. Once soft, use a knife or spatula to spread the butter over the lined board.
Then, stir together the pumpkin puree, cinnamon, and vanilla extract in a bowl.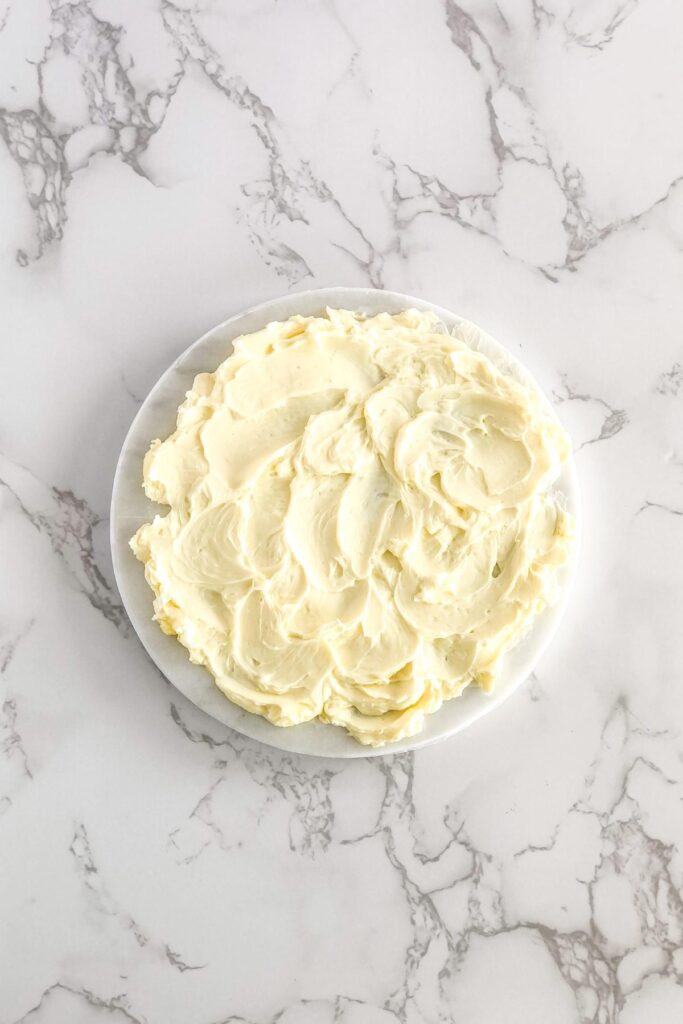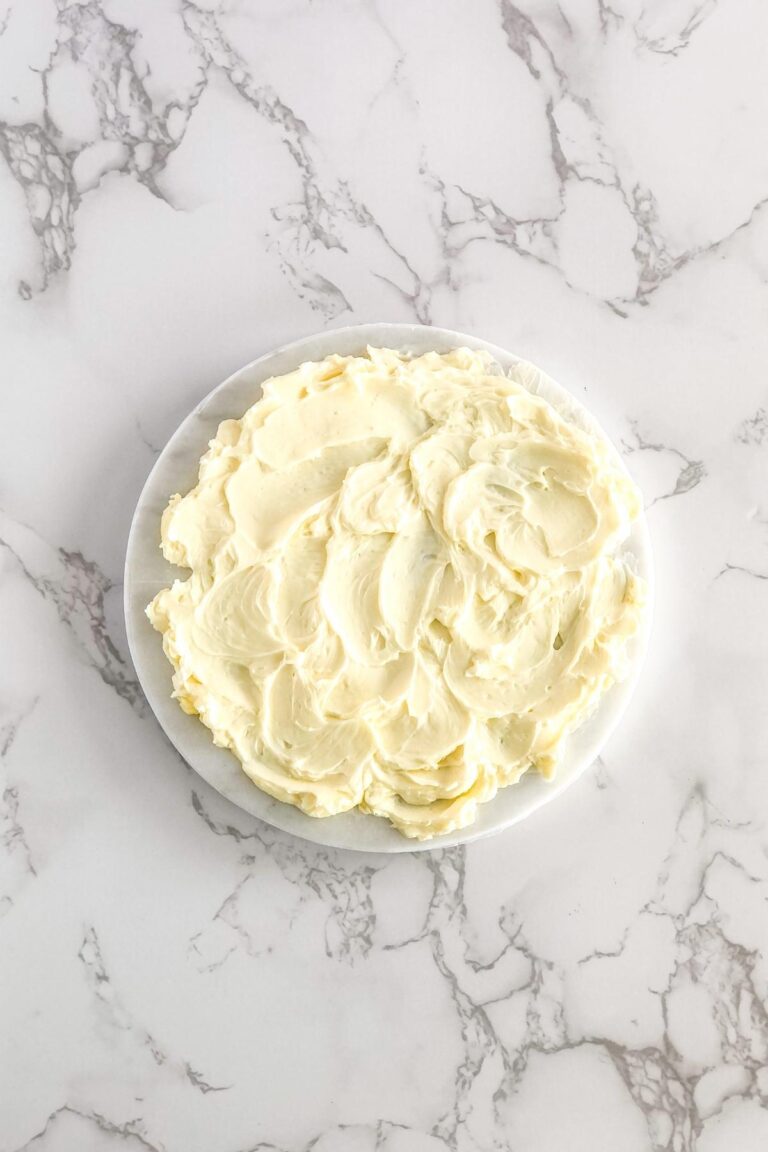 Dollop the pumpkin mixture on top of the butter, then lightly spread so it covers most of the butter.
Next, drizzle honey on top and sprinkle with the chopped pecans.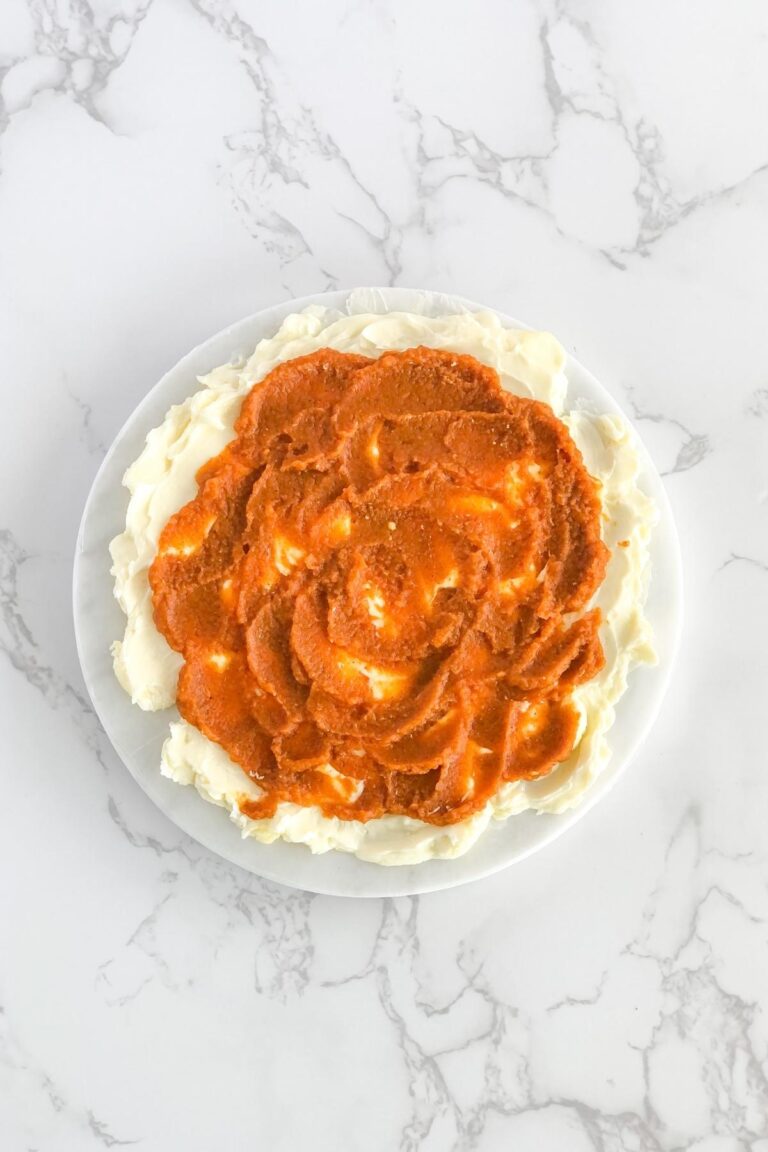 Lastly, prepare your crostini (if making), or place bread or crackers around the board. That's it – appetizers are served!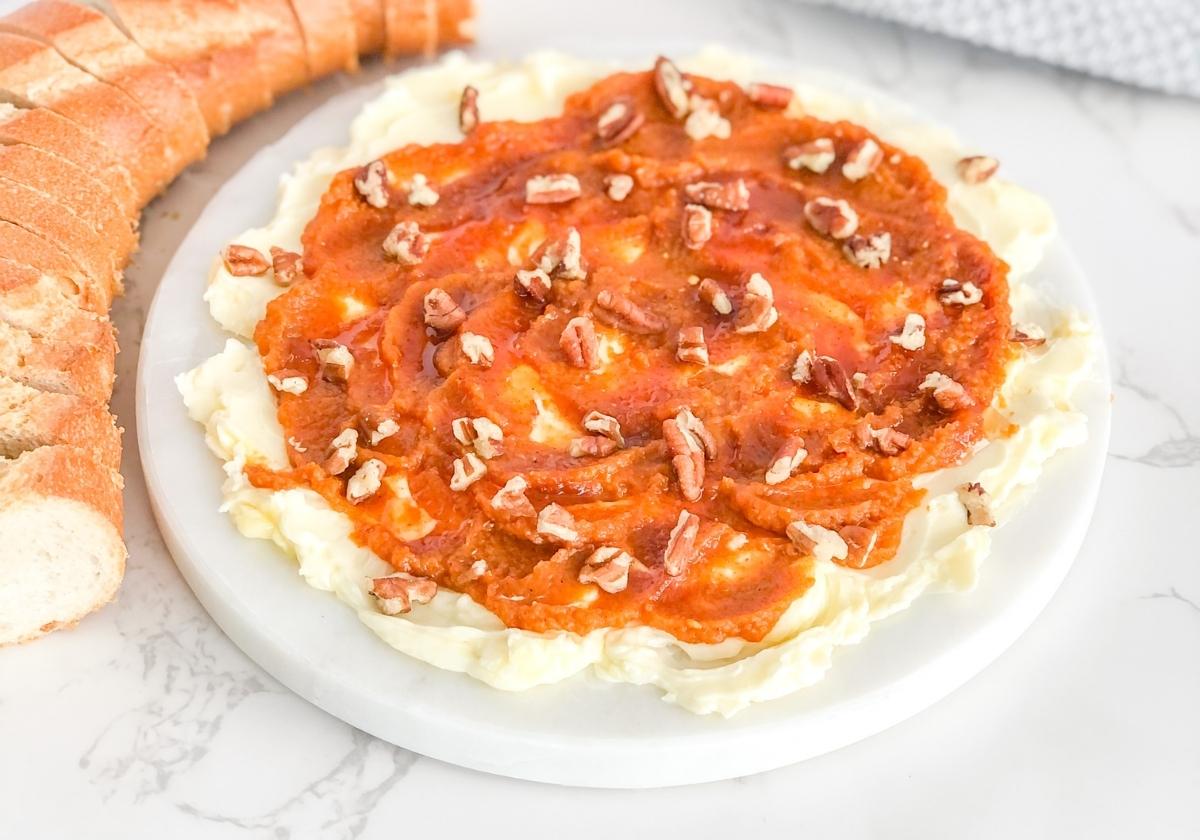 What to Serve With A Butter Board
Here are some ideas for what to serve with this dip:
crostini/sliced bread
crackers
baked sweet potato rounds
graham crackers
Recipe Variations & Butter Board Topping Ideas
There are so many different toppings you can use here, like:
dried cranberries or pomegranate seeds
pepitas (pumpkin seeds)
cranberry jam or fig jam
maple syrup (instead of honey)
bacon bits
walnuts, almonds, or pistachios (instead of pecans)
You can also replace the butter with softened cream cheese or whipped goat cheese!
To make this a savory butter board: leave out the honey and vanilla extract, and instead mix in a little chipotle powder or smoked paprika with the pumpkin puree before adding the pecans.
How long can this sit out at room temperature?
On its own, butter can safely sit at room temperature for 1-2 days (according to the USDA). Pumpkin puree, on the other hand, should only be left out for a maximum of 2 hours.
So, if your butter board isn't finished within 2 hours, just wrap it in plastic wrap and store it in the fridge for later!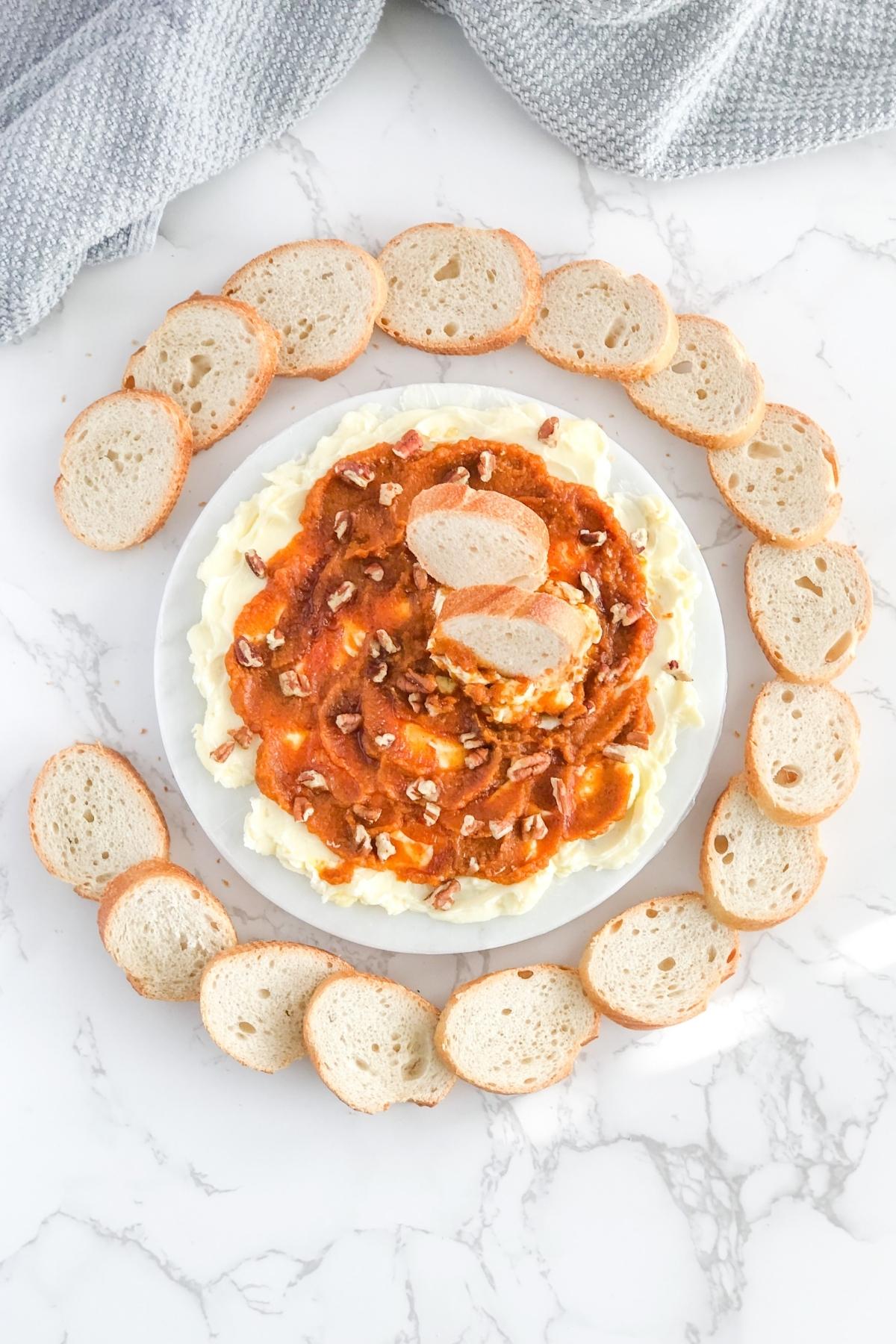 What type of board should I use for a butter board?
Wooden cutting boards are popular for butter boards, but marble cheese boards are just as fancy-looking (and easier to clean!).
One caveat: the fats in butter can stain some surfaces. Be sure to line or wrap any board you use with 2 layers of parchment paper to avoid grease stains.
Share this delish butter board with friends and family at your next holiday party – just make sure you get some before it's gone! 🙂
If you try this pumpkin honey butter board, I'd love if you shared your thoughts with a rating and comment below.
More fall-inspired recipes to try: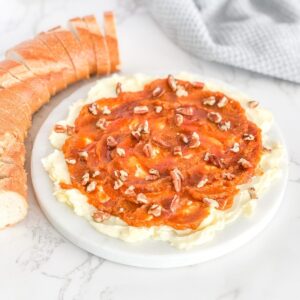 Pumpkin Honey Butter Board
Say hello to this delicious, easy fall appetizer: a pumpkin honey butter board! With cinnamon-spiced pumpkin puree, honey, and chopped pecans.
Ingredients
8

Tbsp

unsalted butter, softened to room temperature*

(1 stick)

¼

cup

plain pumpkin puree

¼

tsp

vanilla extract

⅛

tsp

ground cinnamon

1½

Tbsp

honey

2

Tbsp

pecans, chopped

french bread or crackers, for serving
Instructions
Prepare the board: wrap and/or tape 2 layers or parchment paper over your board. (This prevents the butter from staining it).

Use a knife or spatula to spread softened butter over the lined board.

In a small bowl, stir together pumpkin puree, cinnamon, and vanilla extract. Spread on top of the butter.

Drizzle honey on top. Sprinkle with chopped pecans.

Arrange sliced bread or crackers around the board, then serve!
Notes
*One stick of butter should take 30 minutes to 1 hour to soften at room temperature.
This recipe makes one small board – feel free to double or triple the amounts for a larger board!
Storage Tips: Because this butter board has pumpkin puree, it should only sit out at room temperature for a maximum of 2 hours. To store, wrap in plastic wrap and place in the refrigerator. Or, scrape the mixture into an airtight container and mix everything together. Enjoy within 3 days. (To serve later, let the butter board sit out at room temperature for 30 minutes to an hour to re-soften.)