Dessert bars are the perfect sweet dish to bring to parties and gatherings. Not only are they delicious, but they also make a lot at once without much effort. I'd call that a win! Here are 9 must-try dessert bar recipes to get you inspired to bake.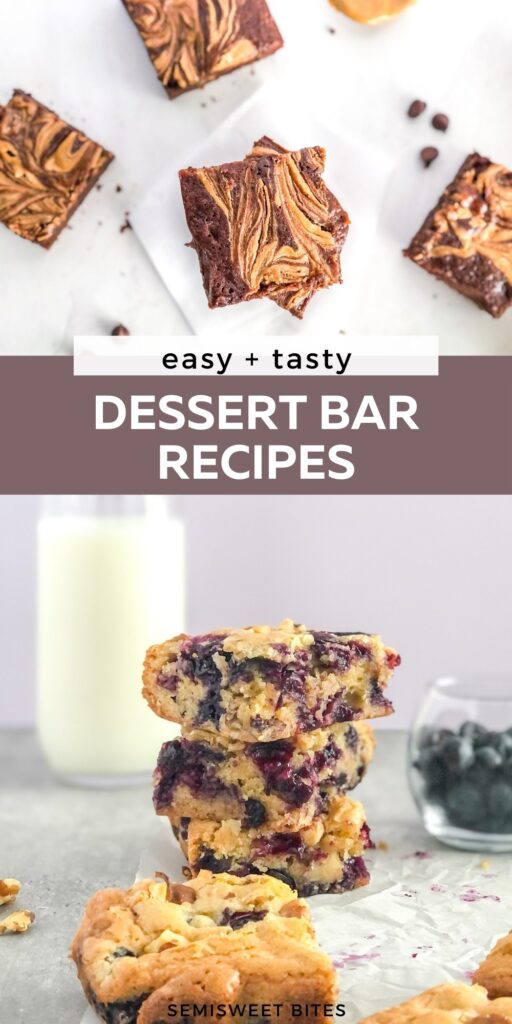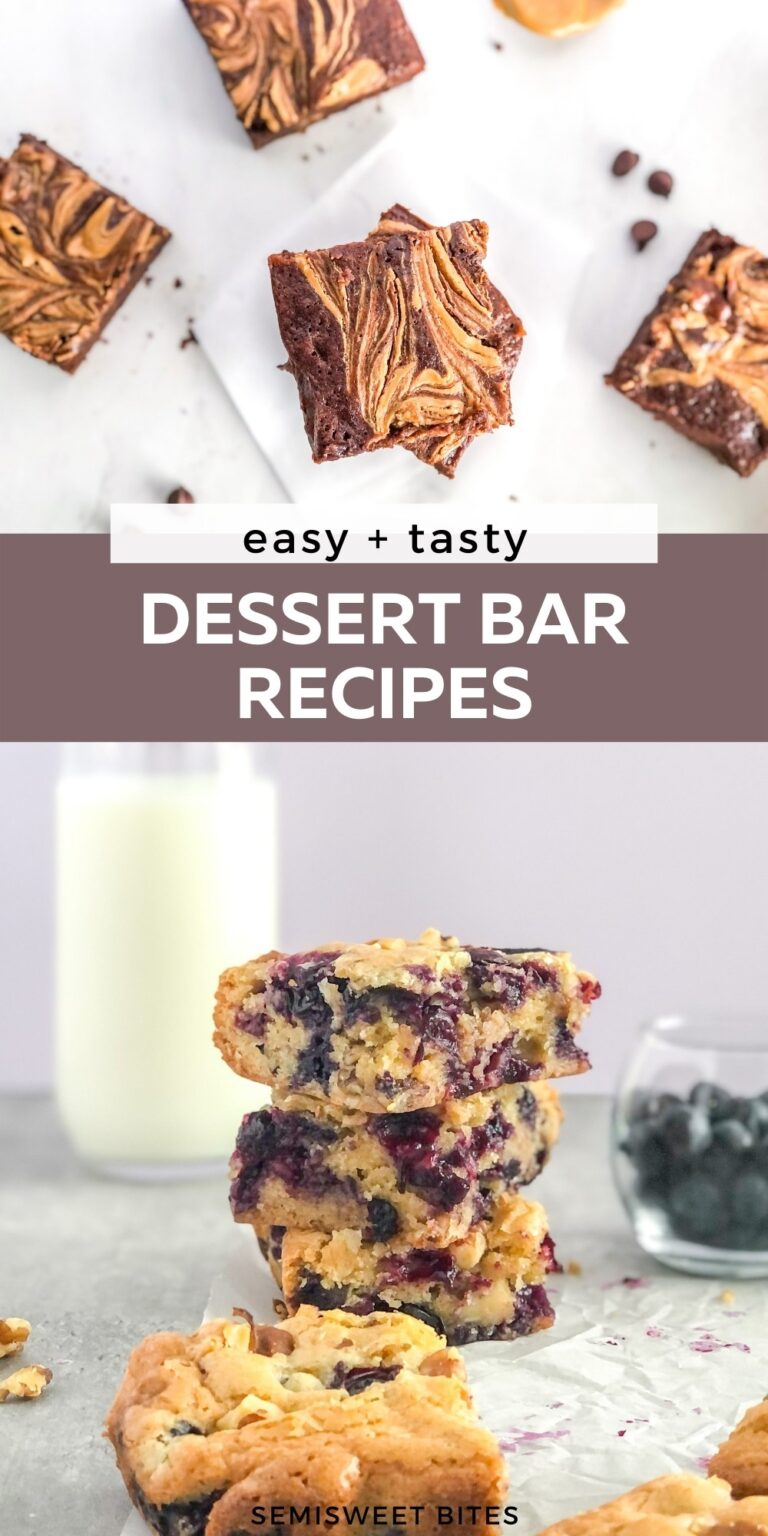 What are dessert bars?
Dessert bars are sweet treats baked in one pan (usually a square pan or a 9x13inch rectangle pan). They're sliced into bars or squares, and you can usually eat them with your hands (but not always!).
Some examples of dessert bars are cookie bars, cake bars, blondies, and brownies. Rice Krispie treats, lemon bars, and other fruit bars fall into this category, too!
Dessert Recipe Ideas
Dessert bars are one of my favorite type of desserts to make. They're usually pretty simple, don't require too many dishes or complicated preparation, and are easy to serve. You also don't need an electric mixer for any of these. (I am ALL about having less dishes to do!).
Most don't require you to make an extra topping (like whipped cream or frosting), either – though you definitely can if you want. I've even included some no bake dessert bars, too!
Whether you're in the mood for cookie bars, blondies, or something else: you're in the right place. You can't go wrong with any of these tasty treats. 🙂
And now, for the main event: the dessert bar recipes!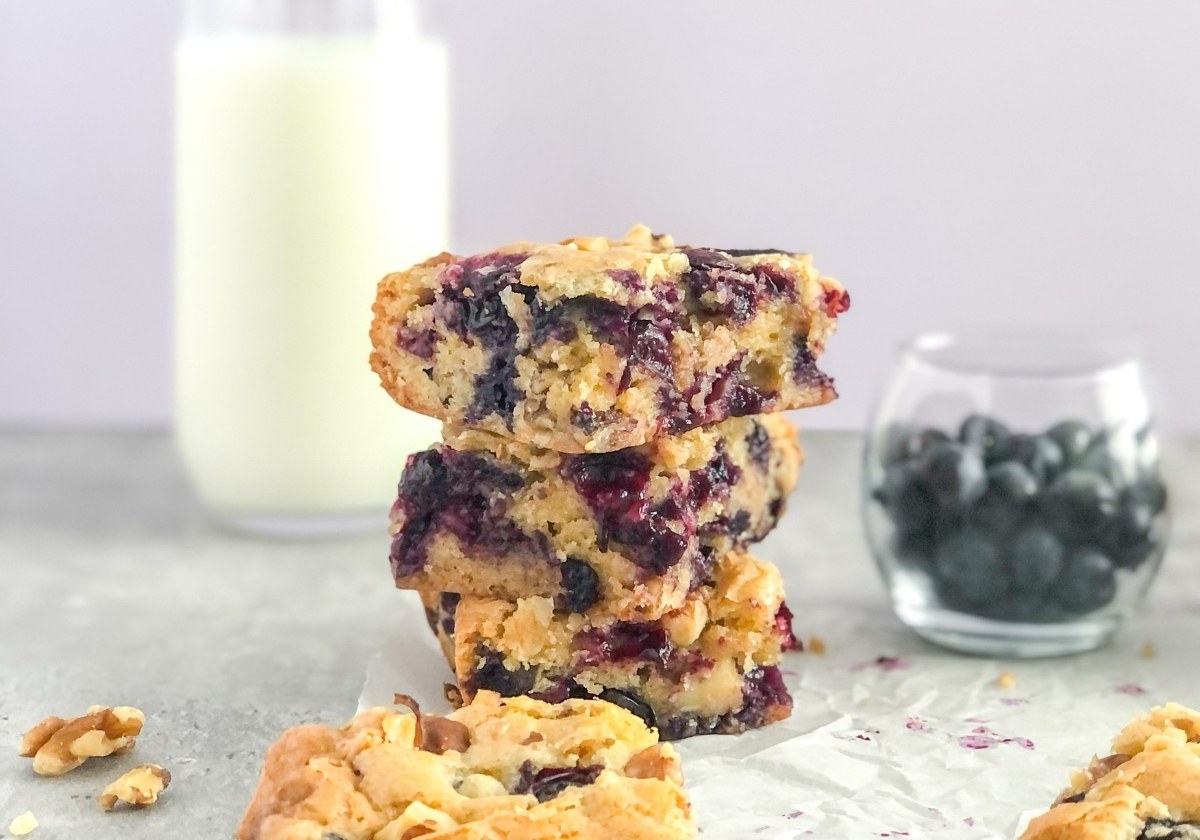 Juicy blueberries and crunchy, nutty walnuts baked into a buttery, lightly sweet blondie – does it get any better than that?!
These blondie bars are like a cross between a moist cake and a cookie bar. They're chewy on the outside and tender on the inside. Definitely something you want to get your hands on!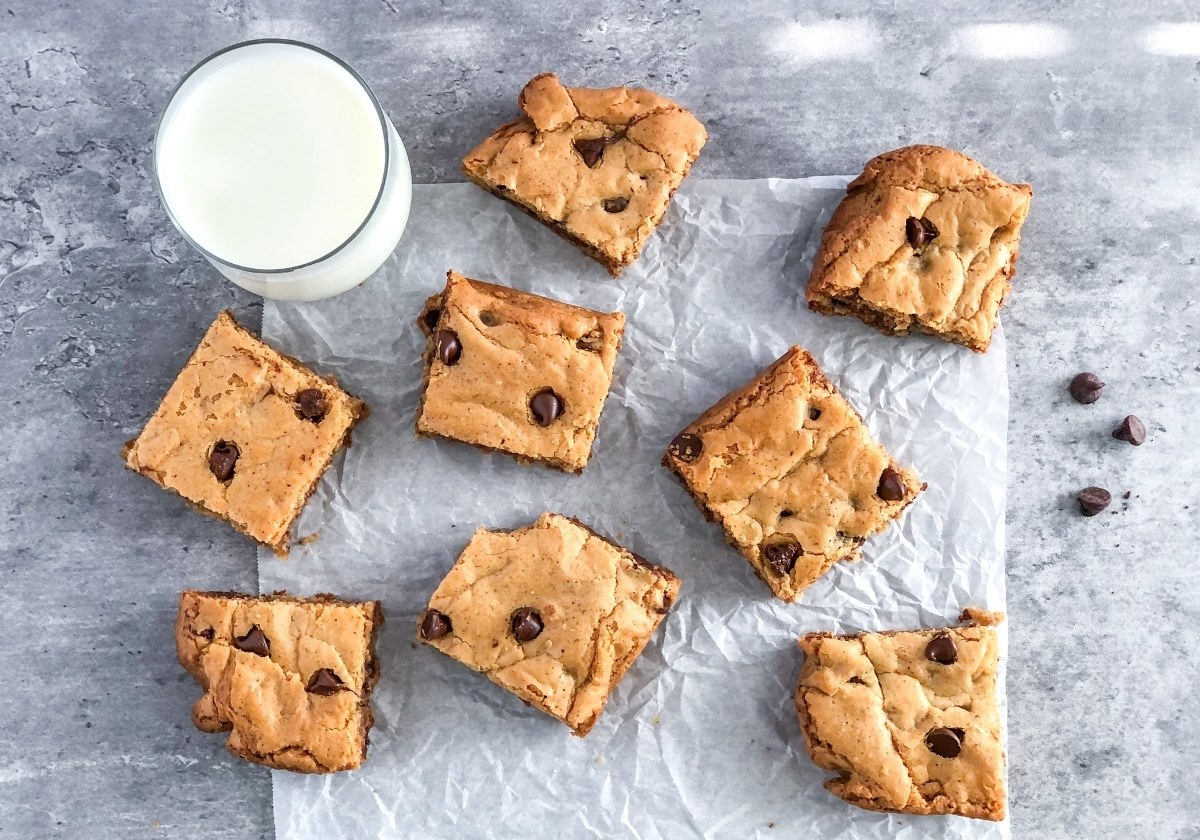 These almond butter cookie bars are a cross between a classic chocolate chip cookie and and an almond butter blondie. They're chewy on the outside, fudgy in the centers, and studded with melty chocolate chips.
They're absolutely divine warm from the oven with a big glass of milk! Perfect for when you're in the mood for a cookie but don't want to deal with scooping dough.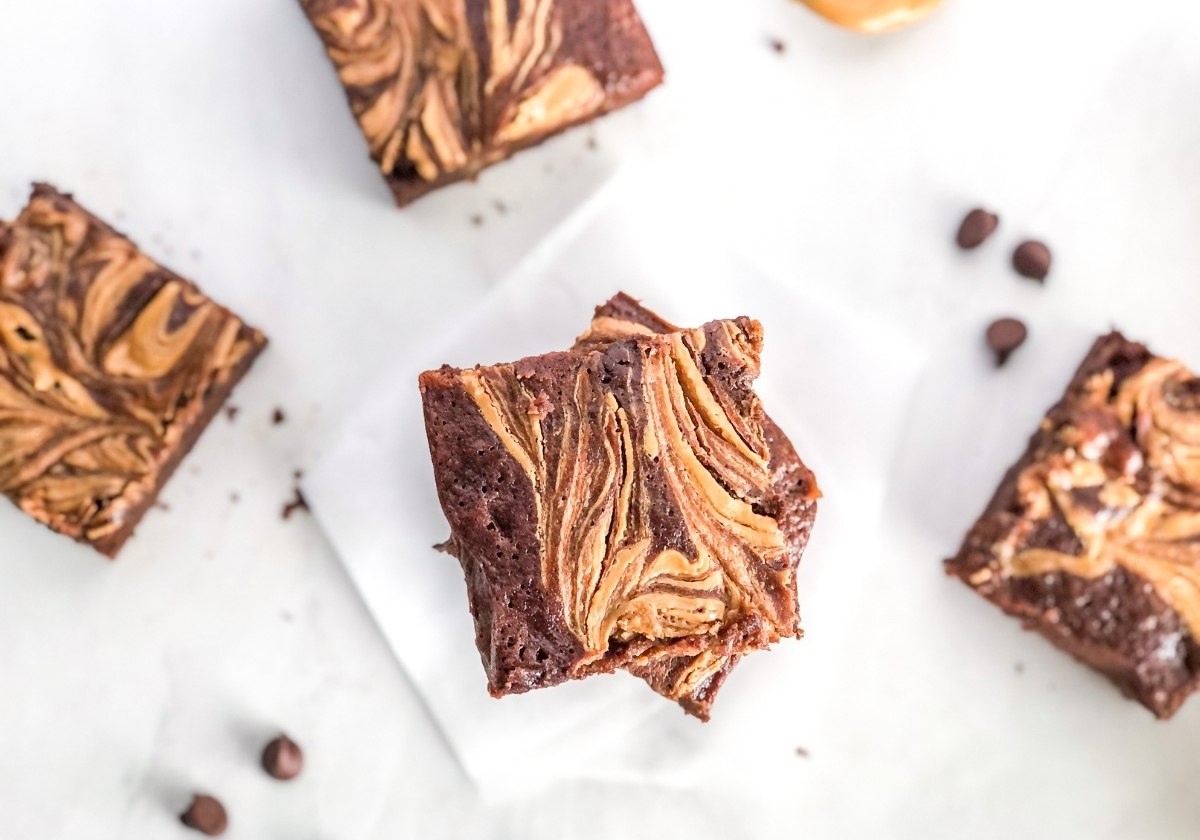 Who doesn't love a moist, chocolatey brownie? These chocolate chip brownies take the classic flavor combination of chocolate and peanut butter up a notch with the addition of banana!
A peanut butter swirl finishes them off – pretty and delicious. 🙂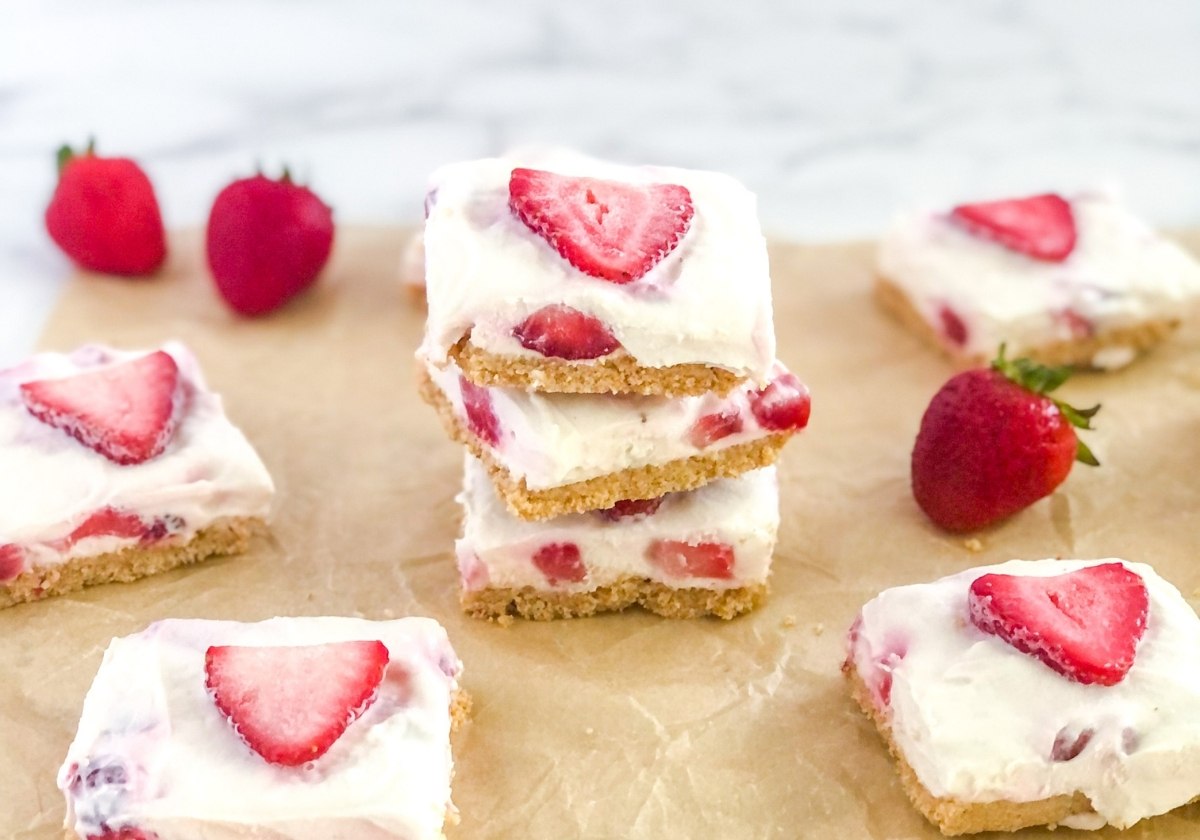 Not in the mood to bake? These strawberry white chocolate cheesecake bars are super easy to make.
You just press crushed graham crackers and melted butter into a pan to make the crust, then stir together the cream cheese/Greek yogurt cheesecake mixture before spreading it on top! Chill or freeze to set and slice into bars.
They're perfect for feeding a crowd, and so deliciously creamy!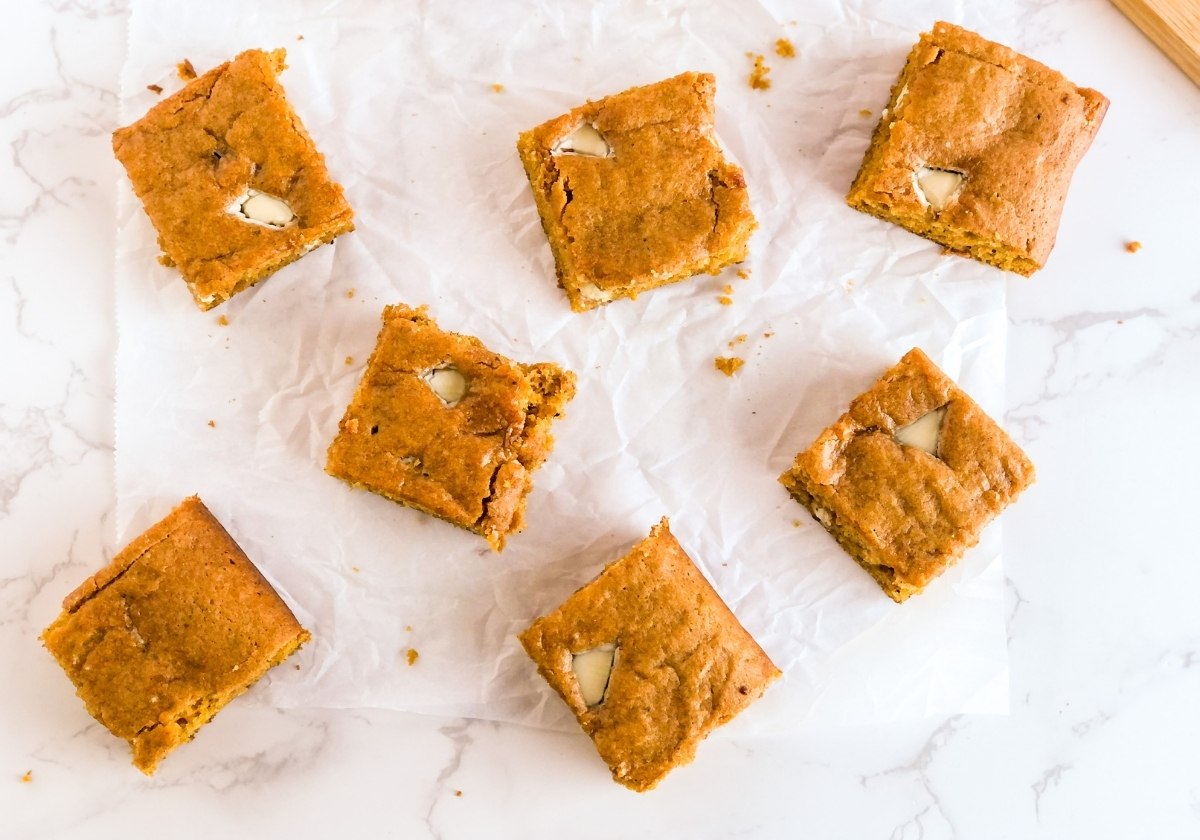 If you're a pumpkin spice fan, you'll love these pumpkin cake bars with white chocolate chunks! They're moist and buttery, with plenty of pumpkin and warm spices (without being too sweet).
Brown sugar gives them a lightly caramelized flavor, and the recipe uses a homemade pumpkin spice mix – so you don't need a pre-made mix to make it!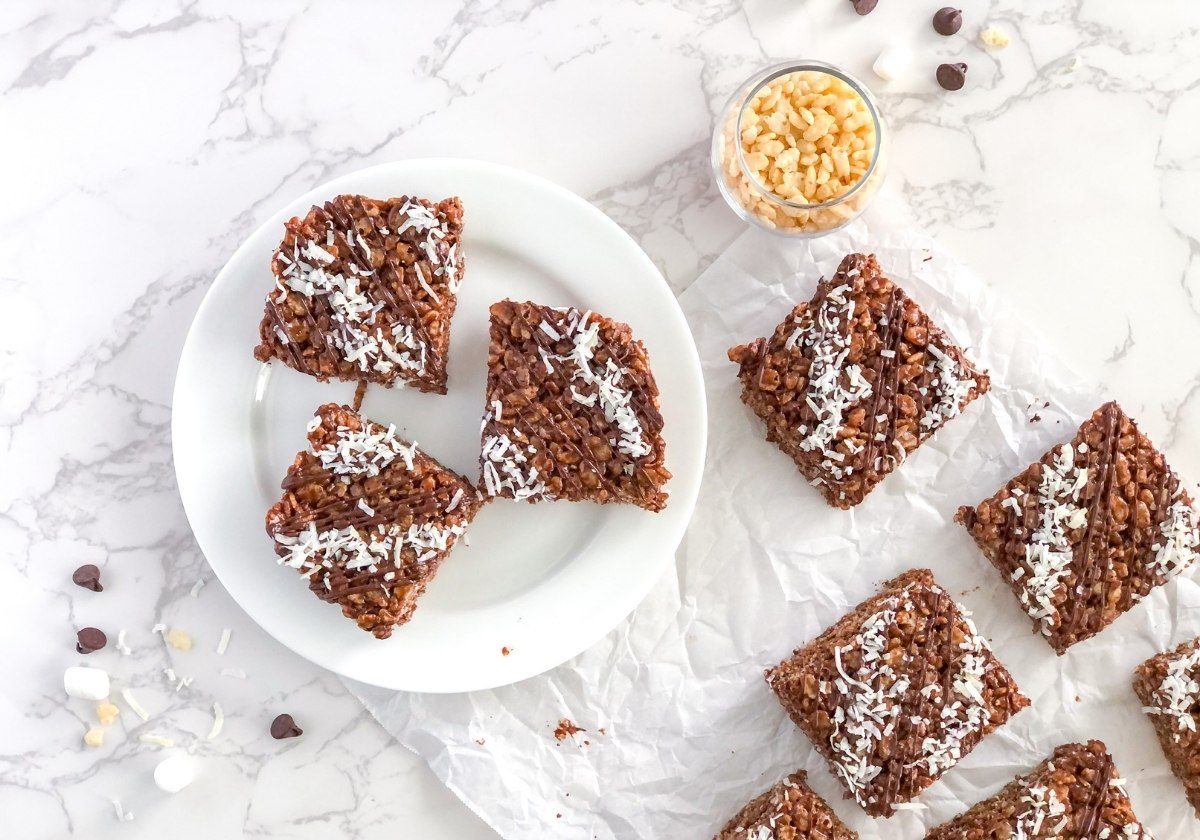 Craving Rice Krispie treats but looking for something a little different? Try these chocolate Rice Krispie treats with shredded coconut. They're just as easy to make as classic Rice Krispie treats, but with the flavor amped up!
They're chewy and marshmallowy, topped with a melted chocolate drizzle and extra coconut.
These chewy and fudgy blondies combine rich dark chocolate chips, sweet and juicy raspberries, and nutty sliced almonds for a decadent-tasting (but easy!) dessert bar.
The flavor combination is out-of-this-world, and the texture is lovely. They look beautiful, too – great for parties and events!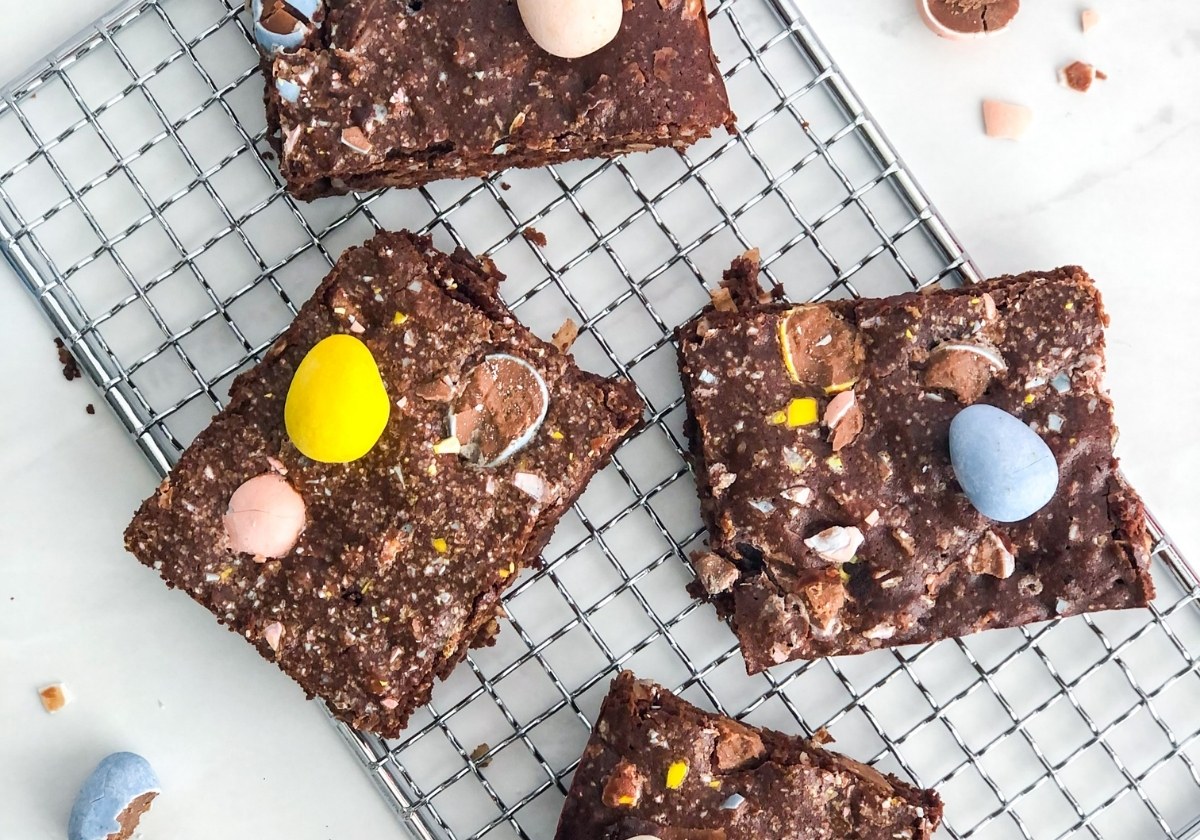 Whenever Easter rolls around, I make sure to stock up on Cadbury mini eggs just so I can make these delectable brownies. The combination of crushed chocolate eggs, moist chocolate brownie, and shredded coconut is perfection!
These brownies are a chocolate lover's dream. If it isn't Easter time or you can't find mini eggs, you can easily make them with chocolate chunks or chocolate chips instead.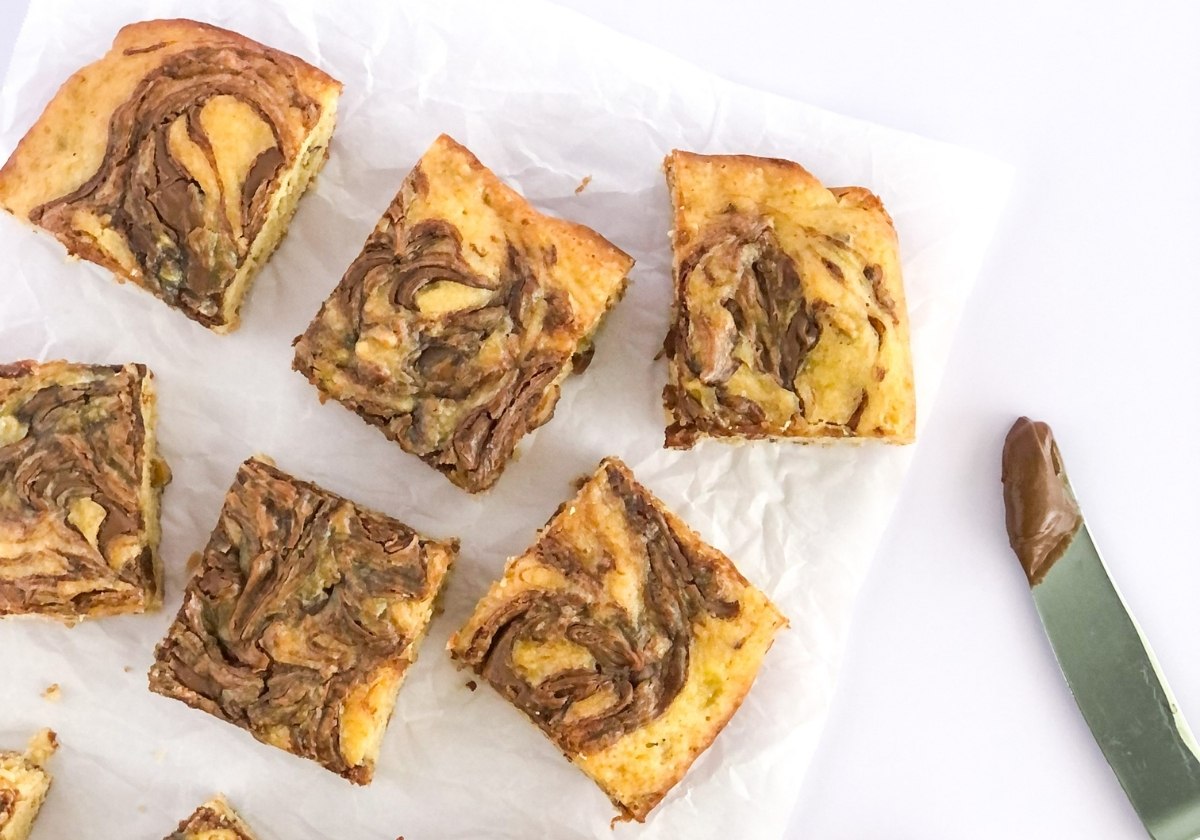 Banana bread is just as tasty in bar form! These moist banana bread bars feature nutty toasted hazelnuts and a sweet Nutella swirl on top.
You'll love the combination of crunchy hazelnuts, chocolate hazelnut spread (Nutella), and banana! Enjoy them for breakfast, snack, or dessert.
And that's it! If you can't decide which of these dessert bar recipes to make, why not try them all? 🙂